August 20, 1968
On Tuesday the 20th of August, I came back to New York after traveling around the USA for two and half months. It was tempting to register at the YMCA on 135th Street. But the Hotel Theresa, where Fidel Castro stayed on his USA visit, and where Little Willie John and other stars used to stay, had closed. (Theresa is featured in the Alfred Hitchcock movie Topaz.) Instead, my new hotel was located at 42nd street near the Port Authority Bus Terminal. It was a classic flophouse and cost $21 per week.
The day after I went to The Apollo theater. I was used to getting a free entrance everywhere, but not at the Apollo. Honi Coles was Vivian Reed's manager. I had met her in Miami, but I did not get hold of him. I was directed to the gruesome alley (126th street) behind the Apollo. But I never managed to get in through the artist's entrance. The doorman was relentless. On the way I passed a gigantic, long bar on 8th Avenue (Braddock's Bar?), while those outside cheered.
The Apollo staff tried to tire me out and I guess many never returned from a visit to the alley. 126th street had a reputation for being one of Harlem's most dangerous. The artists who parked their cars there had to buy back the hub caps both once and twice.
It was a claustrophobic narrow side street and the center of dice playing and drug sales. When the police arrived, the players had an agreement with the Apollo doorman who let them into safety. At least twenty years ago, when gambler Malcolm Little was a minor player in the N.Y. underworld, before he changed his slave-surname to an X.
Finally, I got the number of Peter Long. He arranged the backstage passes. He was the PR manager and responsible for the performers. If I only contacted him tomorrow, he would arrange it.
I went home. It was late. For $3 I could see the amateur competition, but not the entire regular show. It was said that Gladys Knight had not fully recovered from a throat ailment. She had to cancel a couple of performances.
I returned in good time the day after and was shown the rehearsal area in the basement. It had a low ceiling, and had previously been a nightclub. Here, all the amateurs were given instructions for the Wednesday Amateur night. Today a theater group ("Listen My Brother") were rehearsing for the next seven days.
I did not meet any of the regular soul artists. I guess many showed up on Friday, just before the opening show. Reuben Phillips Orchestra had such a wide repertoire and ability to read music that all went well anyway. They had fifteen years of experience, after they replaced the Lucky Millinder Orchestra as house band in 1953.
Peter Long was a jack of all trades at the Apollo and had worked there since the early 1960s. He kept me company for an hour and I got to see the theater group's entire show. It was a new approach for Apollo – a Black Power theater play with soul singing, and I exchanged a few words with the actors. Peter had previously been responsible for African Holiday, one of the most successful of the shows with African artists that Apollo had arranged.
I went upstairs to the theater. It was like a big worn out cinema (1600 or 1800 seats). Not much was spent on decoration. The stage was always spartan and nothing distracted attention from the music and artists. They supposedly had 13 dressing rooms on four floors. (I did not see or visit that many) The staircase was to the left of the stage.
This week the Dynamics / Bandwagon / Edwin Starr / Cliff Nobles / Gladys Knight & The Pips were advertised on the 125th Street marquee.
The Dynamics was a four-man group whose hit recording Misery actually had found its way to Kungsholmens Record Exchange in Stockholm and to my record collection a couple of years earlier. American Vietnam war deserters that were pressed financially sold their records and contributed to the emergence of a soul-music scene in Sweden.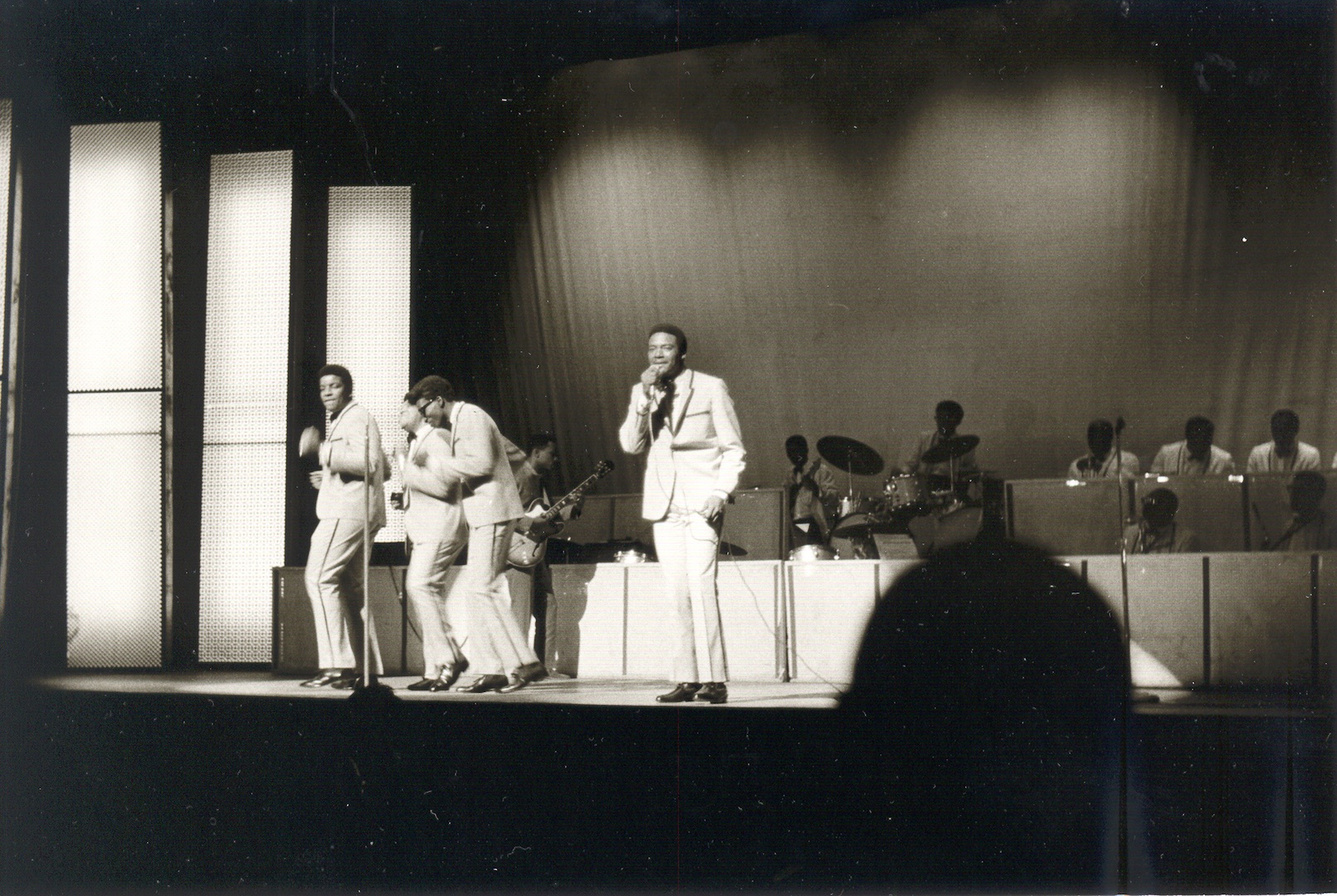 At the Apollo they did: "It's Not Unusual," "Murder In the First Degree," "Ain't No Sun."
"Murder" was especially good. It was a fine group but without that little extra that was needed to make it big.
I talked with them backstage. They were four nice guys, (especially the fattest member), in a group consisting of:
George White (1st and 2nd tenor) born in 1943
Samuel Stevenson (Baritone, 3rd tenor) born in 1942
Fred Baker (1st and 2nd tenor) born in 1942
Billy Harris (Lead, 2nd tenor) born in 1943
A fifth member "Mel West" had left the group a few years earlier.
The Dynamics were founded in 1959 in Detroit. In 1962 recordings were leased to Reprise. Then they were contracted to Big Top which released Misery in 1963. It sold 350,000-400,000 copies and "Styley Chaser" sang lead. But he was drafted and never came back to the group again.
They had a couple of records on the Top Ten label (1964-65), which were leased through Laurie Records.
Then RCA (1966-67) took care of the group and they released two singles.
Now they had just signed a contract with Cotillion, a subsidiary to Atlantic Records. Their first single was "Ain't No Sun" / "Murder In The First Degree" (Murder was their own favourite). Ted White was their manager.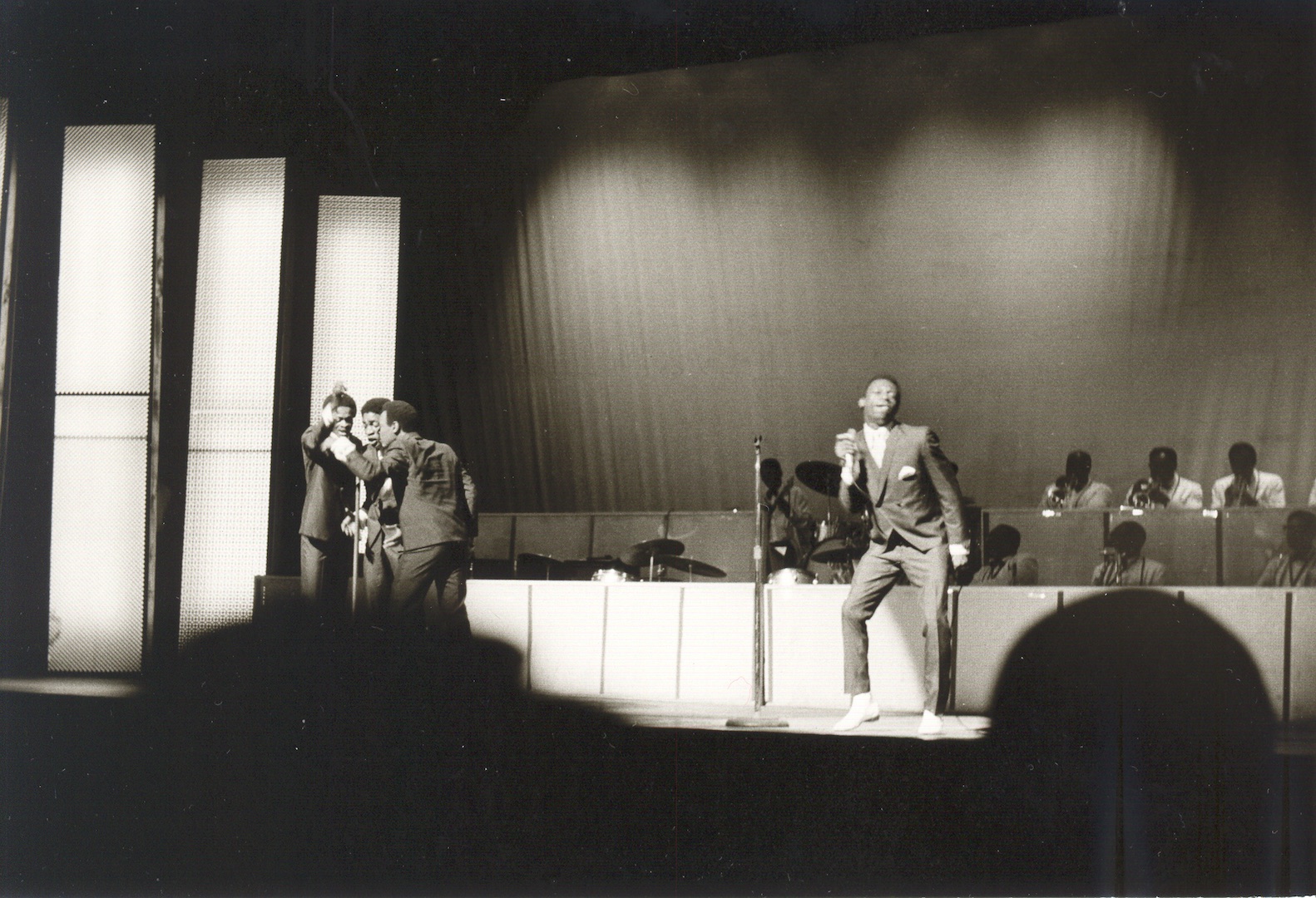 The Bandwagon represented a new type of group. The overall impression, after all the intricate dance-steps and energetic moves and singing was over – was, like Shakespeare said: "much ado about nothing."
A fine soul group has something to say and does so by singing and bodily expressions. Here, whatever personalities the members had were overshadowed by producers and managers. This Bandwagon was driving at the same speed and used the same expression all the time – just like a later boy band.
But they were in fact enthusiastically treated by the Apollo audience when they sang: "I Could Never Love Another," "Breaking Down The Walls Of Heartache," "Cowboys To Girls."
The group were four guys who grew up together and attended the same school in Rochester NY – Wade Davis (Baritone and choreographer), John Johnson (Lead vocal and group business), Jerry Ferguson (Second tenor and musical arranger) and Terry Lewis (Tenor and choreographer). John and Terry sang in the same group and when it broke up they persuaded Wade and Jerry to join. John and Terry had a gospel background, which the other two had not. Jerry had played drums with a group called The Crusaders and Wade had sung with the Famous Flames behind James Brown two and half years ago. (I don't think he could have done so unless he was able to sing gospel …)
They had been together for about two years. A year and a half ago they were contracted by Epic. Their first recording and success was "Baby Make Your Own Sweet Music," which was recorded in November 1967 but not released until six months later. They claimed that it had been recorded before the Jay & The Techniques' recording. Their version sold well in Detroit, which they considered to be their home, despite living in Rochester. Their second record was "Breaking Down The Walls Of Heartache," which just raced up the charts. They had started recording an LP. I was excited to see Edwin Starr. His reputation in soul circles was great. I had some of his Detroit singles on Golden World and Ric Tic including Agent Double O Soul. His performance was excellent. He did: "Stop Her On Sight," "25 Miles" (where he demonstrated the Walk).
I wanted to talk more with him; he seemed smart and had many irons in the fire. But we were constantly interrupted by calls from the phone outside the dressing room. He had learned the profession, he said, from Chuck Jackson and Jackie Wilson. He wanted to become a status artist – an artist who was not dependent on hit records. He had been to Europe eight times (1966-68), and he liked to work in England where they didn't forget artists who had not had a hit for a while. His own career had stalled when he did his military service in Frankfurt. He was with Motown and 25 Miles had been released on the Gordy label, but there was no time to talk about it. He had a background as a gospel-singer, but he did not sing in the church anymore. He did not want to be a hypocrite, so he only sang at funerals. He told me how he got everyone in the audience to clap. "I'm just saying that those who clap their hands will win the numbers lottery tomorrow." Everyone plays and no one dares to take the risk of losing, said Edwin Starr.
Cliff Nobles had recorded the big instrumental hit of this summer. At the Apollo, he performed The Horse twice. First a vocal version and then he demonstrated the dance with an overweight girl during an instrumental version. It was a rather tired appearance that culminated when he rode around on a broom stick – like a horse. His backing group had been with him for nine months. I met them in the small and crowded room at the top of the stairs.
Benny Williams (bass) was born in 1932.
Bobby Tucker (guitar) was born in 1938. He had played with Buddy Guy, Sonny Boy Williamson and Harold Burrage in Chicago.
Tommy Soul (drums) was born on April 7, 1944. He did a drum solo on stage and in his resumé was a gig with James Brown when his drummer became ill. He had played with Don Covay in 1962 and with Bill Pinkney and his Original Drifters.
When the interview with his group was finished, I met Cliff coming up the staircase. He had been out, probably at "Braddock's Bar." He was half drunk and looked a bit worn out. This summer had certainly been very busy.
He was a vocal artist who happened to get an instrumental hit. This was a once in a lifetime opportunity. The chance to repeat this feat was minimal.
Previously he had recorded three songs on Atlantic ("My Love Is Getting Stronger" / "Let's Have A Good Time" / "Your Love Is All I Need") and on Phil La of Soul, he had released "The More I Do For You Baby" and "The Horse" and an LP with odd tracks; some had not much to do with Cliff. The sequel was ready: "Hey! Judge Baby I'm Back" / "Horse Fever."
Gladys Knight had been one of my favourite singers for a long time. I was especially impressed by her version of Giving Up on one of the classic "Bell's Cellar of Soul" albums that were released in England.
She stood almost motionless while the Pips hovered around her with very graceful and intricate movements when she sang:
"Walk In My Shoes," "The End Of Our Road," "The Masquerade Is Over," "I Heard It Through The Grape Vine."
They had been performing to full houses throughout the week. She had regained most of his voice. Earlier she had been forced to go out on stage, to present herself and bow and then sit on stage and see the Pips appear without her. Edwin Starr had helped her with a guest appearance on "I Heard It Through The Grape Wine" while the Pips were singing and dancing.
Louis Jordan, who was asthmatic, always complained about the poor cleaning practices at the Apollo. He used to put a mark in the dirt and dust backstage. When he came back the next year, it was still there. He claimed that the air was so full of dust that he became hoarse every time he appeared there.
Maybe Gladys had the same problem.
She was one of the most charming female singers I had ever met. Gladys and her group, The Pips, had been together for 15 years. In the beginning there were two girls and only 3-4 years ago the last male Pip joined.
Today there were three male Pips. They were also related to Gladys. The "original" Pips sang gospel music and were then called The Fountain Aires.
Gladys was born in Atlanta, where she and the Pips were discovered by the DJ and promoter Zenas Sears and by Chuck Willis. Now she lived in Detroit. They broke up 5-6 years ago when Gladys was pregnant, and went their separate ways for a while.
William (of the Pips) had an excellent memory and helped Gladys to remember all the names so she wouldn't make a fool of herself. They have written songs together, among them Darling.
Gladys had a very positive way to talk about her hard-earned lessons in the music business. She said she was grateful for the people she met and who taught her everything about the industry's "bad guys." She meant the people at the beginning of her career. Before Motown she had never received any royalties. And then just enough to pay debts.
She was also happy that after Marguerite Mayes, one of their managers, she got another who taught them to avoid the people who took all the money and instead seek out those who left little behind …
As a solo singer Fury Records released "Come See About Me," and she recorded six other sides, still in the can. For a year Smokey Robinson tried to get her to Motown, but she was afraid to be lost among all the other artists. But when Gladys had decided she wanted to have a contract with Motown, it took over a year before the company said yes.
Charlie Atkins, who was the Motown choreographer, taught them stage presence and gave them dance lessons five years ago when he was not under contract to Motown. They knew Maurice King, musical director at Motown, in Detroit long before he came to Motown.
Gladys had just finished a two-week engagement at the Copacabana. She was the first act in twenty-six years to be late for her own premiere …
A blind girl came in to talk with Gladys. I think she had won the amateur contest the day before. I said goodbye to Gladys and walked by the door watchman on my way back. He had a real stone face. The film was over. I was thankful I didn't have to see it. Time for the next show …
Tuesday next week, I went back.
The program was:
The Esquires
The Vibrations
The Marvelettes
"Listen My Brother" – the musical show.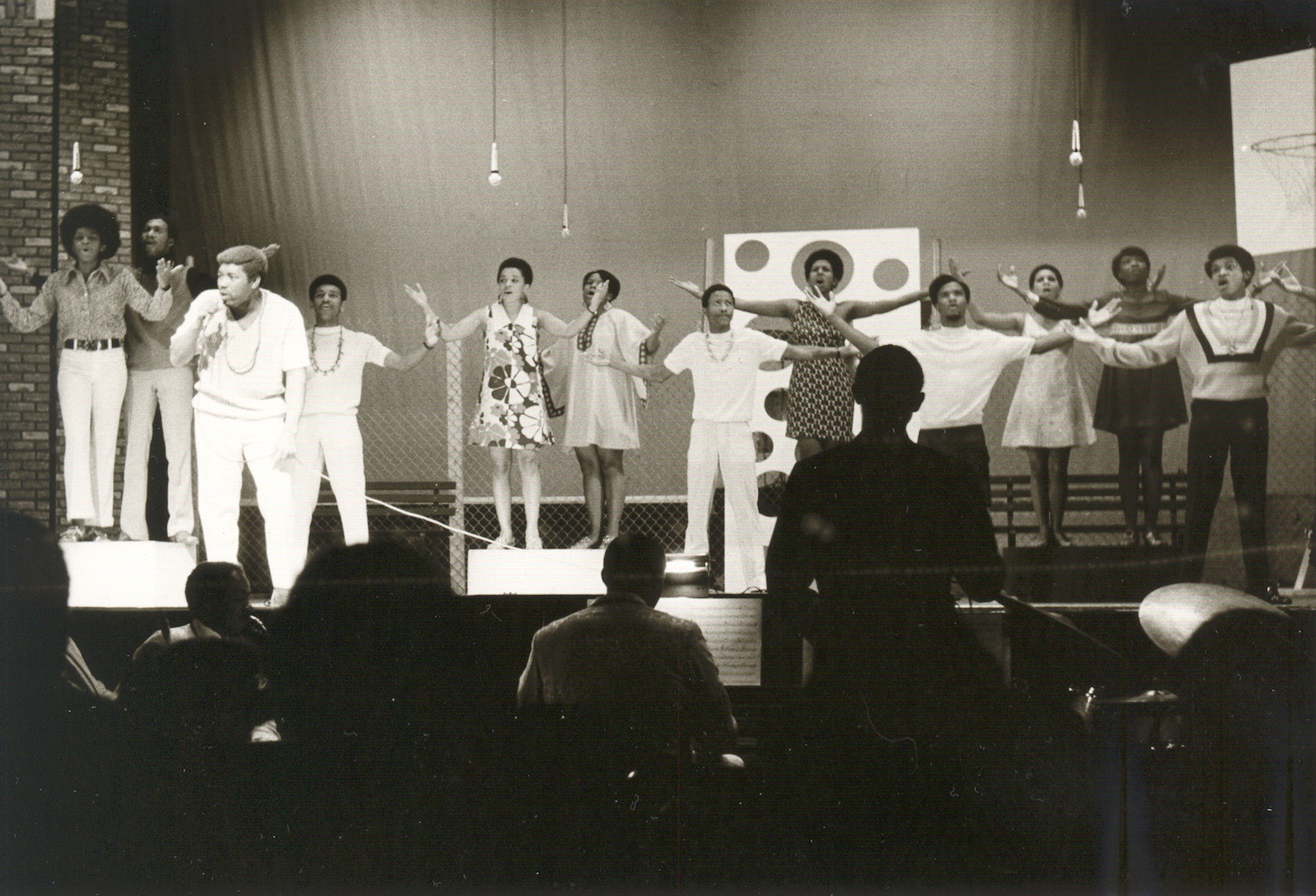 This week they also had a white comedian.
The lobby of the Apollo was a meeting place. There you ran into lots of artists and industry professionals. Before the show I noticed a gospel artist (and his wife). On Sunday, he had been so filled with the Holy Spirit that he had to be carried out of the church. He could not stop singing. Now it was Soul Time at the Apollo..
In a corner, I saw the Swamp People – Al & Jackie (Jackie Porter and Albertus) whom I met in Miami with soul queen Betty Harris. I sank into sweet memories but was interrupted by a woman who tapped me on the back. I turned around and immediately recognized Vivian Reed – nine years later a big star on Broadway in Bubbling Brown Sugar. Her French fans called her "Miss Ten million Volts." She became very hot there. We had met in Miami at the Foxes Den six weeks earlier. She was back at the Apollo, where she got her start through her manager, Honi Coles.
(Thirty years later I must confess that I have neither before nor later attracted the attention of a more beautiful woman in a public place. At the Apollo nothing was impossible.)
The Esquires were four men and they were accompanied by their own, rather mediocre backing group. They were good singers, but I thought they gave bass singer Mill Edwards/Evans too much space. They had an energetic stage show and sang … "And get away," "Get On Up" (It is actually the same song…) and then Mill sang of song of his own.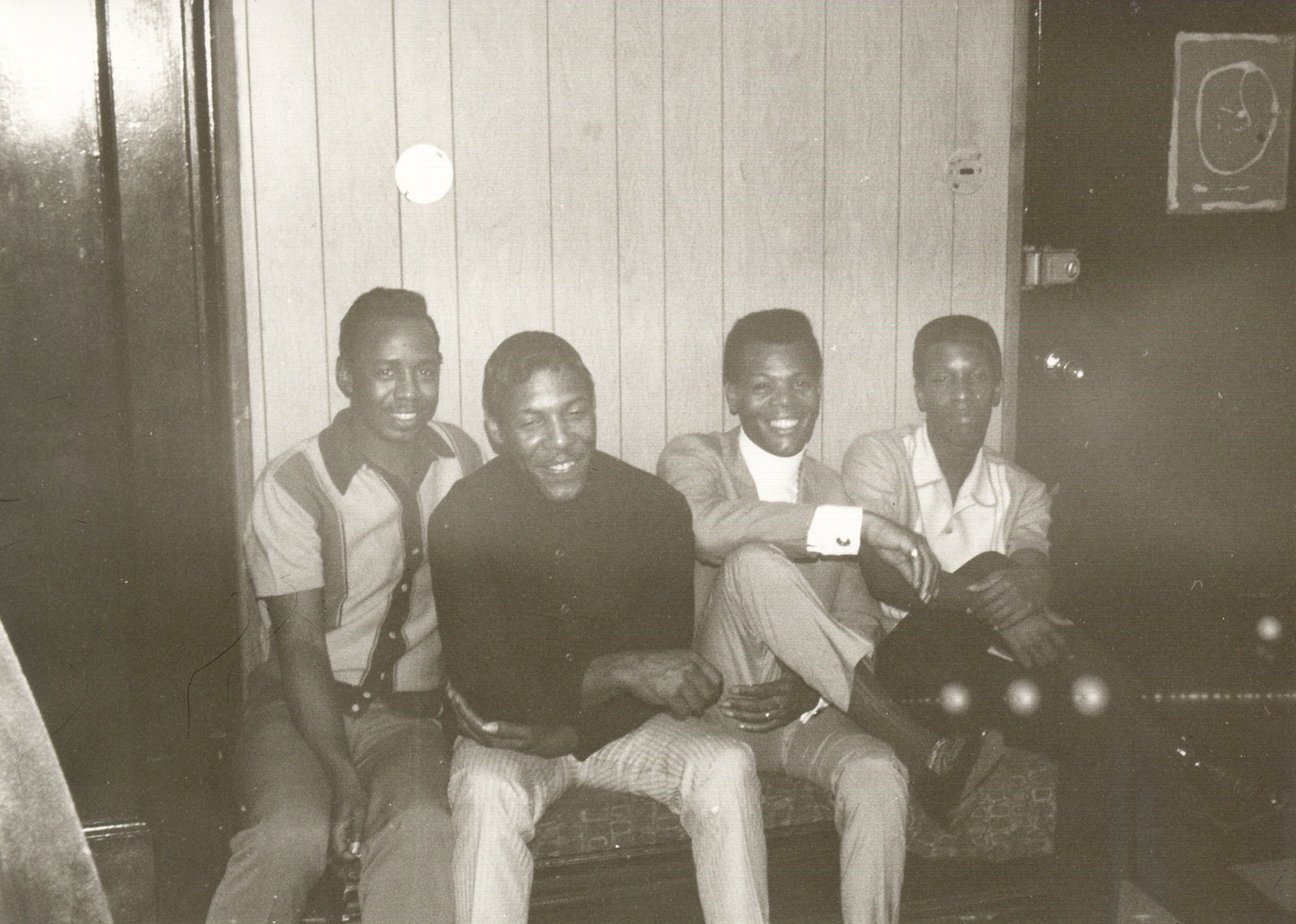 The group:
Gilbert Moorer (Lead) was born in Milwaukee in 1941
Alvis Moorer (Baritone) was born in 1940 in Milwaukee
Sammy Pace (Tenor) was born in Kansas in 1944
Mill Edwards (bass) was born in 1940 in Indianapolis (He also sometimes called himself Evans):
Mill had been with the group the Sheppards on the Apex label (1959-61). Their most famous recording was "Island of Love." He also recorded under his own name on King and Tousea before he joined the Esquires; just before the recording of "Get On Up" on Bunky Records.
Reuben Phillips and his orchestra resumed their place on stage to accompany the Vibrations. They started with "Funky Street," where the Vibrations made a break for a comical quarrel. Then a fine version of "Misty," where Ricky Owens sang lead with his classic high tenor falsetto voice. A third fine song followed. Vibrations was an experienced five-man group that perhaps joked a bit too much on stage. They were not as funny as the Coasters or the Cadillacs.
I had heard some of their Checker and Okeh recordings. They had been together almost as long as the Dells (since the mid-1950s). It was obvious that they were hoping for an equally successful comeback. They were not so happy about their contract with Okeh (Columbia) (without comparing their situation with Aretha Franklin who had been trapped on Columbia before she blossomed at Atlantic). They had eight months left, and counted the days.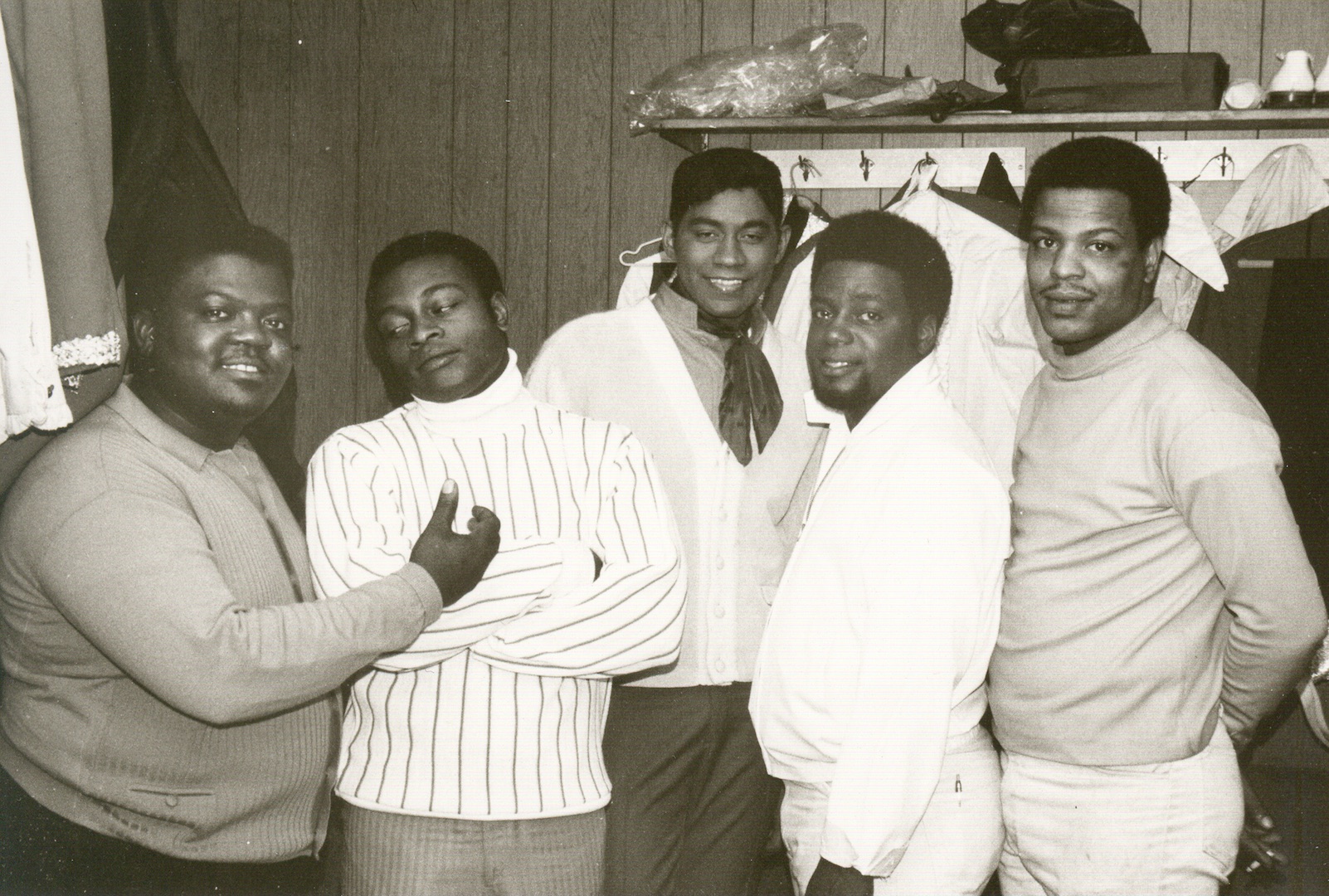 The Vibrations were a bunch of nice guys from Philadelphia with great experience in the industry and consisted of:
Carl Fisher (2nd lead),
Don Bradley (bass) – the group clown
David Govinda (lead, baritone)
Ricky Owens (tenor)
James Johnson (1st tenor – lead).
In retrospect, I best remember Ricky Owens. He was very taciturn. A little later he entered the turbulence surrounding the Temptations triggered by the firing of David Ruffin. Ricky was a great ballad singer, and sang like Eddie Kendricks (whom he was going to replace?). But he stayed only a short while with the Temptations.
Listen My Brother was a theater play with a group of young people who illustrated situations in the ghetto with songs like "We're Gonna Make It" / "Learn Something" / "African Hairstyle" / "What Is Love" / "Where is Tomorrow."
There were less people this evening than the other times I visited the Apollo. The Marvelettes were perhaps not strong enough to be the main attraction and the Vibrations had not had a hit in a long time. I thought this theater piece was good, but then I was easily swayed when the theme was the Black Panthers and Black Power. The play probably didn't have that much local attraction for paying customers.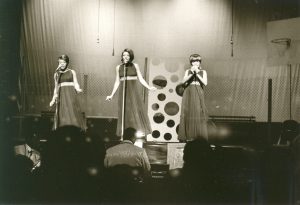 The Marvelettes' stage performance was professional. They were three girls then. Wanda was a great singer and the girls backed her meritoriously, while they stood pretty still on the stage.
Much has been said about the Motown choreography. I think it was overrated. Many Motown groups were rather drab on stage and stood still most of the time. First and foremost, it was hard to duplicate the Motown sound. Then they never managed to get close to the uninhibited choreographic expression that Ike Turner created for the Ikettes and Tina. Or that which James Brown created for himself and the Famous Flames. The Motown performers learned the basics, but not much more, unless they were exceptionally gifted like the Temptations or the Supremes. Besides they had too many hits at Motown. Their choreographer simply could not choreograph each new hit. Many Motown artists lacked stage routine, since they became popular so quickly through recordings. (Much was said about Motown when I visited Stax in Memphis. I might be biased here…).
The Marvelettes sang the following songs: "You're in Love" (Lead: Wanda), "Here I Am Baby" (Lead: Wanda), "The Hunter Gets Captured By The Game" (Lead: Wanda), "Too Many Fish In The Sea" (Lead: Anne).
In the conclusion followed "Listen My Brother." I think the Marvelettes sang it along with the theatrical players. It was a traditional finale with all gathered on stage at the same time.
From the beginning they were five girls from Inkster, a suburb of Detroit. Gladys Horton sang lead on songs such as Please Mr. Postman. Between performances, the girls read schoolbooks and did their homework. Eventually Wanda Rogers took over when the group was transformed from a girl group to a soul group in the mid 1960s. Her voice can be heard on classics like "Don't Mess with Bill" or "The Hunter Gets Captured By The Game." Wanda, who was small and had a fine, curved nose, was married to Bobby Rogers of the Miracles. He was the most muscular member of the group and on album covers he often wears distinguished horn-rimmed glasses as Detroit's answer to Bo Diddley.
Wanda was four months pregnant and the Rogers family expected an addition in January 1969. On the album cover of Season for Miracles (1970), we can see that everything apparently went well. Wanda is holding a child in her arms that appear to have passed the acute stage of lactation, while Bobby dedicates himself to a girl and a boy of about five and three years of age.
Wanda sang lead on the flip side ("So Long Baby") of "Please Mr. Postman," but not anymore. It was too high and she would lose her voice if she tried.
Anne Bogan had been recruited in February-March the same year that Gladys left. She was bigger on the cover of the LP Sophisticated Soul than on stage at the Apollo. But it seems unlikely that she had put on weight since she came to Motown. The fate of Florence Ballard in the Supremes must have discouraged any over eating among Motown stars.
Anne was born in Cleveland and started in the gospel music industry. First with the Cleveland Gospel Aires (there were three different groups called the Gospel Aires ….) and The Grace Inspiration Singers. But she did not do any recordings. She left gospel music and sang lead with the Challengers who had a hit, Honey, Honey, Honey on Harvey Fuquas Tri Phi label. She did not mind singing R&B as long as the songs had a message. When Gladys left the Marvelettes, Motown had an audition. Harvey, who now worked at Motown, remembered Anne and sent for her, and she was chosen.
Katherine Schaffner, had been with the group from the beginning. She was very fond of English spoken with a European-accent (like mine) after a period of illness eleven years earlier when she was cared for by a Hungarian nurse. Katherine was also married.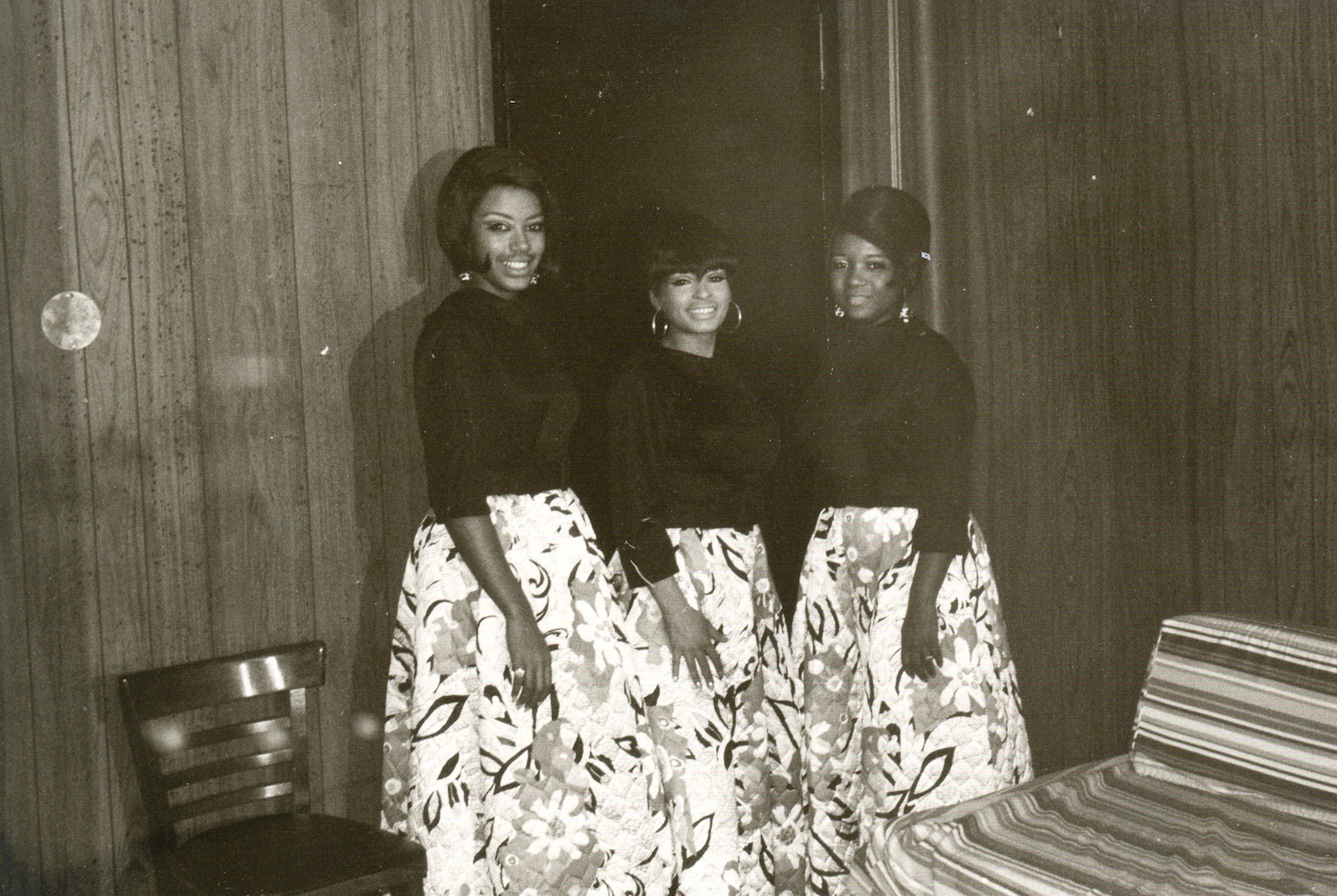 The Marvelettes were the main attraction at the Apollo that week and had the finest, largest dressing room closest to the stage. Gladys Knight had hosted there the week before. From there a spiral staircase led upstairs. On top beginners and has-beens had to settle in narrow and crowded dressing rooms.
During the English tour a few years earlier they had only mimed when they appeared on TV. They thrived in Europe which they found clean and tidy and not as crowded and overpopulated as the US cities.
I parted from these three nice women.
The movie had been about a baron and "scientist" who had produced bloodsucking and man-eating trees in his greenhouse laboratory. But when they forgot to close the windows most people were eaten up.
Before cable TV and video stores these kinds of films were never seen in Sweden. The Swedish film censors succeeded in keeping an acceptable level of film artistry back home.
The Last Show
The next stop was Kennedy airport. I picked up my suitcase and dragged it up to the Port Authority Bus Terminal. It was midnight and the plane would leave at five in the morning. But after a while in the plane, we had to leave it. An engine had caught fire and we were accommodated in an airport hotel until they found a replacement plane.
Two days passed. I spent most of the time at the hotel and watched old movies on TV. The departure was finally to set to Friday evening. I scraped my last cents together for a commuter ticket and went to Harlem.
August 30, 1968
Friday afternoon the next week's show opened. Photos were not allowed nor any interviews. I had not a penny in my pocket but was hoping to get in free. While I stood there and waited an elderly, bespectacled white gentleman around 75 years of age came up to me and we started talking. He was dressed in a simple cardigan sweater. He looked like an old school teacher, and that was also his professional training at the beginning of this century. It was difficult for me to hide my enthusiasm and fascination for the Apollo and its artistic tradition. I began to tell him what I'd been doing this summer.
He introduced himself as Frank Schiffman, owner and founder. He briefly outlined the history and how everything had started with the Lafayette Theater already in the 1920's with artists like Bessie Smith, Louis Armstrong, Fats Waller and many more. He also talked about his time with the Harlem Opera House. When he realized my financial problems he put his arm kindly around my shoulders and took me firmly past the tough door guards. It was a prophetic moment:
Frank used to put his arms around artists who didn't measure up and were fired. I never came back, either. The Apollo Theatre closed a few years later.
But now I could enjoy another fantastic show at the Apollo with The Monitors / Shorty Long / Junior Walker / (Smokey Robinson and) The Miracles – A real Motown extravaganza.
The Monitors consisted of two men and one woman. They stood still all the time when they sang.
"Say You" – their hit song – sounded really good.
Then followed a Delfonics inspired "I Only Have Eyes For You" and ultimately a mediocre version of The Impressions' "We're a Winner."
The group was not very experienced and it shone through. They wanted the audience to repeat "Oh Yeah" but did not get much of a response. I had seen both better and worse groups than the Monitors.
Shorty Long was very short and came on stage wearing a white wig and robe. First he sang a duet with a two meter long woman ("Never Gonna Give You Up" – Eddie Floyd's hit song). Then came the Motown version of this summer's second scourge alongside the Horse, namely – "Here Comes the Judge." The Judge routine had been introduced back in 1929 and bubbled for 39 years before it exploded in the summer of 1968 with a hit single on Chess by Pigmeat Markham.
Shorty was acting a scene where he asked people for "Order in the Court" and he ordered the accused to raise their right hand. Then he rushed forward with a deodorant to take care of a bad smelling armpit. Finally, he waved his revolver and gave out harsh punishments such as "30 Days of Shing-a-ling." He ended the show with his classic Motown stomper Function At The Junction.
Everything was not perfect yet. When Shorty said "everybody" to make room for the full orchestra, they believed that it was time for a guitar solo instead …
Shorty's life ended shortly afterwards in a car accident. I think he was one of the very best of the lesser-known Motown artists.
Junior Walker bounced out on stage wearing a pink suit with his All Stars standing behind. He started with a short version of The Horse and then presented himself and his band.
Then followed a string of hits like:
"Shake and Fingerpop," "Road Runner," "Cleo Is Back" and "How Sweet It Is To Be Loved By You" – while the audience joined in the choruses, and finally Shotgun where Jr Walker had a duel with his guitarist whose noise level, unfortunately, was too high all the time. (Especially on Road Runner.)
Junior was full of energy and power and not nearly as polished or sophisticated as most other Motown artists I've seen. His style was quite raw. It was fun to see him live and to hear this string of amazing soul instrumentals (often with vocal chorus), although he only rarely improvised, or spread out, but mostly stuck to the short-short single format. A great saxophonist!
Smokey Robinson & The Miracles
Smokey stood in front with the other three members behind him. Each had their own microphone. Despite the fame of Motown choreography, the Miracles were another still-standing group. The compensation was Smokey's expressive face, which changed with the lyrics. They did:"I Second That Emotion." On "Talk About Love" the group took up maracas and tambourines.
Smokey asked if anyone had loved without being mistreated or not loved but treated badly – then Say Yeah!
The majority of the audience respond with an unison Yeah!
"More Love" followed and then "Yester Love" where Smokey had to clear his throat a few times. Then he wanted to sing a "sad song." The crowd responded with cries and shouts when the introduction to "The Tracks of My Tears" rang out.
It was a great moment to hear this song live. The best Motown ballad of all time. Even Bob Dylan called Smokey USA's foremost contemporary poet after hearing this recording and Smokey's lyrics.
"Special Occasion," "Theme from Valley of the Dolls," "If You Can Want" and "Ooh Baby Baby" followed.
The finale was "Going To A Go Go." The audience again responded with screams. Smokey ended the show by taking a few dance steps and the show was over. A better ending to three months in the US is difficult to imagine.
When I arrived back at the hotel the bus to the airport was waiting and left almost immediately.
The airline tried to compensate us for the delay and offered free drinks all the way home. (They were not familiar with Swedish binge drinking culture and habits.) It was a big plane with two levels and a staircase leading up to an airplane bar where we stood and cheered and toasted while the sun was rising over Greenland. When I got back to my seat after a few hours, I discovered that my neighbour, a "happy" student from Lund University, had been sick and vomited straight down into my hand luggage bag. There I had neatly stacked 200 singles. I had to rinse off the top layer of 45s and dispose of paper sleeves when home again.
Between visits to the Apollo and various record companies, I was out looking for records. Colony was an excellent open-at-night record store on 1671 Broadway where I spent much time going through their stock of 45s. According to them, it was the second largest record store in the United States. Jimi Hendrix had been there and bought records last year but there was still a lot left. They must have had 50,000 singles sorted by record labels on the shelves. When the clerk understood what I wanted he put "Sea Cruise" by Frankie Ford on the turntable and spun around doing the Twist. I bought a decent bundle that was crowned by "It's All Over Now" by The Valentinos.
On 1595 Broadway was Oldies Records. They displayed Vee-Jay LPs with the Dells and the Eldorados etc. in the window at $25 per LP. (At NK in Stockholm the same records were on sale for $1.50 each.) There, I met Shelley Weltman who later started Oldies Unlimited in Flushing.
Unfortunately, all the mono LPs on Atlantic with Ruth Brown, Clyde McPhatter, Big Joe Turner and others had sold out during the summer. Only an occasional Drifters LP could be found.
On Saturday I went to Harlem and bought records along 125th street. When they realized that I was looking for older records, the clerk in a store asked if I was interested in a Chuck Willis LP (on Okeh/Epic). Which I was of course and paid $3 for it. At Bobby's Records I bought Erma Franklin's Piece of My Heart on Shout, now better known in Janis Joplin's version. When I walked along Lenox Avenue I found a small record store. They had a box of soul-singles on the floor. How much are these, I asked. You can get them for free, the clerk said. I didn't dare to take all but picked a decent bundle of small soul-labels from New York.
It was difficult and complicated to import records from the United States. Albert Schultz and David Eskin exported LPs that were still in the Schwann catalogue. Then discs stayed in the catalogue for many years. I had established contact with King Karol in New York. They had a good stock at 111 West 42nd Street. I bought the Fever King-45 with Little Willie John there. I also visited the House of Oldies at 267 Bleeker Street. Junior Wells appeared simultaneously on Cafe' Au Go Go on 152 Bleeker St, but I never had time to go there …
Among the highlights in the United States were the church concerts. As I walked around Harlem I was always looking for posters about Gospel concerts. Once in a while a church used to have a large program with many gospel groups. This Sunday, around noon, I was on my way to the Corinthian First Baptist Church at 116th Street and Seventh Avenue in New York.
The program began with a sermon from the church's priest. Then came the Sheppard Singers, a seven-man group. They brought no singing surprises but they had a couple of fine guitarists and the group was in a good mood.
Clarence Fountain, better known later as the lead singer of the Blind Boys of Alabama, had left the group and tried a solo career. He had a fine Ray Charles-like voice and did well. After the performance the priest stood next to Clarence and said that he was sick. They had to collect money for his medical expenses and the ticket home.
Mighty Gospel Giants of New York were just excellent. Especially prominent was a little guy with a high Little Richard-styled hairdo. Both the group and the audience were feeling good.
Skylight Singers were the highlight of the day. The group sang wonderful harmonies behind the lead singer who came in ecstasy, and did not want to leave. He rushed around among the crowd in the pews, kneeling down and preached and sang alternately. In the end, the group's other members had to lift him up and carry him out. A couple of days later I saw him in the foyer at the Apollo …
Sandra Brown was a corpulent singer whose talent was not as big as her body, unfortunately …
Highway Q.C.'s did a fine performance, but left a mixed after taste. The lead singer delivered a speech where he talked about the corrupt secular soul-industry and the artists who had betrayed their vocation and sold out. (Sam Cooke had been with the Highway Q.C.'s). He also said that they did not have time to stay and sing for long as they needed to perform at several places this Sunday to earn the necessities of life … He seemed quite bitter even if he sang well. He certainly had not the charisma of Sam Cooke …
Swan Silvertones is one of my all time favourite groups. Then, lead singer Reverend Claude Jeter appeared solo without them. Many connoisseurs rate him among Gospel's all time best artists. But of course it was sad that he was not connected with the Swan Silvertones any longer.
He was in a good voice and did a fine performance. Between songs he preached and spoke in a cultured and intelligent way.
A couple of solid white-clad nurses kept close watch on the crowd.
A woman quietly went around in the audience and demonstrated a battery-powered hand held fan to use when the music was too hot.
Not all groups announced arrived. The following were missing:
Golden Leafs – Rev Julius Cheeks
5 Singing Stars (Washington)
Highlights (Brooklyn)
CBS Trumpeteers (Baltimore)
Had Julius Cheeks been there these nurses might have had to take care of me. His vocals can make Wilson Pickett seem soft-spoken or quiet. I also hold the (CBS) Trumpeteers recordings (Nashboro) very high. Both groups had certainly given memories for life if they appeared.
Strange enough there were not so many people there. The house was far from full as I remember.
The last week in New York, I visited various record companies. In New York, the record business was centered on Broadway and around Times Square, within walking distance from the hotel.
I sat down with the yellow pages and supplemented the addresses I had taken from record labels. Many major labels had started their own soul labels or hired soul artists.
But it was a different pace in New York. In the South, you could just drop in for a few hours. Here previous appointments had to be made.
I visited:
ABC 1330 Ave. Americas
Atlantic 1841 Broadway. Their studio was at 11 west 60th street (PR:Bob Rolontz)
Bell 1776 Broadway
Brunswick 445 Park Ave
Calla 17 West 60th St
CBS (Epic) 51 west 52nd St (With subsidiaries Okeh och Date)
Decca 619 West 54th
Jay-Gee 1790 Broadway (Jubilee – Josie)
Jubilee 318 W. 47th Street (ware house and One Stop) PR: Elliot Blaine
Laurie 165 W. 46 PR: Dick Vanderbilt
Mercury 11 west 57th St PR: Diane..
MGM/Verve 1350 Ave of Americas PR: Sol Handwerger
Musicor 240 W 55th Street
Rojac 1274 5th ave
Roulette 17 W 60th PR: Red Schwartz
Scepter/Wand 254 West 54th Street
I did not get much help at Atlantic. I spoke with Bob Rolontz but neither he nor the Atlantic archives had any information about artists like Professor Longhair, the Top Notes or the Clovers. I was already a member of the English fan club Uptight and Outasite (The Atlantic-Stax Records Appreciation Society). There I was informed about all their soul artists.
In the Josie/Jubilee warehouse I got a free hand to pick records from their inventory, but had difficulty naming artists from memory. I got a nice bundle, though.
Maybe Elliot Blaine, in charge of the publicity, had a premonition of the terrible tragedy that would occur here a few months later when everything burned up. Or was it arson?
At Laurie Records, they were friendly and I had a little chat with Ernie Maresca. He was happy to be reminded of his Swedish Top Ten success with "Shout Shout (Knock Yourself Out)." In the US, his work with Dion and the Belmonts were more well known.
I accompanied him when he went out for lunch. He asked how Larry Finnegan did in Sweden, "I heard that he has opened a hot dog stand in Sweden," joked Ernie. "He must be doing well" (In fact Larry's "Dear One" had topped the charts in Sweden).
In the summer of 1966 I was drafted. Larry Finnegan came to the Wämö arena in Karlskrona. Our gang of navy soldiers heckled during his performance and pushed ourselves into his dressing room afterwards. We did not really hold his work in high regard. He looked surprised and maybe a little afraid. He died young, and I hope he has forgiven me for this lack of respect.
I knocked on Rojac's door in an apartment building at Central Park. I had seen that Big Maybelle was in town, but no one was there. She was due at a big arena along with Marvin Gaye and many others shortly after I left the United States. At the same time I saw Marvin Gaye in sunglasses exit a shop across the street on Broadway in a canary green suit.
I often passed Lloyd Price's Turntable Club at Times Square. It was always closed. Lloyd's business partner Logan was found shot dead here.
The Brill Building, at 1650 Broadway, was like a children's Christmas calendar. Many record companies were here and songwriters were busy composing.
I ran around in the corridors and rang on many doorbells waiting breathlessly for what would appear behind the closed doors. It could be free records, photos and publicity materials. Or chats with veterans of the record industry.
Buddah (Room 508)
Diamond
Gamble (Room 304 A)
Scepter/Wand Publishing
Shout (Room 611)
SSS (Room 1114)
Windy City (Room 1409)
And more.
I wanted to talk to Bert Berns at Shout Records. But that door was not opened.
The Gamble record company was best known for the Gamble and Huff team and their productions with Intruders ("Cowboys To Girls"), and Dee Dee Sharp ("What Kind Of Lady") and the Delfonics:
Bobby Marchan's "Ain't No Reason For Girls To Be Lonely" had sold 150,000 copies recently, and Gamble also had Ruth McFadden, and the white pop group Jaggerz in their stable. At Gamble Records I met a veteran, Sam Goldner. Sam's cousin George Goldner had been one of the most successful producers in the 1950s and worked with, among others Frankie Lymon, Little Anthony, Cleftones, Heartbeats, Flamingoes and others on labels like End and Gone. It was an era very little known in Europe at the time.
Sam opened his desk drawers and picked up some old promotional singles on End and Mark X that he handed to me.
Don Paulson worked at Richard Gersh Associates (200 W 57th St). It was a public relations agency that sent out publicity material from many different record labels and artists' agencies. Don had worked at R&B fanzines in the past. He provided me with publicity material for several years.
During my walks I ran into the manager of the Blades of Grass twice. We were doing the same round. He had a Frank Sinatra toupée and wore black clothes in a gangster fashion and tried his best to present the group and get past the wall of disinterest from the record companies.
Sue Records was Juggy Murray's company. He was not in good health, he said. He had heart problems and he had also had financial problems. But those were solved when he sold masters with Baby Washington and the Soul Sisters. On his office walls were pictures of the Sue performers Ike and Tina Turner and Inez and Charlie Foxx. He was working with new artists like Lucille Jackson / Billy Nickels / Candy and Cookie and Betty Brewden. But his best success to come was Wilbert Harrison's Let's Work Together, I think.
Bobby Robinson
In New Orleans, I had gotten to know Allen Toussaint and Marshall Sehorn. Marshall drove me around New Orleans, and to Huey Smith's apartment near The Dew Drop Inn, and gave me the address to Bobby Robinson in Harlem. Marshall had worked for Bobby at the beginning of his career and had also brought over Wilbert (Kansas City) Harrison to his own companies (Sehorn and Neptune).
One afternoon I knocked on the door to a corner apartment in Harlem at 2333 8th Avenue and 125th street where Bobby was furnishing his new headquarters. Bobby had reactivated his Fury label and had recently spoken with Marshall and was forewarned about my arrival.
His roster of artists was then Ricky Lewis, who had a decent hit with Cupid and Tarheel Slim (= Allen Bunn), Big Boy Larry Johnson and Buster Brown.
Don Gardner and Dee Dee Ford had plans to team up again. Johnny Jones was a great gospel singer from the Swanee Quintet. In the summer of 1968, he had had decent success with his version of "Tennessee Waltz," and I had met him in Miami. Through the years I have become increasingly fond of this gospel group. Something I share with James Brown, who often used to guest the group's appearances in Augusta and brought them on tours with him.
He produced one of their biggest successes "Try Me Father" – a gospel version of his own hit Try Me.
The past four years Bobby had worked with the Enjoy and Everlast labels and their Elmore James reissues, Les Cooper and others, and with his record store – Bobby's Records – on 125th street.
I rank Bobby as number one when it comes to producing R&B. One gets goosebumps listening to a 78 on the Red Robin label – For example Champion Jack Dupree's Shim Sham Shimmy or the Du Droppers ("Can't Do Sixty No More"). They have an incredibly swinging backbeat and a weight and authority that is devastating. The engravings are so dynamic that there is more music in an old Red Robin 78 than on any digital CD I have heard.
Bobby looked like Heile Selassie – the "Lion of Juda." Both have the same bushy hair and are small and slender. For unknown reasons Bobby had a remarkably long nail on his little finger – for good luck?
All record industry executives and authorities, who were on their way to the Apollo theater, passed by Bobby's Records. They asked Bobby for advice and what he thought would hit. He was right about most things, and in November 1951 he started the Red Robin label.
In retrospect, what grieved him the most was that he lost Frankie Lymon.
Bobby had begun rehearsing with The Teenagers when they were picked up by George Goldner. Instead, he got Frankie's eleven year old brother Lewis. Maybe that's why Lewis Lymon's recordings have such a good reputation.
Bobby was often at the Apollo and especially at the amateur evenings. For a while he had thirteen different artists and the majority of those he had discovered there. The Schiffman family also asked him about upcoming artists that sold well.
Bobby showed me around and pulled out a large cardboard box with Fire and Fury singles. That was all that was left, he told me. He had sold his entire stock (thousands of 45s) for maybe ten cents each.
He was kind enough to hand me Don Gardner & Dee Dee Ford's I Need Your Lovin' and Wilbert Harrison's "Goodbye Kansas City" but he never found Dr Horse's "Jack That Cat Was Clean" in an original Fire pressing.
These years, remarkable releases appeared on Guy Stevens' Sue label in England. All of them were probably not legitimate. The nature of the relationship between Sue in USA and Sue in England is clouded. But Guy had a great musical taste and seemed especially fond of Bobby Robinson, Johnny Vincent's (Ace) and Juggy Murray's contribution to the American cultural history.
In 1978 I took the bus to 125th street. The Apollo Theater was closed but used for TV shows and recordings. Bobby Robinson was at his Hit Town One Stop which was located at 301 or 611 West 125th Street. I got the address from Bobby's Records.
I continued walking and passed by large high-rise projects, and finally went down under the elevated subway and its concrete columns until I came to Bobby's fairly inconspicuous warehouse premises, where he worked with his brother Dan.
It was a pretty scary neighbourhood and not so convenient to walk there alone in the dark. But one never learns.
Bobby had kept his bushy hair and the long little finger nail. Timid and somewhat taciturn, he started talking about Elmore James (1959). After rehearsals in his apartment in Harlem he knew that Elmore was on top. He rented a studio and in the middle of the night went there. Elmore recorded The Sky Is Crying. Bobby had an amazing ability to squeeze a little extra out of his artists, whether it was Elmore, Lightnin' Hopkins (Mojo Hand) or Buster Brown (Fannie Mae). But now he and his brother Dan were mostly involved in record distribution.
The Apollo was closed in 1978, but Teddy Pendergrass name still remained at the marquee. In the foyer of the Times Square Motor Hotel, where I stayed in 1968, were hard painted black women in furs, hot pants and white wigs surrounded by black men with elegant hats and super fly outfits. All seemed to use the same tailor as Johnny "Guitar" Watson.
A new kind of body work had entered "my" motor hotel. The area around 42nd street had become the center of the sex industry and sales of marijuana.
The photo studio for artists publicity photos, James J. Kriegman were in the middle of Times Square. They still had the white grand piano that had been used on so many publicity pictures. They gave me a bundle of old photos.