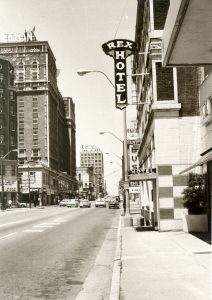 June 26 – July 3, 1968
After a short flight from Chicago to Memphis I checked in at Hotel Rex which was located opposite the Greyhound Bus station. It was a third class hotel and the rate was $12 per week.
By necessity, like other low budget travellers or local losers, I lodged in hotels waiting for renovation or bulldozers. I lived in these neglected city surroundings that summer. It became my home.
In the hotels the red carpets in the corridors were dirty and full of holes. Rooms were cleaned once weekly only, at best. Sheets were changed with long intervals and didn't always feel clean when you moved in. Sometimes there was a faint odour of urine and cockroaches.
It's like being in a B-movie when you are sitting on the bed in a T-shirt and your face is regularly lit up by a blinking neon sign across the street. At night you are often woken up by the fire brigade. An arsonist or squatter might have set fire to a building trying to speed up the renovation process.
Under the roof of the fairly large room at the Rex a fan circled slowly and kept the air dusty. Through a fly stained window was the view over an empty lot serving as parking space.
Segregation was no longer permitted but most African Americans still lived in the hotels in Beale Street. Even if the house walls had been cleaned you could still see remnants of the text "Colored Only" outside some hotels.
Still the Rex was better than the hotel I had lived in Chicago, and it was only a few blocks away from Beale Street. I went there immediately. It was far between the clubs and I could not discover anything of interest. The biggest action seemed to take place in the pawnshops and gun stores that lay in every block. Some houses had been damaged after the riots following Dr Martin Luther King Jr.'s assassination three months earlier.
I turned around and walked towards the business center with several skyscrapers of medium height. On the way I passed Hotel Peabody, a landmark hotel and one of the best in the south and well known for the big bands that played there during weekends.
My budget didn't allow any restaurant visits. So I bought food and brought it to the hotel and started my detective work.
When I arrived in USA I only had three addresses: The Apollo Theatre in New York, Chess Records in Chicago and Stax – "The Home of Soul Music" – in Memphis at 926 E. McLemore.
The disc jockeys knew what was happening in clubs and recording studios. A visit to the leading station in every town was a must. WLOK was Memphis' biggest and the next day I walked there (300 South 2nd Street).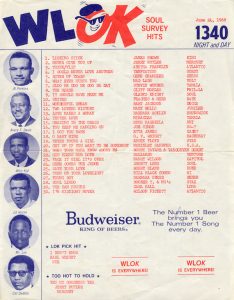 During the last year WLOK had gone from number ten to number one in the ratings. It was now the most influential Soul radio station in USA. It had been founded in 1956 and started playing R&B in 1959. The program director Al Perkins had a key position. He was the one who chose the records to be played on the air. Other DJs could play a song of their own choice, but Al had the last word.
He said that every week they got 500 single records from record companies all around USA (= 26,000 per year). This was before the LP-era and only about 20 LPs arrived every week. The station's play list consisted of 60 songs and five of those were exchanged every week. To listen through everything in detail would take 50 hours per week and instead they used the charts in Billboard and Cashbox giving info about what was played in other regions.
Bill Gavin's weekly newsletter "Radio Program Conference" judged the listening value of records. (Stax must have been depending on his benevolence as they dedicated a whole issue of their own news letter Stax Fax to celebrate Bill.) Later most stations had only forty songs on their play list and then some dropped to only twenty songs.The songs stayed shorter and shorter time on the list.
Every hour at WLOK was divided into five minutes of news and weather, eighteen minutes of commercials and thirty-seven minutes of music. They had around 200 different commercials and jingles to chose from. It was a soul music only station but with two exceptions: They also played the two bestselling pop/rock tunes.
After a while Al told me that he had been a R&B artists and it was icebreaking that I even knew a little about his biggest hit. I owned a copy of Otis Rush's "Homework" of which Al had done the original on USA Records.
It is not uncommon that a DJ had a recording contract. Sometimes it's a way for a record company to ensure the DJs loyalty towards the record company. Al had started as an artist so this was not the case.
He was born in Chicago in 1936 and was performing in the small clubs and made recordings between 1958 and 1962 on labels like USA and CJ. The songs he mentioned and probably also preferred were "Follow The Leader " / "You Left Me" / "Love Me Baby." Eventually I managed to buy nine of his different 45s. He performed with more well-known artists like Jerry Butler, The Impressions, Ted Taylor and The Temptations. He was also booked in the south.
When success eluded him he tried the radio business instead.
He enrolled in the radio school in Green, Mississippi and afterwards started DJ work at WOPE in Chicago, WIMI in Milwaukee, KALO in Little Rock and WLOK.
When we parted I got a lift with his colleagues Mr Vee and Cat Daddy-O who were also going to Stax.
The Radio station visits were to have a profound influence on my life. When I looked through the big pile of records that had reached WLOK in the last few days I immediately realized that I wanted at least 50% of those for my collection. I understood that the records that found their way to Europe or to the soul magazines review pages were only a very small tip of a larger iceberg. It really started a frantic record buying spree and finally I was sitting with a 32,000 record collection.
When I walked through the classic entrance of Stax Records I immediately experienced the famous southern hospitality.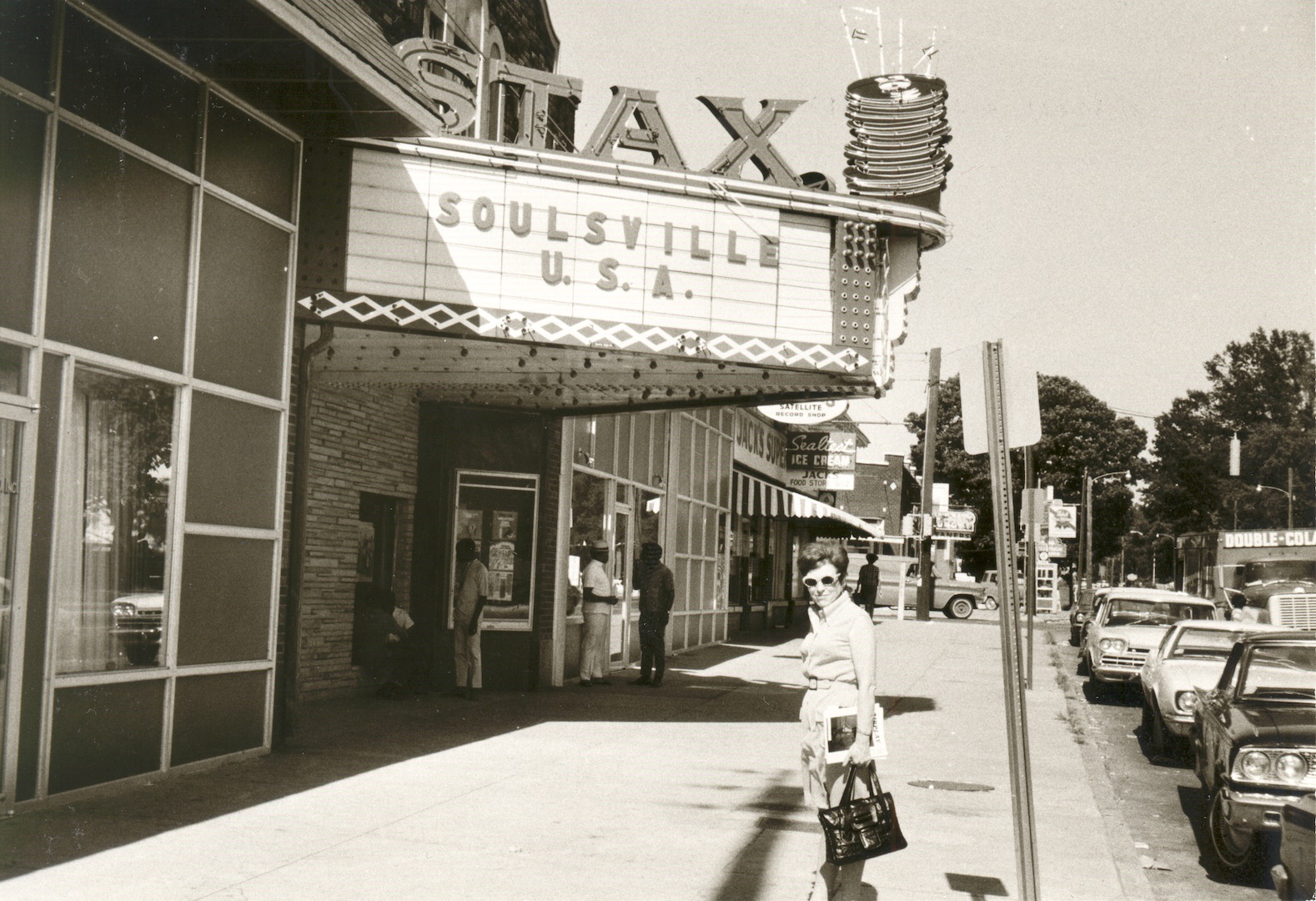 Estelle Axton, a very friendly woman in her late forties, invited me to a sightseeing tour the day after. She was one of the founders of Stax together with her brother Jim Stewart. The name was taken from two two first letters of their surnames. She also said that I was welcome at Stax whenever I wanted. This was not the case with Tamla Motown in Detroit. Despite much phoning and using the door bell I didn't even manage to get inside Motown. The door was locked for all outsiders.
I received a pack of free records and had to say no to some to avoid overweight at the plane. (Today some of those records could have paid for a large part of my trip and expenses.)
I was also introduced briefly to Steve Cropper, Jim Stewart and David Porter.
I asked what to do that night and they recommended seeing Roy Hamilton. Many years ago I had heard his "You Can Have Her" (1961) which is the original to a Swedish cover called "Sånt Är Livet" by Anita Lindblom. It's been one of the three top selling records in Sweden during the last century. (Selling more than a half million copies to a population of seven million people)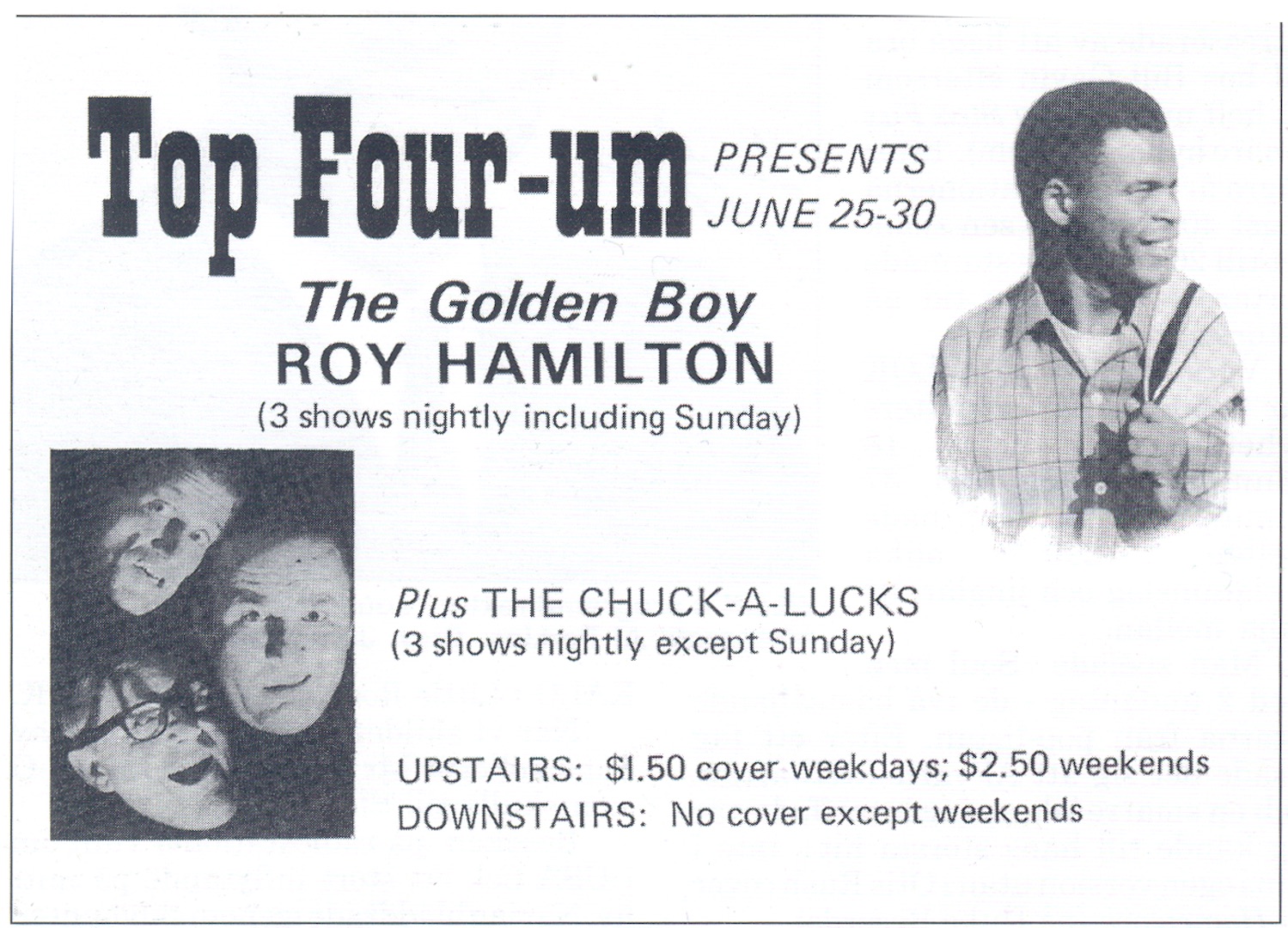 With a map in my hand I took a long walk passing several car dealers and industrial areas. Eventually I arrived to a large building in what might be called a suburb to Memphis. There was the club Top Four-um.
Sitting down inside I was surprised to see that many patrons had brought their own liquor in brown bags and only ordered a glass and ice. If I remember right, the club could only serve beer.
It was also confusing to hear the first of three shows with Roy Hamilton that night. He only sang old standards like "Ebb Tide" and "I Believe" and had a tranquil trio backing him.
First after the break did I get a better perspective. Roy had been one of the foremost R&B solo artists in the 1950s. He did sing popular songs but with a gospel feeling, just like Jackie Wilson. He belonged to the school of Roy Brown where Wilson and Clyde McPhatter are better known names today. I entered his dressing room and he welcomed me in a white-yellow turtle neck sweater. I asked him who the man just walking out was. It was Rufus Thomas, he confirmed.
Roy told me that he was born on the April 16, 1929. He started as a lead singer with the Searchlight Gospel Singers. When the group broke up in 1953 Roy started a solo career. Every Wednesday he tried his luck at the Apollo Amateur Night. (According to Jack Schiffman in Uptown: The Story Of Harlem's Apollo Theatre he was usually interrupted and run off stage as the judges thought he sang false.)
But his perseverance paid off and in 1953 he got a recording contract with Epic Records. He recorded Rodgers and Hammerstein's "You Never Walk Alone." It became a major hit in 1954. This song which never won the approval of the Apollo audience now sold three million copies. (It is also the official song for the Liverpool Football Club; inspired by local group Gerry and The Pacemakers and their recording of it.) The follow ups did well too: "If I Loved You" (750,000 copies), "Ebb Tide" (1.5 million), "Hurt" (750,000), "I Believe" (750,000), "Unchained Melody" (1.5 million). It is not that common that artists can tell you the sales figures. Bobby Womack also knew how many copies his records had sold.
Roy got the nick name "The Golden Boy." He was one of the best paid black artists and his song style a model for other artists. He brought gospel feeling to popular music and paved the way for Sam Cooke, Brook Benton and Jackie Wilson and many others. He inspired Elvis too. He was very well liked by his fellow artists. Whenever in trouble they could always ask him for help as later testified by Joe Tex and the Dells. During the rock and roll era in the late 1950s sales were not as good as before but still impressive for these hits:
"Don't Let Go" (1.5 million), "Without A Song," "I Need Your Lovin'," "Pledging My Love," "You Can Have Her." His "Everybody's Got A Home But Me" was mentioned in Jack Kerouac's book On The Road.
Roy left Epic in circa 1961 and recorded for MGM and RCA. Then he left show business for the ministry. His farewell to show business had nothing of the drama of Little Richard. It didn't seem to have been a conflict between his faith and his choice of recorded material. He might even have preferred to spread his message among the gigantic crowds at an Alan Freed concert than in a church. After a few years he returned to music business and performed at middle class clubs like the one tonight. The guests here were circa 75% black and 25% white.
Roy had recorded an album called Rock and Soul, which was said to have launched that expression. Solomon Burke had been crowned the King Of Rock And Soul and frequently used that title. Was there any connection?
It is never wise to compare artists in an interview especially when it was obvious that I was a fan of Solomon but knew very little about Roy. But Roy didn't mind that Solomon Burke used that expression.
Among his recordings in Memphis in later years is the Chips Moman produced At The Dark End Of The Street. Perhaps Roy's recording is the very best version of this soul classic. He also did a cover of Conway Twitty's "It's Only Make Believe." Roy died of a heart attack in 1969 shortly after meeting Elvis in Chips Moman's American Sound Studios. Elvis is said to have been a great fan of Roy. (Roy was not a victim of the vices of show business but of a serious heart disease that finally ended his life.)
Sightseeing with Estelle Axton.
On Friday, June 28th Estelle Axton picked me up. We were going sightseeing. She wanted to show me the interesting places in Memphis. Meanwhile she told me the story of Stax Records.
First stop was Poplar Tunes at 308 Poplar Avenue. This was the birthplace and present headquarter of Hi Records and one of the best record shops in the south.
The owner Joe Cuoghi said that he was born in the early 1920s and early on helped his father in the grocery store. In 1946 he had bought the Poplar Tunes record shop and had made it one of the leading in the south. A well-run record shop is often the starting point of a record label.
Just like Bobby's Records in Harlem, New York was the starting point of Bobby Robinson's Red Robin and Fire/Fury labels. Or like Excello/Nashboro started with Ernie's Records, and Dot from Randy's Records or Jewel/Paula/Ronn from Stan's Records. All had mail-order businesses too except Bobby Robinson. I used to buy from Randy's and Ernie's.
Joe didn't play any instrument but knew from the strategic location of his shop what people wanted. In 1957 he bought a prerecorded tape and released it on Hi Records, and his first big seller was Jay B. Loyd's "I'll Be Alright."
Hi was most well-known for its fine instrumentals with Bill Black, Ace Cannon and Willie Mitchell. Their biggest vocal hits were Jerry Jaye's "My Girl Josephine" and Gene Simmons' "Haunted House."
Next stop was the Sun Studio. It was not the old one at 706 Union Avenue, by many considered the birthplace for the post war youth culture. Even if Elvis was the most talented artist of his generation, had he not been born, someone else sounding similar, but not as good, would have probably surfaced in another town and in another studio.
The studio at 639 Madison Ave (?) was newly built. Knox Phillips, son of Sam Phillips, was there and ran things. He told us that Sam Phillips had lost much of his passion for music and instead took care of his investments, in particular the motel chain Holiday Inn. Dickey Lee was there and recorded that day. A few years previously he had topped the charts in Sweden with "I Saw Linda Yesterday."
Knox also said that a crazy Englishman was paying them a visit. It was Breathless Dan O'Coffey who spent his summer holidays going through the Sun warehouse looking for rare records.
Next Stop was Graceland. We stopped outside the gates with its two guitarists in forged iron. Elvis was in Hollywood making another film, and we were the only people outside. This was a pretty dark period for Elvis. His records sold poorly and his fans had tired of his films. His lifestyle was also out of phase. Living together with bunch of school and military friends renting cinemas and amusement parks for entertainment seemed shallow. At least in the year of student revolts in Europe and while hippies tried to find the meaning of life. A bit further up, the house could be seen between trees. It didn't look much out of the ordinary, I thought. I had seen better homes in upper middle class districts back home.
Talking about Elvis and Graceland would not create any interest or be welcomed at home while the black ghettos and black music would interest many more.
Six days earlier I had seen Michael Jackson and the Jackson Five in Chicago. We had been sharing the same dressing room after their performance. I could have been the first person to tell Elvis that I had met his future son-in-law, later to be married to his unborn daughter Lisa Marie …
Next stop were the Pepper Tanner studios. They were an important part of the media industry. Two hundred and fifty persons were working at the world's biggest company for making radio advertisements. They were active in all musical areas and with all types of radio stations. Soul, pop, C&W, classical, gospel and jazz and rock. About 3700 of USA's 4500 radio stations were customers. They had six full-time writers and idea-developers.
The step between making radio commercials and records might not seem that great. They had formed Pepper Records with Marty Lacker as CEO. He was formerly Elvis's private secretary and bookkeeper. The idea was that radio stations buying their commercials would not hesitate to play their records too.
But it had failed. There were no hits. Maybe radio stations subconsciously were suspicious of music coming from a company making commercials? Or was Pepper too far ahead of their time, and a future with MTV and rock videos? The Pepper recordings I had heard had been fine, but they are not on the same high level as Stax (or Hi).
During lunch and while driving Estelle had given me quite a lot of information about the non-assuming start of Stax. Deanie Parker, Stax PR woman added more later.
History of Stax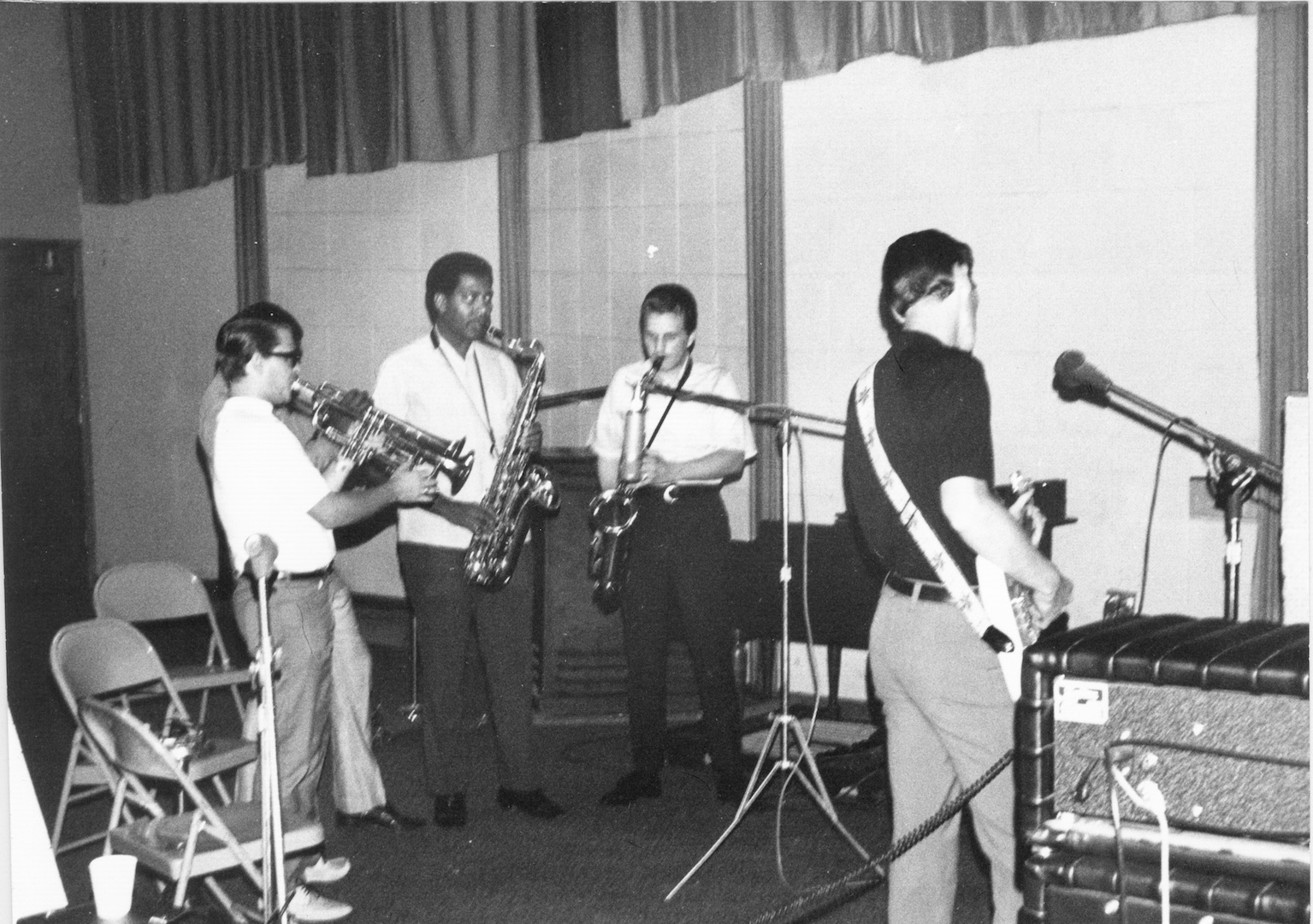 Jim Stewart, Estelle's brother, was born in 1931 and when seventeen moved from Middleton, Tennessee to Memphis. He did not complete his university education but started working in a bank. During nights and weekends he played the fiddle in a C&W band. In the intermissions it was not uncommon, said Estelle, that a persistent young man with a guitar wanted to enter the stage and sing. Of course, it was Elvis, and his later success cannot have left the musician or the bank man Jim Stewart untouched.
Jim met a disc jockey, Fred Bylar, who had a good voice. Together they went to the Sun studio for a test recording. It was 1956 and Elvis had left Sun. They wanted to fill that gap but both Sam and Jim thought that it sounded awful. Sam don't like the suggestion to hire Jim as a producer at Sun either.
Instead they went to a barber who had recording equipment and a decent tape recorder and made their record.
No company wanted to release it and they released it on their own label. No success, but they had now been bitten by the show business bug and rented a big garage just behind Jim's quarters and later a barn where they build a very primitive studio.
Soon Bylar was tired of this very expensive and time consuming hobby. Jim, $10,000 poorer, asked his sister Estelle for help. She had opened a small record shop, Satellite Records, in the Memphis black ghetto. She was tired of being a housewife. She mortgaged the family home and used the money to buy a one channel Ampex tape recorder. Behind the counter in her record shop Estelle had noted the enormous demand for gospel based R&B recordings. But the poor sound on her brother Jim's garage and barn recordings had scared away any prospective customers.
About the same time she and Jim heard that the Capitol cinema at 926 East McLemore was for sale. They rebuilt it into a studio and at the same time moved Satellite Records there.
The shop was still there but was closed shortly after my visit when the studio needed more space.
Jim hung up his fiddle in his office and he and Estelle added the first letters of their surnames – St and Ax – and the Capitol cinema was thereafter called Stax. In the middle of the black ghetto people wanted to hear R&B. Jim didn't have to use his fiddle very often, except when his friend Rick Hall visited for a business talk and they played together.
Stax soon formed a subsidiary label called Volt with the same repertoire. While Enterprise, a jazz-pop-easy listening and blues label, came later. Every second soul record bought in Memphis had been recorded in the Stax studios. They had 50% of the local Memphis market. The turnover was $30 million per year and so far the company had three hits that had sold over a million each:
"Green Onions" (Booker T & The MGs), "Soul Man" (Sam & Dave), "Dock of The Bay" (Otis Redding).
In June 1968, 22 people worked at the Stax offices and there were 24 solo artists and groups contracted; and 32 distributors all over the USA handled their records. In 1968 they had signed many new artists: Jimmy Hughes, Judy Clay, Anita Lewis, Harvey Scales and the 7 Sounds, and the blue eyed soul singer Linda Lyndell. In 1965 Al Bell had taken over some of Jim's responsibilities. He had owned the Detroit based Safice records, where Eddie Floyd recorded. He had brought Eddie to Stax. Al was now vice president of Stax which made him the highest ranked black person in a white owned company in the southern States. Stax annual reports had shown an increase in sales with 100-200% every year since the early 1960s. All prognosis pointed to continued success.
In the early 1950s the R&B companies Aladdin, Atlantic, Peacock, Specialty and others, had an exclusive black audience first. When white listeners came sales doubled. The same thing had happened in soul music and Berry Gordy's Tamla Motown was the most profitable company in the USA (no matter size and type of business). In the spring of 1968 Jim and Estelle sold the company to Gulf and Western, which also owned Paramount Pictures. The entertainment sector was only one percent of Gulf and Western's turnover.
Estelle also said that sales of soul music had increased rapidly. Before 1960 a hit record sold 300,000 at best. If it sold more the white "avant-garde" also bought it. In 1968 the upper limit of a soul hit was a couple of million in sales. In Europe Stax sales had doubled in the last year. Much because of the Stax-Volt Tour there in March-April of 1967.
The biggest markets were England and France while Germany was lagging behind.
Gulf and Western's new strategy for Stax was to quickly build up a LP catalogue. As many as 25 new LPs were released in the fall of 1968, thus immediately doubling the LP catalogue. The studio was busy round the clock. Even the producers, songwriters and the studio musicians made solo LPs to fill the quota.
But haste makes waste and the market was oversaturated with second rate soul LPs. Gigantic PR campaigns were launched. Their company newsletter Stax Fax was widely distributed. It also reached Sweden and me. Artistically I think it was a big mistake to sell to Gulf & Western.
Still, Stax was lucky. Isaac Hayes, most well known as one of the songwriting and producing team Hayes-Porter had, after a slow start, an enormous success with the LP Hot Buttered Soul. I guess this record financed all the other 24 slower sellers. Isaac's new persona Black Moses was a huge hit among both black and white women.
I remember him (and his partner David Porter) as a two real nice guys running around the studio premises always busy and without any signs of egos or star complexes.
While walking across the Stax parking lot Isaac arrived in a car with the four members of the Soul Children – due for a record session. Isaac welcomed me with big hug and a smile and then escorted them into the building.
On a clear and sunny day in April 1959 Rufus Thomas comes walking with his daughter Carla by his hand. He was a popular DJ at WDIA and recorded the hit Tiger Man at Sun Records in 1953. Carla was a very pretty teenager (16-17 years old) later called the Memphis Queen. When they saw the sign Recording Studio they jumped at it immediately.
Rufus had written songs and the duet, "Cause I Love You," was the result of the contacts established this day. Jim couldn't afford to release it until after a year. Then it sold 15,000 copies in Memphis and its surroundings. This was more than any other of Jim's previous releases.
Atlantic took over distribution and Gee Whiz with Carla almost sold a million in 1961. Later came Rufus own "The Dog" and "Walking The Dog."
The Rolling Stones jumped on the Dog bandwagon with their first album too. Other milestones the first years were: "Green Onion" (Booker T & The MGs), "Last Night" (The Mar-Keys) and "You Don't Miss Your Water" with William Bell.
Hayes-Porter
Isaac started as a butcher's aid in a slaughterhouse. One night he was watching TV at home when the doorbell rang. Outside was David Porter selling life insurance policies. It didn't take long for Isaac to turn off the TV and for David to change subject. They discovered that they had a lot in common. Both used to hang out in the Memphis clubs trying to get touring artists to listen to songs they had composed. They also didn't mind sitting in on stage whenever given a chance.
They decided to collaborate and together with a local DJ they started Genie Records. They had no major successes but got experience and in 1963-64 became affiliated with Stax. Their first assignment was to write and produce for Sam & Dave.
Deanie Parker
The 23-year old head of the publicity department was born in Mississippi. In 1962 she was working in a record shop when winning a song contest which resulted in a recording contract with Stax. She recorded two records:
"Imaginary Guy" / "Until You Return" (Volt 105) and "Each Step I Take" / "Mary Lee Can Do The Bumble Bee."
They didn't make much noise and in 1963 she started as a DJ at WLOK and worked as a secretary at Stax for a short while. Then she went to college and in 1965 hooked up with Stax again, this time as composer and PR-woman. She wrote the liner notes for the early albums of Otis Redding, Sam & Dave and Eddie Floyd, sometimes under the name Deanie Catron. Perhaps she also added to their design.
Otis' two first albums showed his face, while the next two used female models instead. Probably because of misguided consideration for the white customers who had started buying his records – while the liner notes still paid attention to those who were not used to read. Large letters and an easy to understand language was used. Still not aware of that the intellectual youth in Europe and USA were the forthcoming buyers.
It was difficult to differentiate between a Booker T and the MGs album with only onions on the cover and a schlager potpourri album with Mantovani or James Last with a similar design. A racially integrated group was not possible to show then so you had to know that the number of white families naming their sons Booker were almost nonexistent.
Deanie also wrote songs like "Don't Mess With Cupid," "New Years Resolution," "I've Got No Time To Lose" (one of Carla Thomas' best), and "Sleep Good Tonight." When the Mad Lads recorded "I Want Someone" she played the piano.
Club Paradise
I was at the Club Paradise and watched a show with local talent. The orchestra was led by a young man who worked in the Stax mail room and handled the distribution of promotional records. Among the singers I especially remember Big Ella. A young café aut lait coloured woman who has recorded some pretty good records.
The show was typical of a soul show in 1968:
A six to seven piece band (trumpet, one or two saxophones, guitar, bass, drums and sometimes keyboard) had a repertoire usually consisting of 10-20% James Brown songs and 10-20% of Aretha Franklin numbers, depending on the number of male or female vocalists. Then there were 10-20% Memphis hits and one or two of the Tamla Motown best sellers. Usually they also featured the biggest instrumental hit of that summer – Cliff Nobles recording of "The Horse."
Other songs that were heard everywhere that summer was "Funky Broadway" (Dyke and the Blazers/Wilson Pickett). Plus "Here Comes The Judge" (Shorty Long's version of Pigmeat Markham's original comedy recording). Regular instrumental numbers were the 1968 hits "Soul Serenade" (Willie Mitchell) and "Grazing In The Grass" (Hugh Masekela).
I was invited to a table with two white girls and a black man. One girl seemed interested in the black man while my job was to take care of her friend. After the show, the man invited us to his home. "His" girlfriend drove us there in a small Volkswagen "bubble." He lived pretty close to the Stax studio. We were served drinks and he demonstrated his water bed and other gadgets at home. My companion didn't drink. She came from a strict religious family that didn't even have curtains at home. She felt quite lost at a black soul club. While her friend had been completely changed after watching James Brown at TV. She wanted to go to those places all the time. The couple seemed to want to be undisturbed so me and "my" girlfriend sat outside on the staircase and talked. After a while her friend rushed out with disheveled clothes but she was persuaded to go inside again. When she came out next time she was sad and told us that she had been raped. And we left.
It was a strange evening. And so were race relations in the South. Why did she re-enter the house? Why didn't she leave or call on us?
Memphis was not a great entertainment city in comparison to Chicago. Most of the activity centered round the recording studios. The local artists that had a hit were catapulted to the national scene. While the studio musicians could be seen at special events like a DJ's birthday party or at best toured and performed during weekends locally or near Memphis. In Chicago artists had plenty of work almost every day of the week at a multitude of small clubs to choose from while Beale Street seemed dead during the weekdays.
I had received so few advices and tips about soul events that weekend that I simply started asking passers by on Beale Street what to do. This Saturday it was definitely the concert at the Mid-South Coliseum, an indoor stadium housing circa 8-10,000 people.
Al Perkins was the M.C. and among the artists were Joe Tex, Rufus Thomas, Carla Thomas, The Bar-Kays, The Delfonics, Paul Kelly, and Donald Height. A couple of gospel groups opened the show. Like The Spirit Of Memphis, where soul singer Joe Hinton had started his career.
I sat fairly far away from the stage and these years the sound systems were not really up to filling a large arena.
After the concert while standing in the bus line my concert program was snatched away from my back pocket by a black man of my own age. It had cost one dollar, but more important I had made notes about all performers and songs. It was probably an advantage to belong to the white minority in situations like this. It was evident that I had not started the argument. I was not that rich either as I waited for the bus. At these occasions black people usually came to the rescue, but I was not able to get the program back. The following reconstruction is not 100 % complete. (But the lineup I saw is definitely different from "WDIA's Starlight Revue" found on the internet)
"Pigmeat" Markham did his major hit monologue of 1968, "Here Comes The Judge," with musical accompaniment. (It was not called rap music then, but today it would certainly be.) There were three persons on stage including one woman. "Pigmeat" (1904-1981) wore a hat and was dressed like a bum. He was one of the top male black comedians in USA.
His choice of the name "Pigmeat" indicates a great portion of self-irony, and freedom from ego and pride. It is far from the Black Panther slogan of black pride. I guess most black people laughed at the jokes, but also that white people didn't understand that "Pigmeat" mocked us too while fitting in the Ku Klux Klan stereotype of the black person as a complete loser and a useless citizen. It was a difficult balance act for black comedians in the southern states of USA.
The Bar-Kays did Soul Finger. They had lost many members in the airplane crash with Otis Redding in late 1967. Perhaps the new line up had not played together for so long. They didn't sound as good yet as before the accident.
Paul Kelly was skinny and sounded like Sam Cooke or Arthur Conley. He sang Sam's "A Change Is Gonna Come" and one Arthur Conley number.
A female singer did two Etta James numbers "Tell Mama" and "All I Could Do Was Cry." (Was it Big Ella?)
Rufus Thomas did "Memphis Train" and "The Dog."
I think Carla Thomas did "I've Got No Time To Lose" and one more number.
Donald Height sang "I Don't Want To Cry." He was rather corpulent and when he sang Soul Brother's "Twist" he put on a white wig. He was a good dancer despite his being overweight.
The distance to the stage was long and I have always wondered if this was the real Donald Height (from Shout and Jubilee Records). An article in USA magazine RnB World at this time said that Donald had at least one impersonator touring under his name.
The Delfonics did almost exactly the same show that I had seen at the Apollo: "I'm Sorry," "La La Means I Love You" and "Get Ready."
(The drummer Al Jackson Jr. was not at all impressed with the group's sense of timing. In the Stax studio on Monday he imitated the group and showed their mistakes.)
Joe Tex was the headliner. He introduced his band and especially Jamo Thomas on bongo drums. He had a hit with "I Spy For The FBI." Here Jamo did "Knock On Wood."
Joe Tex has always been an excellent showman. He did You Better Get It, Men Are Getting Scarce when he invited a girl on stage and she kissed him with a "Greasy Mouth."
Then followed "Papa Was Too," "Tighten Up" and "Skinny Legs And All."
As usual his show was an intricate interplay with the microphone. Or a duel, if you like. The microphone stand was rocked in various directions while he danced around it – out of reach. But it always arrived at the right place for Joe to sing another chorus. In Funky Street Joe hit it with a heel kick. Joe's show was very visually effective and physically less demanding than the James Brown show with knee falls and splits.
This night the artists sang two to three songs and only their greatest hits. Al Perkins did a fine job as M.C. His nick name was "Wild Man" but he usually held back and was cool both on radio and live in person.
(I guess the show was called and advertised as the WDIA Starlite Revue: On the internet the following performers are mentioned: Joe Tex, Rufus Thomas, Percy Sledge, The Box Tops, The Bar-Kays, The Intruders, Pigmeat Markham. But I didn't see Percy Sledge, and definitely not the Intruders and probably not the Box Tops.)
Next year the Memphis Mid South Coliseum became the scene for the first WC Handy Blues Festival at the same time as the celebration of Memphis 150-year anniversary as a city.
On the bus from the Coliseum I was informed by a black guy that Joe Tex was going to the Hippodrome after the show. My new acquaintance had an impressive "conk" (A processed hair style like Little Richard. It is dangerous as the lye can permanently damage the scalp and its hair cells, which "Cleanhead" Vinson and Nappy Brown have experienced.) We decided to go there. He was almost a look-alike of McKinley Mitchell. Short, slightly corpulent and the same hairstyle. Both had marital problems. My new friend said that his wife had kicked him out a couple of weeks earlier and that he had moved back to his mama. Under the Magnolia trees he started singing Sam Cooke's "A Change Is Gonna Come." It was already the black national anthem.
Many others had started using the natural hairstyle called "Afro." You were considered an Uncle Tom if you didn't. James Brown was in the forefront of the new hairstyle and he produced "How You Gonna Get Respect (When You Have Not Cut Your Process Yet)" with Hank Ballard. (Danny Adler a guitarist from Cincinnati said that Hank kept his process well after this recording was released.)
The Hippodrome, the largest black nightclub on Beale Street looked like a combination of a church and storage barn from outside. It was packed and a band was on stage. When we arrived Rufus Thomas demonstrated "The Dog" dance for and with a couple of young girls. They doubled with laughter while trying to follow Rufus instructions. It looked like Rufus wanted to take the girls home with him. I think he had his famous short pants on. It wasn't the usual pastel coloured soul costume.
I managed to call his attention when he left the stage and we decided to meet at Stax next week. We exchanged addresses. Rufus lived at 1595 Joyanne St. in Memphis.
But Joe Tex was not there. One year later, while in Stockholm he said that he had been at the Top Four Um instead to meet Roy Hamilton. They were old friends and Roy had helped him in the early days of his career when he was stranded and down and out.
Outside the Hippodrome a bunch of youngsters my own age sat and relaxed. We started talking and next day James Hester and Ingram Munn and my other newly found friends took me to relatives outside of Memphis. They drove past a prison farm and their relatives lived in a shack of corrugated plate where many small children ran around in pools of muddy water. It was a step below those white wooden houses with a small porch that I thought everybody lived in the south.
My presence in a car with black youngsters brought some attention from passing-by policemen but nothing happened.
This gang were also in the outskirts of the music business. They had a little soul band and relatives in Chicago. They planned to go there by car and record. Not a very good idea as it seemed much easier to break through in Memphis. I think they hoped that I would follow and act as a door opener in Chicago.
Monday, July 1
I was on my way to the Royal Recording Studio on 1320 S. Lauderdale and to Willie Mitchell. In the foyer of this former cinema the fruit and vegetable dealer Carl Wells was sitting. He looked like he was in his sixties and his hobby was writing lyrics. He showed me a folder with love poems that he hoped that someone would compose songs to. He was going to meet Willie Mitchell and try to get him interested. Last year he had five poems recorded. The best ones so far, he stressed, were "Baby Let Me Be Good To You" (Carla Thomas), "The Hunter" (Albert King), "Sleep Good Tonight" (Sam & Dave). He was born in Mississippi and wanted to retire soon, so he could concentrate on song lyrics. He had also written lyrics to a couple of other songs that I didn't recognize: "I'll Rather Forgive You Than Lose You" (Bobby Woods) and "Climbing Up To Love" (Melvin Prayer).
Carl Wells was a highly unlikely actor in the music business. But as Knox Phillips had said in the new Sun studio where Sam Phillips had moved in 1959: "Cotton used to be Memphis biggest commodity – now it's music!"
Willie Mitchell was in the control room while Gene "Bowlegs" Miller was in the studio. It's not impossible that Ray Harris, the Sun rock-a-billy recording artist, was there too as a studio technician. Next year he was presented as vice president and producer for Hi Records. But my interest for rockabilly artists was cold then. In fact I didn't even know who Ray Harris was.
Willie Mitchell didn't want to say when he was born. Estelle Axton said it was 1933, but he looked a bit older. (Official date is 1928 in Memphis.) His version of "Soul Serenade" had sold very well a few months earlier.
His teens and early twenties were spent on Beale Street. He really enjoyed the jam sessions there, sometimes lasting for a couple of days. There he rubbed shoulders with B.B. King, Roscoe Gordon and Johnny Ace.
Willie started to play trumpet and studied music in high school and college. At Rust College, he studied music for three years with Onzie Horne, a recognized skillful teacher. Willie played in the school band and was later offered a seat in Al Jackson Sr's Orchestra (the father of Al Jackson Jr.). Before military service he did a stint in Tuff Green's Orchestra.
He continued with military music in Germany in 1952 and in 1955 returned to Memphis. He played regularly at the local clubs and in 1959 made his first recording with his own band. The Crawl was a minor dance hit. Willie recorded on the Home of The Blues label in 1959 and early 1960s. It was a small Memphis labels that had contracted remarkable artists like Roy Brown and the Five Royales. While Larry Birdsong can be described as "interesting."
In 1968 Willie had had a total six Hot 100 Billboard hits: "Percolatin'," "20-75" where Al Jackson plays the drums, plus "Buster Browne," "Bad Eye," "Slippin & Slidin'," and "Soul Serenade." (Willie said eleven, and included That Driving Beat and Sunrise Serenade.) Willie had three more hits in the following six months.
Willie usually played the trumpet but on "Soul Serenade" and "Bad Eye" he also sat down at the organ. He had released nine LPs, the latest being Prayer Meeting.
At this time his orchestra included his brother James Mitchell (tenor or baritone saxophone), J.P. Luper (tenor sax), Teenie Hodges (guitar), "Larry" (or Leroy) Hodges (bass), Howard Grimes (drums), and Charles Hodges (organ).
Don Bryant was their vocalist and he also recorded under his own name and sang at the major dances in Tennessee, Missouri or Mississippi that Willie's orchestra performed at. He sang on "That Driving Beat," one of my own favourites.
Willie's band was so heavily booked in the studio that longer touring was out of the question. They stayed in the studio during weekdays and performed around Memphis during the weekends. The MGs and The Mar-Keys had had the same routine.
Willie's work as a trumpeter was also requested in other studios and he can be heard on many hits recorded at the American Sound Studios with Wilson Pickett, and on Bobby Womack's What Is This and on Paul Revere's LP Goin' To Memphis.
Willie put his forthcoming album, Solid Soul, on the turntable. Release date was July 15 and he played a few samples like "Grazing In The Grass," "Windy," "The Horse" and "Groovin'."
Willie had also produced Bobby Bland's latest hit which I misheard as "Teach You The Blues," but it should probably be "Touch Of The Blues" (November 1967). He had written "Heartaches" for O.V. Wright and produced his hit "Eight Men Four Women."
He had also produced Inez and Charlie Foxx. But anonymously, as Charlie had insisted to have his name on the label. He had produced Don Bryant's "Save Me" and played trumpet on most of the songs recorded by Joe Tex in Chips Moman's American Sound Studio and on Joe Simon's "(You Keep Me) Hanging On."
I think that Dan Penn later told me that Joe Tex did his vocal of "Skinny Legs and All" in Memphis while the audience was added in Nashville.
Willie had written "Comin' On for Bill Black." It had been a decent hit four to five years ago.
Willie said that what made the Memphis sound unique was that they didn't use written arrangements, but made them up in the studio. Still all his musicians were educated and could read sheet music. Willie also wanted to stress the difference between the Memphis "down beat" and the Tamla Motown (Detroit) "upbeat" and that recordings produced in New York sounded different.
Willie had an offer to tour England August-September 1968, but it didn't materialize.
Willie was not the only trumpeter in the studio that day. The other was Gene "Bowlegs Miller – and he was worried. For several years he had tried to get a hit but without luck. He was born May 25, 1934 in Memphis and after schooling at the Booker T. Washington high school he and his brother formed a song and dance team called The Miller Brothers. They were later renamed Baby Ray and Bowlegs (1949) and were a regular act on the Beale Street amateur contests. (This is not the Baby Ray who recorded on Imperial.) Among others they were accompanied by Andrew Moody's Band. "Every other week B.B. King won and the next one we did," exaggerated Bowlegs. By 1952 he was a full-time musician; playing trumpet in all the small places in and around Memphis. He remembered backing the Four Aimes; later called the Four Tops.
He formed his own band in 1957 and in 1960 he was the bandleader for Richard Nixon in his presidential campaign (Also outside Tennessee?). "You can see my face on the cover of Look magazine then," he said proudly.
Bowlegs breakthrough came in 1961 when he was signed to Vee Jay and recorded "One More Time Part 1-2." "It topped the charts," said Bowlegs. This success led to an engagement at the Regal Theater with The Vibrations, Arthur Prysock, the Dells, The Clovers and The Sensations. He tried to repeat the success with occasional record releases like "Bowlegs Twist" (on SAB in 1962) which was recorded at the same session as his VJ recording. "Here It Is Now" and "Toddlin'," both on Goldwax did not do well when they were released circa 1964-66. Hi Records contracted him in 1967 and tried to make him into a singer but "Sure Is Good" and "I Was Wrong" didn't do much either. Still he was not without work. He had his own nine piece band with Rufus Thomas son Marvel playing piano and organ. They performed in and around Memphis. He did a lot of session work at for example with Stax, where he was a studio musician for four to five months in 1965. Then he went to Rick Hall's Fame studio in Muscle Shoals.
His trumpet can be heard on LPs with Wilson Pickett ("I'm In Love," "Wicked Pickett") and Etta James ("Tell Mama") and Otis Redding ("Otis Blue") and on soul hits like "You're Looking Good," "Stagger Lee," "Funky Broadway," "Mustang Sally" (Wilson Pickett), "Satisfaction" (Otis Redding), "Looking For A Fox" (Clarence Carter) and "When A Man Loves A Woman" (Percy Sledge) and "Shake Rattle and Roll" (Arthur Conley).
He played organ on Pickett's "Sunny" and trumpet on Chuck Berry's Back To Memphis LP.
He had also backed many artists on stage like The Impressions, the Temptations, Little Milton, Otis Redding, Rufus & Carla Thomas, Radiants, Mitty Collier, Brook Benton and Marvin Gaye.
He had been on WDIA radio station's "Starlite Review" seven times, and at the W.C. Handy Memorial.
Even if Willie Mitchell was the best selling Hi artist at this time, in the future he concentrated on record production of southern Soul with artists like Ann Peebles, Syl Johnson, O.V. Wright and Al Green and with splendid results.
Bowlegs later gave up the plans of a solo career and arranged and produced other people's recordings.
He was not in the same league as Willie Mitchell but he was still doing good work with Margie Hendrix (of the Raelettes) "I Call You Lover But You Ain't Nothing But A Tramp" and Little Junior Parker, Gloria Lynne and Bobby Hebb's "Everything Coming Up Roses." His arrangement of Homer Banks' "A Lot Of Love" is my own favourite.
At night an excited porter knocked at my door. He asked if everything was alright because there were a group of young black men asking for me in the lobby. It was the gang from the Hippodrome. After this incident I got a royal treatment from the black staff of the hotel.
James Hester and his brother Phillip lived at 249 Ayers Street. Ingram Munn and other friends were there and we listened to records. As usual I was surprised that many of the women that were present already in their teens had children. Now they had left their children at home with their own mothers.
I always walked from my hotel to the Stax Studio across town. I passed vacant lots and buildings that stood empty after the fires four months earlier, and abandoned gardens previously used for growing lawns and vegetables, following the assassination of Dr Martin Luther King Jr.
Out from one of the buildings came a young black man. He wanted to improve race relations and get to know me better and engage in a homosexual activity. He in fact started pulling at me trying to get me into the building. His face was sweaty and it looked like he was using drugs. He didn't look nice at all, but he was smaller than me and I felt I could outrun him.
The very same moment a car stops behind us. It is Howard Grimes, Willie Mitchell's drummer. He had recognized me from the Royal Studio visit. The perpetrator runs back into the building and I'm offered a lift to Stax.
In London's Hyde Park Corner the year before, an English speaker had said about homosexuality: "We invented it, but the Americans took over and are much better at it …" I got plenty of indecent proposals this summer. I moved in bad neighbourhoods. I couldn't afford taxis and walked.
In safety, inside the Stax building I waited for Rufus Thomas who never showed up. Instead I met Don Nix. He was wearing a big cowboy hat that hid a small balding spot to be. Recently he had been offered a job at Stax to build up a pop and rock catalogue with white recording artists.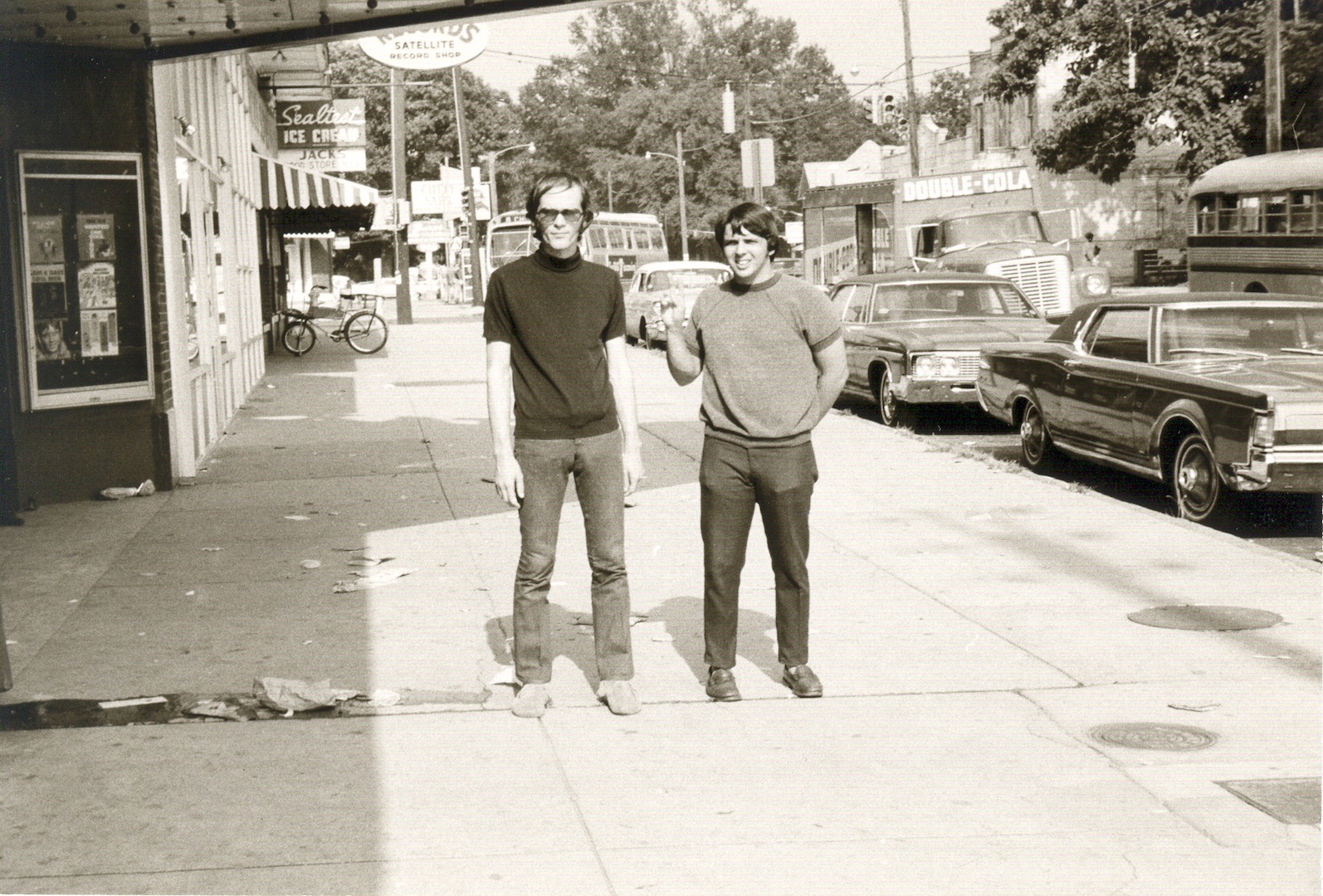 Don was born in Memphis in 1941 and played baritone saxophone in the Markeys between 1961 and 1963. He was part of the first horn/reed section at Stax while the rhythm section was Booker T & The MGs.
It was great fun touring all over America after the big success with Last Night. Since the Mar-Keys was a white orchestra but sounding black they were by mistake booked at the Regal Theater. (Don said that they were the first white group at the Regal, but it seems unlikely.) When they came out on stage, the audience became dead silent. The strong searchlights only made them whiter and things worse. Don managed to say "It's so dark – is anybody out there?" The ice was broken. They did so well that they topped the bill and LaVern Baker was moved down to second billing.
While at southern clubs they were sometimes introduced as a bunch of "o'fays" so that the (black) audience understood that they were both self critical and self ironic and had to distance themselves.
Don narrated many anecdotes from his time at the road. He enjoyed that lifestyle and preferred to work with black artists as they didn't let success go to their heads as many white artists in the same situation.
They had a playful feud with Ike Turner and his Kings Of Rhythm and shot slingshots at each other when they were standing on stage. Don didn't think highly of Ike. He felt that he lacked humour and was stupid. I had not met Ike and Tina yet. But after seeing them on stage I have always felt that Ike was a genius of black show business, as a musician, performer and conductor of a stage show. Still his lifestyle is the stereotyped "pimp and gambler."
Don was very interested in the old school of blues singers still living in Memphis. He spent a lot of time with Furry Lewis and his friends. They sang the blues and drank while Don and his friends listened and drank. At a local Blues Festival one of Furry's friends had been so drunk that he shit in his pants, Don confided. This only strengthened my resolve to concentrate on soul music that summer …
Don was part of a small colony of southern hippies that had stayed behind and not moved to the freedom on the west coast. Some of the better rock music of the 1970s was created by this group of hippies, rebels and outlaws. Don even asked me about the drug supply in Sweden, which I knew nothing about.
Bobby Whitlock walked by. He had just released his first record on HIP, the Stax pop and rock label. Bobby wore a Beatle hairstyle and seemed like an English musician. He was organist in the group around Delaney and Bonnie and Friends. I was surprised when Deanie Parker said that they were a white group. They had a great blue-eyed soul hit with the Stax recording of It's Been A Long Time Coming. It was one of the better songs I heard that summer. Bobby later became part of Derek and the Dominoes (= Eric Clapton).
While we were talking, music and singing were coming out of one of the Stax studios. It was the Soul Children. They were Anita Lewis (=Louis) and "Sheba" (=Shelbra Bennett) and Norman West and Johnny Colbert; a mixed group with two men and two woman.
Isaac Hayes played the piano and in the background was co-producer David Porter while Steve Cropper played guitar and co-produced too, it seemed. The song they were working on was "The Sweeter He Is" and although I didn't stay in the studio so long. I heard the song from outside while they made fifteen takes during several hours. Steve and Isaac tried to find the right groove, but without much luck, I thought.
This was the first time I set foot in a recording studio. This song became a national hit recording reaching no 52 on Billboard's chart. It was a good omen. But the finished version, released in 1969, didn't really sound like those takes from this June(?) session 1968.
Don told me about a recording session with Carla Thomas some years earlier. It was raining and suddenly rain poured in through the roof. It assembled in the lowest part of the movie saloon. All musicians had to move to higher located parts and gather round the only one still working microphone there.
After the session with The Soul Children I had a talk with Steve Cropper. He was extremely busy in those days.
The piano and saxophone are my favourite instruments, and among all guitarists in R&B and soul music there are only a handful that I rate very highly. They are Chuck Berry, Bo Diddley, Mickey Baker (Of Mickey and Sylvia fame, and studio guitarist at Atlantic Records), Loman Pauling (of the 5 Royales) and Steve Cropper.
Booker T. & The MGs, for which Steve Cropper was the guitarist, had been elected the top American instrumental group by Billboard in 1967 and their "Hip Hug Her" was voted the number one instrumental song in the NARAS poll the same year.
Steve had the major part in that group. Even if Booker T's name is featured it's Steve who was the group's engine. As a producer and songwriter he made sure that the members' best ideas came to the forefront. Until Jimi Hendrix surfaced, Steve was the most respected contemporary American guitarist in England.
I felt that among white producers Jerry Wexler (Atlantic), Chips Moman (American Sound Studios), Bert Berns (Atlantic and Shout Records) and Rick Hall (Fame studios in Muscle Shoals), Steve was perhaps the one who understood best how soul music should sound – and especially how the guitar should be played and sound on a soul ballad.
It was a great moment to meet him again. (I had gotten his and the other artists autographs at the Stax Volt Tour the year before.)
Steve was born on October 21, 1941 in Willow Springs, Missouri. At ten years old his family moved to Memphis where he entered Messick High School and then tried to become an engineer.
During the high school days he and friends formed a band which later became the Mar-Keys. At the end of the 1950s they mostly performed Ventures and Duane Eddy material. While growing up Steve had almost exclusively listened to Country & Western. But during his high school days he was more exposed to R&B and Lo(w)man Pauling and the 5 Royales became his major favourites.
The 5 Royales were based in Winston-Salem (North Carolina). When they left King Records they recorded for the Home of The Blues label in Memphis. Steve and his friends had an opportunity to see the group. It is not difficult to understand why Steve fell in love with Loman's style. It's extremely rhythmic while accompanying and explosive in the solo work. Not unlike the work of Mickey Baker, the best of the R&B solo guitarists, but more rooted in the gospel tradition.
Steve's own style is rather dry moving up and down the scales with perfect timing, while he holds the recording together. He creates a sort of counterpoint to the explosive, emotional singing and the heat of the horn section. It's an instantly recognizable guitar style even when disguised outside the Stax banner at for example Danny White's Atlas recordings ("I'm Dedicating My Life").
Around 1960 the Mar-Keys started to include more R&B material in their repertoire. Steve got a job in Estelle Axton's Satellite Record shop with the intention to be near the newly opened studio. Quite a few people had started to hang out there. Some were just curious while others turned out to be fine musicians. Soon a kind of regular studio band formed and when Steve met Booker T. in 1961 things started happening.
Booker T. Jones was born on November 12, 1944 in Memphis and went to the Booker T. Washington High School. He studied music alongside his studio work. In 1966 he graduated in music at Indiana University. While growing up he listened mostly to blues and gospel but became more and more fond of classical music while studying.
Al Jackson Jr. was born on November 27th 1935 in Memphis and also attended the Booker T. Washington High School. This was before the bussing era. I guess most black students went there. He learned how to play drums from Houston Stokes, drummer in Al's father's 16-piece band. He succeeded Stokes there before forming his own band by the mid 1950s. He was also engaged in tours with the Jazz Prophets and Roy Milton's Solid Senders. Al Jackson's background was jazz and blues.
Donald "Duck" Dunn (bass player) was born on November 24, 1941 in Memphis. He was living on the same street as Steve and went to the same school. Steve taught him the basics when Duck got his first guitar in 1957. Duck's musical background was pop and C&W, but he was never as fond of R&B as Steve, but kept contact with new happenings in pop and rock.
These four men formed a core group that was present on more and more recordings, often augmented by the Mar-Keys horn section.
Jim Stewart, who mostly handled the control board, felt that they should try recording themselves.
The opportunity arrived in 1962 when another session was finished long before due time.
First recording is "Behave Yourself." Jim liked it and requested a B-side. They started improvising around an old riff and "Green Onions" was born. Duck Dunn was not in the studio that day. But he has soon taken Lewis Steinberg's place behind the electric bass.
The Mar-Keys changed members often, but from the mid 1960s the horn section most often was Andrew Love and Joe Arnold (saxophones) and Wayne Jackson (trumpet).
About 75% of all arrangements were born in the studio. When they backed other musicians or recorded themselves new ideas were born. "The best ones appear when the technician has stopped the tape machine. Then we find new stuff to be used later," said Steve.
Despite all success Booker T & The MGs were a studio group in 1968 only doing two concerts a year. Plus a few disc jockey birthday parties to please them and to make them play more Stax music on the air and maybe a few school concerts and dances in and around Memphis every year.
In 1968 the Stax studio was busy almost round the clock. The MGs had taught a group of black teenagers – The Bar-Kays – to take over 50% of their own studio work. But the Bar-Kays were in the same airplane as Otis Redding when he was killed. Only Ben Cauley (trumpet) survived the crash and James Alexander (bass) had stayed at home. Soon another Bar-Kays group was formed.
There were forty recordings with Otis in the can. Steve said that Otis had been extremely easy to work with. He was liked by everybody and never caused any problems. But Wilson Pickett was very difficult to work with. They had to let him go. Which was a great pity as he recorded some of his best work there ("In The Midnight Hour," "Don't Fight It," "634-5789," "Ninety Nine And a Half Won't Do").
Homer Banks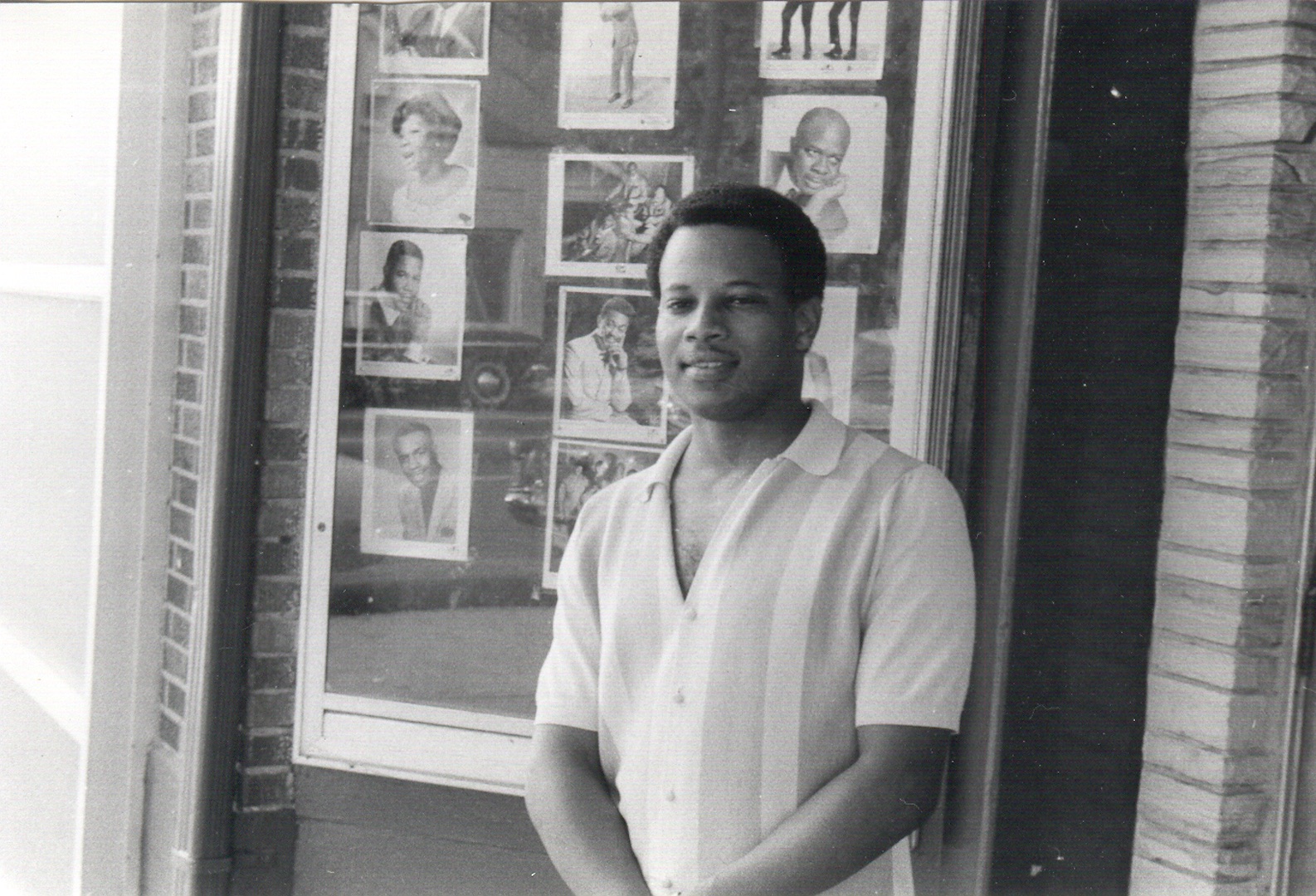 Earlier that day Don Nix had introduced me to Homer Banks. He was a young, rather withdrawn and shy, nice young man. He had three soul hits behind him but had not been comfortable with life as a touring artist on the road. Instead, he was now a songwriter and producer, preferring the relative calmness at Stax.
He was born on August 2, 1941 and also a student at the Booker T. Washington High School where he got to know Booker T. Jones and David Porter.
Homer sang gospel in groups like the Soul Consolators, but without making any records. He spent a lot of time at Beale Street where his major favorites B.B. King and Bobby Bland sometimes performed. Directly after high school he did his military service in West-Germany.
Homer won an amateur contest in Germany and toured and sang at military bases in Germany. Back home again he decided to be an artist.
He hooked up with David Porter who worked at Genie Records. Homer got a contract and recorded "(Little) Lady Of Stone" / "Sweetie Pie." It was a decent hit in 1963. Around the same time Liberty/Imperial reactivated the Minit label for soul recordings and Homer was their first artist.
In 1964 the Bowlegs Miller produced "Lot Of Love" and it becomes a huge hit. Now Don Nix entered the conversation and said with emphasis that Spencer Davis huge hit "Gimme Some Lovin'" is based on the guitar riff from "Lot Of Love." The follow up "60 Minutes Of Your Love," written by Deanie Parker and Homer Banks also did very well the year after. As did "Hooked By Love" and "Round The Clock Lover Man." The formula from the first hit was repeated. His recordings don't have a pure Memphis Stax sound.
In 1966 he was contracted by Stax as a songwriter and has since written for Sam & Dave, Johnnie Taylor, Carla Thomas, Wilson Pickett and others and produced Jeannie & The Darlings.
He became part of the song writing team called We Three. Another member was Bettye Crutcher, a very attractive woman in my own age. She had already written some very bluesy songs like Albert King's You Drive A Hard Bargain and Johnnie Taylor's Somebody's Been Sleeping In My Bed. She played some of her compositions for me in the Stax mail room. It was full of packages of 45s. Some with Stax records going out to radio stations and some had come in from other labels wanting to have their records distributed by Stax or included in the Stax catalogue.
The Eddie Floyd session
I kept a close watch at the studio. Eddie Floyd was coming to record. I didn't want to miss that.
The Soul Children's session had not been a spontaneous, improvised "typical" Stax-session. The four singers had to sing according to Hayes & Porters instructions. Every line was repeated until it sounded OK. The group had been put together as a replacement for Sam & Dave and also to capitalize on new softer, soul trends. It was my first visit in a recording studio. It gave me an insight of the not too bright future for the Stax sound.
Eddie Floyd, on the other hand, was a real veteran. He had more than ten years of business experience. He and Steve Cropper had been a team for years, and Steve always played on and produced his stuff. Their "Knock On Wood" is a true classic soul recording of the 60-s and had been performed by numerous artists. Recently Eddie's "I Never Found A Girl" had sold very well.
Eddie brought food to the studio and he and Al Jackson Jr. started eating. African-Americans wanted to find their roots and Soul Food had been their food through history. I, on the other hand, only knew dishes like Chitlins, Ham Hocks, Fried Chicken, Collard Greens and Red Beans and Rice from hit recordings.
Meanwhile, Steve Cropper and James Alexander laid the foundations for the guitar and bass. It took about half an hour before Steve was satisfied. Meanwhile Booker T. had arrived from Los Angeles. He was composing the soundtrack music for a film there. (Uptight, directed by Jules Dassin.)
Homer Banks walked in with more food and wine. He and Eddie sang a duet before sitting down to eat. Ron Capone objected from the control room. This studio was not a restaurant!
Ron, formerly at the Pepper-Tanner studio had started at Stax only two weeks before Otis Redding died. Jim Stewart, who spent much time in the studio before, had delegated his work to Ron now.
The horn section arrived (the "Memphis Horns" name was not used then). Wayne Jackson (trumpet) mixed a cocktail of cherry wine and fruit soda (7 Up), and whispered to me that this was really the secret of the Memphis Sound and its heavy backbeat. Luckily the Motown spies had not found that out yet…
Wayne invited me to his home and seemed disappointed that I was living at a hotel and could not stay in his home… It was a great example of southern hospitality.
The reed men, tenor saxophonists Andrew Love and Joe Arnold unpacked their instruments from the cases. It took only a couple of minutes for Steve to say which key to use, and to instruct the horn section. Eddie hummed the melody and Booker T. played the piano. Steve and James Alexander played the background and Steve held up his hand in the air at various levels and the horns just filled in.
It seemed like they just walked in and Steve waved his hand and the horn arrangements were finished. It was telepathic and called a "head arrangement." No sheet music was needed.
Steve, who writes with his left hand but plays the guitar and does everything else with his right hand, gave the musicians their last instructions, and then strapped the guitar band around his shoulder.
The first song "I Need You Woman" was a typical stomping Stax number. A four-channel tape recorder had been recently bought and this is how the microphones were connected;
Channel 1: Bass and horns
Channel 2: Vocal
Channel 3: Piano
Channel 4: Drums and guitar
The piano was separated from the rest. Steve was not 100% satisfied with Booker's playing. This way it could be adjusted later.
Take One!
Eddie had written the lyrics on a piece from a brown paper bag and held it up in in front of him.
They did three takes in a row. The fourth was stopped in the middle when a guitar string was broken. For superstitious musicians it meant that the recording was going to be a hit. Steve was however not totally happy with the guitar and bass and he and James started all over. But they gave up after a while and all agreed that take number three was the best.
The songs recorded that night came out on Eddie Floyd's Stax album STS 2002 called "I've Never Found A Girl."
On "I Need You Woman," Booker T's piano is almost omitted and male and female singers have been added – perhaps on channel 3. Otherwise it sounds identical to what I heard then.
The Memphis horns had done their part for tonight and left. It was going to be a long day in the studio tomorrow.
Al Bell, the Stax vice-president, came into the studio. He had written "And I Love You" and wanted to co-produce it with Steve. Duck Dunn took over the Fender bass. Without wanting to disturb, he had before walked in and out of the studio, checking how his young adept did.
The microphones were re-arranged this way:
Channel 1: Bass (Duck Dunn)
Channel 2: Guitar (Steve Cropper)
Channel 3: Vocals (Eddie Floyd)
Channel 4: Drums (Al Jackson Jr.), Piano (Booker T. Jones)
Horns were added later. It was a fine ballad with a vintage 1950s feeling that Al Bell had written. Eddie put his soul into traditional lines like "You were just sixteen and everybody knew you were my teenage queen" etc. After three takes everybody was happy. The songs was then 5'20", but Steve thought it could be shortened to 3'40". When the recording was released it was called "Girl I Love You" and had a length of 3'15" and a vocal group and horn section had been added.
The third song that evening was a fine, fast soul number called "I'll Take Her." At first Eddie ran into problems when he, by mistake, found a leaflet for used cars instead of his self written lyrics in his pockets. This incident met with lots of laughter but then they did three takes in a row here too. Later they added a vocal group and horns.
Everybody was happy. Three songs had been recorded in four and a half to five hours after the microphones had been set. There had been some eating first and in between everybody assembled in the control room and listened to the takes.
After World War II and up to the late 1960s a studio was booked for three to four hours. In R&B and Soul it was expected to record four songs of which two were A sides and two were B-sides. This way the record company had both a current record to release plus a follow up. Of course, the artists had rehearsed before so all songs were ready to be recorded. If they didn't use the touring band I guess written arrangements had been prepared in advance instead.
The record session had been totally free from emotional outbreaks or drama. It had been very relaxed but no one had forgotten why they were there. Like myself, many people rated Booker T & The MGs the very best studio group at this time.
Eddie had to get up early the next morning. He was going on a 49 days long one-nighter tour, with one performance every night. During the first half of the tour Percy Sledge, Arthur Conley and Little Willie John's sister Mabel were the supporting acts. In the second half of the tour they were replaced by Joe Simon and Jeannie & The Darlings.
I guess that after seven weeks of traveling Eddie's voice would sound a bit worn. It was wise to record songs for his forthcoming album now, when he was in top form.
Eddie sounded tired when he talked about this long tour, but the payment was good, of course.
Eddie had a long career behind him. He was one of the members of the Falcons that was founded in 1956 in Montgomery, Alabama. They deserve the title "super group," as the members were Wilson Pickett, Eddie Floyd, (Sir) Mack Rice who did the original Mustang Sally and Willie Schofield. Eddie's uncle was their manager. They were a gospel group in the beginning but gradually started singing R&B to gain more work. James Brown and the Famous Flames and the 5 Royales had done the same.
I walked home under the clear star-lit sky. The cicadas were playing and I was very happy. I had experienced the very best of Memphis soul. It had been one of those rare occasions when I felt that musically it was not possible to see and hear something better anywhere in the world.
The next day I took a bus to the address listed in the phone book for Goldwax Records.
I came to a pharmacy, but no one there could really tell me anything about this record company. Instead I got this info from a local Memphis newspaper's business pages about the local record scene in 1967.
Doc Russell was born in the early 1920s in Taylorsville, Mississippi and belonged to the generation who danced to the visiting big bands at Hotel Peabody.
He became a pharmacist in 1948 and after ten years he and his partner owned four pharmacies in Memphis. The record business in Memphis was expanding and successful and in the early 1960s he recorded a C&W-artist, without any success. But the next single is a great hit and Doc has found the model for his newly formed Goldwax label. (A partnership with Quinton Claunch is mentioned nowadays but not in this article from 1967.) The record was O.V. Wright's That's How Strong My Love Is. It sold 200,000 copies mainly in the south and was covered by Otis Redding.
O.V. soon went to Don Robey's Back Beat label. Evelyn Johnson, who did most of the practical work there and ran Robey's labels remarked that O.V. looked like a country preacher. Who could believe that he was a heavy narcotics user?
Goldwax soon found James Carr to replace O.V. For a while he seemed like Otis Redding's crown prince but personal, psychological problems landed his career in backwaters.
Other fine Goldwax artists were Spencer Wiggins, and the Ovations, which had a lead singer who sounded just like Sam Cooke.
But despite all great talents Goldwax went bankrupt in the late 1960s.
Chips Moman's American Sound Studios
Bus timetables were usually missing on the pole at the bus stop. After a couple of hours waiting for the bus in the scorching sun it finally took me to 827 Thomas Street. Here lay Chips Moman's studio, not unlike a modern Swedish church building with a slanting roof. It had become one of the best studios in Memphis and not exclusively for soul music. At one time in 1967 no less than eleven of the Hot 100 songs in USA were recorded here.
The studio was owned by Chips Moman and Don Crews handled the financial side.
Chips was born in 1938 and started playing guitar at an early age. At fifteen he moved to Memphis. Soon he dropped out of high school and starts playing with the Mar-Keys and hang out at Jim Stewart's barn. He made a living as traveling gas station painter with the southern states as his district.
He helped Jim Stewart and learned a lot. In 1962 he felt that he knew enough of record producing and opened his own business. The big commercial breakthrough came with the Gentry's Keep On Dancing (1965) but before that he had recorded lots of soul hits too.
The usual routine in 1963-64 was that Atlantic sent their soul artists to the Stax studio. But although the Stax studio was open round the clock they couldn't accommodate all; and those were sent to Chips Moman. When Rick Hall (In Muscle Shoals) showed strength, he got those who wanted to change their sound a little. Eventually the circle was closed when artists were sent to Philadelphia. In the early 1960s a lot of great soul had been recorded in New York and Philadelphia.
Among Chips Moman's greatest successes were:
Joe Simon "You Keep Me Hanging On," Joe Tex "Skinny Legs And All," Wilson Pickett "I'm In Love," "Funky Broadway," Sandy Posey "Born A Woman."
The regular studio band was Reggie Young (guitar), Bobby Emmons (piano), Mike Leech (bass), Gene Chrismon (drums). While Chips, Dan Penn and Tommy Cogbill were the producers.
It was July 3, the day before national holiday on the fourth of July. It started getting late in the afternoon and in the studio was only Dan Penn, a sound technician, and Alex Chilton, the singer of the Box-Tops. He added the vocals to "I Met Her In Church."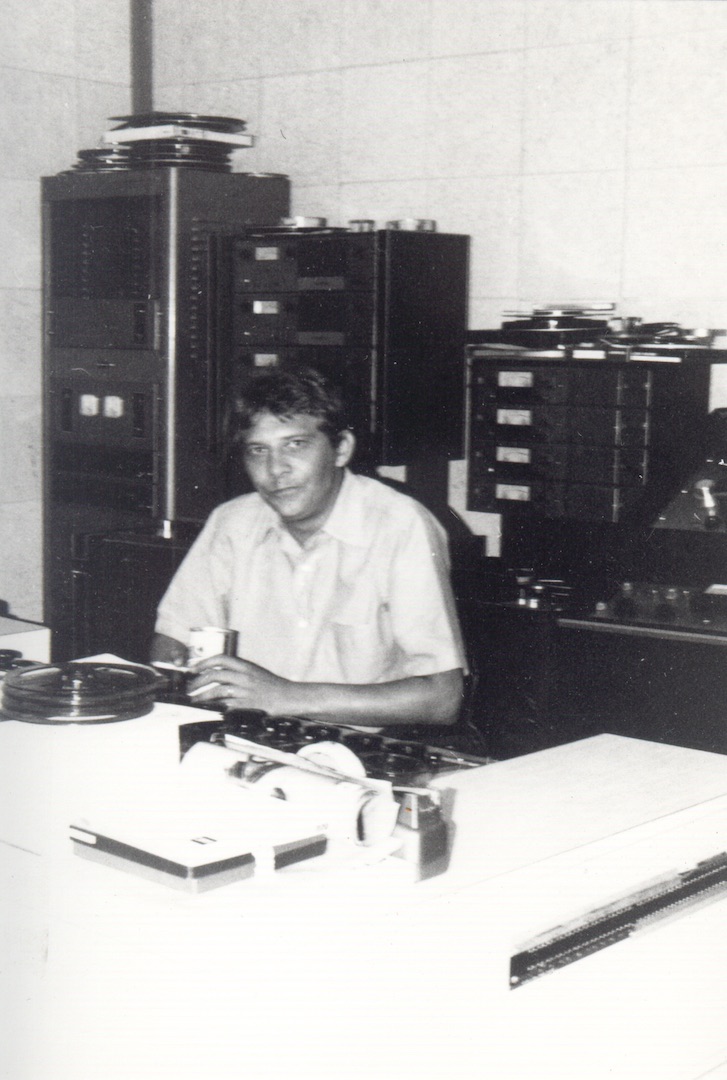 Dan had produced their big hit The Letter and also the follow ups "Neon Rainbow," "Cry Like A Baby" and "Choo Choo Train."
The Box-Tops were Tom Boggs (drums), Rick Allen (organ), Gary Talley (lead guitar), Bill Cunningham (bass) and Alex (vocals).
Dan was a legend to me and I guess he was flattered that I was only interested in his career and not Alex Chilton's, despite that he was a major pop name.
Dan was born in 1941 in Vernon, Alabama and grew up on a little farm and had to do all kinds of chores.
At sunset around six o'clock at night the family went to bed so there was rarely time to listen to anything else than C&W on the radio. Dan sang in the small, all-white country church, both in the choir and solo. When plowing he used to set music and words to the monotonous thumping of the plow. His major idol was Hank Williams. At the age of thirteen, while still in high school he formed his first band. Song selection was exclusively C&W, but he had started to listen to R&B.
A couple of years later he met Rick Hall, another C&W fanatic and Billy Sherill, who played the tenor sax. They form a band where Dan sang and played a little guitar.
When Dan is sixteen he started spending quite a lot of time in Muscle Shoals where Rick had started to build his Fame studio.
Dan was no longer only writing for his own band but tried to get others to record his songs. A first taste of success was "Is A Bluebird Blue?" with Conway Twitty (1959).
Dan got his high school diploma in 1960 and worked for a short time as a clerk in a book shop. Three months later he was back with Rick Hall.
Dan formed a new band called Mark 5. They played almost exclusively R&B and they also formed the nucleus of Rick Hall's studio band.
In the mid 1960s the band moved to Nashville and started working in studios there. In the early 1960s the white audience in the south wanted a mixture of Little Willie John, Chuck Willis, Ivory Joe Hunter, Fats Domino and blues a la Jimmy Reed plus the Bo Diddley Beat and a topping of the early soul of Bobby Bland and Ray Charles. "That's the way we sounded," said Dan. When Mark 5 had abandoned him Rick and Dan started a new band with Spooner Oldham (piano), Jimmy Johnson (guitar), and Roger Hawkins (drums).
Dan considered Jimmy to be the world's greatest "chinker" which means a rhythm guitarist striking the same chord all the time using the guitar as a rhythm instrument.
Dan made vocal sides on Fame without success like "Close To Me" / "Willie And The Hand Jive," and they leased "I'm Your Puppet" to MGM. Although Dan has had much greater success as a songwriter he still kept his dreams of a singing career alive and had a new session planned pretty soon.
Dan Penn and Spooner Oldham, another blue-eyed soul brother formed a composing team which became as respected as Hayes – Porter. Their names are seen on hits like "I'm Your Puppet" (James & Bobby Purify), "It Tears Me Up," "Out Of Left Field" (Percy Sledge), "You Left The Water Running" (Billy Young), "Uptight Good Woman" (Spencer Wiggins), "Dark End Of The Street" (James Carr), "Do Right Woman – Do Right man" (Aretha Franklin) and many more. It wasn't B-sides or LP-fillers but the very best songs these artists and many more recorded during long careers.
My own favourite these years was "Two O'Clock In The Morning" with the Spooner's Crowd. It was released by Chess. Dan said that he was playing guitar, talking and making the footsteps. The song is about a guy asking a woman for a dance and then follows her home. It's an instrumental plus sound effects that created interest among soul fanatics in the 1960s.
In 1966 Dan started working with Chips Moman. Up until that time he had mostly toured and composed. Now he is assigned as a composer. His first production, "The Letter" with the Box Tops turned out to be the very best selling record of 1967!
In 1968 Dan planned to start his own business with Spooner Oldham. The record company was called Pacemaker and the artists were Eddie Hinton, Donna Harkey, the Bushmen and George Bird & The Dominoes.
In 1968 there were circa ten recording studios in Memphis. I didn't have the time to visit them all but in 1967 there were circa 400 singles produced in these studios, of which Stax did 47 and Hi circa 30.
Stan Kessler was about to open a new studio at 904 Rayner. He was born in the late 1920s in Oxford, Mississippi. He started to play the mandolin with among others Rex Rorian and the Caradine Boys. They had their own radio show at WDIA that was sponsored by Caradine (a patent medical tonic, I believe).
He started playing for Sam Phillips and wrote some of Elvis's first recordings. In 1958 he and Clyde Leopard opened a small studio called L&K at the crossing of Main and Jefferson. In 1960 he and Jack Clement opened a more professional studio, ECHO, at 13 North Manassas. In 1964 he produced Sam The Sham's "Wooly Bully" and also the follow up "Little Red Riding Hood."
Ardent studios was mostly used by record companies out of Memphis, especially Mercury which was the only outside company with a local office in Memphis. John Fry was in charge and in 1967 they recorded circa 200 sides, of which Mercury was responsible for 25.
Ronnie Stoots, who had been affiliated to Stax and among other things made the layout for several album covers, planned to open his own studio in 1968.
Syl Johnson
In the evening I made another visit to the Paradise Club to see Syl Johnson, whom I had met previously at the Bonanza Club in Chicago. Syl was an excellent showman. He was given a large space in the book Right On: From Blues To Soul In Black America by Michael Haralambos. (The book was later re-titled: Soul Music: The Birth of a Sound in Black America with DaCapo Press.)
On stage he mixed his major soul hits "Sock It To Me" and "Different Strokes" with excellent bluesy versions of Joe Turner's/BB King's "Sweet Sixteen" and Johnnie Taylor's "I've Got To Love Somebody's Baby" that he spiced up with his own guitar playing. Otherwise his own favourites are Jackie Wilson and Ray Charles.
The climax came during "Sock It To Me" when he invited a young woman from the audience and together they danced with such sexual overtones that the jealous boyfriend rushed to the stage and dragged down his girlfriend from there, to the delight of the rest of the audience.
Al Perkins, who was an old friend of Syl from Chicago gave the show a lot of airplay. Probably at discount as air time is very expensive at USA's number one soul station. But the Paradise was far from full. It was Memphis' largest soul club and I think they could pack in almost 500 seated customers at the tables and perhaps as many standing guests. The Paradise was a natural stop for the more popular visiting soul artists like Bobby Bland or Sam & Dave. But probably not large enough for the most popular ones like James Brown, the Temptations and Aretha Franklin who could fill large arenas.
Syl was touring by himself and was accompanied by local pick up bands. It had probably been a while since he was in Memphis as he was as surprised as I was by the local alcohol restrictions. He had to do without the usual shot of whisky before his show as the Paradise didn't serve strong liquor.
In the parking lot his red convertible of recent make was admired by a group of pre-teen boys. One was the brother of a singer in the Stax group the Astors. (Their biggest hit was "Candy.") It's one of the few groups that Stax had had any success with, in contrast with Motown who did best with groups.
When we talked there were some bitterness in Syl's voice. He had worked very hard for ten years without achieving the success he deserved, he felt. He was thirty years old and soul music was very demanding physically. It was not possible for him to continue for many years at the same pace. He had been celebrated as one of the most popular newcomers in 1967. But I could see with my own eyes that only about six months after his last big hit had left the hit-lists and people were not turning out in large numbers any more. His two big hits also had a short life span using popular phrases of the day. They were good, but not the stuff that evergreen classics are made from.
He traveled in a fine, shining red cabriolet, but it was not a Cadillac or even this year's model.
Memphis was a weekend city. Compared with Chicago, New Orleans, Houston or Los Angeles the clubs were pretty quiet during weekdays. While the recording studios were busy.
Next morning, when I carried my suitcase to the reception there were some excitement among the staff. At the front door, at the staircase, one of the regular hotel guests had collapsed. He was too tired to climb the step as he had started celebrating the 4th of July very early in the morning.
Myself, I was on my way to Atlanta where I managed to catch a short glimpse of John Wayne in the parade.
Memphis and Chicago were opposites. In Chicago, there were a lot of clubs with brilliant artists. But the recording studios were empty and many had lost hope.
There were certainly clubs in Memphis too (The Paradise, Rosewood, the Hippodrome, Handy and Tiki) but they blossomed during the weekends, while the studios kept a busy schedule sometimes round the clock. If your record was played on WLOK it could break out all over USA.
While the soul music scene in Chicago was an all-black affair, in Memphis there were quite a few white people not much older than myself doing great work. Not as singers, of course, but as instrumentalists, producers and songwriters.
My radio was on most of the time. I preferred WLOK. There were more talk on WDIA and the pace was slower; perhaps especially on Rufus Thomas shows around midnight.
These were the best new songs I heard in Memphis:
"River Of Tears"
– Gene Chandler
"It Should Have Been Me"
– Gladys Knight & The Pips
"Never Do You Wrong" –
Joe Tex
"Soul Meeting" –
The Soul Clan
"Competition Ain't Nothing" –
Carl Carlton
"Cry Baby Cry" –
Clarence Carter?
"Prayer Meetin'"
– Willie Mitchell
Arthur Conley's new 45
"Working On A Groovy Thing" –
Patti Drew
"Face It Girl"
– Nancy Wilson
"Here I Am Baby" –
Marvelettes
"The Love I Found In You" –
Brothers of Soul
"Look Of Love" –
Walter Jackson
"To Love Somebody"
– Sweet Inspirations
"My Baby Loves Me"
– the Chi-Lites
"Ain't No Reason For Girls To Be Lonely" –
Bobby Marchan
"Here Comes the Judge" –
Pigmeat Markham
"Tell Me The Truth" –
Gene Chandler, "
Psychedelic Soul,"
"Cry Baby Cry"
– Van & Titus
"Send My Baby Back" –
Freddie Hughes
"Tell Me The Truth" –
Billy Stewart. a duet
(a la Marvin Gaye & Tammi Terrell) with Jim & Jean
"In the Meantime" –
Tommy & Sherry
"God Bless Our Love" –
the Ballads "
I Got The Sweetest Feeling"
– Jackie Wilson
"A Long Time Coming" –
Delaney & Bonnie "
Funky Way" –
Calvin Arnold (Venture Records)
"Competition Ain't Nothing" –
Carl Carlton
Harvey Scales & the 7 Sounds latest
"Whatever Hurt You" –
the Mad Lads
"Does Your Mama Know About Me"
– Bobby Taylor & The Vancouvers
"Save It Over Me" –
Solomon Burke
"Do You Know" –
Sam & Dave
"What A Man" –
Linda Lyndell (blue eyed soul on Stax)
"Hard To Handle"
– Otis Redding
"Give Me One More Chance"
– Wilmer & The Dukes
"I Never Found A Girl"

– Eddie Floyd

"
My time in Memphis was probably the most musically satisfying time I ever have had. Still the address book contained unvisited places like Memphis Delta Record Dist. 596 Lane Ave, and the William Herbert Brewster Church. Renowned gospel scholar Horace Clarence Boyer (of The Boyer Brothers who recorded on Excello, Vee Jay, Chance and Nashboro) said that during a research trip to Memphis he found a picture in the church office which represented a very young Elvis Presley among an otherwise nearly all-black audience. Herbert noted that Elvis always used to be in the church on Sunday evenings when they had radio broadcasts from there.
I think it's fair to say that soul music in 1968 was in decline.
All major names were still performing except Otis Redding and Sam Cooke who were dead. But the audience had listened to the same music for five years and was expecting something new. It was time for a change. But it didn't change for the better when also strong economic forces came into play.
First Stax was sold to Gulf And Western and the bottom line became much more important. An LP catalogue was built up with lightning speed with substandard material.
Berry Gordy somehow lost control over his Tamla-Motown empire. Rumours said that organized crime had taken over. Tamla Motown was said to be the most profitable company in America in all branches and sizes. Stax was not long after. It was very tempting for big business to move in and address a now large white customer base.
When Martin Luther King was killed more militant forces gained control. Whites could not move as freely as before and were not always welcomed at black clubs.
The language of the Black Panthers changed the song lyrics from optimistic to more realistic and violent. Last but not least a drug epidemic of epic proportions broke down the fabric of black society and introduced violence on a scale not seen before.