Postscript (II): Wilson Pickett
Wilson Pickett came to Sweden for the first time on February 10, 1969. He was perhaps the most powerful screamer of them all during the golden age of soul music. He was a hard gospel singer with a pair of vocal chords made of steel, but also at home with a tender soul ballad.
Sonet Konsertbureau had brought him here. I was probably invited by Helan, the PR man at Sonet, because I had visited Wilson Pickett's offices near Times Square in New York in 1968. Wilson had started a record label and an agency to launch new artists. On my visit there, I got a pack of small colour pictures of him from a friendly, corpulent, middle-aged, white woman. It was a good sign because similar offices could be managed by an indolent young beauty who seemed most concerned about not breaking the fingernails during office work.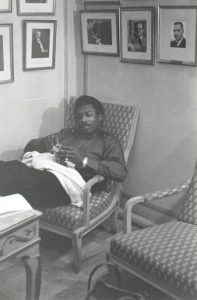 With my backstage pass I moved freely in the Concert Hall premises. The door to the dressing room was opened by his young protegé and travel companion Danny White. Wilson was tired and sat slumped in a chair with his eyes closed, and a towel in hand. The year before, I had met Wilson's good friend Bobby Womack in Hollywood. Bobby had written several hits for Wilson but his own solo career had not yet taken off. A greeting from Bobby made Wilson open his eyes. Wilson had been on the road for two weeks. He did not like to travel, as it was difficult to make himself understood abroad. People do not really understand what I mean.
I had prepared some questions.
I was very interested in Wilson's time with the early super-soul group the Falcons (among the members were Willie Schofield, Sir Mack Rice and Eddie Floyd).
I do not know what they were doing before I joined.
His time as a singer with the gospel group the Violinaires brought even less response.
So I asked about his Double L recordings (Lloyd Price company) plus his single on Verve, that Double L leased, and we talked about the producers Rick Hall, Chips Moman and Steve Cropper. He preferred to record with Rick Hall.
The Soul Clan was a supergroup of Atlantic soul artists including Joe Tex, Don Covay, Solomon Burke, Ben E King and Arthur Conley.
Wilson was on the same label. Would he join the Clan?
"No, I will not record with them. I have too much to do on my own."
After a while, I left Wilson alone.
The Midnight Movers – Wilson Pickett's backing group – sat backstage. They were upset. They had just been fired. Back in the USA, they and Wilson's manager had to find new jobs. The reason for the conflict was a gig in San Remo that they had not been paid for. The bass player had lost his passport and vanished without a trace.
He was replaced by Mike Watson, from the Swedish pop group the Lee Kings.
It was not at all certain that they would even play tonight. With this terrible threat ringing in my head, I took my seat in the Konserthuset hall.
The opening act was Linkin' Louisiana Peps and the Blues Quality. It was a very long set, while the negotiations continued backstage. Finally they left and The Midnight Movers – The Wilson Pickett Orchestra – entered. It was a large soul band with three saxophones, two trumpets and one trombone plus guitar, bass and drums.
They did five instrumentals, including the two biggest instrumental soul hits of 1968, "The Horse" (Cliff Nobles) and "Grazing In The Grass" (Hugh Masakela), and "Soulful Strut" (Young Holt Unlimited) plus a song with great guitar and yet another unknown title.
Wilson Pickett was then announced. He was going to sing tonight!
He started with a wonderful version of 634-5789. Then "People Make The World" was followed by "Midnight Mover."
"Now I like to take it kind of slow and easy. Lord Have Mercy!"
And Wilson dove into the Beatles' "Hey Jude"and "Mustang Sally."
"When you're all alone and the raindrops are falling on the window pane – you need a woman to love – a woman who can sock it to you" – and the classic soul ballad "I'm In Love" followed.
"They told me that when I came to Sweden all the people would have nothing but soul. So now we're gonna have a Soul Hootenanny. Everybody say Yeah! – Yeah!"
Wilson wanted to take advantage of language problems and misunderstandings. He said:
"What'd you say – don't you think you and me stop the show and go home!"
and the crowd responded, of course: – Yeah! before they had time to think. And Wilson said
"All right! I'm goin'"
and the audience said
"No!"
Then came "Funky Broadway" and the audience was invited up on stage to dance.
"In The Midnight Hour" – Wilson felt fine – he was back in church with the Violinaires.
"You know I feel pretty good right now! You know when I came to town this afternoon I was a little tired. I walked into my hotel. There was a guy sittin' in the bar and drinkin' whiskey and another was drinkin' gin. You know one fellow asked me: "Say Wilson what is soul?" and I answered him: "Soul is feeling! Yeah – Soul Is feeling !!" and Wilson pointed to an Afro (American) in audience and said "You've got it!" and he pointed to another "You got it!"
After "Land of 1000 Dances" Wilson shouted to the crowd:
"Now do you know what soul is!!"
A very enthusiastic African-American rushed on stage and gave him flowers and lifted Wilson into the air and almost carried him off the stage.
There was no encore.
The atmosphere between Wilson and the band was frosty, but Wilson was very encouraging to the Swedish bassist. It was an OK show but circumstances were not optimal. It was not like the recent concert in USA where the excited crowd started a riot. Pickett in top shape can be pretty hard to beat. He had an incredibly powerful vocal style, inter-punctuated with bloodthirsty screams. It does not matter that he has always been rather motionless on stage.
He had a unique number of soul classics in his repertoire. In The Midnight Hour is among the whole genre's top 10, and the other successes are not far behind. He is a hard soul singer of the highest order.
What took place in Stockholm was just another in a long series of incidents where the Wicked Pickett had tried to live up to his nickname. A pianist was shot during rehearsal in the Pickett home. In the 1980s he was expelled from England in the middle of a tour. Plus there are lots of stories about cocaine misuse, etc.
Cocaine had been the drug of choice among soul artists as they had to be so up beat and energetic on stage. The show is like a church revival meeting but afterwards the artists are left without the support of the parish.
I don't think the Danny White in Stockholm recorded the great single on the Atlas label called I'm Dedicating My Life with Steve Cropper and the Stax studio band. He simply looked too young.