July 10 – 15, 1968
Wednesday, July 10
Darkness had descended on Miami and I took a room in the first cheap hotel I could find. I think it was called the Capitol Hotel (at Miami Ave/3rd St. NE), and it only cost $8 a week. The room had no windows, but a shutter in the ceiling. Tonight it rained and was quite cool outside, but the next day I understood why it was so cheap. It faced a paved parking lot and when the sun was shining on the roof, it became hot as an oven, and it was impossible to get even a breath of fresh air. Cockroaches and insects enjoyed this subtropical atmosphere and multiplied.
Thursday, July 11
Posters of James Brown's recent big concert at the Miami Stadium could still be seen on the town. It had taken place just a few days before, and the package was announced as a "show for the entire family."
My first stop was Miami's leading soul station WAME at 777 NW 54th Street. My contact was Butterball – I think his real name was Milton Smith – but he was busy and I talked with the program director Lee Wilson instead. He had fifteen years of experience in the radio industry, and he had crossed over to R&B and the soul stations after seeing Sam & Dave in 1963. He told me that there were fourteen radio stations in Miami and this was number two in popularity. They played only soul and no pop or blue-eyed soul. Their listeners only wanted black artists and not even the Righteous Brothers were let loose on the air. Five DJs worked here plus a gospel DJ. Every week 300 new soul singles came to their mailbox. Out of these they chose 10-12 songs to the current Top 40 list that they printed in 15,000 copies and distributed to record stores and listeners. Each DJ could also play three songs each day of their own choice that was not on the station's playlist. A blind DJ featured six hours of gospel music every day (between 5 and 7 am and 7 to 11 pm).
They did not take part in politics and their editorials were only about non-political issues such as if garbage was not collected and taken away.
In Miami, 15% of the population was coloured, while more than 90% of the advertisers were white. And there was also a fast-growing Spanish-speaking population here. But they had their own radio stations. The salary of a DJ was around $150-200 per week while the highest paid earned $400.
Lee said that the best vocal groups in Miami were the male Movers and the female Marwels (also spelled Marvels and later renamed the Fabulettes). He also recommended female singer Betty Wright.
The best Miami singers were Frank Williams & The Rocketeers, Freddy Scott and Benny Latimore.
He also recommended that I see Vivian Reed, who was in town, and Stevie Wonder who was performing at Harry's American Showroom (on 9, 10 and 12 July).
Other local artists, recommended by the industry-people later, were Lavel Hardy, Reflections (with the song "I Need Your Love"), and Ella Washington. Recommended clubs were the Double Discoteque and Soul's Place at 2nd Ave and 36th Street, NW.
On WAME I met Ska music promoter Alty East. When he realized that I planned to meet everyone in the soul music industry in Miami, he gave me a stack of leaflets to distribute and drove me to Tone Distributors located at 495 S. E. 10 Court, Hialeah. Lee Wilson had also recommended this place. There I should see Henry Stone, Milt Oshuns and Brad Shapiro.
The office and the warehouse was located in a modern industrial area. Present were Milt Oshuns, Clarence Reid, Henry Stone and office and warehouse personnel. During a sightseeing tour I was taken to a small room without air conditioning. On the floor sat the white southern group called the 31st of February. I received a 45 with the group. I did not like their music.
I was told that Tone Distributors was actually the largest in the United States. In 1955 they had started a studio for demo recordings, and there they had recently produced Betty Wright Girls Can't Do What Guys Can, released on the Alston Records, distributed by Atlantic. Her name was often mentioned in Miami. All were impressed by her youth and intelligence.
Here King Coleman recorded the original "Mashed Potatoes," backed by members of the James Brown Orchestra. The Night Crawlers recorded "Little Black Egg," leased to Kapp. It was a hit four years ago.
On the Dade label, Benny Latimore recently had quite a success with "The Power And The Glory." His name was mentioned with great respect and as I had never heard him before they played this record. He was certainly a very good singer, but still not in the class of Bobby Bland with the Joe Scott Orchestra.
Freddy Scott and the Four Steps on Marlin Records were not the same Freddy Scott who recorded on Shout Records and was produced by Bert Berns.
Miami's most famous soul studio was however The Criteria Recording Studios on NE 149 St and there was also the Tropical Recording Studios at 50th St. and 7th Ave. But I never visited these two.
Steve Alaimo was one of the producers at Tone. He was perhaps best known for his own hits like "Everyday I Have To Cry" (Checker Records). He was a pioneer blue-eyed soul artist, or simply accepted as white. He had recorded in Nashville. Another producer was Brad (ley) Shapiro.
But Henry Stone was the veteran and senior producer here. In the 1950s he had worked at King Records with Hank Ballard, Little Willie John, Otis Williams and others. He was the head of the Tone operation and seemed to be around 55 years of age.
A skinny, intense young man introduced himself as Clarence Reid. He worked as a songwriter, producer and singer. He was born in Cochran (near Macon), Georgia in 1943. Between 1953 and 1955, he sang lead in the Holly Grow Baptist Church Choir. Then the family moved to Miami and he began to sing R&B. In 1960 he recorded "The Big Sound" on Dade and in 1961 "Down With It" and "Can't Quit It" on Selma Records. It became a hit that Chess distributed. In 1962, he came to Dial and recorded "I Didn't Got All Your Love But I Got My Share," another hit. But he left Dial because he and Joe Tex, who also was on Dial, had similar styles and the company put most resources on Joe. Next stop was Wand Records (1963) where he recorded "I Refuse To Give Up" and "Weak In My Knees." In 1967, he came to Phil L.A. of Soul (perhaps best known for their recordings with Fantastic Johnny C. He made "Cadillac Annie" (a "Mustang Sally" clone) and "Tired Blood." His latest was "Instant Love" / "Love Song" at the R. E. label.
But mostly, he had worked with songwriting and producing. He composed for Sam & Dave during their Roulette period ("Have No Fear") and for Helen Smith – "Woman Will Do Wrong" (Phil L.A. of Soul). He wrote the Big Maybelle soul classic "Don't Pass Me By" and produced her album Queen Mother of the Soul, (including the cover version of the classic "96 Tears"), but Bob Gallo got all the credit on the cover because Clarence was not contracted to Rojac Records. At that time Gallo and Reid worked together in The Incredible Sound Studio located between Times Square and 42nd street in New York. He was also involved in Gary U.S. Bonds Quarter to Three.
He cited Hank Ballard, Joe Tex and Chuck Jackson – all the way back to the time of the Del-Vikings – as his vocal influences. Henry Stone had taught him how to produce records.
Clarence had also written songs with Steve Alaimo.
Clarence was fond of English 1960s pop. Among his favourites were Dusty Springfield's "You Don't Have To Say You Love Me," Gerry & the Pacemakers' "Don't Let The Sun Catch You Crying," Beatles' "This Boy," Rolling Stones' "Get off My Cloud," for example. He had always wanted to travel to Europe.
Clarence Reid (1939-2016) was certainly very competent, but neither his LP, which was released a year later, Dancin' With Nobody But You Babe, and his singles on Dial or Phil L.A. of Soul were extraordinary. That summarized much of what was done at Tone in Miami. It was good music made by skilled craftsmen but lacking the qualities required to become immortal. Their main strength was perhaps the access to good distribution. (Today Clarence's recordings as Blowfly are highly appreciated by connoisseurs of risqué and dirty records.)
Henry Stone appeared to be quite busy, and I never got time to interview him. My knowledge of 1940s and 1950s R&B was then inadequate. We just shook hands and exchanged a few pleasantries. When the opportunity arose, I met him in the parking lot next to his Cadillac. He had a big after-work drink with ice in his hand, and excused himself; he was on his way to fetch his wife.
Later, I have many times seen Henry Stone's name on various King records. He belongs to the elite of producers and recording industries personalities, that were able to create many immortal R&B master pieces with a limited budget and time.
"The Twist" with Hank Ballard & The Midnighters – is a flawless masterpiece and one of the best R&B songs from the late 1950s. (But in Europe we only heard Chubby Checkers cover.) Otis Williams and the Charms (Heart Of Stone), and songs by Little Willie John bears his signature. Henry also had the Rockin' label that released Wilbert Harrison's minor-key Letter Edged In Black.
Alston Records were distributed by Atlantic, but I think that Henry was also negotiating with Jerry Wexler (Atlantic Records) at this time. It resulted in Atlantic later starting recording in Miami, too.
I went to WMBM and met white program director Donny Gee, who proudly showed his new sports car parked outside. He had left the studio after putting a longer song on the turntable. He didn't seem worried that the record would end and silence fill the air.
The station was located at 814 1st Street in Miami Beach. I asked him (without considering his new car) how much a DJ earned. He repeated the $150-200 per week that Lee Wilson had said. The highest paid could earn $400. That's what a DJ in New York made.
WMBM was a small station, and they only got 200 new singles in the mailbox every week. They had 49 songs on the playing-list, plus a station favourite. They brought in six new entries on the list every week – not based on audience response but what the radio industry reported and what was played in other regions. They also printed a playing list and distributed it to record shops. (I guess costs were divided between record labels, record stores, advertisers and the radio station.)
They played two hours of gospel every morning and six hours every Sunday. The DJs were not able to select their favourites. Everything was determined by the program director, Donny Gee. They didn't actively support the civil rights movement but sometimes took a stand in an editorial.
New entries in my notebook were Campus Record Distributors, 7250 NW 36 AVE. Joey Stanzione and Eddie Lambert worked there. Other nightclubs were Foxes Den, Knight Beat, Island Club, Continental, Harlem Garden, the Cotton Club (Joe Walker, Brother Ray ph: 7575704).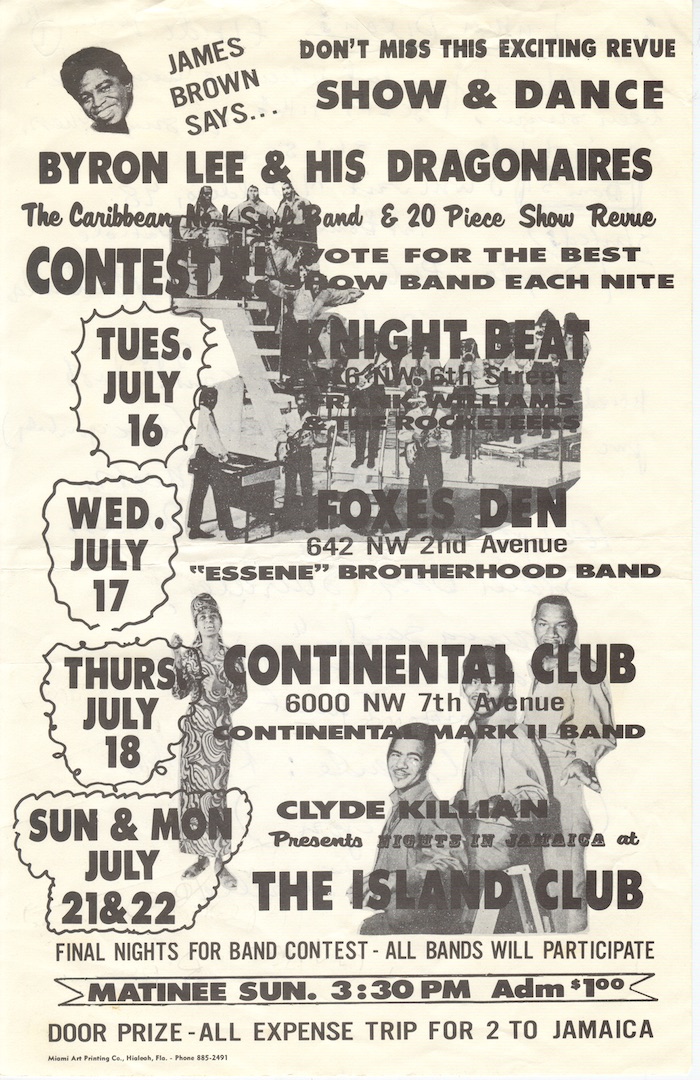 In the evening I went to the Continental Club, which was located at 6000 NW 7th Ave/60th Street. On stage that evening was singing group The Reflections and the soul band Mark & The Ar-Kays. Their choice of name indicated that they wanted to be associated with the Mar-Keys or the Bar-Kays.
They did mostly soul classics like:
"I Got The Feeling" (James Brown) "Tighten up" (Archie Bell) "It's A Man's World" (James Brown) "Funky Walk" (Dyke & Blazers) "Soul Serenade" (Willie Mitchell/King Curtis) "Mustang Sally" (Wilson Pickett) "In The Midnight Hour" (Wilson Pickett) "I'm Not Tired " (Wilson Pickett) "Funky Broadway" (Dyke & The Blazers/Wilson Pickett) "Something's Wrong With My Baby" (Sam & Dave) "Soul Finger" (Bar-Kays)
Mark McIver was the lead singer and guitarist, and he was backed up by Melvin Gunby (bass), Walter Blue (drums), Bennie Bailey (Baley?) (saxophone), Robert Blowt (trumpet) and trombonist "Earvin." The band's leader and frontman Mark McIver was born on 8 September 1944 in Jacksonville, Georgia. His gospel background was in the Silver Tones (not to be confused with the legendary Swan Silvertones) which he left in the early 1960s. He played several instruments – saxophone, drums and guitar on stage – but he preferred the bass. His brother John McIver played with Freddy Scott (the local recording artist and drummer). John had recently visited Stax in Memphis, but without getting a job or a record deal. For some reason, Mark thought that his brother's success (?!) at Stax would also pave the way for his own career. People would soon discover that John had learned everything from Mark – and so his luck was made. I never understood this connection. Mark was a very optimistic young man, but seemed confused. He needed more than a repertoire of soul classics – where the original artists were still alive and well and appeared regularly in the region – in order to break through in the way he imagined. His current record "Soul Thing" / "Kick Of The Clock" (Dade Records) was produced by Henry Stone.
The owner of the Continental Club was Willie Walters (6011 NW 7th Ave). But this evening he had taken another role – namely, as a producer and manager of the vocal group The Reflections. They had modelled their style on the Impressions and the Temptations, like hundreds of other groups across the United States. (Another Reflections group, on Golden World Records, had recorded "Just Like Romeo & Juliet" which even entered the Top Ten in Sweden.)
It was odd that so many Miami artists used or chose names that was already occupied by others. (Freddy Scott, Reflections, Ar-Kays and later the Fabulettes.)
The Miami Reflections were
Ira McCall (lead) 22 years, and he wrote the group's material.
Albert Turner (bass) 22 years,
Rosevelt Hubbert (first tenor) 20,
Earl Brown (second tenor) was 21 years old.
All came from Miami and had sung in various gospel groups and then together for four years. The Reflections performed locally in Miami and made occasional detours to small places in Florida. Their first record was released on WENT: "You Don't Love Me" / "I Need Your Love (To See Me Through)." Willie Walters trod restlessly around in the room during their performance and then did his best to teach the group how to perform. There was much to say because the group was not ready for the big league yet. Both the singing and choreography could be much improved as well as their timing. But "You Don't Love Me" was quite good – perhaps because this was the only song that had been rehearsed until it was perfect. (They also performed the B-side "I Need Your Love To See Me Through.")
Other songs they did were: "I Never Found A Girl" (Eddie Floyd), "I've Been Trying" (Impressions) which they did in an interesting falsetto vocal arrangements, "I Could Never Love Another."
Willie told me that the group had used Criteria Recording Studios for their recordings.
Friday, July 12
It was difficult to travel by local buses in USA. The night before it took a long time to find one and get home. Timetables as well as a route descriptions were usually missing. This day, I took the wrong bus and then most of the day was spent waiting in the hot sun before finding the right one. It was exhausting. Finally, back at the hotel, I then walked both back and forth to the Continental Club, to be sure. Vivian Reed was performing there on July 12-13. It was a crowded and a very busy night. High expectation was in the air. Her stage show included: "Sunny," "Let It Be Me" and of course her current hit "Yours Until Tomorrow."
And she also sang a jazz song in the style of Sarah Vaughan. She established good contact with the audience and was well received. Her vocal style and choice of material was not unlike that of Holly Maxwell in Chicago. (Both had classical, opera training which is well suited to Broadway musical performances.) Vivian was the better artist but Holly was actually not far behind.
I talked to her after the show. It was her first tour of the South, and she traveled with a friend.
Vivian was born in 1945 in Pittsburgh, Pennsylvania. She now lived in New York. She began singing early – already at two years of age – and quickly became a solo singer in Good Hope Baptist Church Choir. But at the age of thirteen, she crossed over to classical music. For several years she studied and sang nothing but the opera in a musical institution. High School diploma was received in 1963 in Pittsburgh and then she went to New York and the Juilliard Music School for further training in classical music. She also studied violin and piano. But before graduation, she dropped out and began singing R&B and pop. Today, her style was "New York Soul" – sophisticated, well-produced and written, and performed with a lot of feeling that can be enjoyed by a wide audience. Aretha Franklin and Sarah Vaughan were her favourites.
In early 1968, she had been signed to Epic Records and "Yours Until Tomorrow" had just entered the Hot 100, and was her first hit. Songwriters were the veterans Goffin – King. The song had previously been used on a B-side for Dionne's sister Dee Dee Warwick. (Dee Dee did better soul-recordings than her more renowned sister. But mostly, she was singing in the background of numerous soul recordings made in New York.) Her producer was Ted Cooper and officially "Yours Until Tomorrow" was her first record. But Vivian told me that she had made a record under another name when that artist had lost her voice. But she wanted to forget this recording and named neither name, title or company.
Her manager was dancer Honi Coles, legendary Master of Ceremonies at the Apollo. The theater was also a natural first stop in her quest for stardom. She had been launched there when I left New York. Bill Cosby topped that bill, as a singer. Six weeks after Miami, in the crowded foyer of the Apollo Theatre, I got a friendly pat on the back, turned around and there stood Vivian. Undeniably an honour for me to be recognized in a crowded place, by such a stunning beauty and a world artist to be.
She released the Epic LP Yours Until Tomorrow and her career went straight up. She became a major star on Broadway (Bubbling Brown Sugar gave her a Tony Award) and the French people called her "Mademoiselle 100,000 Volts." My own favourite song by Vivian was the B-side Mama Open The Door (Epic). This is deep soul of the highest class but otherwise she mostly recorded lightweight material.
Sheryl Robinson was opening act tonight, and proved to be an excellent Aretha Franklin inspired singer.
Then JoJo "Big Big Soul" Danes took took place on stage. He was also called "300 pounds of soul" and sang "I Can't Turn You Loose," "I Who Have Nothing," "My Girl," and "I've Been Loving You Too Long."
It had been an evening of very good music.
Saturday, July 13
During the day I went to Miami Beach and strolled around on the beach. But swimming – and leave valuables on the beach – was not an issue.
There were rumours about a soul show tonight at the Foxes Den (642 NW 2nd Ave/7th St), but there was no advertisement outside. The club seemed closed for the night, except that the door was open. I walked inside and was let in for free into the almost empty hall. Present was a very dynamic soul-package administered by Luther Dixon. This bunch of very interesting artists were led by New Orleans Soul queen Betty Harris. Johnny Jones, the former lead singer with the gospel group Swanee Quintet, tried his wings as a soul singer. I had not heard about the Swamp People before.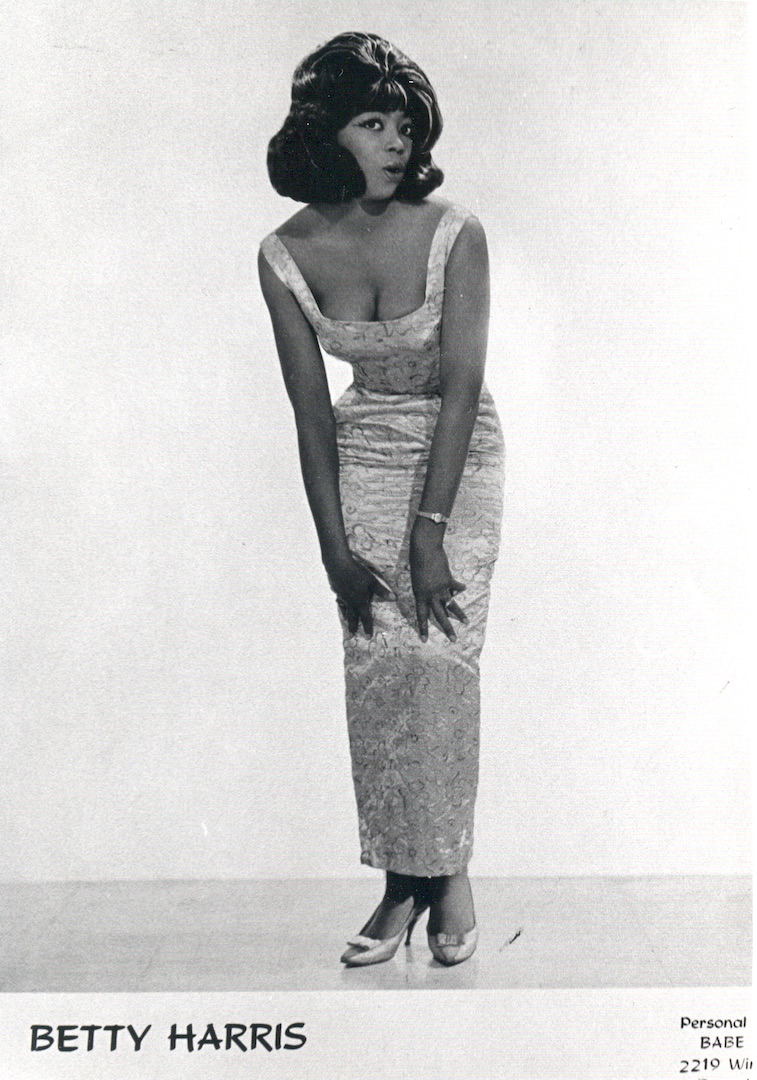 This could be a very memorable evening. Betty Harris had actually done better New Orleans soul recordings than Irma Thomas. Her songs had been featured on British LP Series Bell's Cellar of Soul: "What Did I Do Wrong," "What a Feeling Sad," "Can't Last Much Longer," "Nearer To You."
Before the show I had a chat with her. During her more than ten-year career, she had toured across the United States and performed at many Rock & Roll and television shows. Luther Dixon was her promoter at present.
She was born in Orlando, Florida in 1940, and sang gospel music at the age of sixteen. Then she started with R&B when she realized that in gospel, she would just work a few days a week. Then her family moved to New York. In 1958 she became a member of the girl group The Hearts where Baby Washington was another well known singer to be. (Baby W. has made many fine recordings and an odd classic.) At this time they worked maybe three nights a week so Betty took a day job as a secretary for a promoter. They released circa four records and had a decent success with "Lonely Nights," and was out touring for six months. In 1960, she left the group and began singing solo. In 1963 she toured and worked with Otis Redding. Then Bert Berns discovered this diamond in the rough. He produced "Cry To Me," which was released on the Jubilee label. (Bert Berns was one of the greatest producers of the early 1960s.) Solomon Burke had already recorded it but Betty Harris version sold better and reached the Top 10 while Solomon stayed in the Top 30. (In Billboard's Hot 100, Betty reaches No. 23 while Solomon No. 44 – it was undeniably an achievement to defeat the masterful soul singer on his home turf.)
In 1964 she stopped singing. She thought that everything was going too fast, and that she had lost herself.
After a couple of years, Sansu and Allen Toussaint made her reconsider this decision. At Sansu she really made soul fans happy with classic recordings like the aforementioned plus "Mean Man" and "Ride Your Pony." She recorded a total of circa ten 45s at Sansu. But the New Orleans soul sound of the 1960s was really one man's work – Allen Toussaint. "He dictated every moan, scream and ooh – aah, I sang. He is a genius but I would have liked to have a bit more freedom," said Betty. She even disliked her current record ("Ride Your Pony"). Betty was not at all happy with it and she saw Lee Dorsey's work with Toussaint as gimmick oriented. His singing had only one purpose only – to accentuate the beat. Allen Toussaint was the one behind it.
Betty was undeniably straightforward when it came to Allen and his work. She did not have much more to say about her recordings, except that she simply forgot about those that did not sell.
In my opinion she's the Billie Holiday of soul singing. The records have an ominous feel and atmosphere and stunning arrangements and accompaniment. I don't think she was aware how high we European soul fans held those recordings. But she said she would love to come to Europe on tour.
In retrospect, Betty Harris did not make much noise in soul music after leaving Allen Toussaint. Her career might have some parallels with James Carr. They seem to have had the same ability to express the deepest feelings of despair and resignation, but may unfortunately not always have been able to meet everyday life. She was probably more complex than this brief encounter could show.
She said that she had learned early to take care of and support herself. She was not ashamed to try different things. She had been working in a beauty salon as a model when she was not touring. Her hobby was swimming. She had had her own show in Miami Beach singing musical songs and show-tunes, from the Hello Dolly musical, for example. She was certainly no stranger to sing in different styles and joked that next time it was gonna be hillbilly music.
She strove for independence and freedom of expression but seemed a little depressed and mentally fragile now. She was both frank and forward but did not have the big ego needed in the music industry. Spontaneously, she told me that she could hypnotize herself before a show so she was totally involved in the song and did not notice the crowd. (Perhaps not the best way to connect with the audience.) Betty Harris was not really a great stage performer this evening. She seemed a bit shy on stage and her mood was melancholy. It did not really meet the expectations I had for this great soul queen. But, I guess very few saw her live in the 1960s. I'm happy to be one of the few Europeans that did.
No one can deny that Betty had the honour of having participated in some of the most emotionally charged and heaviest soul ballads in music history.
Her show consisted of the following songs: "Cry To Me," "In The Midnight Hour," "Hold On I'm Coming," "Stormy Monday."
It was a rather strange mix, and not a trace of her masterpieces at Sansu. Her singing was first class but the accompaniment still left much to desired. And she had to sing covers …
In 1974 in Montreux, Art Neville (of the Meters) told me that Betty was working in a department store in Texas – perhaps at the perfume counter.
Luther Dixon was born in Jacksonville, Florida in 1931, and was a well-known and highly respected name in the record industry. His track record consists of compositions like:
"Boys," "Soldier Boy" and "Mama Said" (The Shirelles) "Soul Serenade" (King Curtis, Willie Mitchell) "100 pounds of Clay" (Gene McDaniels) "16 Candles" (Crests) "Love You 1000 Times" (Platters) "Human" (Tommy Hunt).
Luther also mentioned "Just Born (To Be Your Baby)," a hit with Perry Como and "Why Baby Why" with Pat Boone, and many others.
He had been married to Inez Foxx (the female half of the sibling duo Inez and Charlie Foxx) – but now they had separated. He and Inez were too busy with their careers to have a chance to meet, said Luther.
He enlisted in the army and went to Japan in 1946. He had to lie about his age (he said that he was seventeen) to get there. He was not interested in fighting, but to study Eastern religions. In 1948 he was back in the US.
Luther had retained his interest in religion (Buddhism, which he came in contact with in Japan, and even yoga), and he believes in the Essenes Brotherhood – he presented it as a form of African religion. Essenes were a group of people who lived in Palestine around the birth of Jesus and Jesus is believed by some scholars to have been influenced by their thinking. (Luther called his band the Essenes Brotherhood. They backed the stars this evening.)
When he came back to USA, he began singing with three other young men. They called themselves the Four Buddies and had a hit with the song "I Will Wait." He also had a brief boxing career at this time. Then he started a solo career as a singer and recorded "Feeling Of Love" (Chess).
Betty Harris, who sat behind the stage in the same room interrupted Luther and said she could not believe her ears. "Luther, a R&B singer ??! Unbelievable!"
She said that the night before Luther had almost driven her crazy by trying to sing a duet with her. She had made him promise never to try it again! (I don't find Luther's solo effort on "Feeling Of Love" very impressive either.)
He began composing full time around 1950-51. He achieved great success even though it took a few years to break through with songs like Chuck Jackson's first bestseller "I Don't Wanna Cry" and "Angel Child" for Nat King Cole and "Bahama Mama" for the Four Aces. He tried to self publish them on Ludix, Belinda, and the Scepter publishing companies. His Ludix Publishing office was located at 422 Madison Avenue in New York.
Around 1958-59 he started working as a producer and on the merit list are 16 Candles (The Crests). He also started the record label Scepter.
Since six months he had been working as a promoter for the evening's performers. Luther also mentioned an eight-man group called the Blue Notes from Newport – (with four singers and four backing musicians). He called them a very hot group – I guess he meant later superstars Harold Melvin and the Blue Notes.
Johnny Jones had launched "Tennessee Waltz" on Bobby Robinson's Fury label this summer. He was born December 28, 1938 in Augusta, Georgia. Until then he had been lead singer with the incomparable gospel group The Swanee Quintet for no less than twelve years. They had released four LPs. He had left the group a few months earlier. In the early 1950s, he had sung and toured with several other gospel groups. "Augusta, Georgia" has always had a special place in my heart. Not because of the golf course, but because James Brown grew up here.
James took an interest in the group and they were on his package shows. He even produced a fine gospel music version of his own million seller "Try Me" – in a slightly disguised version called "Try Me Father" with the Swanee Quintet. Their biggest sellers were "Sleep On Mother," "There's Not A Friend Like Jesus" and "Over Yonder." There are many LPs on Nashboro and Creed with them. One of my favourite songs is "Silver and Gold." The Swanee Quintet is one of the best gospel groups of all time. Why James Brown liked them is obvious.
It was also obvious that Johnny Jones came directly from gospel and the church, and had not really prepared himself for a life as a solo artist or had time to acquire a repertoire of his own. The track selection left a lot to be desired.
"Tennessee Waltz," "It's Alright" (Impressions-Curtis Mayfield), "Down By The Riverside," "Amen," "If I Had a Hammer."
In addition to his current hit, it was folk-gospel standards. But he was great. He gave a pure gospel music performances with his unique gospel falsetto yodelling that was jaw dropping and gave me goosebumps.
I had not heard about Al & Jackie – The Swamp People – before. Jackie Porter was born in Atlanta in 1940 and began singing gospel music in church at the age of eight. In 1957 she joined the Gospel Harmonettes where she sang for three years and left before a nationwide tour. She had already been singing R&B in the weeks and gospel on Sundays. Peacock recorded her in 1960, "Why Not Give Me A Chance," which went unheeded. In 1963, she came to New York.
Al (Bertus) was born in South Carolina in 1941. He sang gospel music there until he came to New York in 1962. The duo met in 1963 and have been singing together since. They were also very talented dancers. When Al showed us the Dog dance he did it on one leg and two arms. During the Alligator he crawled around on the stage floor. When the pair demonstrated the latest dancing crazes, The Camel Walk and The Horse, they imitated the animals too. Both were very capable of gliding across the stage on one foot with the other leg raised. It was known as The James Brown.
Jackie sang like Tina Turner, while Al mostly resembled Chuck Jackson. Jackie was quite small, while Al was of medium height and they were a very powerful and entertaining duo.
"There Was A Time" gave the couple many opportunities to show how to dance the James Brown. Jackie imitated Tina Turner in "I Found A Love" (Wilson Pickett). "Get Out Of My Life Woman" (Lee Dorsey) came with a rural humour as a short theatrical skit with big gestures.
During the concluding "Please Please Please" Jackie hung the mantle on Al who then went around and shook hands with the audience. Every aspiring male soul artist needed to know all about James Brown's stage routine before heading out on a low budget tour on the he "chitlin' circuit."
The artists shared a dressing room behind the small stage where we sat and talked. Once the interviews were completed, I could hear the Essene Brotherhood started pumping out the classic soul riffs.
Showtime!
Tonight's performance was probably a public rehearsal before going out on a package tour in the southern states. Therefore, it was never announced. Luther was perhaps part owner of the club, or knew the owner well enough and could borrow it for their rehearsals.
It was a quality package. But the artists did not have any current bestsellers to lean on. Did the tour happen eventually? Or was it cancelled?
Luther seemed to be a kind, philosophical and religious person. He could afford to lose money sometimes with all his bestselling compositions.
Sunday, July 14
I had not received any info about churches with gospel concerts. So I sat at home and corrected and rewrote my notes. The door was open to the corridor to let in some fresh air. This hotel was the worst I stayed in during the tour. The heat and the bad smell was exhausting. I was very tired after all the long walks and waiting for buses in the sun. And the drinks the night before made things worse.
The temperature in the room stayed around 30-35 degrees Celsius or more. Beetles and cockroaches made their way over the floor and walls exuding a disgusting smell. Or was it the mattress and the sheets that were dirty from the start …
In the evening I went to the Knight Beat club which stood at 276 NW 6th Street, at the intersection of 3rd Ave not far from the Continental. Knight Beat, I remember as a pretty big club with a decent stage and dance floor. I think it was a bit larger than the Continental. Or maybe it was more people at the Continental when Vivian Reed was there. Both clubs had large, youthful audiences. Foxes Den, where I had been the night before, had a red-coloured plush interior and an older, sophisticated audience. The scene was quite small but adequate for a jazz combo, a stand-up comedian or striptease. People sat at tables while the space for dance was not so abundant.
The backing orchestra, Frank Williams & The Rocketeers were a six man strong combo. They were OK, but not in the same league as the Scott Brothers in Chicago. They offered the usual mix of soul classics and were perhaps most successful with James Brown's "There Was A Time." (Which was a song that every band must play every night …)
Frank Williams specialty was imitating other singers and he did: "A Change Is Gonna Come" (Sam Cooke), "If I Had A Hammer" (Trini Lopez), and then he imitated Joe Tex, and a hoarse and rough Louis "Satchmo" Armstrong.
Then came the Fabulettes:
They were Miami's best female group and had recently and finally been renamed to avoid confusion with other Marvels groups. "The Fabulettes is our current artist name, and the name we play under. Marvel is occupied by others" Maybe this was a step from the ashes to the frying pan as there were a Fabulettes group also in Los Angeles. They were born in Georgia and had later moved to Miami – three glamorous young women, well dressed and with interesting necklines.
Addie Williams was their spokeswoman and perhaps the intellectual of the group. She had been singing for ten years.
Annetta Shell had ten years of Gospel experience. And it was still her kind of music. She sang lead on most numbers.
Loretta Ludlow had moved to Miami at age twelve. She was perhaps more beautiful than the others and more of a diva. She knew James Brown and had persuaded him to produce a record with them a few years earlier.
The group's collective favourites were Aretha Franklin, The Supremes and James Brown.
It was impolite to ask women about their birth date, but I guess they were born around 1943-44.
They had recorded in 1961 as The Charmettes on Dade Records and Hearts Of Stone was released. Later James Brown produced "Tonight" / "One More Time" with the group. During 1959-63 they were still in school. In 1963 they were baptized the Mar Vells and recorded "Go On And Have Yourself A Ball" / "This Can't Go On" for Angie Records in Philadelphia (Angie was also the name of the person who wrote the songs).
In 1964 they recorded as The Fabulettes on the Monument label. The songs were "Mr. Policeman," "The Worrying Way," "Screamin' & Shoutin'," "I'm In The Mood For Love" (written by Jimmy "Mc" Hughes), "The Bigger They Are," and "Money" (Barrett Strong ). The group's fourth member Mattie Lovette then left the group and sang no more with them.
This evening they did:
"Sincerely" (The Moonglows) where every member sang lead alternately, but where Annetta had the main responsibility, "Get Ready" (The Temptations), (Annetta lead),"Blue Moon," "Higher and Higher" (Addie Williams – Lead), "I Heard It Through The Grape Wine" (Annetta – Lead), "Yours Until Tomorrow" (Addie – Lead), "Chain Of Fools" (Annetta – lead) and dancing by all "Think" (Annetta – Lead).
They were good singers and their stage show was appealing but maybe a bit too polished for my taste. In the US, the Fabulettes had many competitors. After the show, we sat at a table in the middle of the room. We also talked about Betty Wright, then just fourteen years old, who had one of the biggest local hits with Girls Can't Do What The Guys Can (She was launched as a child genius because she had a very high intelligence).
The radio was on in my boiling hot hotel room. These are some of the best songs I heard there:
"We've Had Some Good Times Baby" – artist unknown, "Competition Ain't Nothing" – Carl Carlton, "Slip Away" – Clarence Carter, "Dear John" – Jackie Moore, "Need To Belong" – Laura Lee, "United" – Peaches and Herb, "Handy Man" – artist unknown, "Struck My Hub" – Willie Tubblin, "Layin' It On You" – Bobby Patterson, "What A Man" – Linda Lyndell, "Love Is Like A Baseball Game" – Intruders, "To Love Somebody" – Sweet Inspirations, "House On The Corner" – Don Covay, "Seems You've Forsaken My Love" – Maxine Brown, "Baby You Move Me" – Ben Aiken (Loma Records), "Stop" – Lonette (or Betty Lavette?), "Send My Baby Back" – Freddie Hughes, "Girls Can't Do What The Guys Can" – Betty Wright, "She's About A Mover" – Otis Clay, "You Got Everything (What) I Need" – Freddy Scott, "98 Cents Plus Tax" – Detroit City Limits, "Hitch It To The Horse" – Fantastic Johnny C ("the funky walk is alright, the horse is out of sight"), "I Can't Stop Dancing" – Archie Bell & The Drells, "Don't Mess With Cupid" – Shirelles, "The Power And the Glory" – Benny Latimore, "Coo Coo Over You" – the Hueys, "Got To Have You" – Fantastic Four, "What Can I Do Without You" – Linda Jones, "Soul Limbo" – Booker T & The MGs, "Consol(id)ation is True" – Sensational Nightingales, "I Can't Break Away From You" – Sam Baker, "Broadway Freeze" – Harvey Scales
Monday, July 15th
Next stop was New Orleans. The plane took off at 6:40 in the evening. It was a short distance between these southern state metropolises. I felt quite happy with my time in Miami. My expectations had not been so high. But it had been five intense days. Lots of things happened here. Their recording industry had more in common with other east coast cities (New York, Baltimore, Philadelphia) than with southern cities like Atlanta and Memphis. Music experiences had not been as intense as in the Chicago clubs. Those who worked in the recording studios were perhaps not as talented as in Memphis, and Memphis/Atlanta had more of the southern hospitality
Postscript
Eleven years later, I received a letter from Hank Ballard. One of his King LPs was called Mr R&B, and I took that name for my business.
He was the leader of one of the biggest groups of the 1950s – The Midnighters and had hits also in 1960-61 with songs like "The Twist" (he did the original), "Finger Poppin' Time" and "Let's Go, Let's Go, Let's Go."
Hank is perhaps best known for his "risky" and ambiguous texts but I thought that "Finger Poppin' Time" was a pure dance tune when it was released in 1960. But In the film In Bed With Madonna she explained that it also means female masturbation.
I take the liberty to publish this letter as it is related to my own contacts in Miami and to what happened next. Hank had written in response to the possible LP release of his lesser-known songs, which had not been previously available on LP. Unfortunately it never happened as Charly Records (UK) started releasing King recordings.
Dear Jonas, 9-19-79
It was such a joy hearing from you and to know that you have an interest in me and my group. I have a current record out on the London label. Title Freak Your Boom Boom which is doing very well for me.
A couple of weeks ago I issued a license to London of Canada and U.K. My contract with London is solely USA.
Maybe you and I and my associate can make us all some money. I have a joint venture production with a friend you should know, His name is Luther Dixon. He was co-owner of the Scepter Record Co. who had prod. on the Shirelles, Chuck Jackson, and Dionne Warwick. At present we are recording an album on Chuck Jackson here in Miami and it just might be the greatest album he's ever had. We are also planning an album on the Blue Notes the group who was formally with Harold Melvin + the Blue Notes.
I'm also getting my next single together which I think will be the biggest thing I've had in a long time. It come with an album until I have a big single, it takes a single in the USA to carry an album.
Jonas, I'm very interested in a tour over there if you can arrange it. I've never been on tour on foreign soil, even though my records sell quite well over there. I've had offers but the money was never right. So I decided I'll wait until the time is right.
Jonas, write and let me know in detail what you want in terms of recording, tours, and etc. If you think we can make some money together don't hesitate to let me know. We have quite a list of original material, a staff of ten writers and a four track studio for demos.
I went to Nashville Tenn. last year and I recorded six sides of my old material for the K-Tel inc. And in April of this year I did four shows at the Howard theater in Washington. DC and had SRO (Standing Room Only) every show, and was really surprised because it was my first time out in four years. It's amazing how they still like that old stuff.
Incidentally my daughter is ticket agent for Delta Airline in Phila. Pa. and for the past five years she's been coming to Stockholm, Sweden on her vacation, she loves it over there. Had I known you a couple months early I would have given her your address.
So next year when she vacation there she´ll come by to meet you. Jonas send me your telephone number. My number is area code (305) 751-3383 Miami Fla.
Do let me hear from you as soon as possible.
Sincerely
Hank Ballard