July 15 – 23, 1968
Monday, July 15, 1968
The plane to New Orleans left Miami at 6:40 pm. After arrival, I checked in at The Georgian Hotel on Canal Street. It was located in a run-down house with shabby grey-green carpeting.
New Orleans was a of course a natural destination for me, but I did not know a soul in town or where I should go. I had only heard Fats Domino in his "The Fat Man" singing about the streets of Canal and Rampart, and Bourbon Street was mentioned by others. Within a few minutes, equipped with a newly purchased map, I was on the way to Bourbon Street. It took less than a ten minutes quick walk to get there.
It was a Monday night, but the heat was on there. The French Quarter reminded me of the Soho district of London. They had the same healthy cross-fertilization between music clubs and striptease joints. In such environments good music usually thrives. The noise was almost deafening with all music, drinking people and cars using their horns trying to make their way through the crowd.
Outside a strip club, I saw Lili St. Cyr's name. She was a headliner in the short film cinemas of Stockholm specializing in documentaries from nudists camps. Unfortunately, the projector machinists used to cut away frames for their own collections and in the end there was not many seconds left for the audience to enjoy. She had been the undisputed queen of striptease in the 1940s and 1950s. Only six weeks earlier she had celebrated her 50th birthday.
Here and there were small "holes in the wall" where you could buy a beer and maybe a drink if you were too tired to walk the few steps to the next bar. But all distractions faded away when I saw Fats Domino's jovial face looking at me from a large poster outside Al Hirt's (501 Bourbon). Outside the 577 Club opposite, were the faded colour images from Clarence 'Frogman' Henry 's tour with the Beatles. Through the open doors his distinctive vocal was heard.
This must be the most music-filled street in USA. Frankie Ford resided at the Backstage while Roosevelt Sykes and Smilin' Joe (= Cousin Joe) worked back to back at Ye Old Tavern of the Court of Two Sisters. Art Neville & The Neville Sounds could be seen at the Ivanhoe piano bar (601 Bourbon) and Benny Spellman in the Dream Room. All this in just a few hundred meters, and then I had not counted the traditional jazz and other musical attractions. On some nights you could see young black boys tap dance or even do the hambone in the street for pennies. They usually took a break after a couple of minutes.
Bourbon Street's biggest clubs were called Al Hirt's and Pete Fountain's. These Dixieland musicians probably also owned these clubs. The Court of Two Sisters had the cheapest drinks on Bourbon Street so I first went in there. This was a piano bar and the bowl on the piano was a tradition that certainly existed in New Orleans since long before Jelly Roll Morton days. Here guests could deposit their bills if they wanted to hear a particular song.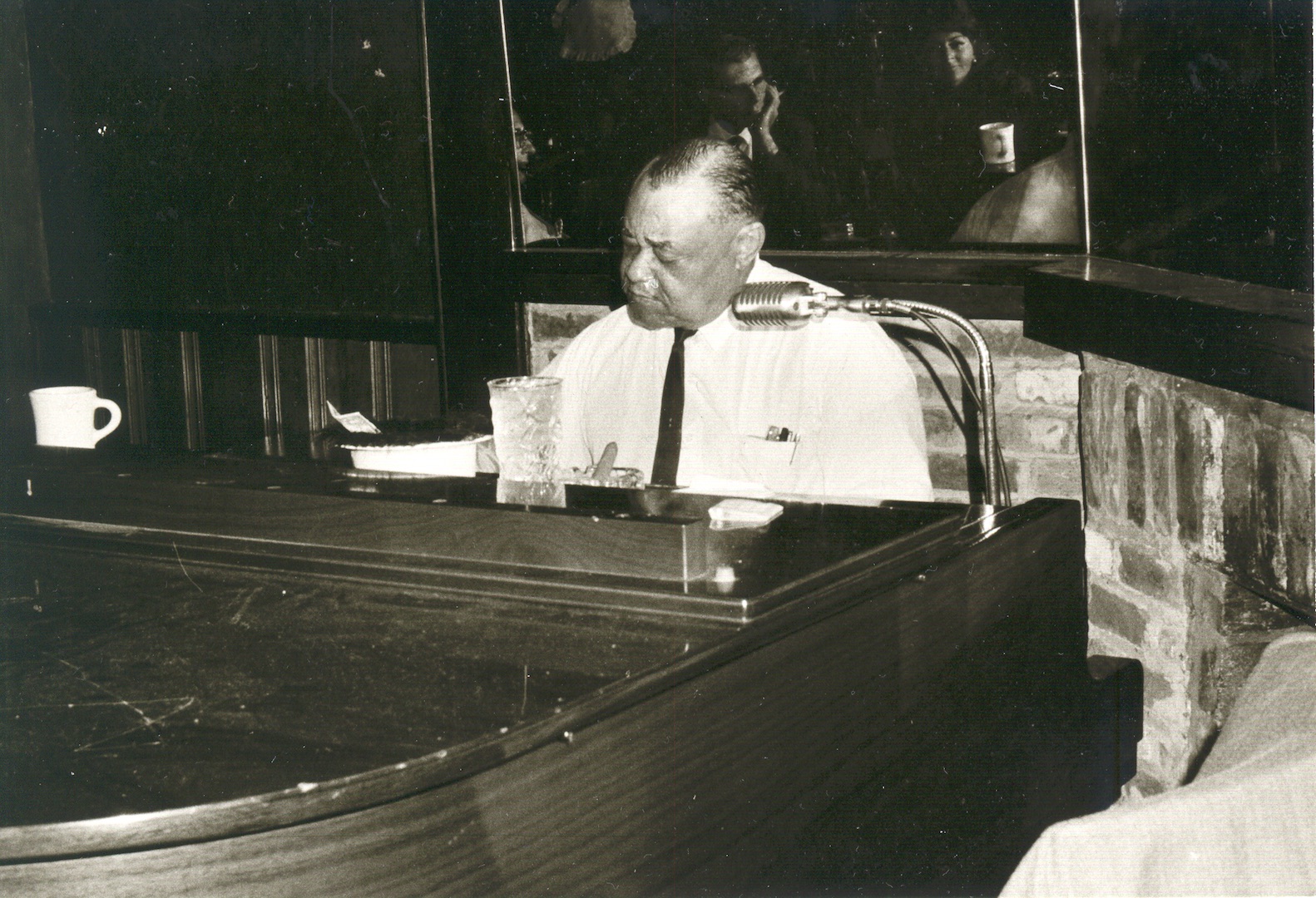 Roosevelt Sykes, or Rosie, as he was known, had just started his set. He played the piano and sang and smoked cigars and talked with friends. His face always lit up when he saw a familiar face come through the door. A couple from St. Louis was there. Rosie asked what was happening in his old hometown, but the couple was perhaps a little too drunk to be able to give a good review.
In the first set Rosie did:
"Stuffin 'and Truckin'," "Woman In Atlanta," "Night Time Is The Right Time" (His version was a little different from Nappy Brown's and Ray Charles' recordings), "Honeysuckle Rose," "Stormy Weather," "Driving Wheel," and yet again: "Night Time Is The Right Time," and "What'd I Say," "Goin' Slow Down." He concluded with a stomping boogie woogie.
It was a fine set and afterwards I complimented him and reminded him of the great success he had in Stockholm at the 1966 American Folk Blues Festival. The audience did not want him to leave the stage, and he "had to" do two encores.
Then Smilin' Joe, perhaps better known as Cousin' Joe (born Joseph Pleasant, 1907-89) took over the place behind the piano. He was very well dressed, even a little snobbish. He wore the latest James Brown styled clothes: a jacket and polo shirt plus a medallion around his neck. He was sharp. His repertoire consisted of blues, soul, standards and popular songs like:
"Trouble In Mind," "Walk Right In," "How Come My Bulldog Don't Bark" (with a line about a razor), "Nothing Takes The Place Of You" (Toussaint McCall's soul hit), "Good News" (Sam Cooke), "Lazy River," "You're Nobody 'Til Somebody Loves You," "Undecided," "Stardust," "Let The Good Times Roll," "Just Like a Woman," "(Sometimes I Wonder) Why My Baby Don't Write (To) Me," "Cotton Fields," "Way Down Yonder In New Orleans."
Joe was in a good mood, sucking up the applause.
These artists had an extensive repertoire. It was needed for their hour-long sets between eight at night and four in the morning – six or seven nights a week. I made it a habit to always say hello and sit down for a set or two whenever I walked down Bourbon Street. Rosie was so nice and had so much to tell, that he always kind of seized me when I arrived.
I never took time to talk to Smilin 'Joe even though I noticed that he circled around and probably was interested in an interview. I had no idea that he had done so many great R&B recordings either.
After a while I hurried on to Frankie Ford (born 1939/1940 – died 2015), who appeared at the Backstage. But it was very disappointing. He played tired standards and show tunes facing a white, middle-aged, female audience.
It is ironic that Frankie, who later came out as gay, didn't play his rock and roll tunes that would have attracted a young male audience. His amazing "Sea Cruise," a hit in 1959, is one of the best rock and roll songs by a white artist ever made. Even the B-side Roberta on Ace Records is great. The expressive line from "Sea Cruise" "I'd like to boogie woogie like a knife in the back" is mind blowing. But Frankie had Las Vegas ambitions and wanted to be the Liberace of New Orleans at these hours: 23-24, 01-02, 3.00-3.30 and 04-05.
Now he sang: "Until The 12th Of Never," "Here We Go Again," "Then You Can Tell Me Goodbye."
Then I had to leave as the staff persistently tried to make me buy more expensive drinks at $1.50 each. I crossed the street to see Clarence Henry.
When I came back ten years later, Frankie had beaten the attendance record at the Backstage after an unbroken stretch at the Backstage. But Clarence had been even longer on Bourbon Street, and there was always more people to see him.
This evening he did, among others:
"But I Do," "Swing Low Sweet Chariot" (where he sat down at the piano and interrupted the song with a spoken part of black power philosophy), "Please Please Please" (James Brown), "Hi Heel Sneakers" (Tommy Tucker), "Glory Of Love," and a swinging and fine version of Jesse Hill's "Ooh Poo Pah Doo."
It's not accurate to call Clarence a R&B singer. Mostly, he sang pop songs, but with a swinging New Orleans beat, which made him very pleasant and fun to listen to.
His orchestra was first rate. The musicians that did not play with Fats Domino, but were qualified for it, could often be heard with the Frogman instead.
Among others were Bob French (born 1937) who played drums and Warren "Jake" Myles (Big Boy Myles brother), who played the piano. Before I left to go home and sleep, I shook hands with Clarence, and we decided to meet again later that week.
Being in New Orleans was comfortable and convenient. In the French Quarter and Bourbon Street there were both blues, R&B and soul clubs and at the far end on St. Peter Street was Preservation Hall for the jazz purists. These visitors seemed to be only interested in music and often sat close together on the floor to be as near to their idols as possible. The other clubs were more comfortable.
The majority of the Bourbon Street crowd was white. The soul clubs that were outside this area mostly had weekend performances for an all black audience. But further out, at the outskirts of New Orleans, the clubs seemed to be more integrated.
Tuesday, July 16, 1968
First I went to WYLD radio station at 2906 Tulane Ave. It was the leading soul and R&B station in New Orleans. All the DJs were busy but I got a brief chat with Gus "The Groove" Lewis, the station's program director. He had also made recordings under that name.
I asked him about the clubs and where I could get hold of the R&B and soul stars. I was especially anxious to meet Professor Longhair and Huey Smith. I had found the Watch single "Willie the Prince" / "Third House" on the Corner with Professor Longhair in early 1965 in Stockholm in a used record shop. Later Guy Stevens' Sue Records released "Looka No Hair" / "Baby Let Me Hold Your Hand" from the Ebb catalogue recorded in 1957.
"Longhair does not get any gigs anymore," said Gus, "and he lives outside town." He had not heard anything about Huey for a long time either. But Gus thought it was Huey who was behind the group the Hueys and the song Coo Coo Over You which had been a decent hit in New Orleans recently.
Did Huey and Longhair get any occasional studio work? Gus did not know. Irma Thomas worked in the southern states but had New Orleans as a base, said Gus, and Aaron Neville, Robert Parker, Curley Moore and Diamond Joe were in town as well as Ernie K-Doe. But none of these had anything big happening.
Ernie K-Doe was at "Burnells in Sere St." He also recommended that I visit Club 77 on North Claiborne, Nite Cap on Louisiana Ave and Mason's VIP Lounge on South Claiborne.
Gus said that Sansu Records, Allen Toussaint's and Marshall Sehorn's record company, was located at 1211 St. Philip Street (Ph: 524-3262). I continued to walk there.
It was a small, white one-story wooden building in a fairly affluent black part of town. It looked more like a decent single-family housing than an office of the most successful record company in New Orleans at that time.
It was a bit larger than the classic "shotgun houses" in New Orleans. They were long, narrow buildings where a shooter at the main entrance can kill the whole family with a single hailstorm.
Marshall was away, but Allen would come by at any time, said the secretary. But he kept irregular hours so she really she did not know when … I often found myself sitting at Sansu waiting. It was hot outside but here a little cooler because of the air conditioner.
Everything took a long time in New Orleans. People did not show up for appointments or came too late.
At Sansu I got a long list of clubs worth visiting:
Nite Cap (Club & Lounge), 1700 Louisiana Ave,Mason Lounge, 2309 S. Claiborne, Red Carriage, on La Salle Street, Whitney Devil's Den, 2121 Bank Street (at the corner of Tulane and Bank Street), Club 77, 810 (or 700) North Claiborne, Ivanhoe Piano Bar, 601 Bourbon, 577 Club, (where "Frogman" Henry appeared), Al Hirt's, 501 Bourbon, (Gloria's) Living Room (St. Bernard – one block from Broad Street), Sylvia's, on Spain & St. Roman, Jazz Corner, on Frenchman. And later were added: Five Hundred Club, 441 Bourbon, Perkins Bar, at Taylor Street and Kenner? (Where perhaps Tommy Ridgley and Chris Kenner could be), Shadowland 1921 Washington at the corner of Dryades, The Dew Drop, Washington and La Salle (2836 La Salle),The Sands Lounge, 800 (or 801) Jefferson Highway.
Another club was at 701 Loyola Ave. The Club Soul City was in the suburbs. On the 28 of July something was about to happen at 1740 Baronne St …
Allen did not show up that day, but I headed down to Bourbon Street again in the evening. First stop was the Court of Two Sisters. There I had a long and hearty chat with the extremely nice and sympathetic Roosevelt Sykes (1906-1983).
He was born in Helena, Phillips County, in 1906. His father's name was Ed Sykes and he was a musician and his mother, Allie, was a housewife. Ed played guitar and mandolin in a style that Rosie described as "a kind of swing blues." His most popular song was "I Came All The Way From East St. Louis With Just One Lousy Dime." He appeared on Saturday night parties, or picnics, where both black and white, from the cotton fields, sawmills or timber logging gathered. When people were eating and drinking they entertained with guitar, mandolin and violin. But when race relations degenerated, the integrated parties ended.
When Rosie was six years old his father died and when he was seven his mother died; he grew up with his (maternal) grandfather Adam Bragg. He was a preacher of a Baptist church in St. Louis. He did not remember much of his parents. In the church, he heard spirituals and gospel music. Rosie preferred the older style ("more harmony") before the gospel heard today. During his early days ragtime had become blues, said Rosie.
His mentor and the one who taught him the basics of the blues was Leothus (Lee) "Pork Chops" Green. He was a better piano player – with cleaner appropriations – than myself, said Rosie, and also a decent singer.
Rosie toured and worked with Lee "Pork Chops" Green for 15-20 years. He also learned much from Jessie Bell, who had his own style, and from Arnold "Wild Eye."
In June 1929 came his recording debut – "44 Blues" on Okeh 8702 (Rosie still remembered the issue number.) He got his record deal when he demonstrated pianos in a music store on Market Street in St. Louis. The talent scout Jesse Johnson came by and liked what he heard and took Rosie to New York and Okeh Records, which then was located in Union Square in New York. Then came the blockbusters "All My Money Gone," "Henry Ford Blues" (1934), "Skin And Bones" (1936). He came to Decca in 1946. In 1956, he had some success with "The Night Time Is The Right Time" (RCA Victor), which he had recorded earlier.
Rosie became a professional musician in 1930. But already when he was 16-17 years of age, he used to leave his hometown and hitch free rides with freight trains. No one commented when he left or when he came back. Rosie described himself as rather neglected but he was a handy child and made no major demands and Rosie said that he had not been hurt by his upbringing. But he also said that "no happy man can sing the blues. You have to descend into the abyss – bring yourself low down."
On the freight trains were all kinds of vagabonds. Rosie dressed in his worst rags and kept only a few coins in his pockets. But under his shirt cuffs he kept his money – often several hundred dollars.
He had a worn suitcase. When he arrived in a new city, he changed clothes, and went to the nearest bar or gambling saloon where there was a piano. Someone would always ask if he could play … and Yes, Yes! The tips flowed into the bowl on the piano and the bar owner sold more drinks and was satisfied, and he also used to ask if Rosie could come back the next day. Rosie promised, but usually he left town and travelled on.
He started his own group – Roosevelt Sykes & The Original Honey Drippers – that he led between 1935-58. Then he began to read music. Around 1930 Edith Johnson mentioned the Honeydripper for the first time in a song. Then Rosie took up the theme in his own song: "The Honeydripper is a sweet man for a girl."
He had been married three times: in 1933 with Isabella, and around 1937/38 he married for the second time with Vivian for five years and then he was a bachelor until the third of December in 1956, when he married Mercy Dee, his present wife. He had a 35-year old daughter with his first wife. And two boys, six and thirteen years old and a nine-year old daughter with his third wife. During the war he worked in a munitions factory in Chicago.
Rosie used to perform at theaters like the Apollo or Lafayette in New York during the vaudeville era when they had burlesque, movies and a blues pianist. In St. Louis, he stayed in places like Red Bird and "Colum's" Nest on Marque Street. It was tough in Mississippi. He didn't like it much there. During tours he often played in school houses. But he preferred to play in concert halls and at school concerts.
Particularly successful was the show in Cambridge, England in 1961. Then he also appeared in London, Birmingham, Brighton and Nottingham. He was at Carnegie Hall in 1963. In Chicago, he had in recent years appeared at a Technical College on Wabash Ave, and in the suburbs.
He described himself as a honky tonk blues player, and it is in these places for gambling, prostitution and illegal liquor and beer trade he has been the most. Knife fights, gun battles or regular gang fights erupted there sometimes, and then he had to dodge the flying bullets. At that time a blues singer had a pretty good reputation among other blacks, but now it had gone downhill. White people started to appreciate the blues after 1945.
Rosie was always happy to share some words of wisdom:
"Blues is the truth and tells it like it is." "Blues is a spice. Salt makes you appreciate the sweet taste better. Even in a sponge cake you must have a little salt." "The Blues is the salt that makes other music such as jazz, R&B, etc. sounds better." "Blues is the foundation for other music such as jazz and R&B." "Jazz is 50% blues."
"In the beginning the Blues was called 'reels' ("reals?")," said Rosie. It was only in the 20th century it got its present name – and it was taken from "being blue."
This evening I heard Rosie do:
"Women In Atlanta," "St. Louis Blues," "Kansas City" (I think Rosie used Little Willie Littlefield's piano-based arrangements. But he had heard guitarist Jim Jackson do this song already in 1922-23; with another arrangement.)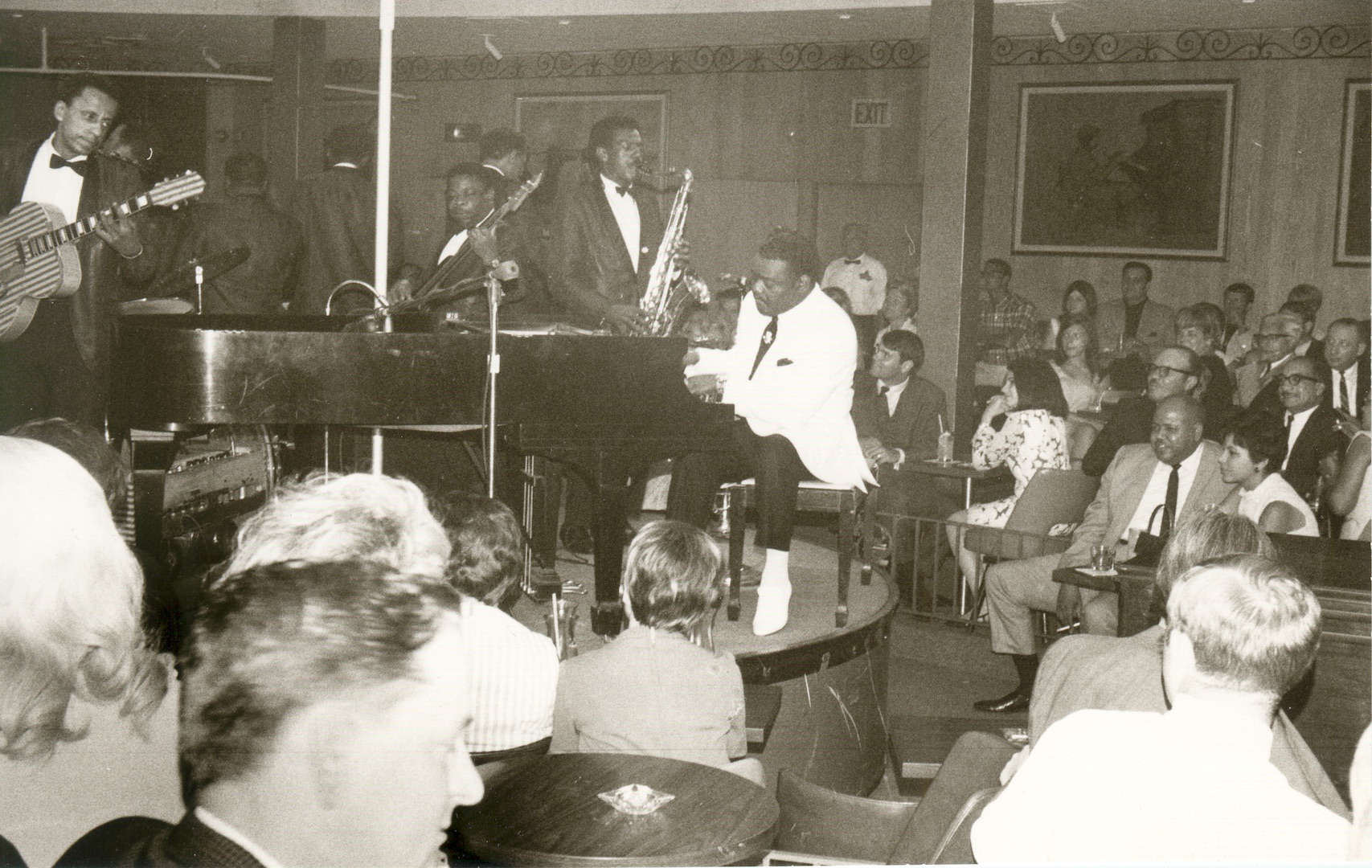 Next stop that night was Al Hirt's where Fats Domino was. Rosie said that Fats Domino learned a lot from him long ago and asked me to say hello to him. The club was owned by jazz trumpeter Al Hirt and was the largest on Bourbon Street. It had a circular stage that slowly spun around while the performers played, and you could see the musicians from all possible angles. I remember the premises as rather narrow and elongated, perhaps because I was in the part closest to the entrance.
The band included Roy Montrell (guitar), Herb Hardesty (tenor sax), Nat Perrilliat (tenor sax, 1936-1971), James Davis (bass) and probably Clarence Ford (1929-1994) (baritone sax), whom I later shook hands with in the audience at Frogman Henry's place.
They started with a jazz song and then Bobby Hebbs "Sunny," which had been a big hit two years earlier. Then a new jazz song and Bobbie Gentry's "Ode To Billy Joe." The first part of the show with easy listening big band jazz was not that exciting and I walked around the room. Then Fats made his entrance in an elegant white blazer and he kicked off directly with:
"Blueberry Hill" and followed with a medley of hits, containing, among others "I'm Walking and Blue Monday." Then followed: "Just Like A Woman,"An instrumental,"I Want to Walk You Home,""Trouble Blues,"Instrumental,These two instrumentals were either "Fat Man's Hop," "Second Line Jump" or "Domino Stomp" or perhaps another one of the very fine instrumentals Fats recorded during the 1950s, "Trouble in Mind" (he did it 2 times) "I'm Ready," … then Fats did a blues with the phrase "another mule is kicking in your stall,""C.C. Rider,""Natural Born Lover,""When The Saints Go Marching In."
The band sounded good, of course, even if they had played most of these numbers a thousand times.
I especially appreciated guitarist Roy Montrell. It is nice when a guitarist is playing in the lower register. Almost like a bass. But I don't like to hear a bass player play like a guitarist.
The venue was not full – it was the beginning of the week and early in the evening (maybe 200 people were there). Most were white (approximately two thirds) and in lower or middle age. Most of the tables were occupied, and I stood against the wall.
Fats had a huge highball glass on the piano. Just like Amos Milburn when he sang songs about the Bad Whiskey. When it was empty, the waitress came in with another full glass. Fats emptied it resolutely.
Fats sang "Trouble In Mind" twice because he noted that "both he and the audience felt so good about the blues." It was a fine blues-based performance that evening.
Afterwards, I exchanged a few words with the club's manager. It was often a good way to get free access to the artists' dressing room and a free drink. And to come back later and not have to pay admission. But he seemed frankly a bit scared of both Fats and his manager …
After a while Fats appeared from the inner regions. When I started talking to him, it was evident that he was very drunk. In fact I wondered how he was able to perform. I tried to ask questions but received only incoherent replies. Fats resolutely took care of my notebook and wrote his autograph there: "Luck Fats Domino."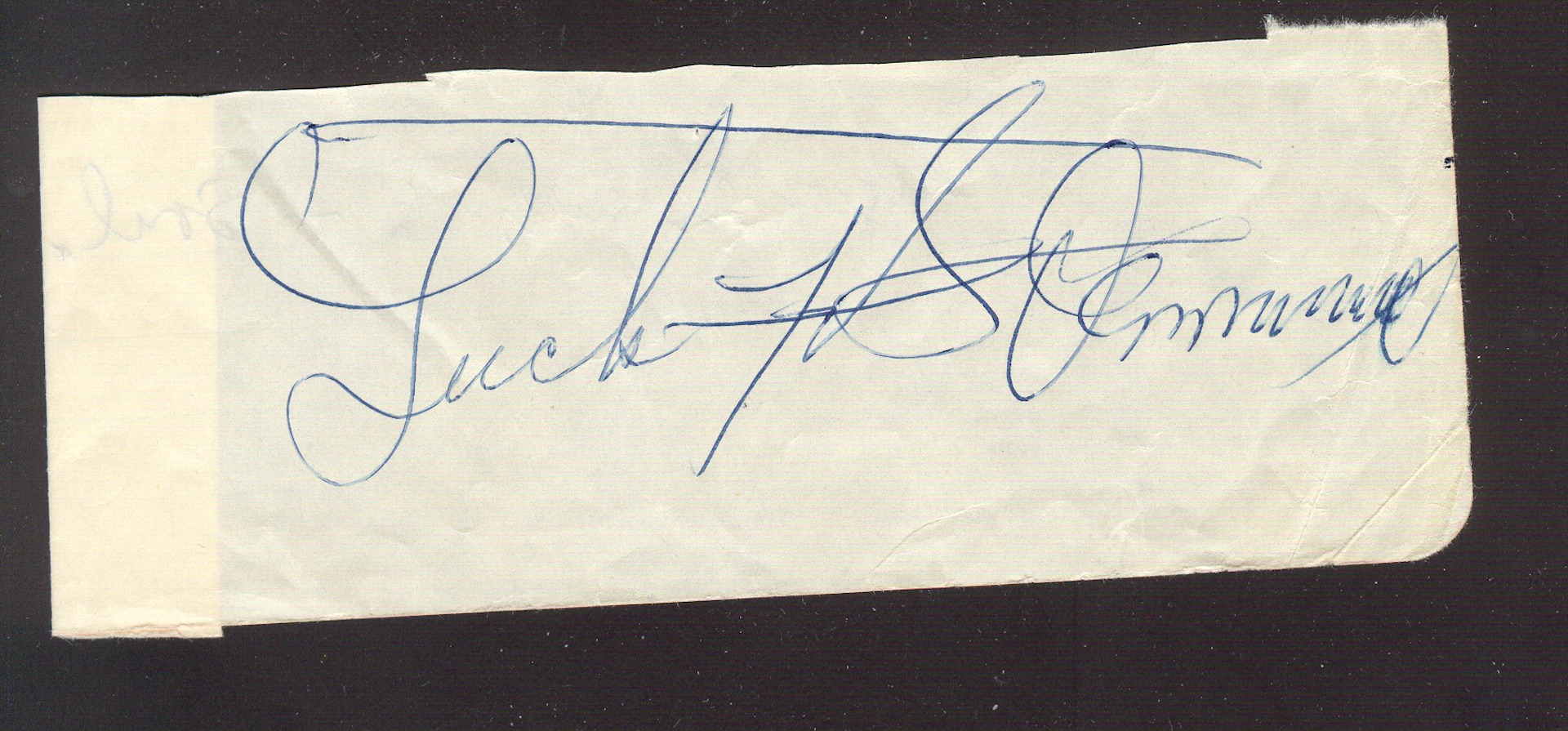 His manager, Bernard Dunn, came after a while – also a little drunk and in fact a wee bit aggressive. I think he mistook me for a promoter from Europe who was trying to lure Fats off to Europe …
He told me that Fats had a record deal with WB and the next Fats Domino single would be released in two weeks on Reprise, Frank Sinatra's record label.
Fats had not had a hit in four years and his time as an in-demand and highly paid rock and roll performer was over. Long performing stretches in the home town never brings any serious money, but saves hotel expenses. It might not even be enough to keep a permanent big band and support a huge family?
His latest record, a cover of the Beatles' "Lady Madonna" on Reprise was heard on the radio. But it took eight weeks for it to creep to the 100th place in the charts where it stayed for two weeks.
The meeting with Fats was quite unsuccessful.
But it never affected my admiration for this incredibly talented artist who created perhaps more classic hits than any other black artist (apart from James Brown) during the 1960s. And who managed to convey joy and joviality in the best spirit of Fats Waller and Louis Jordan. When I met him again on May 21, 1973 at Grona Lund in Stockholm, he was in an excellent mood and pleasant and positive. In his sax section then was Walter Kimble and Roger Lewis (baritone sax) and Maurice Simon.
(Ten years later, Maurice Simon was booked to accompany Nappy Brown on a Scandinavian tour. But Simon managed to be deported from Sweden after some criminal activity.)
When we looked at the pictures I had taken five years earlier, Fats pointed out that a couple of men had died in the meantime. It was tenor saxophonist Nathaniel "Nat" Perrilliat (1936-71), who fell unconscious during a gig with Fats in Sacramento, California, and died a few days later. Bassist James Davis died in a car accident (1970) where Clarence Ford and Buddy Hagans were seriously injured.
I also asked about Jewel King, who debuted at the same time on Imperial as Fats. Fats confirmed that it was a woman (I had not heard her then). Fats even sang a line from her song "Three times seven is twenty one."
When I came out on Bourbon Street again, I was offered $5 for advanced sexual services by a motorized white man of 25 who was driving a convertible sports car. It was neither the first nor the last time it happened in the US. I guess I started to look skinny and worn out – like one who had escaped from a juvenile prison – and an easy prey to tempting offers.
I hurried to Back Stage to interview Frankie Ford between performances but he had a meeting so it came to nothing. He only said that Marshall Sehorn had planned to record him, before he rushed away. I went to the Dream Room where Benny Spellman appeared. But I never entered because Benny was not there at the time. (I think the club was located upstairs.) I never had a chance to come back. Someone had said that maybe Ernie K-Doe was there too, but that was not the case. I went home.
Wednesday, July 17, 1968
I felt tired after yesterday and took a refreshing walk to the center. New Orleans had the most liberal alcohol laws in the southern states where otherwise clubs had no right to serve liquor or had to stop serving at midnight. The entrance was often free in New Orleans, but that was compensated by sales of drinks. When going from place to place it could be too much.
After a while rain began to pour down and I sought refuge at a department store at Canal Street. In Elvis' movie King Creole there was a similar looking department store where Elvis sings "Lover Doll" for his girlfriend.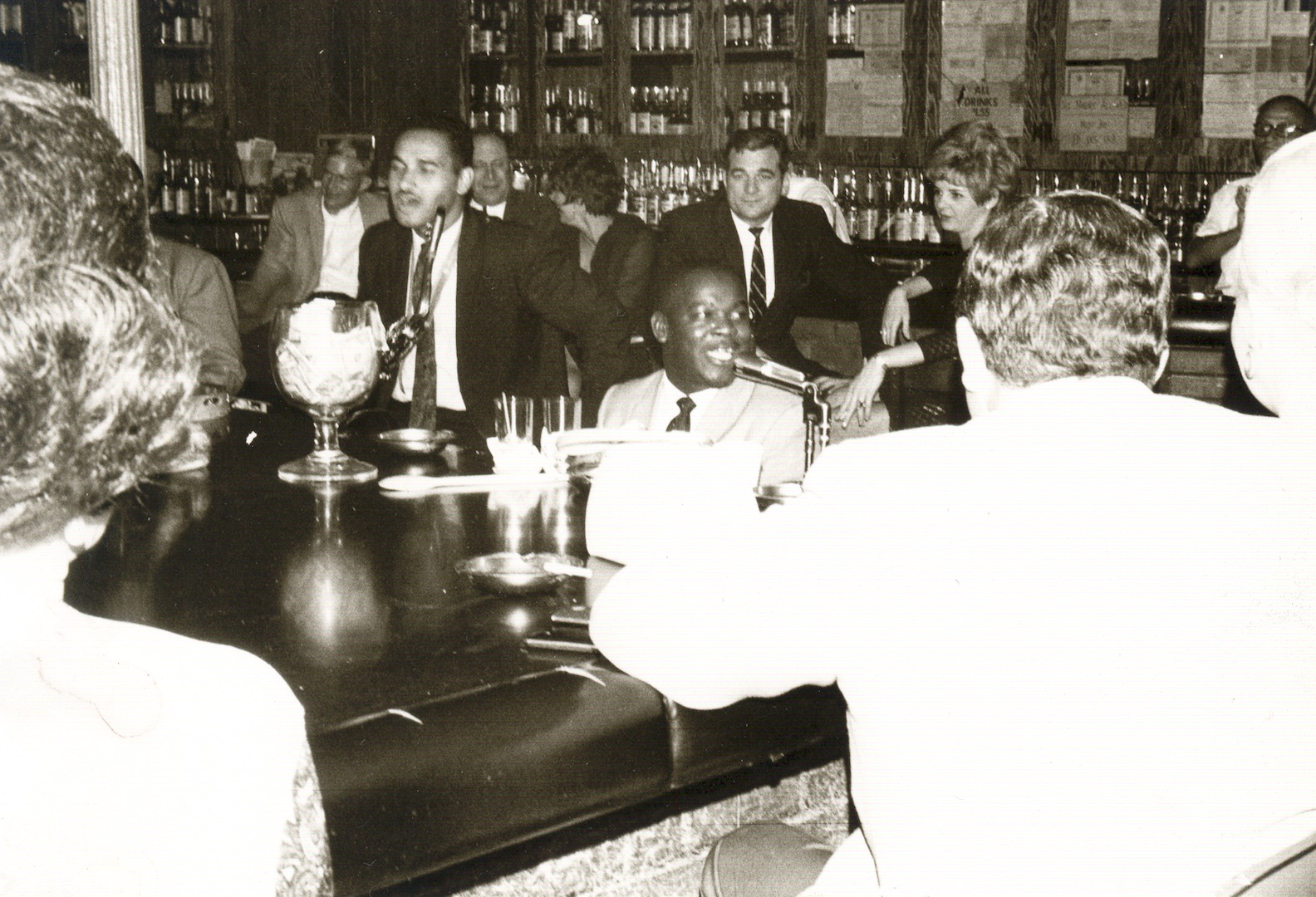 In the evening I went back to Clarence "Frogman" Henry. He was born March 12, 1937 in Gretna, on the west bank of the Mississippi River near New Orleans, and he played the piano in church and sang too. But in 1955, he stopped singing gospel and started with R&B. He described his influences as gospel and Dixieland music, and later rock and roll. It was Fats Domino, Professor Longhair, Smiley Lewis and gospel music that influenced him the most. Today he played and sang the music he grew up with.
He was on the Chess/Argo label between 1956 and 1965. In 1957 he got his first hit with "Ain't Got No Home" for Chess. Altogether, he released eleven records on Chess like "Ain't Got No Home," "Lonely Tramp," "But I Do," "You Always Hurt The One You Love," "Lonely Street," "Standing In The Need Of Love," "On Bended Knees." (His Chess recordings were released mostly on Argo – the company's pop-label.)
In 1965, he came to Parrot Records and made, among others "Little Green Frog." The year after it was Dial Records where he recorded "Tore Up." His latest record was the "Shake Your Money Maker" for Dial, a song that also Elmore James and Bobby Marchan had recorded.
As a recording artist, he combined the sound of Memphis and Nashville, but he was not a soul singer, said Clarence. His stage show was pop in a nightclub-style. Dixieland with backbeat was his New Orleans sound.
He had worked with such diverse producers as Allen Toussaint, Buddy Killen and Berry Gordy and been six times in Europe. The images from the 1964 tour with the Beatles papered the pillars outdoors. He recommended a visit to the Delta Distributors at 1023 Baronne or Bologne/Howard but I never got there. I guess they distributed his records.
Clarence had performed locally for several years and knew all the local artists. I wanted to use him as a talent scout. But like many artists, he wanted to talk about his own career and not about others.
I think though, that it was Frogman who described Professor Longhair as a wino today.
The best place to look for Huey Smith was at the Dew Drop on 2836 La Salle, he said. "But Huey does not perform there. He is there to drink." I took the tram and stepped into a simple, medium-sized club with generous space between the tables. A small stage was in one corner.
I asked men of Huey's age, who stood at the long bar, if they knew where I could get hold of him. They shook their heads, but confirmed that he would be there and drink in the evenings.
Here all my R&B favourites had been drinking: Wynonie Harris, Little Richard, Amos Milburn, Roy Brown, Ray Charles, Joe Tex and half of the soul elite. Both when they were touring and on top, but equally often when they were stranded in New Orleans and had extra time between gigs.
I said that I was interested in soul and R&B and they recommended the Shadowland at Washington/Dryades or the Nite Cap lying nearby. The Dew Drop only had shows on the weekends.
At the Shadowland, it was completely silent. The place was in semi-darkness and at the bar sat a young man lost in a drink and he advised me to be there tomorrow instead. Then Irma Thomas would be there, as well as Diamond Joe and Curley Moore and many more. On a small piece of paper he wrote: Shadowland at 10 pm. Vocalists: Leroy Bates, Curley Moore, Diamond Joe, Phillis, Mowite, Joseph; Band – The Toronados.
Thursday, July 18, 1968
It sounded almost too good to be true! I just could not believe him. Wasn't he in fact the manager of a small group and wanted to lure me to see them there? On the same note, I myself had written "Lee Dorsey – tomorrow" – even he was somewhere nearby – but where? This club was really small. Could Irma, an international soul star appear in such small places, no bigger than a small café with a 10-15 tables. I asked the female bartender if she had something to recommend. She suggested I go to the Nite Cap, a bigger club, which was a few blocks away (at 1700 Louisiana Ave). Willie Tee & The Souls could be there.
"Willie's Walking Up A One Way Street" and "Teasin' You" were good enough for me to rush there immediately. But even the Nite Cap was empty and almost deserted. The club was maybe ten blocks from The Dew Drop. But after a while a pretty decent soul group showed up. (Here my diary is incomplete.) But it must have been Lil Wilbert & The Fabulous Playboys and their repertoire consisted of soul standards in a rather short set. And someone also wrote down a phone number: 949-9447. Wilbert said their biggest hit had been "Funky Broadway, Part 1-2″ on Paramount and that their latest record was "Lover and a Friend" on Seven B with Eddie Bo as a producer and arranger. He probably meant that Eddie Bo sometimes used the group on their own and others' recordings when Eddie was working as a producer.
It had been late and I had visited many places and each new club meant at least a drink as soon as you sat down. It was difficult to collect the thoughts. Musically, the day had not been that interesting. I left the Nite Cap at 1:15 and went home to sleep and wake up refreshed.
I went back to WYLD to make a more formal interview with Gus Lewis (born 1932), their program director. The station started in 1950 and in 1958 it got its present name.
The station was entirely black-run and they wholeheartedly supported the Civil Rights Movement – and they intended to take an even tighter grip on the New Orleans African-American population (40% of the total) with news, discussions and history, even if they lost some white listeners in the process. They played soul/R&B for 20 hours a day and gospel between 6-7 am in the morning and 7-10 pm and had 50 songs on the playlist and 5-10 songs were replaced every week. The DJs could also add a favourite song of their own.
Gus "The Groove" Lewis had a high stack of new records in front of him on the desk. He told me that they got 350 new singles every week. He was just about to pick out the new discs to be played on the radio next week. But he sighed when he saw records with Lightnin' Hopkins ("Back Door Friend") and Junior Wells ("Wig Wearing Woman" or "Mystery Train").
Guy put those relentlessly in the discard pile. "I do not understand why some record companies insist on sending discs that can only be appreciated in backward, rural areas," said the Groove emphatically.
Otherwise, he was pleasant, and had recorded a couple of semi-progressive talk-soul records as a singer, songwriter and producer, like many DJs did. Right now, he had a record released by Bell Records – "Together" / "Let The Groove Move You." He said that the summer had been pretty cool so far, both regarding new discs and riots, and gave an example of the station's commitment against employers who discriminated against black workers.
For that reason they boycotted Dixie Beer's advertising. (Result was uncertain. This beer flowed at a couple of the clubs I visited.)
Otherwise race relations were better in New Orleans than in other cities in the South. Here you could see both white and black children play together. The Groove also completed my list of clubs in New Orleans to visit.
Then I continued to Sansu. A young man with hair in a faint red colour was waiting for Allen Toussaint at the reception. I had not seen his picture before, but when he presented himself as Aaron Neville I started an interview immediately. His languorous soul ballads had made a big impression on me. He was one of the artists from the transition period between R&B and Soul that I was looking for.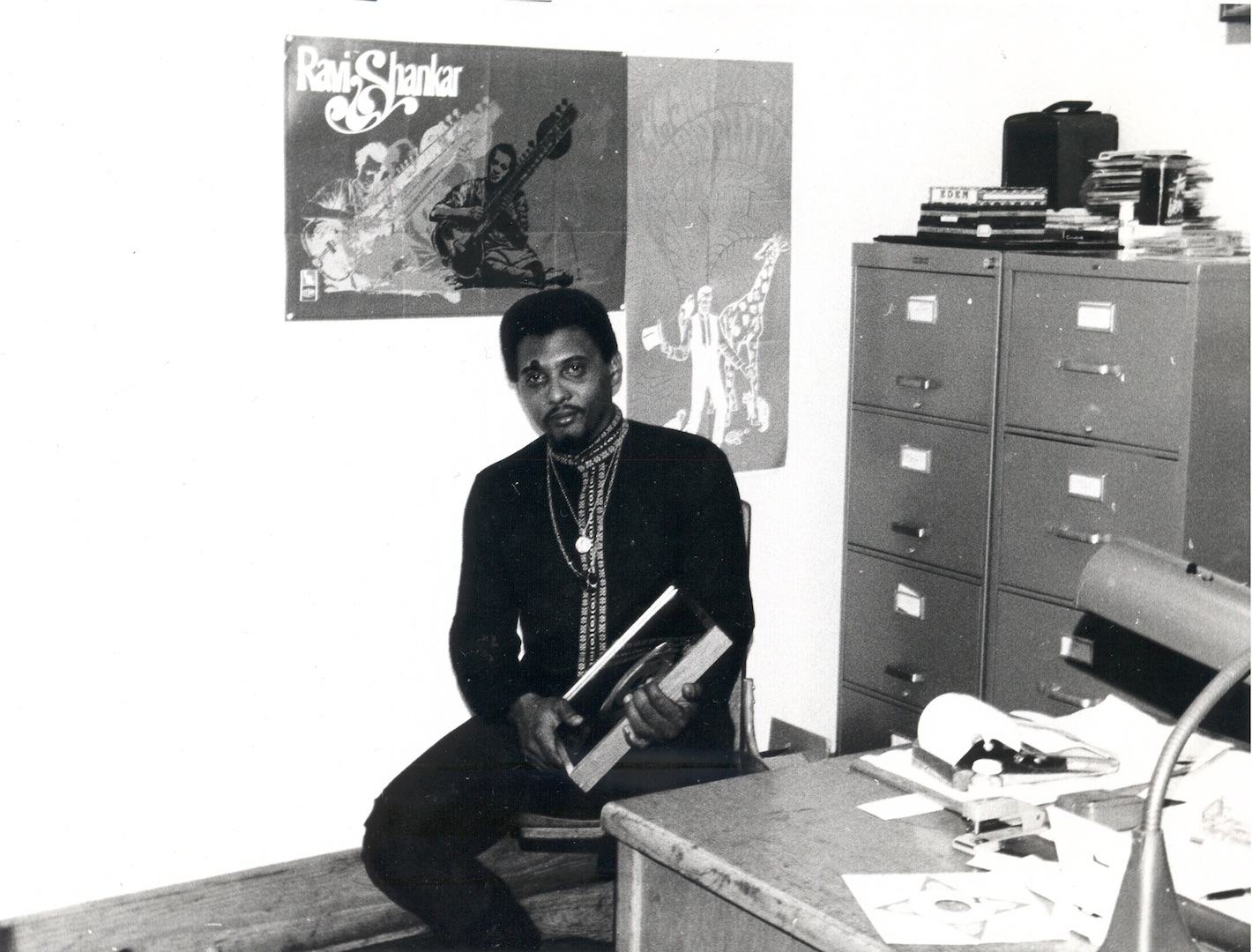 Aaron Neville was born in New Orleans in 1941. He had a Catholic background and only sang hymns in church, but sometimes gospel and spirituals with friends. He actually formed a gospel group in the mid-1950s, but they were singing just for fun and never appeared in the church.
Gospel music thrived in the Baptist, the Pentecostal churches and the Church of God in Christ, etc., while hymns and European church music dominated the Anglican, Catholic and traditional Protestant churches formed by immigrants from Europe. Good gospel-based soul singers from New Orleans were not as common as in Memphis, Atlanta or Chicago, simply because the Catholic Church was strong among blacks here. Although the belief systems and services were mixed with elements from African voodoo religions from the Caribbean islands, like in Haiti.
Aaron played the piano, organ and drums, sometimes even on stage, and he mentioned his brother Art as one influence. He started singing with the doo-wop group the Avalons in 1955, and in 1957 with his brother Art in the group the Hawkettes. They performed in schools and local joints. Since then, the two brothers have performed together. When Art, then a black rock & roll artist, was drafted, Aaron took over the band.
In 1960 Aaron was contracted by Minit and recorded songs like "Over You," "Everyday," "How Many Times," "Wrong Number," "Waiting At The Station," "Let's Live," etc. Allen Toussaint worked at Minit as a composer and producer. He used his mother's maiden name Naomi Neville and perhaps confused researchers to believe he was a member of the Neville family. In 1960 Aaron toured with Larry Williams for seven months.
I first heard Aaron on a Minit collection LP called We Sing The Blues. Aaron was featured with "Let's Live" (my own favorite) and "Over You." Joe Banashak owned the Minit label but sold it in 1963 to Imperial Records, and Aaron left the company.
Aaron's highly skilled singing separated him from other, more untrained "personal" singers from the Crescent City like Lee Dorsey, Dr. John and Professor Longhair. This has given him admirers among fans of doo wop, ballad singing and even opera.
In 1962-63 he went back to Larry Williams, but otherwise he always sang with his brother Art. With both Larry and Art, Aaron handled the ballads and left the rock and roll and fast numbers to them.
A quiet period followed until he recorded "Tell It Like It Is" in 1965 on Par Lo, but it was not released until November 1966. It became a million seller and went to number two and stayed for fourteen weeks in the Billboard Hot 100.
Then began the problems.
"Those Three Words" was chosen as the follow up and Par Lo wanted a large part of the publishing and composer rights to the song. The song was written by Aaron's brother Cyril (born in 1948), and Aaron and Cyril refused.
Instead, Par Lo chose "She Took You For A Ride" as the sequel and on the Tell It Like It Is Par Lo album, "Those Three Words" is included as an instrumental. Aaron's vocal is taken away and the song is renamed "Bet You're Surprised." Aaron (and Cyril) was not only surprised but very angry! The Par Lo LP is a failed album with short playing time and only nine vocal songs by Aaron plus two instrumentals with George Davis (guitar) and Red Tyler (saxophone).
In the middle of 1967 Par Lo realized they had made a mistake and released "Those Three Words," but it was too late, said Aaron and Minit had already jumped on the bandwagon and released an LP with older material under the title Like It Is. He did not want to do anything with Par Lo and did not record any more for them. He was waiting for his Par Lo contract to expire, and then Allen Toussaint had promised to record him for a larger company.
Aaron had been touring with Jackie Wilson, the Isley Brothers, the Five Satins, Spaniels, Coasters and appeared on local television shows, even in Canada. His own favourites were his brother Art, Sam Cooke, Larry Williams, Gene Allison and Pookie Hudson of the Spaniels. I think that Pookie, who also has a magnificent vibrato, was his biggest influence. (Incidentally, the Spaniels have also made a song titled "Those Three Words" …)
I guess I was the first European journalist to interview Aaron. (The article was published in the Blues & Soul in 1968.) Aaron seemed very sensitive and somewhat shy. Maybe he was on guard after all difficult experiences with record labels. He seemed to carry "a chip on his shoulder." He reminded me of James Dean, or other rebels without a cause, who hold much inside but sometimes explode. Aaron was aware of his amazing talent as a singer. He really wanted to succeed. But his career had hit bottom. No matter how he tried hard, he came nowhere. With every day that passed, so did his chances of a come back.
He was frustrated.
Aaron was the first and only black artist I met that summer who was tattoed. On his chest he had a tattoo with the name Teresa. But he was unhappy because the tattoo artist had spelled her name wrong. It should've been Theresa. On his left cheek, he had a sword and his arms were tattooed too. They didn't look professional. Were they made in jail? He later took up body building – another good way to ease the pressure – and maybe would give him a chance for an extra part in a prison film.
While we talked inside the office, three women had arrived to the Sansu rehearsal room. It was the Triple Souls, New Orleans leading female background singers. Mercedes Morris sat at the piano and played and sang "I Can't Last Much Longer" (recorded by Betty Harris and the Triple Souls on Sansu), when I entered the room. On the piano stood a half-empty beer bottle.
I was naturally excited to meet these women. Not only because she played my favourite soul song from New Orleans. But because they were New Orleans' equivalent of the Sweet Inspirations (who worked with Aretha Franklin) – but better!
Their efforts on several New Orleans soul classics had certainly brought them attention from soul lovers around the world. They showed me an article from a local newspaper in which they were portrayed. The Triple Souls were beginning a career as a group. So far they had been fairly anonymous but now they planned to begin performing in clubs.
The three women were Mercedes Morris, Sena Fletcher, Inez Cheatham.
Mercedes Morris was the oldest and probably the most experienced singer. I remember her voice was located in the alto register.
Sena Fletcher was very nice and sweet and had just recorded a solo record for Sansu. She was born in 1947. Her father was a priest and she had sung in his church throughout her life. But it was not until six months ago, that she began singing professionally as a solo artist. Her first record on Sansu was "It's Not Unusual" / "All For The Love Of My Man" produced by Marshall Sehorn. Allen Toussaint plays the piano.
Inez Cheatham was born November 25, 1946 in New Orleans (actually the very same day as myself; at that time I didn't think much of it and never told her). She began to sing gospel and was the president of her church youth choir where she also sang solo. When seventeen years old, she crossed over to R&B. She had composed songs since she was nine, and had 200 songs in her portfolio. Her first recording was a duet with Eddie Bo at Seven B ("Lover And A Friend"). Next record would be released already next week. (Inez later recorded for the Scram company under the name Mary Jane Hooper with Eddie Bo as a producer.) Inez had a lot of plans and was very optimistic about the future. Success awaited her for sure!
The Triple Souls had been formed two years ago. Today they were featured on almost all New Orleans recordings where a female group was needed. Besides working with Betty Harris they also mentioned singing on records with Robert Parker and Lee Dorsey. They emphasized "Touch Me" with Chick Carbo which became a local hit.
The girls were on their way to Cosimo's studio for a session. They asked if I wanted to be in their company. Of course I wanted, and Aaron who was tired of waiting, also came along. We squeezed ourselves into a car with Aaron at the wheel that took us down to 748 Camp Street. I guess it was Aaron's car.
This was a rather large three or four story building – narrow, but not standing by itself – that seemed to have been used as a warehouse for colonial products. Above the door it said 748 Jazz City. When we walked up a rickety wooden staircase, like in a regular barn, we arrived to the floor where the studio was.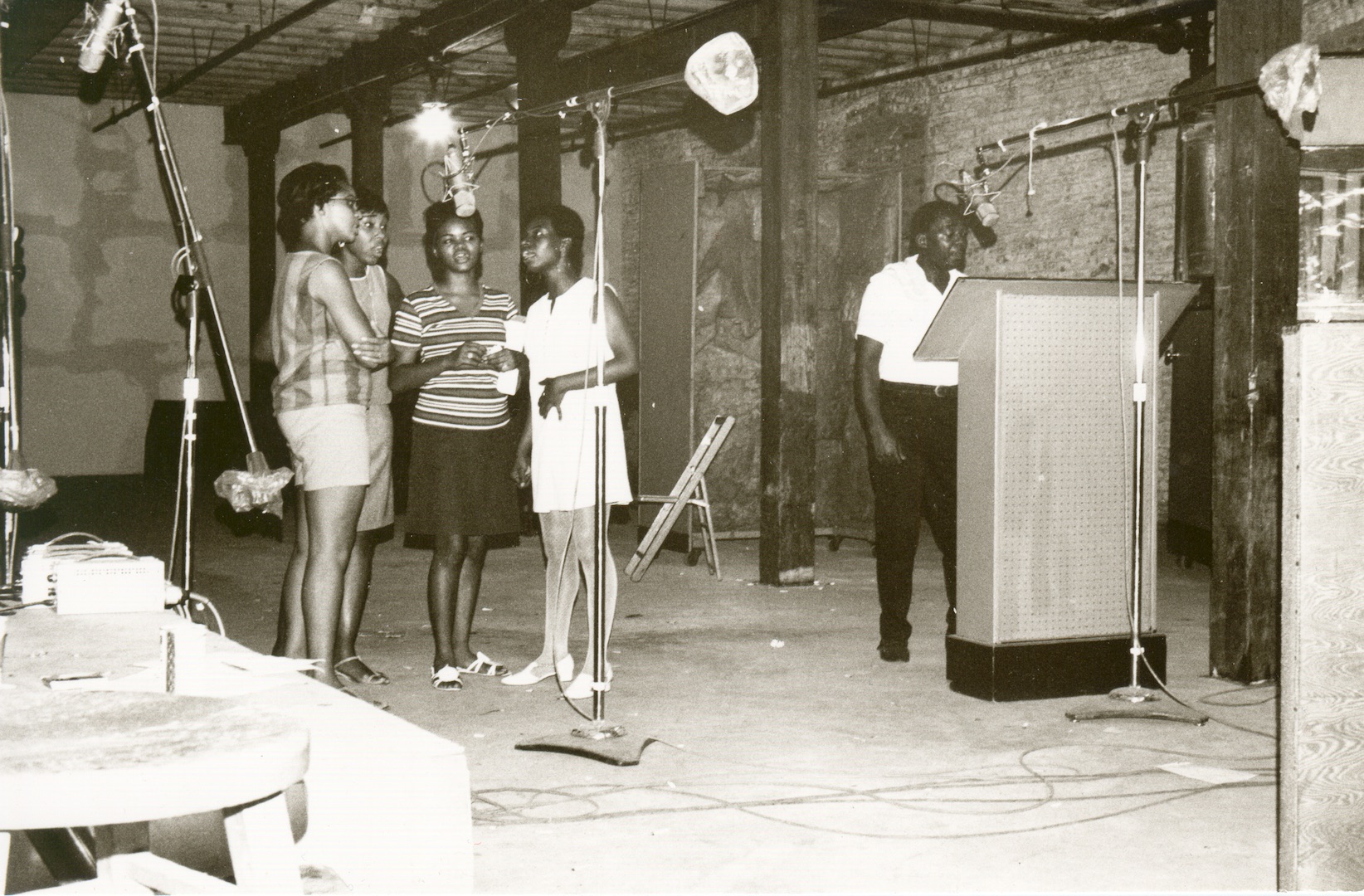 It had a glass closed-in room with tape recorders and mixing boards and outside on a concrete (?) floor stood the microphones. It was a large room where you could fit a couple of symphony orchestras, with a high ceiling. Aaron kept mostly in the background. He walked around or sat and fanned himself with an empty sleeve to his Par Lo LP called Tell It Like It Is. There were droves of this in one corner of the studio, and it probably reminded him of his legal and professional problems and that this LP had become a massive flop.
Little Sonny Jones (1931-1989) was about to complete the B-side "Soul Power" to a new disc on Scram Records. It was a funk-inspired instrumental where Sonny sometimes called out "Whip some soul power on me drummer!" It was not the kind of song that I was interested in buying. The organist had a "do rag" on the head that kept his hairstyle in place. On top he wore a hat. Aaron told me that it was Edwin Bocage aka Eddie Bo. He arranged and played organ on the session. Between takes I took the opportunity to throw in some questions to Eddie about his life and career.
Eddie Bo was born in New Orleans in 1933. His mother played the piano in church and Eddie sang there accompanied by her during his youth. In 1950-52 he did his military service in the Army in Alaska. There, he also met James Brown. Both were boxers, but James was in a lower weight class so they never met in the ring. When he signed off, he got the opportunity to study at a music school in New Orleans from 1952-54 through the G.I. Bill program. He also mentioned that he met Jerry Butler, not in the military but perhaps in a music school or later on a tour.
Eddie Bo's recording career:
Apollo (56-57), Ace (58-59), Chess (59), Ric/Ron (1960-61), Nola (1965), Seven B. (66). He had played piano on early recordings with Robert "Barefootin'" Parker and was the voice that said "all night long" on Robert's All Night Long. Actually, this was an Eddie Bo record that was released in Robert Parker's name, Eddie said.
Among the songs on Apollo Eddie emphasized "Tell Me Why," "I Cry Oh" and especially "I'm Wise" that Eddie said became the model for Little Richard's "Slippin' and Slidin'." A total of three records were released on Apollo. Ace released "I Like To Rock and Roll." On Ric and Ron he had hits with "Check Mr. Pop Eye" and "Tell It Like It Is" (not Aaron Neville's slow ballad, but a faster up tempo song). The owner of Ric and Ron died in 1965.
Then most of the recordings took place at Cosimo Recording Studio in the French Quarter, (It was often called "Cosmo" but the spelling was Cosimo.) It was there that Fats Domino, Huey Smith, Jessie Hill, Robert Parker and Irma Thomas and everyone else recorded. Now, the studio had moved to 748 Camp where all major New Orleans recordings took place.
Eddie arranged Irma Thomas' first record "Don't Mess With My Man" (Ron Records). Sometimes he played the piano on stage if it was in tune and sounded good. In 1959 he toured with Little Willie John in Texas. He wrote "My Dearest Darling" for Etta James and recorded it himself at Chess. "It was Etta's first hit on Argo," he said (in fact, it was the second).
Now, while waiting for a new hit, Eddie sang locally. He worked as an arranger and producer for others – mostly for the Scram and Seven B. companies. His latest was a duet with Inez Cheatham of the Triple Souls ("Lover And A Friend"). (I prefer the B-side, a slow ballad where Eddie sings solo.)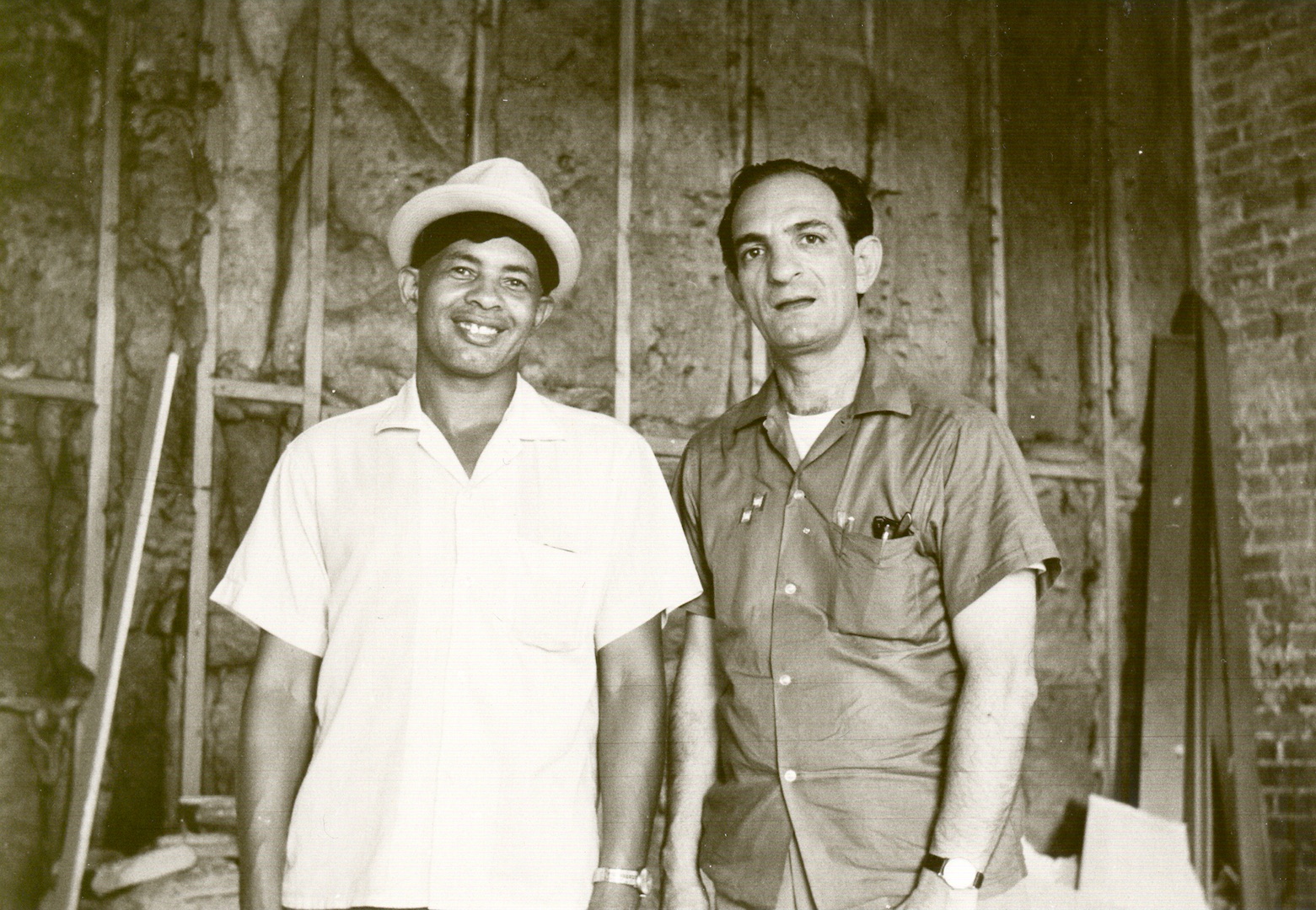 The owner of Scram, Al Scramuzza, was there (Scram, 1826 N. Broad Ave). He was a shellfish-fisherman and knew that the price of crayfish were 3-4 times higher in Sweden than New Orleans. He definitely wanted to export to me when I came back. (He later started other record companies like Power-Pac.)
The next song with Little Sonny was called "Stolen Moments." Sonny sang first to a pre-recorded musical background, and then the Triple Souls along with a fourth girl, with a more typical African appearance, added the background vocals. Between takes Eddie and Mercedes Morris shared a bottle of Rock and Rye – a premixed grog/alcopops that we also were invited to.
Aaron Neville, who understood that I was interested in older and even extinct and fallen stars, said that the bassist, who played on "Soul Power" was Alvin Robinson Unfortunately, he had gone home…
The studio was not air conditioned. It had a high ceiling, but the air was standing still under the rafters. I also used an empty album cover to fan myself with in the high summer heat. Before we parted, we decided to meet at Ivanhoe piano bar where his brother appeared. Aaron promised to sing a few songs. Great!
I never got a chance to interview Little Sonny, but he told me that he was opening with Fats Domino at Al Hirt's. I had missed his segment the other day.
After a couple of hours the session was completed and Eddie, Sonny and Al Scramuzza packed up their things and left. Eddie had a briefcase where he kept his arrangements. (He had a massive hit a year later with Hook and Sling on Scram.)
I stayed because Wardell Quezergue had entered the studio. Wardell (born circa 1933) was a respected and fairly successful producer who had worked with Professor Longhair, Willie T, Robert Parker and later Johnny Adams.
If I rate the New Orleans soul producers, Allen Toussaint is number one, then comes Wardell and after him Eddie Bo.
Tonight he had brought Charles Billum, about twenty years old, with him. They started working on "Mr. Teardrop," to be released at Nola Records. (Wardell and Nola had their office at 1913 Bernard Street.)
Unfortunately, there was no time for interviews, but I did have my share of the grilled chicken they brought with them and we stayed in the control room that was comfortably air-conditioned unlike the other studio spaces. Present were also Charles's father and two of his brothers.
"Mr. Teardrop" was a fine, typical medium-tempo soul ballad which I gladly would have bought if I had found it. But it disappeared without a trace, and I've never seen a song with that title mentioned anywhere.
(The title and the lyrics give associations to Otis Redding's "Mr. Pitiful" and Bobby Harris splendid "Mr. Success.") I did not speak with the studio engineer, a white man circa 35-40 years old. But I guess it must have been the legendary Cosimo Matassa (1926-2014).
I could not stay for the entire session because I wanted to see the Neville brothers at the Ivanhoe piano bar. On the way there I ran into Roosevelt Sykes, who was about to eat dinner. But I hurried on to hear Aaron whom I always I felt is one of the best soul singers ever. But he never showed up.
Art Neville & The Neville Sounds stage show included:
"The In Crowd," "Tighten Up," "Hang On Sloopy," (Art vocal) "Watermelon Man," "Cowboys To Girls," (Vocal); Art's vocal microphone was damaged and sounded awful. But thankfully it improved on the following: "Ride Your Pony," "Knock On Wood," and "Tell It Like It Is,"(I guess it was here that the absent Aaron would join his brother on stage. Did he know that the vocal microphone was not working properly and stayed home?) "Bo Diddley, Part 1 and 2," "La La Means I Love You," "Hold On, I'm Coming," "If I Could Build My Whole World Around You," "Going Out Of My Head."
The atmosphere in the room was fine and everyone seemed to listen very attentively.
This was the start of the Meters, but I saw the other members as accompanying musicians and did not ask for their names. They used the same instrumentation as Booker T & The MGs (guitar, bass, drums and keyboard-organ). But I have always thought that Booker T. was better and even Chicago's Alvin Cash & The Crawlers (or Registers) often managed to surpass the Meters. The Neville Sounds were a soul-influenced cocktail jazz group that reminded me of the Ramsey Lewis Trio or the Young-Holt Unlimited group. They were good but not that exciting.
Art (4710 Chestnut St.) was born in 1937 and played the piano and organ. His group, the Hawkettes recorded Mardi Gras Mambo in 1953 for Chess. Every year at Mardi Gras it was released again and played on the radio. In 1957 he toured half a year with fellow Specialty Records artist Larry Williams. Cha Dooky Doo sold well, but Art was drafted into the Navy (1959-61) and was unable to follow up the success, and Aaron took over Art's group.
Art's follow up on Specialty was "Whiffenpoof Song." In 1961, his Instant record "All These Things" did well.
Presently he had a contract with Sansu and Bo Diddley, produced by Allen Toussaint, was the first record and to be released on the Bell label. Allen would produce his future discs, too. When Art and Aaron performed together Aaron did the ballads while Art did the rock and tougher soul songs.
Art told me that after 15 years of "paying dues" he felt rather hardened and tempered. If their next single Bo Diddley didn't sell he thought about leaving show business for good. I heard the song live and Marshall Sehorn played a demo at the Sansu office. Marshall believed in the song, but I didn't. In England every R&B group had played it on stage. It was worn out and Art's version was no better than all the others or Bo Diddley's original.
I was therefore both happy and surprised that Art remained in the industry, and that the Meters had international success. When talking to him later I realized that he was not a great optimist that so many other artists are.
At Ivanhoe, I was told that Irma Thomas would be at the Sands this evening. It was a large dance hall that lay at the outskirts of town at Causeway Blvd. in the Jefferson area. I took a taxi to get there on time. It cost $3.50. Irma would appear there at 11 pm.
But I found out that it was tomorrow that she was going to be there. Taxi fares were beyond my budget limit, and in New Orleans they added a dollar extra when you entered a new district.
I hitchhiked back with a Puerto-Rican man who told me that he had a relative who was playing at the Dew Drop, and he drove me there. The Dew Drop was as deserted now as the day before. At the bar sat a small group of men drinking heavily, but Huey Smith was not here tonight either. The hottest tip was that Irma Thomas was at the Shadowland, tonight.
After a very brisk walk to 1921 Washington, I found the Shadowland to be full of people. In one corner extra tables had been set up for a birthday party. The orchestra had a break but soon members and singers lined up on stage. It was:
Tony Owens
Johnny "Scarface" Williams
Dave Bond
Plus the Toronados orchestra.
Tony Owens was a powerful singer and he did fine versions of: "When Something's Wrong With My Baby," "Funky Broadway," "Wishing, Waiting, Hopin'"
He was born in New Orleans in 1947, and had recorded the following songs for Soulin' Recording Co:
"Wishing, Waiting, Hopin'," "I Got Soul," "I Need I Need Your Love."
(4121 Eve Street was either Tony's or Soulin' Records address.)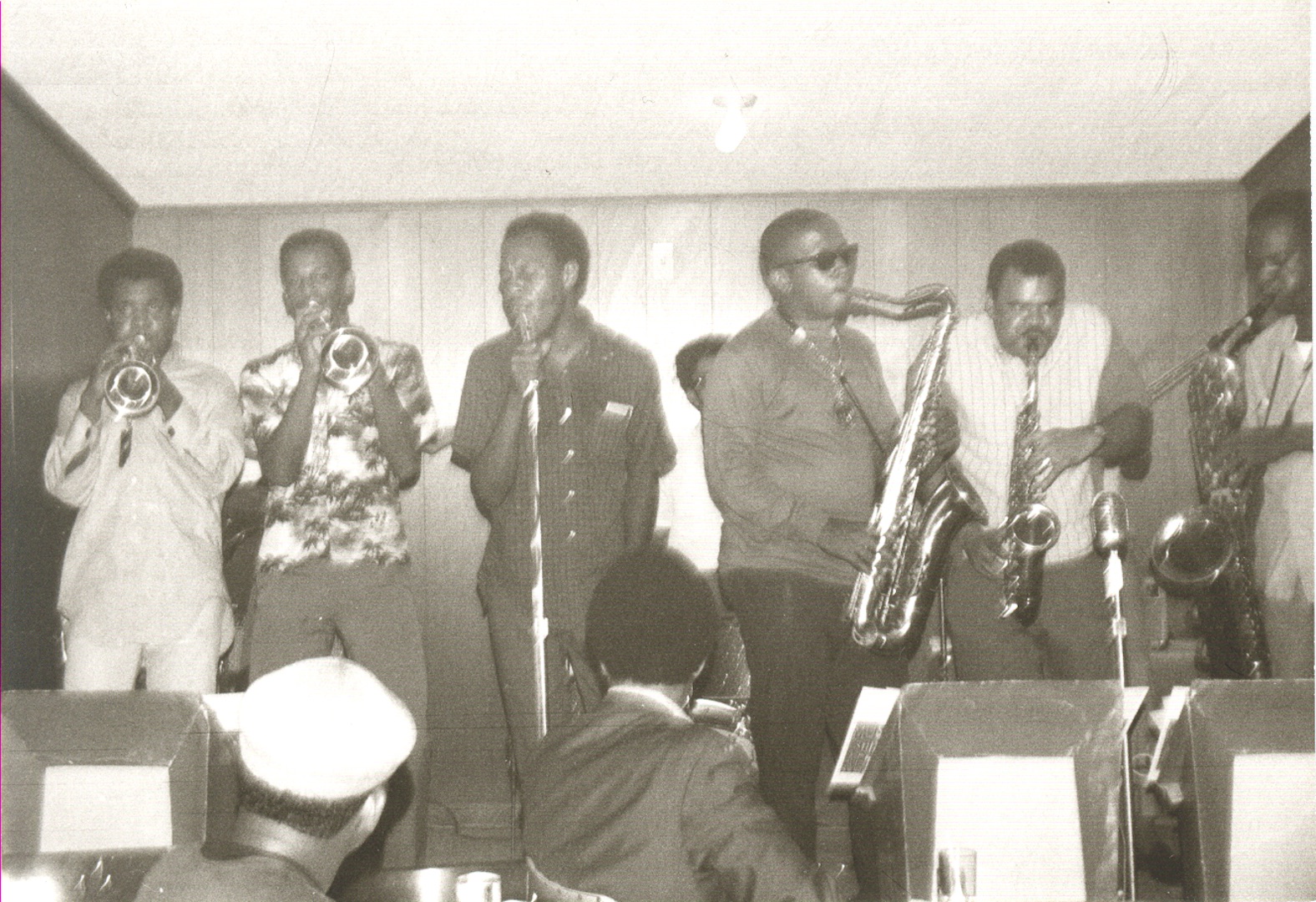 It was time for Johnny Williams. He had been with the Clowns and later had his own group called the Tic Tocs. A scar in his dark-skinned face disfigured him a little and had given him the nickname "Scarface." He looked like a person you should not argue with or pick a fight with. I dared asking him where Huey Smith was, but he had no idea.
He sang two songs this evening: "What'd I Say" (Ray Charles), and "I'll Go Crazy" (James Brown).
And he did it brilliantly! This was the type of soul music I really liked. (It was a nice change to the bland cocktail soul of the Neville Sound.)
The Toronados Orchestra were besides bass, guitar and drums a five-man horn section – with three saxophones (alto, tenor and baritone) and two trumpets. They did an excellent job and the soul riffs were perfect. It was simply a great orchestra!
In the intermission between Tony Owens' and Johnny Williams' sets I was sitting by the bar. I saw a woman who seemed as much at home in the kitchen as serving and talking to the guests. I suddenly recognized her: It was Irma Thomas!
She quickly explained that this was her husband's club. He was also her manager, and The Toronados was her orchestra. Her old orchestra – The Royals – had been replaced.
This was her night off and she had not planned to make an appearance tonight. She was the cook and the head waiter – and perhaps even washed the dishes … But eventually the prayers from me and the birthday party got her up on stage.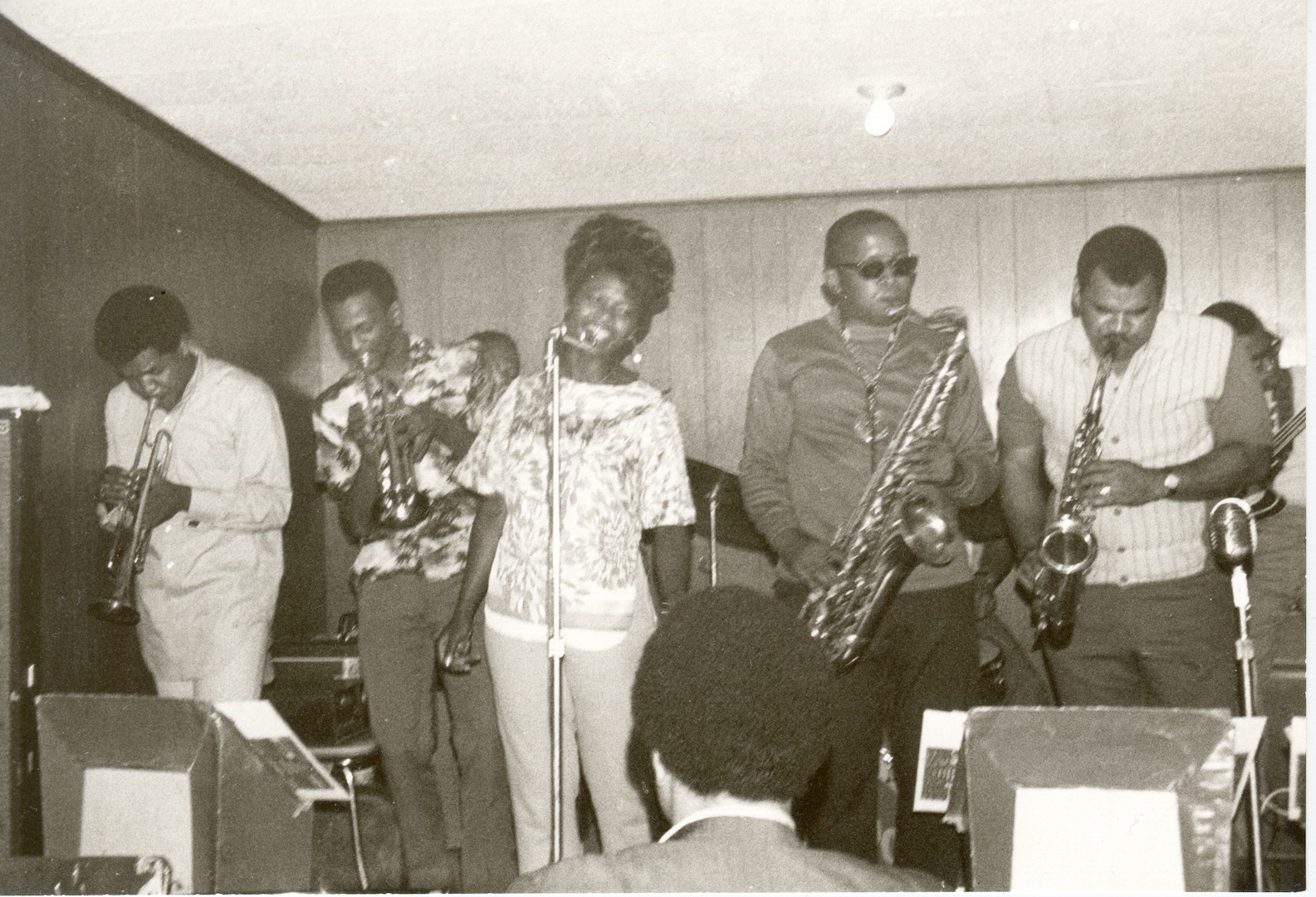 Her guitarist, Dave Bond began with Sweet Sixteen and another BB King number. Then Irma took place on stage and sang a duet with Dave:
"Nothing Like The Real Thing" (Marvin Gaye & Tammi Terrell) and then she did many current soul hits like: "Good To Me (As I Am To You)" "Nickey Hookey," "Knock On Wood," "Dr. Feelgood," "Think," "Ain't No Way," "I Heard It Through The Grape Vine," "Tell Mama," "I've Never Loved A Man," "Respect."
Then Dave Bond's finished the set with a guitar blues.
Sure, Irma was great and her voice in top form. But why did she only sing other people's songs? The only exception was "Good To Me," an Otis Redding number, which she had recorded on Chess.
Why had she been reduced to an Aretha Franklin cover-singer without a repertoire of her own? I could not hold back my disappointment. Irma replied "If I don't sing Aretha's songs and other current hits, people will be dissatisfied."
But she promised to compensate me the day after at the Sands. Our conversation ended as Irma had to serve her guests …
Irma's guitarist Dave Bond was born in Coles, Mississippi on August 1, 1937. Dave and another guy (Doug) are behind Doug & Dave on the Satin label. They sang on Going Steady / Let's Monkey Zoo / Do not Know Much About Love / I'm Lonely.
This had been a very successful day. Suddenly all the pieces had started to fall into place in New Orleans. I walked all the way home.
Friday, July 19, 1968
I went to Sansu Records again. Allen was not there but Aaron Neville played table tennis with his brother Cyril and I watched. While waiting, suddenly a man knocked on the open window I was sitting by. It was Eldridge Holmes and he was heavily drunk or high already at mid-day. But still more friendly than unpleasant.
A serious interview was not possible, but he told me a long story that he had been good friends with both Otis Redding and Sam Cooke. He missed them very much and became quite tearful. He was a high school drop-out and was renowned for rupturing his pants on stage.
His musical background was both spirituals and hillbilly. His favourites were first and foremost Fats Domino and Professor Longhair but also Hank Williams. He started singing in 1953 and became the lead-singer in a gospel quartet for two years (1955-57). In 1957 he crossed over to R&B and joined the group the Small Royals where he sang both lead and background.
Nowadays he used to sing background vocals behind Lee Dorsey on all his Sansu recordings and he also played piano and drums. He had made a solo record on Alon: "Poor Me" / "C.C. Rider."
He asked me to write down the name Phil Ludermann – maybe it was his agent or manager, and Eldridge lived at 2039 Reynes St. apt. 3, N.O.
After a few hours Allen Toussaint suddenly appeared. He was busy with arranging a song. But he sat down and we talked for a while. I understood that he mostly worked at home with arranging and composing. He was difficult to interview. He was certainly not unwilling or unkind, but he did not understand that what he said could interest me. My enthusiasm for Professor Longhair was even more difficult for him to grasp. "Professor Longhair is an excellent pianist, but dull and uninteresting as a person," he said. I always asked those I met in New Orleans about Longhair but the opinions I've had so far was not encouraging.
Allen was born in 1936 in a very musical family. When he was 15 years old, he had his own band – The Flamingos – with among others Snooks Eaglin on guitar. Then he worked with Earl King. Towards the mid-1950s he began to sit in on various studio sessions. In 1957 he replaced Huey Smith – who had a hit with "Rockin 'Pneumonia and the Boogie Woogie Flu" – as pianist in Shirley & Lee's touring band. He was touring with them for a year. He made an LP for RCA in 1958 ( "The Wild Sound of New Orleans" by Tousan), and a few singles for Seville. At this time he used the artist name Al Tousan.
When Allen described himself as a pianist, he modestly used the word "imitator." To illustrate this, he said that he played piano on some Fats Domino sessions, when Fats had to concentrate on the vocals. Which songs, he didn't want to say. Then people will start listen, compare and start talking. But it was "quite a few."
He also played piano on Jimmy Clanton recordings. "I can write a song in 15 minutes if I have to. That's how I started working with different artists who were in the studio to record." When he composed he heard the song, the lyrics and all instruments in his head. When he went into the studio, he knew exactly what he wanted – and it can be annoying for some artists. Which Betty Harris had already confirmed in Miami. She had felt that she had no freedom at all to sing as she wanted. But it would be impossible to surpass what he had achieved on songs like "Nearer To You," "What Did I Do Wrong" and "I Can't Last Much Longer."
Something Allen constantly returned to, and tried to explain to me was that the origin of the New Orleans sound and rhythm really came from The Second Line Rhythm.
The foundation is the 2/4 rhythm – with the emphasis on the second and fourth beat. It originated and grew in the big parades during Mardi Gras and at funerals. It was in the second line of people at the funerals that people danced with this special syncopation. He always writes with the 2/4 rhythm in mind (not 4/4). He pointed out how clearly you can hear it on recordings with Fats, Smiley, Professor Longhair, Huey Smith, Lee Dorsey and others.
Allen promised a meeting tomorrow and we parted with half a promise that then he would certainly have gotten hold of someone to interview – Professor Longhair, Huey Smith or Curley Moore … I could reach him on the phone: 524-3262 , which was the number to the Sansu office.
The Sands was quite far outside the city center and I took a tram there. Halfway there I had to change. The destination was not Desire – as in the play A Streetcar Named Desire – by Louisiana's great playwright Tennessee Williams.
The Sands was packed. It was a full house with almost 50% white youngsters. It became an amazing and unforgettable evening when Irma, this brilliant singer, sang her best songs accompanied by her Toronados.
"It's Raining," "Breakaway," "Ruler Of My Heart," "I Need Your Love So Bad," "Time Is On My Side" (covered by the Rolling Stones), "Without Love."
I forgot to take notes of all songs as I was completely absorbed by the music. She also made covers of Aretha Franklin songs and Etta James' "Tell Mama," and a few songs I did not recognize.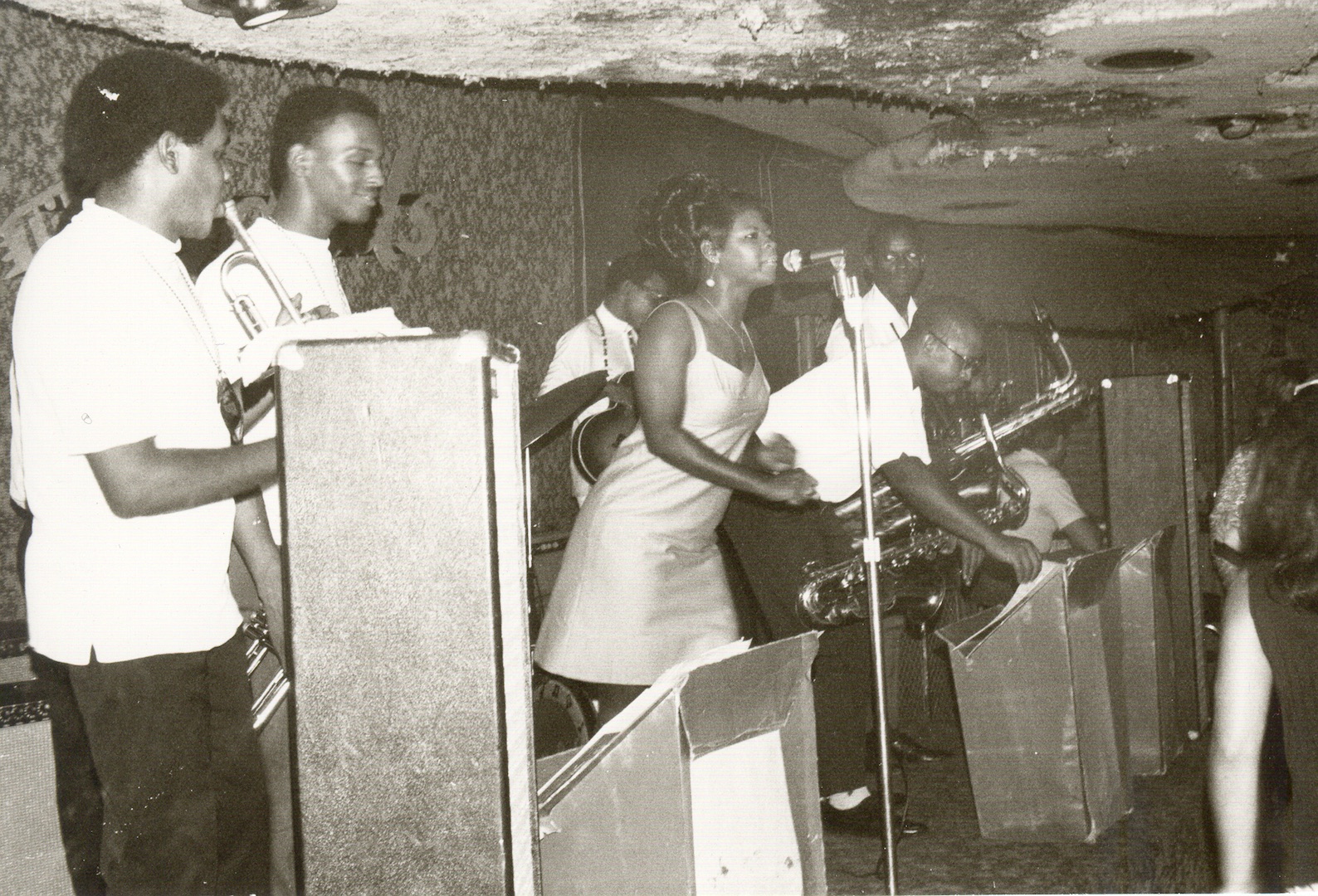 My favourite that night and one I specifically asked her to sing was "Ruler Of My Heart." Irma told me that she was still a little disappointed that Otis Redding's "Pain In My Heart," a remake of Ruler, had sold better than her own original. It was arranged by Allen Toussaint and he played the piano.
Afterwards, we talked about her England tour. All had been very kind and she was so happy about the warm reception she received already at the airport. Her fan club with Dave Godin up front had welcomed her with a banner and the text "The Rose of New Orleans."
The first performance was at the Flamingo and when she sang the evening's second song "It's Raining" she began to cry. It spread from the two front rows all the way to the doorman, who could not hold the tears back. Irma asked me to say hello to Dave Godin and the fan club in England. I had met him the year before in his record store "Soul City," on 21 Deptford High St, SE8 London.
He had also started the record label Deep Soul that released songs like "Go Now" by Bessie Banks (the original for the Moody Blues cover). Indirectly Dave became the first prophet of the rave-party.
In the northern coalfield areas of England people celebrated the holidays with so-called "All nighters" – non-stop dance parties that lasted all night to Northern Soul music. Dave reported this in the magazine Blues & Soul and he contributed to the genre by releasing old soul dance records with for example Billy Butler and Major Lance on his own label.
George Orwell had described this depressing district in his reportage Road to Wigan Pier, which came out before his classic novel 1984. But at the Wigan Casino, it was soul music all night that mattered now. The work in the mine was completely forgotten.
Irma had eight children – four of her own aged seven to twelve years and four in their teens that her husband had brought with him. They had married quite recently. She had been an only child, and described herself as rather spoiled in a family that had no show business contacts and interests. She seemed like a very kind, motherly woman. Sometimes I've wondered if she had not supported the men she has been married to. She worked at and brought in the money from the Shadowland although she said it was her husband's club. Ten years later she presented her new husband and manager, dressed in super-fly paraphernalia. It strengthened my conviction that she, like many big female stars (Aretha Franklin, Whitney Houston, Billie Holiday, Etta James and others) often were surrounded by men who lived well on the wife's earnings.
Irma was born in 1941, and before she got a record deal, Tommy Ridgley, bandleader and singer, took her under his wing (1957-). Then she was contracted by Ron (59-61), Minit (1961-), Imperial, Chess (67-). On stage she was accompanied by the Royals and Eldridge Holmes sometimes opened the show. She had also worked with James Brown in 1965. But he did not like that other artists were appreciated and received much applause. He shortened her performance and made changes in her program. So Irma left him.
Currently, she performed at many different universities and called the University of Mississippi in Oxford, and University of Alabama in Tuscaloosa her second homes. It was different there than at the Apollo theater. All were silent and applauded vigorously when she stopped. But at the Royal in Baltimore, she got stage fright for the first time in his life. She had heard that the audience threw tomatoes or booed the artist off the stage if they did not like them. Her knees shook and her voice was just a whisper. When no tomatoes came flying she found herself again.
Now she recorded for Chess at Rick Hall's Muscle Shoals studio. They had released "Good To Me" and "Women Will Do Wrong." She was hoping for a new spring; as Etta James who recorded "Tell Mama" there. If her records started selling again, Minit Records, that had 12 unreleased songs in their archives, would definitely release them, she thought. Some of the tracks were absolutely wonderful.
Barbara George (who had a big hit with I Know at AFO in 1961) never showed up at the Sands. Irma was disappointed. She had arranged this gig for Barbara. That's why some artists fell into oblivion; they misbehaved, said Irma.
Irma also said that Shirley was no longer singing with Lee but with Alfred (Swift?), who is better known as Brenton Wood. Before that, she sang with Jesse Hill.
It had been an unforgettable concert with a very generous artist, where she, the repertoire and the orchestra all receive the highest rating possible.
Tony Owens also sang a few songs and added attraction this night was Oliver Morgan. He sang:
"You're Looking Good" (Pickett) "Funky Broadway" (Pickett) "It's The Same Old Song" (4 Tops) "Kiss Tomorrow Goodbye" (Danny White) "Try Me" (James Brown) "Knock On Wood" (Eddie Floyd) "Soul Man" (Sam & Dave) and his own "Who Shot The La La."
In the finale, he walked around with an umbrella raised above his head. The audience followed in his footsteps as he sang "When The Saints Go Marchin' In." It was a reference to the Mardi Gras carnival as well as the funerals that took place in New Orleans, and a nice ending of a very satisfying evening.
Oliver, also called "Nookie Boy", had recorded approximately half a dozen records and wanted to stress that his biggest success was "Who Shot The La La" (GNP Crescendo).
The song was about Lawrence "Prince La La" Nelson's death in 1963. He was the brother of Walter "Papoose" Nelson. Herman and the Hermits were to record this song, but for some reason it never happened. Oliver recorded for Seven B. since a few years back. He drove me back to the hotel. Then he continued to his own residence at 1512 Tennessee St.
Saturday, July 20, 1968
I stopped by at Sansu, but Allen Toussaint was not there as usual.
Only when his partner Marshall Sehorn came back things started happening. It was a warm and sunny day. I went back to the hotel and transcribed my notes.
In the evening I went to the Nite Cap. I was told that Willie Tee might be there. I thought he was one of the more interesting new soul artists alongside Diamond Joe and Curley Moore. But it was a disappointing evening with substandard artists that I did not care to interview or write down their names. The atmosphere was not good. The other guests thought that I was suffering from Jungle Fever – that I was chasing black women. It was full of people and the Dixie beer flowed, despite the radio station WYLD's boycott. I talked with a young black woman – a few years younger than me, who already had two small children at home. Anyway, I didn't feel welcome. It was better to visit the clubs during weekdays and not on weekends.
Sunday, July 21, 1968
I woke up very tired. The oppressive heat made the hangover worse. I went down to WYLD, but found no one to talk to. In the afternoon I walked along Bourbon Street. It was a melancholy feeling there. But I stayed for a while and listened outside the wide open doors to a bar I had not visited before. There a pianist hammered "Lawdy Miss Clawdy" on the piano while one of the guests, a white girl, danced on a table. It was good. Then the show ended and I went on. Who was the pianist?
It had been a busy week so I continued to correct my interviews while I was listening to the radio.
These are the best songs I heard in New Orleans. Most were new recordings but some oldies were played as well. An * asterisk marks my favourites.
"My Love Gets Stronger"
– Tommy Ridgley,
"You Were Meant To Me"
– "Crume" Brothers,
"Stone Good Lovin'"
"Fly Me To The Moon"
– Bobby Womack (*),
"Get Out Of My Life Woman"
– Allen Toussaint,
"I'm Just Not Ready For Love"
– Irma Thomas,
"You Were Meant For Me"
– Soul Brothers, (probably the same song as with the "Crume" Brothers),
"I Know I Got A Sure Thing"
– Ollie & The Nightingales (*),
"Memphis"
– Lonnie Mack (*),
"I'm Your Man" –
Bobby Taylor & the Vancouvers,
"Lean On Me"
– James Fox,
"Lady Madonna"
– Fats Domino,
"Darling Someone Somewhere Loves You"
– Lee Charles,
"Dear John"
– Jackie Moore,
"Never Never Leave Me"
– Alice Clark,
"People Got To Be Free"
– Young Rascals,
"The Snake"
– Al Wilson,
"Hold My Hand"
– Bobby Hall,
"The Girls Can't Do What The Guys Can"
– Betty Wright,
"I Ain't Particular" –
Johnnie Taylor,
"I Don't Want To Cry"
– Chuck Jackson (*),
"Pickin' Party
1″ (instrumental),
"The Mule"
– James Boys,
"Just A Matter of Time"
– Brook Benton.
Monday, July 22, 1968
I walked past Sansu. The receptionist recognized me, and said that Allen was not there but that Triple Souls were recording at Cosimo's studio. I continued to Camp Street.
Garland Hilton, a red-haired, bespectacled, blue-eyed soul-singer was recording for Seven B.
The record company was named after "the seven hundred block on Camp Street" where Instant and Seven B. were located. This day Garland was the responsible producer, arranger, technician and composer. He also played the organ, but not on this recording. (He had a female organist in his usual band.)
There was no time for an interview. But he said that he had his own big band (when he added four extra men to his regular eight-piece band). He had recorded three singles so far. The first never came out. Return of Billy Joe was released on White Cliffs. This rock song had everything, including water splashing when Billy Joe jumps from the bridge and landed in the water.
His third came out on Instant: "Instead of Just A Friend" / "A Bin Of Woe."
Garland definitely belonged to the New Orleans B-team. But his opinion of himself was much higher. After a while I got tired of listening to the recording and instead went around in the house and looked around. It was a strange old warehouse that was deserted and only contained old junk and large paper bags, and boards and building materials. (The big plans to create a center here for recordings and distribution of New Orleans music, had failed.)
This house was a monument to that failure.
I met Sena Fletcher while on my way up to the first floor. She had finished singing and was on her way to Joe Banashak (1923-1985). She asked me if I wanted to join her. She had done another job for him but without getting paid yet.
Joe Banashak's office was nearby on the fourth floor at 715 Camp. I also wanted to meet him. Joe was both surprised and a little upset when Sena appeared and demanded money, but after a while he paid her nicely.
Sena was not only sweet but also determined and had a mind of her own. When she left, I interviewed Joe. He seemed slightly absent minded and not quite fit and appeared to run at half speed. He said that he had high blood pressure. It was probably suppressed with sedatives then.
The record company had an office room and a large storeroom where the singles were stacked in piles on the floor surrounded by bookshelves on the walls. It might be from 10 to maybe 100-150 items in each single-stack. To emphasize what songs he was talking about, Joe picked up some and gave me, like "Pass The Hatchet pt. 1-2″ – by Roger & The Gypsies (with Eddie Bo – vocal) or the milestone "Good Thing Goin'"- with the Rainbows.
Minit was launched in 1959, when the first record was released. In 1963, when Joe became ill, the company was sold to Imperial. They had contracts with all major New Orleans performers. In fact all artists had started with him, except the Showmen, who came from the East Coast.
In 1961 he started Instant and in 1963 "Land Of 1000 Dances" with Chris Kenner was released – my own favorite recording on that label. He had a couple of tracks in the can with Lee Diamond (best known for Hattie Malatti: an answer disc to Larry Williams Short Fat Fannie / Bony Maronie), and dozens of Irma Thomas recordings. He had actually released a single with her on Bandy after her transition to Imperial called "For Goodness Sake" / "Whenever" (1963), both written by Naomi Neville i.e. Allen Toussaint. He had released six records with Art Neville on Instant.
The publishing had also been successful. Chris Kenner's "Land Of 1000 Dances" that had been recorded by 60 different artists and "Something You Got" was recorded by 55 artists. "Even I Like It Like That" was much recorded. But outside USA his artists sold very poorly.
Joe said that the New Orleans sound had not been particularly appreciated even if some songs had sold a million. In 1960-61 artists and record labels came from other states to record, but these records were often poorly recorded and produced, and the best musicians were not always hired.
"Ride Your Pony" started a small New Orleans revival in 1965, but now the interest had cooled again. Joe thought that the sound had become too complicated, and perhaps not easy to reproduce. Allen Toussaint had started on its own as an independent producer and arranger in 1965 with "Ride Your Pony" along with Marshall Sehorn. Before that, Allen and Joe Banashak had a handshake agreement. I guess Joe had not been able to find another producer like Allen Toussaint. Eddie Bo, who was hired in 1965, was not in the same league.
Joe had sorted the stacks of 45s on the floor after the names of the record labels:
There was Seven-B (with, among others Barbara George, Eddie Bo and Inez Cheatham). There was Alon which started in 1962 with Willie Harper and New Kind Of Love, and also Eldridge Holmes. Allen Toussaint had released a solo record on Alon: "Go Back Home" / "Poor Boy," that did not sell even though it was very good and all the DJ's played it. Allen Toussaint's LP on RCA Victor "The Wild Sound of New Orleans" had been leased from Seville Records, said Joe.
Tune Kel was formed in 1967 while the Busy Bee was a pop brand. Then there was Instant and Bandy and then some more labels. He distributed Lanor Records – where Charles Mann had some pretty good sellers. Joe had had a few minor hits in recent years: "It Do Me Good" with the Pitter Pats that Huey Smith produced. In 1966, Roger & The Gypsies recorded "Pass The Hatchet," but because of the Watts riots (in Los Angeles) it was not played on the radio. A recent hit was the "Rainbows Good Thing Going," which was written by Eddie Bo. We also talked about tougher songs like Boogie Jake's Early Morning Blues (Minit) and "Screamin & Moanin'" with Diamond Joe.
He had hopes for Pearl Edwards new disc, and he was going to record Sam Alcorn: a trumpeter in the pop-soul style from a well-known musical, trumpet family.
He also planned to record Irvin Ross (also known as Edward Ross) aka Little Buck, the lead singer of the Hueys.
Even if they could make records that sound like Aretha Franklin he preferred the old, simple New Orleans sound. He also had plans for Chris Kenner (1929-1977; born in Kenner) who still sang exactly as he always had, according to Joe. Next record was going to be a dance song with a "Hold On I'm Coming" intro.
It had taken a long time for "Coo Coo Over You" with the Hueys to become a hit. Only after five months had it really begun to sell. Huey Smith was behind the group, and now he planned to do an instrumental LP with Huey. Here I interrupted him – Did he have Huey's phone number? Certainly, he said, and went into the office room and looked it up.
Joe had a completely different approach than the people at Sansu Records. He seemed to release as many records on as many brands as possible in the hope that someone would stick. He distributed a lot of small labels too. In the process he worked with the A, B and C-team of artists and producers – in fact with almost anyone who had something going on.
Joe probably had agreements with artists and producers where they took a number of records instead of money. Thus minimizing his own expenses. I guess many artists funded their own session and got the money back when those records had sold well enough. But he seemed to have lost his artistic grip. Maybe he was not even involved in the studio anymore. I preferred Sansu's perfectionist production of records. Tamla Motown had a panel and quality control and only released records above a certain standard. At Stax-Volt they avoided mediocre material, otherwise program directors and DJs might get tired of the label and not even listen to a record. When that was the case here, Joe probably just started a new label … There were many more that I didn't notice: Polytex, IMA, Flowerpower, AIR, Local, Channel One, Invicta, etc, etc.
With a small stack of 45s in my hand, I went to Bourbon Street.
First to the Court of Two Sisters and talked with Roosevelt Sykes for an hour while Smilin' Joe played. Then continued to the Ivanhoe piano bar where Allen and Marshall Sehorn sat and listened to their latest rising star. Marshall had just returned and Allen introduced him. We listened to a set with Art Neville & The Neville Sound and then continued to Club 577 and Clarence Henry.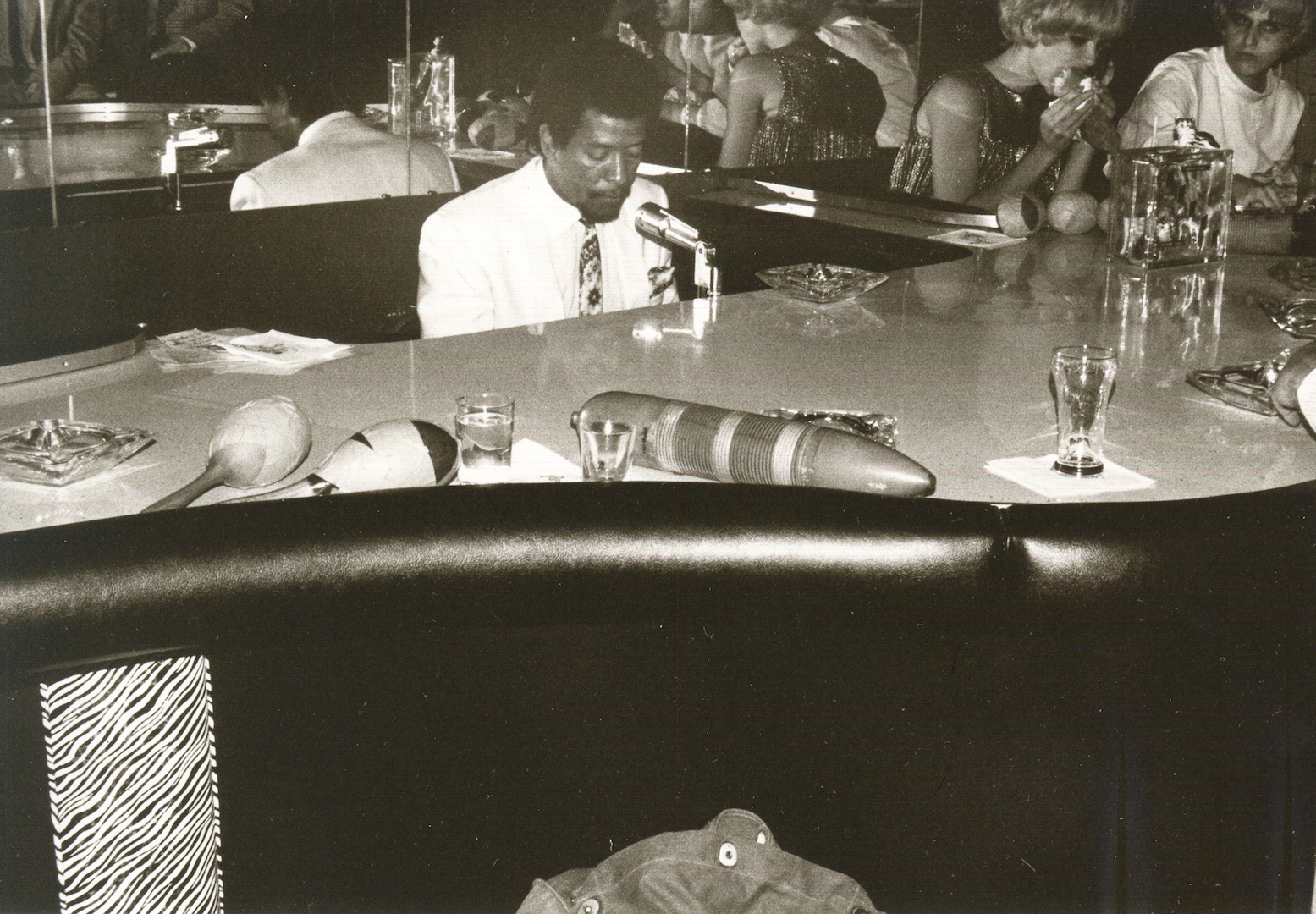 Marshall obviously wanted to reconnect with the New Orleans atmosphere and we went to a place nearby that played Caribbean and Latin music. Allen sat down at the piano and entertained the audience with South American rhythms. Which now included Fats Domino who had entered in his white suit with a silver stained tie. He also had a star-shaped watch studded with jewels, and similar, though smaller rings on his fingers. It was pure bling and Fats seemed a bit sour when I greeted him. I wondered if it was because I had preliminarily booked an interview with him between performances at 10:30 pm on Saturday. I had spoken to his manager about this, but everything was so messy that I did not think they cared about it. Maybe I had been influenced by the no-show at Sansu by Allen or that Aaron never appeared at the Ivanhoe.
Perhaps Fats was also annoyed that I socialized with the men who created the New Orleans sound of today and who had replaced Fats as the number one hitmaker in town.
Marshall was in a good mood and wanted to buy me a drink. I suggested a Mint Julep (Immortalized by the vocal group The Clovers, and New Orleans pianist Jelly Roll Morton who had recorded his own composition Mint Julep in 1929.) It was served in some places and looked very tempting. It was outside my normal cash flow. Unfortunately, this place didn't serve it.
It had been an interesting day. During the conversation, I understood that it had not been without problems for Allan to leave Instant and start cooperation with Marshall Sehorn. But he probably saw that Joe Banashak was on his way down and could not take care of business as before. When Marshall bet his last penny in 1965 on a session with Lee Dorsey and Ride Your Pony, both came out as winners.
There had also been legal problems with Robert Knight and his recording Everlasting Love on the Rising Sons label in 1967. I do not remember the details and later that night I had difficulty to understand Marshall, who became pretty drunk. While Allen was considerably more collected.
Tuesday, July 23, 1968
This was my last day in New Orleans.
I ordered a seat on the plane to Houston the next day and then dialled 897-2412. Huey Smith answered. At first he was a little suspicious, but then he understood what I wanted. He had a rehearsal with his group The Hueys in the evening, but afterwards he wanted to meet me.
Then I contacted Marshall Sehorn. He had arranged meetings with Curley Moore and Lee Dorsey. In the evening, I was picked up by a recreationally dressed Curley Moore at my hotel. He drove a rather tarnished Cadillac which seemed at least five years old. I had only heard his song "Don't Pity Me" on the LP Bell's Cellar Of Soul. It was good. Both Marshall Sehorn and Allen Toussaint met us in the Sansu office.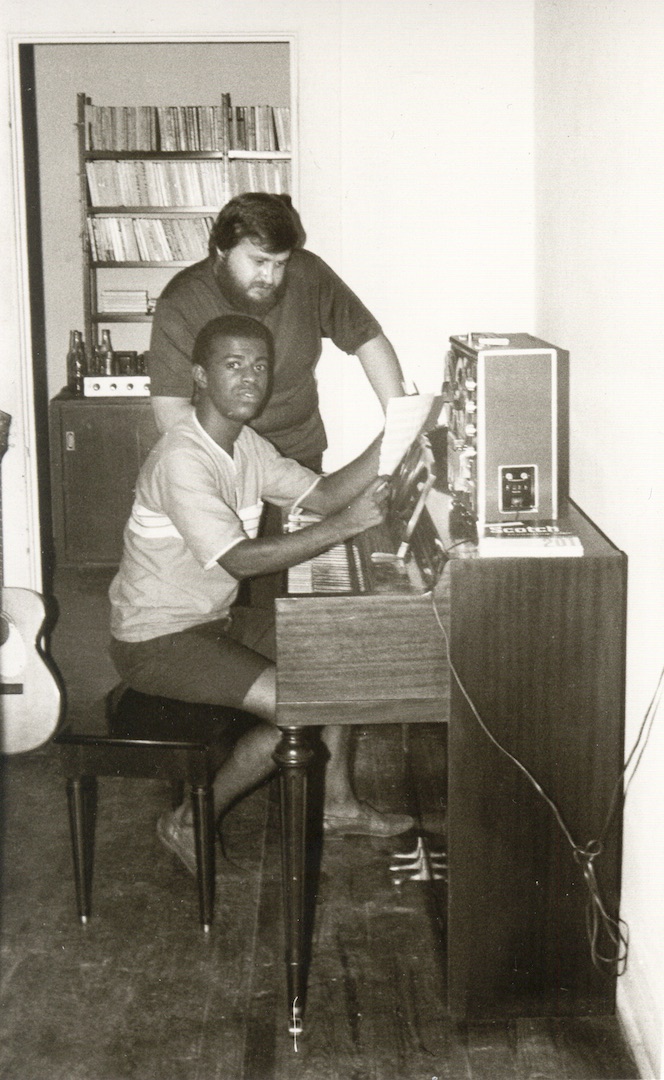 Curley Moore (1943-1985) was born June Moore in New Orleans. He started singing with friends in the streets and already at eight or nine years of age performed for pennies. Later he sang in the choir and sometimes as a soloist at the New Hope Baptist Church. In 1955, at age 12, he formed his own group, the Blue Jays. They were, like most children, very much inspired by the singing and dancing of Frankie Lymon & The Teenagers. Otherwise, his first big inspiration was the singing cowboy Roy Rogers' TV-show. The family that owned a TV, in the poor neighbourhoods where Curley grew up, then had their home invaded by children.
The Blue Jays tried to create a name for themselves at talent shows. Curley was discovered by Ace Records and did a lot of background singing and also two records (1956-57), which were released under his own name at Ace: They Gonna Do / Tried So Hard (written by Joe Tex) and The Second Line / At The Mardi Gras. They did not sell but he began performing as a solo artist and tried to get work within and outside New Orleans. The other members of the Blue Jays had tired and worked outside the record industry. He remembered that Willie Tee (Turbinton), was another struggling artist who did not give up.
Eddie Bo took Curley under his wing and often made him sing as the opening act. Curley sang everything from Nat King Cole to rock and roll while he was still in school. Curley was also one of the best young dancers. In 1959-60, he became one of the Clowns and toured with Huey Smith for three years.
The other Clowns then were, according to Curley: Bobby Marchan, Billy Brooks, Johnny Williams, Eugene Harris and Curley Moore. Huey was the sixth member but he very rarely sang. Curley could be heard on several of The Clowns discs like "Pop Eye," Tu-Ber-Cu-Lucua and The Sinus Blues," "Havin' A Good Time." He was not particularly pleased with the Clowns singing technique. "To shout 'I wanna jump' or 'Popeye' at times, is not singing." But he made good use of his dancing ability.
Curley also said that Joe Tex was on "For Crying Out Loud," although he didn't sing lead. (In 1969, Joe told me that he had not been recording with the Clowns – but maybe he never had a chance to search his memory.)
Joe Tex was more or less stranded in New Orleans during the second half of the fifties and made a brilliant Little Richard imitation – "You Little Baby Face Thing" – on Ace that was also released on Sue Records in England.
In 1962-63 Curley left The Clowns. "They were going down when I joined and had hit bottom when I left," said Curley laconically. He began to sing solo again and 1965-66 was contracted by Nola, where he stayed for two years. His first song, written by Earl King, became a hit – Soul Train. He was nicknamed Curley "Soul Train" Moore. Bobby Reno also made a successful cover of "Soul Train." The follow up "Feel That Groove" was never released. In 1966 he was contracted by Sansu. So far, they had released three records, all local but not national successes. "Let's Get Low Down, Goodbye" / "We Remember," "Don't Pity Me." Curley played guitar, organ, piano and drums – sometimes even on stage. But he could not read music. His own inspirations were Gene Allison, Frankie Lymon, Irma Thomas, Ernie K-Doe, Shirley & Lee and Jackie Wilson.
Time for photography and Marshall and Curley posed by the tape recorder as if they were working with the next hit single. In the adjacent room Aaron Neville and Allen Toussaint played table tennis. I took the opportunity to ask Aaron to take down the Lee Dorsey gold disc (Working In The Coal Mine) hanging on the wall – and pose as if it was his own million seller "Tell It Like It Is."
Marshall was picking up steam. On a small shelf on the wall were all Sansu singles and he gave me some with my favourites (Betty Harris, Diamond Joe and others). He put my name on the mailing list. Marshall, who smoked cigars, and was rather corpulent and didn't seem to exercise much, gasped for breath during these exercises.
There was another difference between Sansu and Joe Banashak. While Joe had his own distribution of discs that filled a large storage room, at Sansu they had only a couple of meters of shelves with different compartments for maybe 25 different singles. The same was the case with Stax Records, but they also had LPs.
Marshall had arranged a meeting tomorrow with Lee Dorsey.
It was close to midnight. Marshall and I went out to his Cadillac – much newer and fresher than Curley's. He drove me to Huey Smith and we talked on the way.
Marshall Sehorn (1934-2006) had started by working for Bobby Robinson and his Fire/Fury Records in New York. Then he started his own labels – Sea-horn and Neptune – and recorded artists like Wilbert Harrison. He said that Smiley Lewis taught Fats Domino a lot.
We were now in the neighbourhood of the Dew Drop Inn. Marshall sat for a while and waited in the car to make sure that everything was OK. But he did not follow me inside and said hello to Huey.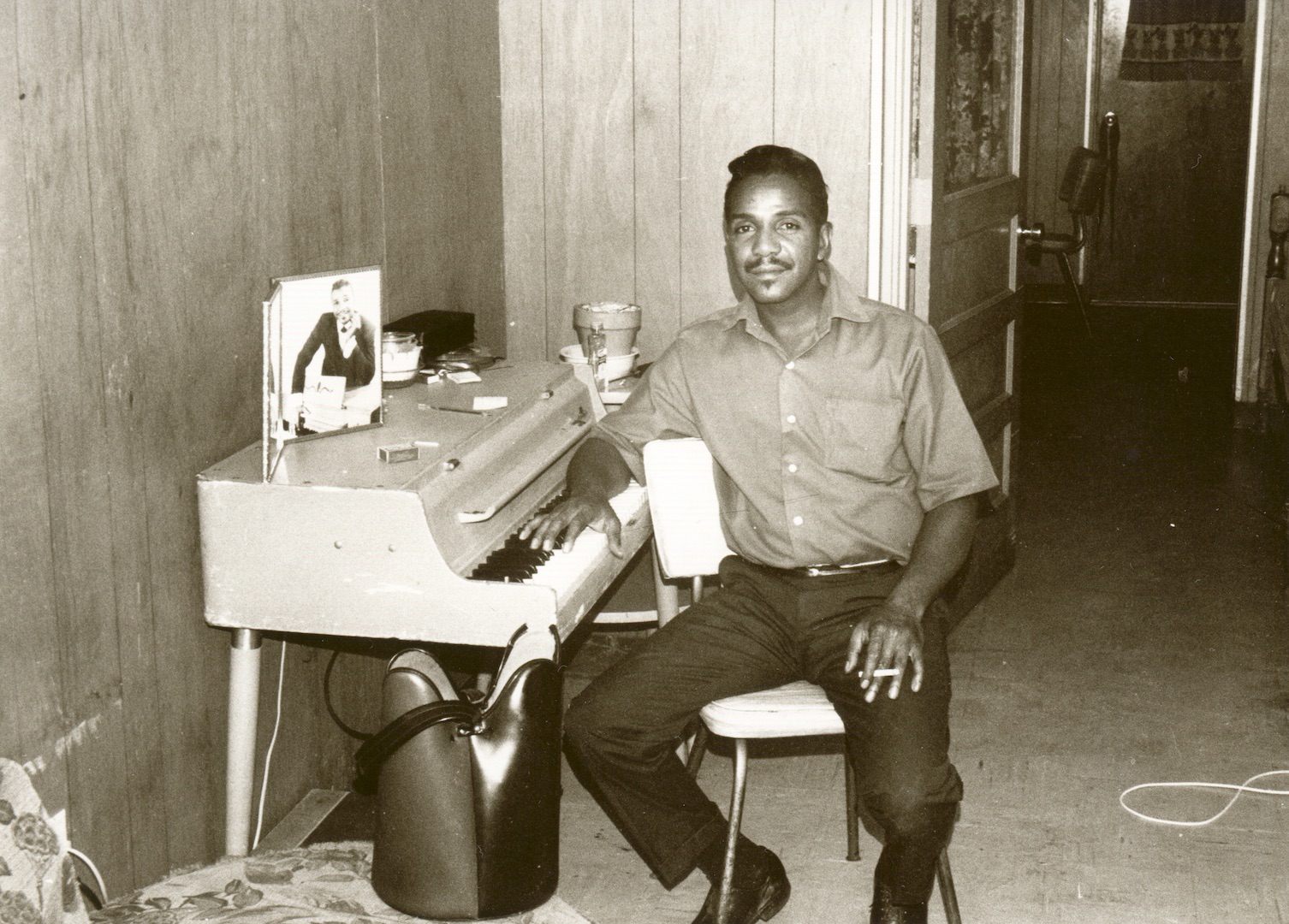 Huey Smith lived in a small two-room apartment at 1913 7th Street (apt.7) with his family. The two children were sleeping and Huey's wife, a beautiful, slim woman, a few shades lighter in complexion than him, greeted me before she went to bed in the back room. We sat in the other, front room. There was a piano with an old publicity picture of Huey. On the walls he had pictures from his career. There were no signs of prosperity or abundance in the apartment, but everything was in good order.
The interview with Huey was the best one I did in 1968. He had an excellent memory. (An article was published in Shout No. 70 (October 1971). This number was called the Huey Smith special).
I had bought an English Sue LP with Huey Smith & The Clowns a couple of years ago. It was one of my most played records. The irresistible rhythm, the brilliant instrumental efforts and the nonsense lyrics placed Huey alongside Chuck Berry when you needed to get in a good mood at no time.
I had a couple of singles with Professor Longhair, and Huey had continued that tradition in a most credible manner. In fact Huey was the Professor's best pupil.
Huey was born January 26, 1934 in New Orleans and began to play the piano early. Then, Dixieland and big-band jazz was the most popular forms of music in New Orleans. This era was followed by Smiley Lewis (guitar) and Professor Longhair (piano). They were the most popular and trendsetting local R&B artists. Huey formed a R&B combo – the Joy Jumpers – when he was thirteen or fourteen years old.
One evening, Professor Longhair came into the room where Huey played. He took over the piano with Ain't Got No Hair and Huey did not play anymore that night because the professor was so good. But he began to practice more. Besides Longhair it was Ray Charles who really inspired him to play the piano. This was around 1948, during Ray Charles club-blues career, when he was inspired by Charles Brown. Huey felt that if Longhair had been managed better, it had been him and not Fats Domino, who would have sold 78 million records.
Huey dropped out of high school in 1952 when he began playing with Guitar Slim (1926-1959), who was later discovered by A & R man Johnny Vincent, who worked for Specialty. Huey said that he was playing on Guitar Slim's Imperial session and on the "Feelin' Sad" session on Bullet (J-B 603), but pointed out that it was Ray Charles, who played piano on "The Things That I Used To Do."
I had not yet heard Guitar Slim or his gigantic hit. His records were not available in Europe. It was only the next year I found it on an album compiled by Alan Freed on End Records. Otherwise I would probably have left no stone unturned getting Huey to say more about one of blues history's most colourful and self-consuming artists. Apparently they had met and started playing together already in 1949-50 at the Dew Drop. I was grateful to have briefly visited this holy place of R&B where all important R&B artists had performed.
Huey became a sought-after session pianist. But Johnny Vincent had the habit of writing "featuring Fats on the piano" on the Ace-label, when in fact it was Huey Smith who accompanied for example Earl King. In some cases, as Ace 520: "Mother Told Me Not To Go" it is obvious that Fats is in fact Huey. On other songs not even Dave Bartholomew could always separate us, said Huey. Dave thought that Fats had played on two sessions, or one more than he was contracted for. But it was Huey on the other. That enhanced Huey's reputation as a studio musician.
Many like me have probably enjoyed Huey's fabulous piano solo on Smiley Lewis's "I Hear You Knocking" (another immortal New Orleans recording). Huey reused the same piano solo, both on its own "High Blood Pressure" and on Earl King's "Those Lonely Lonely Nights."
"People actually started to complain, but I thought it was a fantastic piano solo," said Huey. Huey also accompanied Lloyd Price (1954) on Specialty ("Where You At?," "Lord Lord Amen"). Now, almost everyone started recording in New Orleans and Huey said that he was on early Little Richard recordings. I thought that "Slippin 'And Slidin'" was the first, but Huey said it was prior to that recording, and it means that he was on "Tutti Frutti" / "I'm Just A Lonely Guy."
Huey was the better pianist but they were short of time and had no time to rehearse "Tutti Frutti" so Richard himself played piano on this track at the end of the session's second day. But the other songs feature Huey Smith.
Huey's first record under his own name was "We Like Mambo" – which later was transformed into "We Like Birdland." But he did not sing himself, instead they used a girl's voice. But first it was released under Eddie Bo's name. He had just left Ace. They only had "I'm So Tired" and needed a B-side. But Mambo sold better, and went to no 1. locally, and was later released under Huey's own name. This was in 1956 and Huey was a studio musician and pianist with Shirley & Lee's touring band.
Huey never mentioned that his first record was recorded in June 1953 on Savoy. This company was looking for new talent, and had gone down to New Orleans and recorded a lot of records in a short time that were released without leaving any significant traces in the charts.
Johnny Vincent owned Ace Records and he contracted Huey, who before his next recording session formed the group The Rhythm Aces (The name was used only on one disc.) "Everybody's Whalin'" became a local hit.
Huey was still developing his own style as a pianist. The foundation, of course, was what he picked up from Professor Longhair, his greatest mentor and inspiration, but also from contemporary premier R&B artists and pianists who performed regularly at the Dew Drop Inn (Amos Milburn and others).
Huey believed that what distinguished him from other pianists – and what characterized his own style – was his heavy, rhythmic left hand. Dave Bartholomew told him that he played too technically flawless. He should hit an occasional false note sometimes as Little Richard did. The audience would love it.
The Rhythm Aces consisted of Johnny "Scarface" Williams (who in 1968 had his own group called the Tic Tocs and whom I had seen a few days earlier at Irma Thomas club, Shadowland) and "Sidney Ricksfield." They also appeared on "Rockin' Pneumonia" but were now called The Clowns. Huey had heard Chuck Berry in "Roll Over Beethoven" sing "I got the rockin' pneumonia, I need a shot of rhythm and blues." That was the inspiration. The year was 1957, it became a huge success and Huey left Shirley & Lee. Huey had found his own style, but he needed a more powerful vocalist and engaged Bobby Marchan whose Little Chickee Wah Wah he had previously produced. Many vocalists sang like Dr. John in New Orleans, and Huey did too. But in Bobby Marchan Huey had found a vocalist who could be just as exciting and hysterical as Little Richard, and have the same vocal range and sing both R&B and Soul. (Richard also covered Bobby Marchan's "Get Down With It" – a Gay showstopper.) But unlike Richard, Marchan did not like to talk about himself or be interviewed when I met him in 1978.
After seeing Scarface Williams, I think no one in New Orleans had a better ear for powerful male vocalists than Huey. While the more prejudiced perhaps were shocked that Bobby sometimes appeared on stage in a female dress, white wig and a handbag, he probably was the ideal leader of the Clowns.
Bobby Marchan was heard on the radio that summer with his medium sized hit Ain't no Reason for Girls to Be Lonely (Gamble Records).
After a few record-releases Huey engaged Geri (Jerry) Hall who became the girl voice on many records.
Earlier that evening Curley had said that the Clowns were five men plus Huey, but that Huey sang very rarely. Huey never talked in detail about the Clown members during the heyday (1957-59). It was obviously quite a lot, but those Huey himself mentioned I felt were the main members. (In the Shout-discography and article is also mentioned: Junior Gordon, Sid Raphael, Eugene Francis, Aaron Neville, Margie Joseph and Joe Tex.)
When I met Huey again in 1978, Huey added "Kenneth" as a singer on two Imperial songs: "I Need Someone to Love" (5721) and "Don't Knock It" (5789) and said that Young Jessie, "Thomas" and Huey sings on "Talk to Me Baby" / "If It Is not One Thing It's Another" (Ace 8002) and James Wes on "Every Once In A While" (Ace 672). Huey also said once again that Joe Tex can be heard for on "For Crying Out Loud" (Ace 584) and that it is Joe who sings the line "Cottonpickin '……" . Curley, and Huey sings on "I Did Not Do It" / "They Kept on" (Vin 1024). (Vin was a subsidiary to Ace) and Billy Brooks sings (lead?) on "Pop Eye."
After "Rockin' Pneumonia" followed a series of fine discs that culminated with the double-sided million seller: "Don't You Just Know It" / "High Blood Pressure." His records sold well, but when Huey asked for money Johnny Vincent remarked that he had to bribe so many disc jockeys to play the discs that he made a loss himself. Johnny often used to add his own name as co-composer on the label – "but I wrote all the songs," said Huey. Despite the fact that Huey should earn a lot of money, he was broke all the time. The only money he got by Johnny Vincent was $2,000 and a couple of hundred dollars at different times.
Johnny Vincent promised to deposit money into Huey's checking account. But he never did and Huey's checks for hotel bills of $20 and $40 bounced back, etc.
But Huey was not worried. He was "Havin' A Good Time" and partied a lot. Sometimes he did not show up at gigs and was sued by organizers. He was more concerned that Johnny Vincent focused on the white artists Frankie Ford and Jimmy Clanton. Huey and Geri Hall had made their own vocal version of Sea Cruise but Johnny took away the vocals and put on Frankie's voice instead. This was in 1958.
Huey was deeply hurt by this trick of Johnny Vincent's, but I think the end result was a better song. But had Bobby Marchan taken care of the Sea Cruise vocals it would have matched Little Richard's best recordings.
On stage Huey stood straight up and just played the piano, but he avoided the Little Richard's gimmicks. He never put his feet on the keyboard or walked on top of the piano.
He stood perfectly still, as if he only occasionally hit the keys while the Clowns swapped lead and flew over the stage like dry skins. "We did not sing in harmony like all other groups, but we sold the records" said Huey.
Huey was very proud of his touring band. It was Jessie "Ooh Poo Pah Doo" Hill on drums. Raymond Lewis, who made the original version of "Gonna Put Some Hurt On You," played bass. The sax-section consisted of James Rufus (Gore) and Robert "Barefootin" Parker (Tenor saxes) and Walter Kimble (1938-1988) (baritone sax); later with Fats Domino. Little Booker (alias James Booker) played the organ and piano. He used this band on sessions, except only rarely Raymond Lewis and never Jessie Hill. Instead Huey used the legendary drummer Charles "Hungry" Williams (1935-1986). When they needed a guitarist, Dr. John (Mac Rebenack) joined them occasionally in the studio. But the band cost a lot of money and in the long run, he could not keep it together.
In 1959 he began to tire of the hectic pace and took a vacation. When they came back, Bobby Marchan had made a solo record for Bobby Robinson's Fire Records. "What Could I Do" became a hit and Bobby left the Clowns. But Johnny Vincent showed a contract – a forgery said Huey – which revealed that Bobby Marchan was still contracted to Ace. Bobby Robinson had to pay $15,000 to turn him loose. (The sum sounded very high. Marchan was not Elvis …)
In 1960 Huey's contract with Ace expired, and he joined Imperial records. Of his "Behind the Wheel Part 1-2″ another group did a cover version with the same engine sound. They released three 45s ("The Little Moron" / "I Need Someone" was the first at Imperial – and "More Girls" / "Sassy Sara") and recorded eight or nine more tracks never released because Johnny Vincent showed a contract where Huey was still contracted to Ace. Huey was deceived when Johnny asked him to sign a stack of letters to different disc jockeys and placed the contract among them. At other times someone had copied his handwriting. That's why Huey never had a chance to join Marshall Sehorn, who wanted to record him.
Huey had to go back to Ace. He assembled a new group of the Clowns with Curley Moore and Billy Brooks and a little later Geri Hall came back, but only for one disc. (Both Curley and Billy had probably also been with the Clowns before; in 1957-59.) Geri did not tour with the group which now consisted of only two men plus Huey. Huey had discovered Billy at the Dew Drop Inn, when he was clowning in the bar. Billy had never been on stage before. With the group he continued making jokes, shouted a few lines, and ruptured his pants.
They managed to get decent hits like Having a Good Time, "Tu-Ber-Cu-Lucas And The Sinus Blues" and "Pop-Eye." Huey had done the background music to "Pop-Eye" in 1957 and added vocals in 1961. It probably sold better than other Popeye discs. Old recordings from the can like "Scald-dog" (1957) and "If It Ain't One Thing It's Another" was released. They toured for another year mostly in South Carolina where their popularity lasted the longest. Now Young Jessie joined the group. Ace released more material but in 1963 the can was empty and the group closed down.
Ace released three LPs: Having a Good Time, 15 Best and T'was The Night Before Christmas. The Christmas album was released only in the Carolinas. When it was played on a TV show (probably in New Orleans) and the DJ heard "Silent Night" in R&B tempo, he resolutely threw it in the dust bin. It did not sell at all but Huey thought it was a good LP. It contained tracks like "Jingle Bells," "Rock and Roll Santa," "Don't Make My White X-Mas Blue."
In 1964 all Ace contracts – fake or real – had expired as Huey's lawyer had stipulated that all had to be signed in his presence. He could start again. But it took a while to get back on his feet. Huey survived on radio-play of his compositions. "Little Brother Tom" was broadcasted in Belgium (a song Huey did not even recognize when he got the BMI settlement from there). Arthur Conley's cover of "Don't You Just Know It" helped too.
In 1964 he founded the group Soulshakers. (This is not the group that recorded Get Hip To Yourself at Loma.) They recorded "Every Once In A While" on the Pitter Pat label distributed by Instant. Pearl Edwards, a girl – sang lead, but the record did not sell so Huey renamed the group Shindig Smith and the Soulshakers. But their "Through Fooling Around" did not sell either. (The Shindig name came from the popular TV program.) Pearl was the prominent figure and Huey played a little theater at the end and fired a gun, etc.
Huey renamed the group the Pitter Pats and they released three records on the Pitter Pat label: "It Do Me Good," "Bury Me Deep," "Baby You Hurt Me." The first one, featuring Gloria … and Alex Scott singing, became a local top 10 hit but the others did not sell.
The name was changed to the Hueys. Only Huey and Pearl Edwards were left from the Pitter Pats and a new lead singer, Little Buck was found. They recorded "Coo Coo Over You" and "You Ain't No Hippie" with Buck as lead for Huey's own Cooley-label, while Instant released it. "Coo Coo Over You" peaked in February 1968 in New Orleans and was played on the radio in Miami five months later and probably sold well there too. The London label released it in England.
Pearl Edwards sang lead on the sequel "Feelin' Kind Of Coo Coo Too." Huey wrote and produced. Huey wanted to call the group the Hippies, but felt that parents did not want their children to be fans of a group with that name. To further stress this point, they had recorded "You Ain't No Hippie."
Right now, Huey really wanted a big hit to afford a good lawyer, and once and for all clear up all legal mess with Ace and Johnny Vincent.
Recently, he had heard that a white stranger was looking for him at the Dew Drop. He thought it was someone working for Johnny Vincent or the IRS. But it was me…
It was three o'clock in the morning. We had been talking nonstop for 2.5 hours. Sure, I wanted to hear Huey play and sing a little but his piano was out of order and he did not want to wake up the family. When I left he handed me the publicity picture on the piano.
I think Huey is one of the most original contributors to the black rock & roll era. He has always been one of my personal favourites. Sometimes he got inspiration from children's playgrounds where he picked up rhymes and chants while they were skipping rope or played.
In 1978 he asked me to turn off the tape recorder when he quoted a couple of dirty lines that had been the inspiration for one of his bigger hits.
I hope that my favourite line from Sea Cruise (recorded 1958): "I'd like to boogie woogie like a knife in the back," was picked up elsewhere.
I never saw Huey as a legal grumbler. Everything he told me seemed credible and made sense. He was a has-been in New Orleans but in Europe he was highly appreciated.
Wednesday, July 24, 1968
Marshall had promised to drive me to the airport. Along the way, we should try to meet Lee Dorsey. He arrived a bit late to the hotel but saved time on the way to Fats Domino and Lee Dorsey's houses. I told him about the successful interview with Huey and Marshall confirmed that Huey had a bad reputation and was famous for no show at concerts.
Marshall looked worried when I told him about my meeting with Eldridge Holmes. He had plans for him. He mentioned the song "Now That I've Lost You."
Lee Dorsey (1926-1986) and Fats Domino lived just a few blocks from each other. They had grown up together and made music together. Nearby Fats house, we met at one of Lee's sons, Junior. And when we knocked on the door Lee's wife opened and said that he was at his workshop.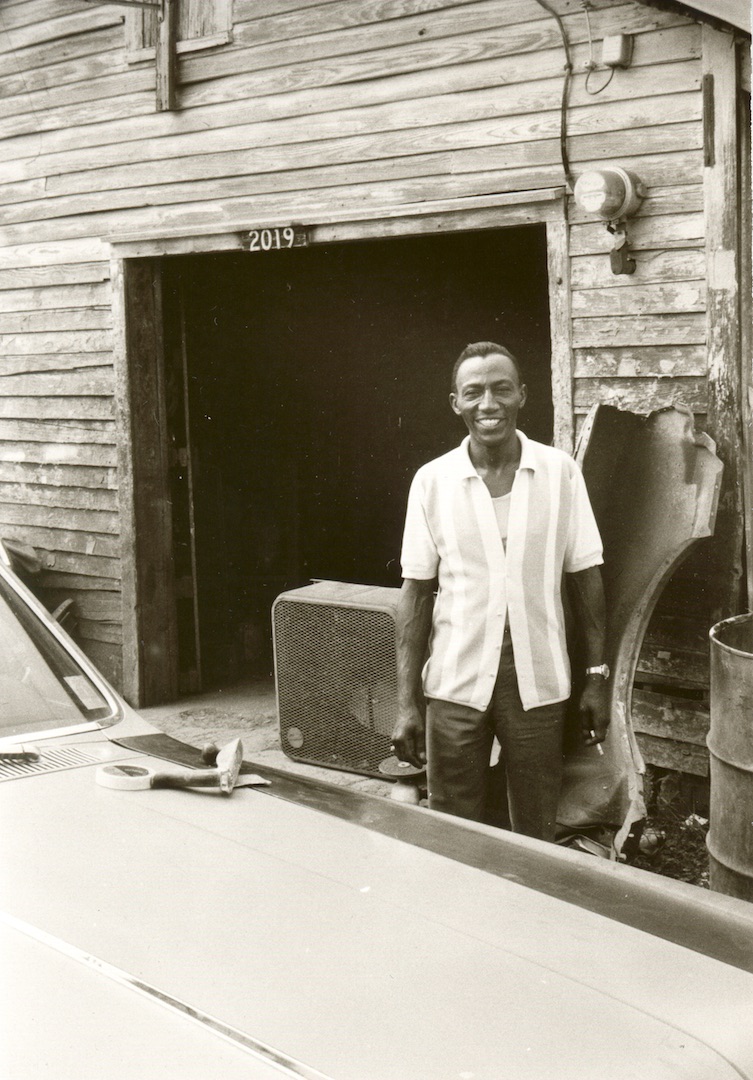 This was Lee Dorsey's day off and he celebrated it at his junkyard. He greeted us with a beaming smile. He had undergone extensive dental restoration and had new teeth and a lot of gold in his mouth. Lee had his own car junk-yard with some 300 used car wrecks from which he sold spare parts. He saw it as a hobby, but made a good living from it. Lee was discovered by Reynauld Richard, a school teacher and record producer, when he repaired a car and sang at the same time. He is still doing both things. He has never been fond of glamorous nightlife or fancy clothes but prefer to live a simple life with his family and old friends.
His first record was on the Rex label, "Rock Pretty Baby," which became a local hit in 1958-59. Next came Lottie Mo recorded for Valiant but leased to Joe Banashak in 1960. It was the record most played during Mardi Gras that year. (The carnival starts five days before Ash Wednesday at Easter and lasts for five days.) Everybody sang "Lottie Mo" when they danced through the streets, drinking and having fun.
Reynauld produced Lee's first two records, but then Lee left Reynauld. Lee was in New York and had not worked for 30 days and was getting hungry. Although they had a lot of offers Reynauld didn't accept any because he thought they were paying too little.
But Lee wanted to sing and accepted an offer from the Apollo theater. Then Reynauld sued him for $27,000. Lee instead went to Marshall Sehorn who was working for Bobby Robinsons Fire-Fury Records, and recorded Ya Ya and Do-Re-Me – and the rest is history.
Fury was closed in 1965 and Marshall, who meanwhile had started his own label Sea-horn and lost some money, sold his car and paid a session with Lee that Allen Toussaint produced. Ride Your Pony started Lee's second career.
Lee never sang gospel music, something he is very sorry for today. His mother was a great gospel singer. When she sang all work stopped in the neighbourhood where they lived. Everybody listened to her when she sang in the higher register. His father had left the family when Lee was very young and it was very difficult for his mother to provide for her three boys. Lee did his best to keep the family warm in winters through work and stealing coal from freight trains. Fats Domino belonged to a more affluent family, and now he had 12-13 children while Lee "only" had eight.
His best sellers so far were : "Ya Ya" (61), "Do-Re-Me" (61), "Ride Your Pony" (65), "Get Out Of My Life Woman" (66), "Working In The Coal Mine" (66), "Holy Cow" (66), "My Old Car" (67), "Confusion."
His new record was "Four Corners Part 1-2." The dance craze had lived a few months in the soul clubs and James Brown had made reference to it in one of his songs but this would be the first record to launch the dance. "Four Corners" was a pretty good song that perhaps should have sold better. During the chorus "North! South! East! West! the dancers faced these four cardinal points. Lee made a quick demonstration outside the office to the scrap warehouse and Marshall and Lee made plans for a major tour; in which at least one girl would be Lee's dancing partner on stage.
Lee Dorsey had the voice to become a truly great soul singer. Had he been given proper gospel training he could have given both Otis Redding and James Carr a match. Now he was a singer from New Orleans with a unique (but not really soulful voice). This trend had started with Louis Armstrong and continued with Professor Longhair and is heard today by Dr John. Fats Domino started as a R&B singer imitating Roy Brown, but became a very relaxed vocalists with an immediately recognized voice later in the 1950s.
Although Lee lived so simply, he had two Cadillacs. "I always use my Cadillac to drive down to my junkyard otherwise people think you are penniless. But I prefer to drive a truck or Buick, actually," Lee said, and fired off yet another blazing smile.
Then I was driven to the airport, and while waiting for the plane Marshall offered me a delicious gumbo a $3.50 (the only hot meal I had eaten since Atlanta). In New Orleans, I had been speeding past all oyster bars and gourmet restaurants, and settled with bread and tins of beans in the hotel room.
Marshall continued to tell me about his own experiences in the industry. While with Bobby Robinson he had also worked with Gladys Knight & the Pips, Elmore James and Lightnin' Hopkins. In 1963 he quit Fury after a misunderstanding. But he continued to work with Lee Dorsey and got "Organ Grinders Swing" and "You're Breaking Me Up" leased to Constellation.
He started his own company – Sea-horn, and launched "Near To You" by Wilbert Harrison. They had met while working for Bobby Robinson. Marshall had also been involved with Danny White and Kiss Tomorrow Goodbye. In 1965 he began a close collaboration with Allen Toussaint and they signed a contract to lease the material to Amy Records in March 1965. In October the same year they started Sansu Records and in January in 1966 they moved into the current building. Now they had signed contracts with Neville brothers Art, Aaron and Cyril.
The records he was pushing at the moment were Art Neville's "Bo Diddley" and Lee Dorsey's "Four Corners."
Marshall also explained that the names of their record labels came from Gumbo French; Sansu meant 5 cents (san = cinq) and Deesu meant 10 cents (Dee =Dix) and Kansu meant 15 cents (Can = quinze) and su= cents.
Marshall said that I was always welcome to call him – (524-3262) – collect.
Later I tried to digest all the impressions of New Orleans. This was truly a city with great musical talent. A lot of recordings took place here, just like in Memphis. But in Memphis, producers and songwriters tried to find good material and build sustainable careers while in New Orleans, the focus was on hits, trends, dance-crazes, covers and sequels.
Huey "Piano" Smith's own career was probably fairly typical for a New Orleans artist. There was much intrigue, professional jealousy and stab in the back in this city. What Huey Smith and Aaron Neville told me about the record business in New Orleans was not uncommon.
Postscript
In the 1980s, I was contacted by Joe Jones – of "You Talk Too Much" fame (1960). He was a New Orleans singer, band leader, promoter and general fixer then living in Los Angeles and he had taken over Roy Brown's business after his death. Without a doubt, Joe was the nastiest person in the record business I encountered. He really personified the worst of New Orleans and its record industry – the promises, the threats, paranoia, selfishness, the back stabbing and greed etc. That's probably the reason why New Orleans has not become America's musical capital despite all prerequisites there.
And also why I did not release that many R&B reissues from New Orleans as I planned. It was difficult to get things done there. Meetings were cancelled or postponed. There were so many musical talents that nobody seemed to care, cherish and protect the artists.
I had asked everybody about Professor Longhair, but no one had been able to help me find him. (According to more recent data, he lived at 1552 or 1522 S. Rampart – or even remained at 1811 S. Rampart – his residential address in 1960?) Others said that he was homeless and swept the floor in a record shop and slept there.
In New York, a month later, I tried to find publicity material about him at the Atlantic office, but Bob Rolontz could not help me. Their archives were empty.
Although "Bo Diddley" was a flop, Art Neville later did well. The Neville Sounds was really the starting point for The Meters that came to Montreux with professor Longhair (June 30, 1973). But the concert was not very successful because the audience wanted to hear Longhair sing and play piano. The Meters accompaniment drowned much of this and the audience booed.
Professor Longhair sat for three hours behind the stage, waiting half asleep with the fur hat on his head, while the Meters rehearsed soul instrumental songs in the afternoon. He said that Atlantic had recorded enough material for four LPs with him. He had not met Fats Domino since the 1960s.
When I asked what songs he would play in the evening he said that he was tired of the old songs "I want to kill the old ones." But he did many of these anyway. He was anxious to play after having been waiting since two o'clock in the afternoon.
He started with an instrumental and then came:
"Looka No Hair "or "Baldhead," "Everyday I Have the Blues," "Dr. Professor Longhair Blues," (with the lyrics: "The boys call me Dr. Professor Longhair, The girls call me That Lovin' Man") "Tipitina," "Paul Gayten's "Hey Little Girl," "Big Chief" (with a whistle), "Cry To Me" (Solomon Burke), "Hey Now Baby."
By now, the audience had had enough of The Meters that drowned Professor's piano so they were resolutely run them away from the stage. Longhair continued alone with Ray Charles' "Mess Around," and finally a "gumbo" which was a mixture of different songs.
He was very tired now and almost fell off the chair when he wiped his eyes and brow.
Even if he wanted to play all night he was forced to quit. He limped out wearing his red suit, the fur hat and sunglasses.
When I asked Art what he thought about the audience's reaction to the Meters he said – just as (self-) critical as usual: "I heard in the very first song that everything was wrong. But they (the band) do not listen to me – they were in a panic. I will get a new group instead and record some older material."
Art told me that he had met a great guitarist. The problem was that he had been in a mental hospital, and Art was not sure if he could handle the stresses of the music business. He said that he himself had often been near to be admitted to an institution too, considering how often he had been cheated, deceived and exploited. Although the Meters had had great success in the past five years, not much of that money had found its way to Art.
Art updated me about what had happened in New Orleans since last time:
Earl King waved goodbye to the Meters at the airport. Meters and Earl had recorded an album but it was frozen due to contractual difficulties.
Chris Kenner had been released from prison. He had served some time in Angola State Prison where he had been since 1969.
Johnny Adams (soul singer) performed at The Hole In The Wall. (Or did he say that he was working in a similar small place?
Paul Gayten had produced Art for Chess when he was 17 years old – but the material was never released.
Al Scramuzza was back in the seafood industry after his efforts as a record producer.
The Meters had recorded with Betty Harris but it was never released. Now she worked (as an assistant) at a department store in Texas.
A sister of the Neville brothers family had been in the The Dixie Cups (of Chapel Of Love fame) – but before they became famous.
Art Neville now lived at 1115 Valence St, New Orleans.