July 30 – August 8, 1968
Los Angeles was a shocker. The city was already very large and spread out, and to get around by bus and foot was very difficult. But travel funds didn't allow otherwise. I did not know that the music industry had two centers. There were many national record labels and big clubs in Hollywood. While the local music scene was in Watts and the center of Los Angeles. It was far between these places. To cover everything in just ten days proved to be impossible.
Tuesday, July 30
I settled in at a hotel near downtown Los Angeles. It was either located on Central Avenue, the legendary entertainment street, or on a side street to it. My room neighbours were an older couple. They had traveled around the world and were now writing a book about it. Unfortunately they had collected animal skins and hides on the way, which hung on clotheslines in their room. These poorly tanned skins smelled copiously of urine. Especially when their door stood open. It was like living in a urinal.
In the evening I called the desk of Soul Magazine and had a very sleepy response – perhaps by a lady who had fallen asleep on the job. Later a fire nearby kept me awake for a while.
Wednesday, July 31
I took the bus to Hollywood. On my way, I passed the town library. It was being torn down and rebuilt in another location to make room for a large car park.
First stop was Soul Publications at Suite 208, 8271 Melrose Ave in Hollywood. It was a fairly new house in pleasant surroundings with many trees. There were the chief editor Ken Jones and Regina Jones (I think both were black and married to each other) and especially Rochelle Reed, a white woman of my own age, who had recently been touring with James Brown and had written about it. It was a good article published in Soul Illustrated. I found the magazine on the aircraft. That's why I was there. James Brown was my favourite topic but I had since long worn out any listeners at home.
Soul Publications published Soul Magazine in evening newspaper format and Soul Illustrated in a magazine format. They were three or four writers including the Jones couple plus a secretary/switchboard operator. This was not a European fanzine run by enthusiasts, but people who hopefully were paid for their work. RnB World was a rival newspaper published in New York. The Los Angeles based black newspaper The Sentinel also wrote about entertainment. I remember a headline which reported Etta James' current problems.
The English and European soul and blues magazines, however, had higher goals in research and presentation of facts.
Soul Publications had devoted a number to Ike & Tina Turner. I was hoping that Rochelle could introduce me to the couple and give me their phone number. It was not necessary, she said. Tomorrow they would inaugurate a soul club in Hollywood.
Rochelle suggested that I reported from Europe whenever we had a visit of a well-known soul artist. I later sent them a report from the Joe Tex tour in 1969. I don't think it was published. When we parted Rochelle and the black secretary asked me about my astrological sign. I did not know – no one had ever asked this before.
I don't think Soul Publications was primarily aimed to a black audience. The Afro-American press wrote enough about their sports and show business stars in both the local newspapers and magazines (Ebony, Jet and Tan).
However, there was a fairly large white audience. They did not go to the black clubs but saw their favourites at large package shows or on TV.
Evelyn Johnson had added names on the list with useful and relevant contacts that George and Ernie Leaner had given me in Chicago.
Next stop was radio station XERB (8228 W. Sunset Blvd). I wanted to meet her good friend the DJ Buddy Lowe. He was also involved in Crest Records, which was located at 9109 Sunset Blvd. Buddy talked about what was going on in Los Angeles and he introduced me to a group of five or six men sitting talking in a room. There was George Grant, who had the artistic agency Apollo Artists Corporation at 247 Manchester Ave. He gave me his card and wrote down names and phone numbers on the back: Olympics (Walter Ward), Shirelles, the Penguins (Cleve Duncan), Platters, Bobby Day, Z.Z. Hill, Bo Diddley, Lowell Fulson, Coasters, Ray Agee, T-Bone Walker, Eugene Church.
These artists had their heyday five to ten years ago and then left the bestseller lists. Without yet making a comeback in the "oldies-but-goodies" circuit.
I tried to contact Lowell Fulson. He was in Los Angeles and recorded an album. His Tramp on Kent Records had recently sold well. Also on Kent was Z.Z. Hill – a fine soul singer. But he was not in the league of Jimmy Holiday, Bobby Womack or Ike & Tina Turner (all on Minit Records).
I did not know that Los Angeles had a very lively vocal group scene where the Penguins were just the tip of a very large iceberg. In Europe we had basically only heard the Platters.
George gave me a disc with Ray Agee – Mr. Clean (Highland Records), a good Bobby Bland inspired recording that he was pushing. Fifteen years later, I corresponded with Ray. He replied and addressed his letters to Mr Burnham …
Other local performers mentioned was Fred Hughes who had the current hit single, "Send My Baby Back." Tomorrow night George was going to the California Club West at 8265 Santa Monica to see Ike & Tina.
I shook hands with Al Scott, a rather corpulent man, who worked on Money Records (1065 E. Vernon), a former John Dolphin company like Cash Records. Best remembered then for Bettye Swann and her Make Me Yours. (John Dolphin, himself black, symbolizes the greedy record label owner stealing songwriting royalties from the composers. He was shot dead in February 1958 by the composer Percy Ivy in a dispute about money …)
My list of interesting clubs had expanded with
Club La Duce
Coconut Groove (400 Wilshire)
Cotton Club
Mardi Gras
Memory Lane
Pied Piper
Red Velvet (6507 Sunset)
Whiskey a Go Go, 8901 Sunset, where Johnny Rivers was the big attraction. There was also a club in Watts called the "Club House" (90th/Western).
XERB was number two among the city's R&B stations and played music 24 hours a day interrupted by 20 minutes per hour of commercials and jingles. The playlist contained 45 songs including six newcomers every week. Four "Picks of the Week" were pushed, and one song was played extra frequently. Music and Program Director chose the music. They had no news but sometimes an editorial about social problems facing the black population. Circa 60% of the audience was black and 40% were white, and the age group of 18-25 years were the most loyal listeners.
The station had nine DJs including Buddy Lowe. The most famous were Wolfman Jack and Magnificent Montague. The station XERB had previously gained notoriety when the Magnificent Montague, during the Watts riots, shouted Burn Baby Burn! (See the book with the same title written by Jerry Cohen & William Murphy).
He said it so often and loudly, that many thought he was instigating the listeners. (Perhaps that's why they stopped the news broadcasts.)
This summer, the station and many others had a short pre-recorded message by James Brown, which said, "Don't burn, learn!!"
Montague was still working on station, but I did not meet him or Wolfman Jack. I knew the Wolfman as a singer on a couple of Howling Wolf/Screamin' Jay Hawkins inspired singles (incl. "Strange") on Okeh, produced by Larry Williams. Later Wolfman Jack became a living legend as the DJ in the movie "American Graffiti."
The other leading Soul Station was KGFG, at 4550 Melrose and owned by "Arnil Sharr." I never had time to visit. According to Billboard, this was the number one R&B station in Los Angeles.
Next stop was Venture Records (8350 Wilshire Blvd). Rochelle Reed had recommended a visit to this newly established record company. A friendly girl in the reception escorted me into the recording studio where the Ballads were busy. They recorded an album and a follow up to their big hit God Bless Our Love. The LP was due for release in late August 1968 and they also had a big tour planned. A small, thin man introduced himself as Bob Relf. He was the producer.
A few years earlier the duo, Bob & Earl's amazing recording Harlem Shuffle (1963) had been acclaimed in England when Beatle George Harrison called it his favourite record that year (1964).
In Europe speculations ran high who hid behind the names of Bob & Earl. Some must have reached Bob Relf who seemed anxious to sort things out once and for all:
Bob Relf (born in Los Angeles); his real name was Robert Nelson Relf and he was "Bob." Earl Cosby = "Earl" Nelson (also called = Jackie "The Duck" Lee). I still do believe that I was the first one in Europe to finally solve this riddle – with the help of Bob Relf, of course.
Suddenly, two men burst into the studio. They were sales and promotion-man Warren Lanier(e) and Mickey Stevenson, who owned the company. Mickey had played an important role in Detroit during Motown's early years and his name as a producer and songwriter is on many fine hits, for example, with The Miracles. Maybe he inspired Holland-Dozier-Holland to write Mickey's Monkey for the group. But he had recently left Motown's West Coast office and started on his own. His wife, Kim Weston, who had had some Hot 100 hits on Gordy as a solo artist, had followed him.
They were obviously concerned that their employees, uncensored, talked with me. But they soon calmed down and welcomed me to the business, which was quite extensive. I remember the office and studio-house almost as big as Stax in Memphis. There were as many people here, that I saw at Tone Distributors in Miami. Duke-Peacock had a small house in Houston and a lot less people and Sansu in New Orleans played in a considerably lower division.
During a break I had the opportunity to interview the Ballads' four members. Their God Bless Our Love was then at the 65th place on the Billboard Hot 100 list.
Nathan Robertson (28 years) sang the tenor part.
Jon Jon Foster (24 years) was good looking and had a beard.
Rico Thompson (26 years) was the group's talkative member.
Lesley La Palma (24 years old and baritone) sang lead on "God Bless Our Love" and on most tracks on the LP, while Rico sang lead on the B-side and on some LP tracks. The other members sometimes also took over the solo microphone.
All came from the Oakland ghetto where they began to sing outdoors below the street lights at street corners. But they never sang gospel in church. It was very rare that the soul singers I met that summer lacked that experience. Or maybe they wanted to be identified with the Black Panthers that had been formed and had their headquarter in the neighbourhood the Ballads grew up in. They described their common upbringing as hard and the ghetto as merciless.
The Ballads were formed in 1961 and Jon Jon joined a little later. The first opening was when a local record label discovered them and recorded "Can't See Your Love (For The Tears In My Eyes) Part 1-2." It was a local hit and Vee Jay took it up in 1964, just a few months before they went bankrupt. So they received no money for it, they remarked. They started their own business and in 1967 they had saved up enough money to start the Soul Trip label and produce "The Right Track" themselves. It sold decently and became a regional hit and they toured the West Coast.
In 1968 they produced "God Bless Our Love" which was released on the Bay-View Records. It was first recorded by Gene Chandler (1964) and Ballads had done the song on stage for years before they finally went into the studio. The mainly black population in Oakland, across the San Francisco bay, bought 10,000 copies. It became a local hit and Venture Records picked up the group. Bob Relf produced a remake, which sold very well all over the US and all, not least their manager Joe Baker, who was also in the studio, felt that they were on their way to the top.
Sure, the Ballads were a good group. But when one heard Bob Relf instruct the group's lead singer, and he showed exactly how it should sound, one could only conclude that Relf was by far the greatest singer …
But The Ballads were not satisfied with the financial terms. They were dressed in T-shirts and drove a used Ford, while Warren Lanier, who was also black and Mickey Stevenson, had new Cadillacs parked outside the studio.
I also met Willie Hutch. He belonged to the Venture staff of producers and songwriters. He had previously been with the Kent label and I had heard a couple of nice records with him.
An energetic and muscular young man, who worked as an office janitor and took care of the mail room and internal post and did various errands, presented himself as Terrible Tom. He played his first record for me – "We Were Made For Each Other" / "Lovin 'Cup" on the Maverick label – a sub label of Venture. He was also a boxer and youth adviser. (This record has later gained cult status among the so called Northern Soul fans in England). Tom presented his very beautiful wife, Lauretta Bowden, a singer with the group Naturelles, that had great success with "Show Me the Way."
Rochelle Reed had described Larry Williams as a shrewd businessman and he had been employed at Venture as an A&R man. I wanted to interview him, but he had no time. He, Terrible Tom and two of the Naturelles, went to the parking lot for a quick photo session.
Terrible Tom Bowden was born in 1940 as the first black child in Portola, a completely white part of town where his mother worked. It stormed that night and she had nowhere else to go. Tom got his nickname in the Oakland ghetto where he grew up. He went in and out of reform schools and was a feared street fighter. Professional boxing was a logical first career step and he had retired undefeated after fifteen knockouts in seventeen fights.
Tom remarked that he had never smoked or drank alcohol. He was a first cousin to the late Jessie Belvin, and was now fully committed to a singing career and fought his battles in talent contests between the city's east and western parts.
He described his singing style as a mix between Otis Redding and Wilson Pickett. He had been touring and performing in the same venues as Aretha Franklin, The Temptations, Four Tops, Jackie Wilson, Little Richard and The Ballads.
But his stage name no longer did him justice. In his free time, he was a youth consultant and had had great success with incorrigible ghetto youth. They knew that he was one of them and had the same background. He had also sung in the San Quentin prison and if he became a big star, he would build a recreation center in the middle of the ghetto. There he would perform at least once a year completely free and offer free food so everyone could come.
Tom told me that ex-boxer Jimmy McCracklin was appearing at the California Club Soul on Friday-Saturday this weekend. The club was located at Santa Barbara (avenue?), close to Western Avenue.
Thursday, August 8, 1968
By bus I was back in Hollywood again and first went to Columbia Records in 6922 Hollywood Blvd. But my contact, the PR man Timmy Owens, was at 6121 W. Sunset Blvd. On the way I passed by Dot Records, but they had no Soul music in their catalog.
My main goal however was Minit Records at 6920 W. Sunset. This New Orleans label had been purchased by Liberty-Imperial and had been languishing for a while. But Minit had been reactivated and made into one of the West Coast's best soul music companies. It had an impressive roster of artists including Jimmy Holiday, Bobby Womack, Ike & Tina Turner, Homer Banks, the Players, and Jimmy McCracklin.
At Minit I met promo man Tom Riney. He seemed to come from a good background. He was relaxed, well-dressed, and friendly and maybe on the way to a management post. But he was lacking in musical interest and knowledge.
He introduced me to the producer Dallas Smith. He seemed like a typical southern record man like Dan Penn or Marshall Sehorn. He was white and maybe thirty years old, but the stress and the pace was higher here, and yesterday's sleeping pill had not worked, so he took one more. Today he felt washed out. We discussed soul music and went through the different artists that were in the Minit-stable. Dallas arranged a meeting with his protegé Gloria Jones the next day.
Dallas liked the lyrics of Jimmy McCracklin. He quoted "Let the back door hit you where the dog bit you," as an example of Jimmy's poetic ability. Still, this particular line had been used previously by Bo Diddley … Tom Riney drove me back to Los Angeles. It took a long time in the afternoon when freeways were full. I got ready for a tough program this evening. I was due to meet three different Minit-Liberty artists.
Many record companies in England had begun to release soul compilations. On Minit label collections, Bobby Womack could be heard with an odd but excellent track. Otherwise, he was a relatively unknown name in Europe. His latest, "Fly Me To The Moon," was one of the best soul singles this summer. It was just about to enter Billboard's Hot 100. I also knew that the Valentinos made the original to the Rolling Stones "It's All Over Now." But I had never heard the song.
Tonight Bobby produced an LP with Jimmy & Vella and not far from it Ike & Tina inaugurated a new soul-club. Bobby, a left-handed guitarist, sat in a corner of Liberty's large studio and instructed Jimmy, the guitarist and singer. It would have been better if Bobby had played guitar on the album. Bobby said that he used the guitar when he composed.
They had been advised of my arrival and stopped the tape after a while. Bobby was talkative and friendly but also a bit rushed and stressed.
The siblings Jimmy & Vella (Cameron) was launched as black "flower-children" and Jimmy spread some "peace and love" platitudes around. But he was not a new Scott McKenzie or a Byrds member, so it fell to the ground. During this round trip I had not yet encountered artists that had been instructed what to say by PR-people. In Los Angeles, things were obviously more planned and commercial. "Lucky Pierre," or Robert Appère (436 S. Oakhurst) was Jimmy & Vella's manager. He was also the program director at KGFG.
Unfortunately, Bobby Womack did not make any personal appearances in Los Angeles at the time, but we had a chat between takes and then he took me out to the parking lot to take pictures with his Porsche.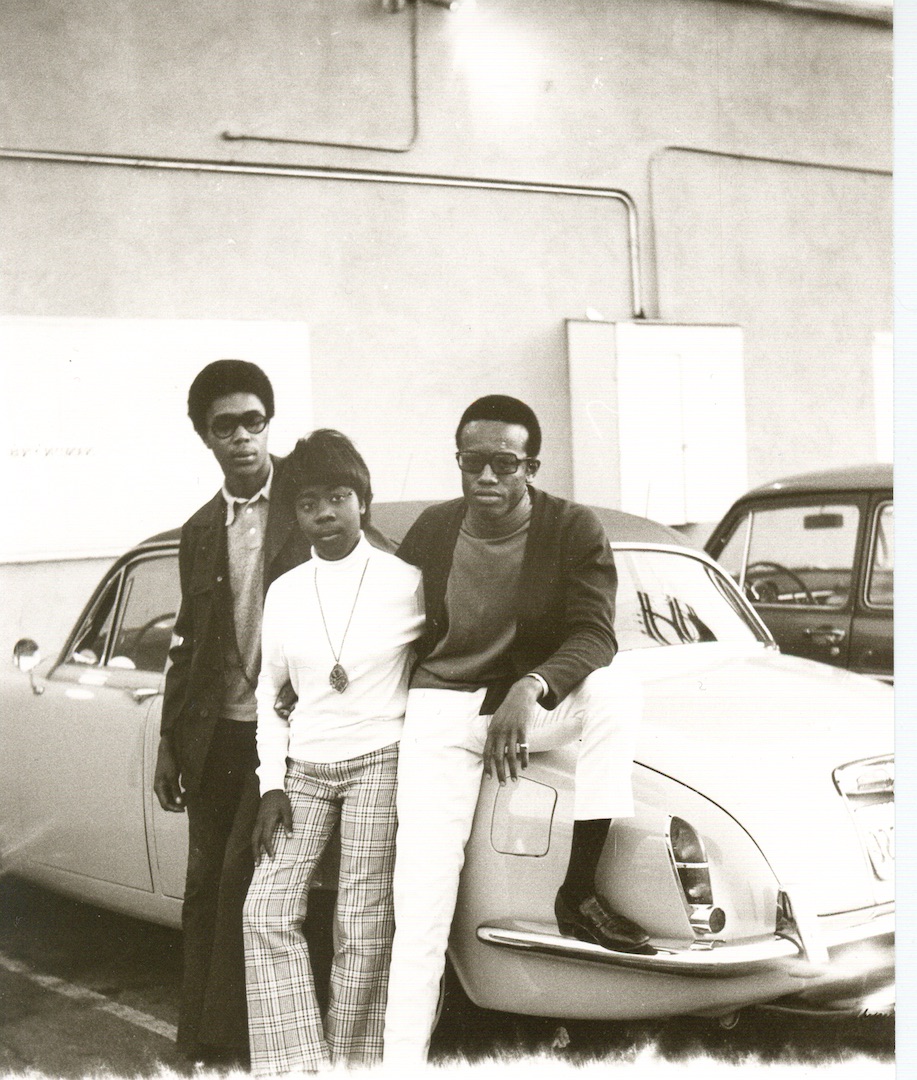 He was born in Cleveland, Ohio March 4, 1944 and had four brothers: Friendly (27 years), Curtis (25 years), Harry (22 years) and Cecil (20 years). They grew up in church and in the mid-1950's formed a gospel group called the Womack Brothers. Shortly afterwards they were discovered by Sam Cooke, who then sang with the Soul Stirrers. He was impressed and helped the group to get gigs and took them on his tours. The Womack brothers were then so short that they sometimes had to stand on fruit boxes to be seen and reach up to the microphones.
Sam Cooke started his own record company SAR and contracted the Womack Brothers. He produced their first record, the gospel song Somebody's Wrong where Bobby sang lead. It was a small local gospel hit.
They lost touch when Sam began singing R&B. But Rosco Robinson, who succeeded Archie Brownlee in the Five Blind Boys of Mississippi, after his death, contacted Sam who said Womack brothers must change the style and become R&B artists if they wanted to record again. After a lot of thinking they finally said yes. Bobby described the transformation as rewriting gospel song lyrics into pop.
They changed their name to The Valentinos and their first disc was Looking For A Love / Somewhere There's A Girl which sold 450,000 copies. Next was I'll Make It Alright / Darling Come Back Home, which sold 100,000 copies. Sam was disappointed and asked Bobby to write something of his own. Together with Cecil he composed "It's All Over Now" / "She's So Good To Me," which became their third record. It sold 450,000 copies and the Stones cover, which was released a short time later, sold 900,000 copies. The Rolling Stones were avid record collectors and had probably heard the record during a USA-tour in 1964. Bobby had nothing bad to say about the Stones or felt that they had stolen prospective buyers of their original.
But he said that they misunderstood the lyrics. He sang: "She hurt me nose open – that's no lie " and said that the Stones had changed it to "She hurt me eyes open …" To have one's "nose open" means that one is vulnerable, while having one's "eyes open" means something else. When I heard the Valentinos' original a few weeks later, I noted that the Rolling Stones, after all, had done a very fine job, unlike many other British cover bands.
Their fourth record "Baby Lot's Of Luck" sold a more modest 80,000 copies. Bobby knew the sales figures. Only he and Roy Hamilton did that summer. I guess that Sam Cooke was honest and didn't underreport sales like so many others.
The Valentinos got their first engagement as a R&B group at the Apollo Theatre. They were so afraid to meet the demanding Apollo crowd that they could not move, and dancing was considered sinful.
When their fourth single flopped Sam wanted Bobby to be his guitarist. Bobby persuaded Sam to take the group on tour. The Valentinos opened the show and then Bobby changed his clothes and was the guitarist with the Sam Cooke Orchestra. He made more money playing guitar than singing with his brothers.
Sam Cooke was murdered in 1964 and the group disbanded after ten years together. Friendly and Curtis were already married and had families and rather stayed at home. Cecil was about to marry Mary Wells, Motown's first big female soul star. One of the brothers had a record store that needed to be managed. But Bobby continued to tour and was Ray Charles guitarist for two years. He started his own music-publishing "Trace-Bob Music" in 1964 and continued as a solo artist and recorded for Checker ("I Found A True Love and A Lonesome Man"), and then for Atlantic: "I'm Gonna Find Me Somebody" that the Box Tops later took up. He also recorded "I Can't Stand It" – and neither did the audience, said Bobby.
He felt that he had not been very successful – either as a performer or composer – when Wilson Pickett in 1966 took Bobby under his wing. He wanted him as a session guitarist and recorded some of his songs as B-sides. Pickett wanted Bobby to record in Memphis where they had more gospel feel. Bobby began writing for Wilson and also instructed him as he could not read music. Bobby was included in Chips Moman's staff and when the Pickett session was over, Bobby recorded his own song. It usually didn't sell, said the self-critical Bobby.
When Wilson began to have great success with Bobby's compositions "I'm In Love," "Midnight Mover" and "Jealous Love," Bobby regained his confidence. He had also written songs taken up by James Carr and Jerry Butler and others and been a producer for Rosie Grier on Bell Records. (The former football star whose "People Make The World" was heard much the summer).
He got a contract with Minit Records and his first record Broadway Walk sold a modest 40,000 copies. What Is This sold 90,000 and "Fly Me To The Moon" had sold 80,000 in two weeks and gotten airplay in all the cities I visited. Other minor Minit sellers had been: "Take Me" and "Trust Me." He thought the Womack brothers would reunite again on record.
Great things also happened in his private life when he married Sam Cooke's widow. He remarked: "Sam and I were such close friends that I really just continued where he left off" and "A woman is a powerful thing," "That could be the title of my next record." With those words we parted by his Porsche. It had belonged to Sam Cooke before. Bobby Womack was one of the greatest male vocalists in soul-history and a marvellous gospel guitarist too.
I was in a hurry because my greatest female soul favourite Tina appeared with her husband Ike Turner nearby. I had looked forward to this for more than three years.
The Ike and Tina Turner Revue
Ike & Tina, who lived in Los Angeles, opened a new nightclub and were booked for a week. In my notebook I had written California Club West and the address 8265 W. Santa Monica. I think a woman named Rhonda was the manager of the club. There were two (?) California soul clubs in the Los Angeles-Hollywood area. The day after I visited the California Club Soul where Jimmy McCracklin was appearing.
California Club West was a simple nightclub without unnecessary luxury. It was located in a low building with entrance from the street and had a paved parking lot at the back. I paid a couple of dollars in admission at the door and the drinks cost one dollar. The longer the drink lasted the better for me. I got a small table without a cloth in the middle of the room that held perhaps 250-350 guests. The audience was around two thirds black. Behind me to the right was the bar and there was an exit to the left of the stage which led to the parking lot in the back of the house.
There were not many people there when I arrived but when showtime approached the club was packed. On other evenings some tables stood empty. Although Ike and Tina were known throughout America and had maybe 300 gigs per year, it was two years since "River Deep Mountain High" had peaked at no 88 in the Hot 100.
After such a long time with such a small hit in USA you were considered a has-been and it was this kind of midsize clubs they performed at today. In front of a 100-200 spectators during weekdays and perhaps the double during weekends.
But appearances are deceiving – it was here that I saw the best soul-club-concert I've ever seen and unfortunately probably will ever see. Ike & Tina Turner was a national soul band. Since the late 1950s they had toured from coast to coast. I knew that Ike had been working even longer – as a tireless bandleader, talent scout and fixer.
Many had taken their first steps in the industry under his wings. In Chicago's soul world where the old Ikettes Jo Armstead was working in the music industry and Eddie Silvers wife Mary Brown had recorded at One-derful! records. The Sharpees consisted of the old Ike Turner protegées Stacy Johnson and Vernon Guy. But Ike had begun in the 1940s and had the credentials and experiences from the blues and R&B world that makes these relatively unknown soul artists fade in comparison.
There was movement on stage and after a brief presentation The Kings Of Rhythm, in black suits, started to warm up the audience during half an hour. They were six men and played various instrumental soul-hit songs from the past years. This first part of the show was pretty uninteresting.
After a fifteen minute break the lineup was strengthened by an organist. The pace was picked up with two fine versions of this summer's major instrumental hits, Cliff Nobles' "The Horse" and Hugh Masekela's "Grazing In The Grass" and this set was rounded off with a fine instrumental version of Major Lance's "Monkey Time."
At the end of this set a man in a red suit and a well-groomed Beatles hairstyle plugged in his guitar. He was a striking contrast against the black-clad men.
It was Ike Turner and his entry on the stage, and the deep, wooden, reverb-rich guitar sound raised the temperature many degrees during "Monkey Time."
His sound was a mixture of Johnny "Guitar" Watson and Steve Cropper's Memphis Stax sound. Ike's playing style and philosophy – rather fewer notes than more and better in the bass than in the treble – appealed very much to me. He started playing what sounded like the intro to "You Left The Water Running" and we understood immediately that this would be very good.
The Kings of Rhythm consisted of the following seven members:
Jesse Antoine (trumpet) was born May, 1 1946 in Liberty, Texas. He had played with Ike Turner for one month.
Edward A. Burks (trombone) was born December 12, 1942 in Dallas, Texas, and had previously played in the Watts 103rd St. Rhythm Band. He also wrote down "Sportsman" and "Freemont High School" and I assume that the first was a club he had played in and the other a school he attended.
James R. Lockett (tenor sax) was born February 16, 1942 in Houston, Texas, and had been with Ike for three months. He had toured with Garnet Mimms, Rufus Thomas, Dionne Warwick and Wilson Pickett. Garnet was the best, he thought, while Wilson was a madman who always wanted it his own way. But it was usually the right way and he paid well.
Leon Blue (piano, organ) was born September 19, 1931 in Wichita Falls, Texas. He had been with Ike for two and a half years and during that time in England twice.
Odell Stokes (guitar) was born February 17, 1945 in Tulsa, Oklahoma. He had been with Ike for four years, including in England.
(Edmond) Lee Miles (bass) was born May 23, 1949 in Los Angeles. He had previously played with Bob and Earl, and since two and a half years with Ike. He had also toured in England.
Soko Richardson (drums) was born December 8, 1939 in New Iberia, Louisiana, and had been with Ike for three and a half years.
Time for Bobby Barnes, qualified from his time with The Platters, the later edition that recorded for Musicor. They are best known for the songs With This Ring and I Love You 1000 Times. Bobby had been singing on both these hits, he said, during two sessions, even though he only stayed with the Platters for six weeks. In 1967 Bobby recorded "Two of a Kind" / "The Skate on Crosstone" before he was discovered by Willie Mitchell, who produced "I Shed A Tear" / "Times Are Bad" which I believe were released on the Discovery label. Bobby lived at 2235 East 115 St. in Los Angeles and had only been with Ike & Tina for three weeks. On stage, he did OK soul versions of Stax and Motown songs like "I Wish It Would Rain," "Knock On Wood," "I Could Never Love Another."
(I made a note that a second male performer did "Respect," "You Left the Water Running" or "Soul Man" and Otis Redding's "I've been Loving You Too Long," but it may also have been Bobby Barnes second set.)
Then three incredibly stylish young women entered the scene. It was The Ikettes and they did "Soul Serenade," "Sweet Inspiration" and "Shake a Tail Feather" in a lightning fast pace and with good humour. Especially the last song gave the three girls great opportunities to show their physical advantages. Those were quite visible since Ike, when it came to costuming, obviously only worked with two different concepts: either short skirts or hot-pants. These women had every advantage to be able to bear these uniforms.
How on earth could Tina withstand this competition? No sooner had the audience time to take a breath after this explosion on stage when it was time for Tina's entrance in leopard mini skirt and high heels.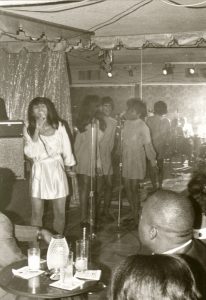 It is an impossible task for me to try to describe and do justice by Tina on stage. I know that many will be disappointed but I dare not even try to describe in detail what she did. I was soon in a higher state of consciousness where the mind had stopped working. But the live LP at Minit recorded around 1968, has the same repertoire and gives a good, albeit very pale image.
Along with the Ikettes, who remained on the stage, and almost as a member of the group, Tina did "So Fine," and she also gave the Ikettes a more prominent role in "Goodbye, So Long" and "A Fool In Love" that followed. Between songs, Tina said "You don't want to put your troubles in the street, but I have a husband and all he does is cheat …" And Joy replied: "If I had that man I would shoot him." When she presented "her" vocal group Tina said "If they were not great, they would not be with me. I'm not bragging – I speak only the truth."
Then Tina took center stage and the classic duet with Ike – "It's Gonna Work Out Fine" – followed as did Etta James' showpiece "All I Could Do Was Cry" with a long monologue.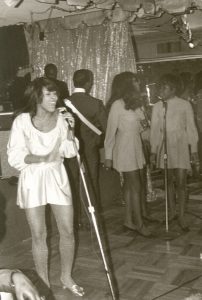 Tina's humour, self-irony and extraordinary soul voice made the Ikettes float away in the background. She was as much at home with male or female soul hits such as Wilson Pickett's "Funky Street" and "Land of 1000 Dances" or Aretha Franklin's "Since You've Been Gone," "Think," "Baby I Love You," "Respect" and "Natural Woman." And on their own or others' hits like "A Love Like Yours Don't Come Knockin' Everyday," "Tell The Truth."
"River Deep Mountain High" sat well despite the lack of Spector's Wall of Sound, and she imitated James Brown at "I Got The Feeling."
This flat chested, skinny woman – a role model from Joe Tex' "Skinny Legs And All" – had in no time eclipsed the Ikettes more plump beauty queens.
I saw five different performances. Some songs were replaced, but the finale was always the same: Tina sang "Please Please Please" – James Brown's first hit and his signature song.
In the spring of 1965, I bought this Ike & Tina's single at Sue Records from England. The reason was a picture of the duo in the English musical weekly Record Mirror. They stood facing each other, oblique in profile. You can see Tina's beautifully curved nose and high cheekbones. Both are lean and look incredibly charged – like two greyhounds before a race. Obviously an industrious and hard-working couple. I had never heard them sing, and it was probably the first time I bought a disc after seeing a picture. But when the yellow-orange label lay on the turntable, I was within seconds completely lost for my surroundings and it took a couple of days before I woke up from the trance.
Soon, it was discussed among friends in Lidingö whether Tina pronounced her name "Tiina" or "Tajna." I voted for the latter pronunciation. At the same time, I got in an argument with a clerk at the department store pub in Stockholm. I discovered the cover of their Loma/WB album on display. But they could not find the disc. It was just an empty sleeve …
"Please Please Please" by Ike and Tina is perhaps my all-time favourite recording. (The best of the upwards of half a million different songs in all the categories I've heard for sixty years.) But it should be in the slightly shortened version where Tina does not talk so much. The recording loses speed on the longer version in which she slips into the Etta James monologue from "All I Can Do Is Cry." Then Etta very realistically, but probably unintentionally, was portrayed with bandages around her wrists on the cover of the Rock the House LP.
Etta, who also lived in Los Angeles said about the Turners in her autobiography Rage To Survive – "Ike was something special. I know he was a tyrant … He was a magnet for women – including me. His dangerous exterior and his violent music made him even more attractive. Ike was strong. Tina was like a bird in a cage. Too afraid of the world around her and Ike for daring to move. She did everything for Ike. She loved to show her closet and tell us what Ike had bought her. But I knew that the clothes were stolen by other women who were in love with Ike."
I had previously only seen the duo perform in the film that followed up the TAMI show with James Brown's sensational appearance, but where someone had come up with the idea to dress the duo in Santa Claus head gear. (Tina singing "Please Please Please" was not in the film I saw.)
Anyway – back in Hollywood – my legs gave way and the consciousness floated away to a better world when Tina started. I was a floored every time Tina finished the song after her talking part "I want to hear you say aah, Aaaah, Aaaaaah – Baby Please !!!" And I was brought out of the trance when Ike struck his guitar in "Grumbling," a cover of Freddie King's "Stumble," from the Blue Thumb LP where the couple is eating watermelon on the cover.
Tina and the Ikettes danced frenetically to the blazing stroboscopic light while Ike made a perfect interpretation of the Freddie King song. Perhaps he was even better than the great Freddie..? (Ike had also done a matchless Pat Hare imitation on All the Blues All the Time on his Crown LP. What a brilliant musician!)
During the break, I went up to Ike. He had gone out through the back-door to the paved courtyard behind the club. He stood there in his red suit and his Beatle haircut surrounded by his black-costumed musicians. Both on and off stage there was no doubt who was the band leader. I think they were talking about gambling and that there was a card game going on somewhere. Ike seemed very businesslike. I complimented him for a brilliant show and he grunted something in response. I asked him if it was all right to talk to Tina. Sure, he said, but you cannot take any pictures in the dressing room.
The dressing room was a corridor-like and perhaps 1.5 meters wide and 2.5 meters long room. All the Ikettes sat neatly lined up against one wall and in the corner nearest the door sat Tina. Everyone was wearing black underwear panties and a bra – nothing else. I suffered a vertigo attack and fell into a chair opposite her, completely dazed and gasping for breath. Summoning my last strength I tried to keep my eyes fixated above Tina's shoulders. I took out my notebook and introduced myself as the European reporter of the English soul magazine – Blues and Soul. Then I also felt like taking off my shirt that was already soaking wet. It was hot! I was burning up!
Tina calmly explained that the dressing room was next door to the kitchen which had specialized in a menu of fried chicken and French fries and the frying pots were next to the wall, and working at full heat. The room must have been 45 degrees Celsius. Now I understood better why Ike asked me not to take any pictures … I have no memory of the men's locker rooms more than that it was bigger and that there was a card game led by Ike. That's where I interviewed the Kings Of Rhythm. After a while Tina's sister dropped by. She said that Tina's kids were allright. "How many?" I asked? "Five," said Tina. (All boys and aged 7-8-9-10 years, etc.). The family had lived in Los Angeles for five years and their current address was 4263 Olympic Drive. The sister also lived there and took care of the children when the Turner family were touring
I informed Tina that I had met former Ikette Mary Brown's husband Eddie Silvers in Chicago, where he was the arranger and producer at One-derful! Records. Tina said that she and Mary talked on the phone as recently as last week. Mary was one of Tina's oldest friends. I also tried, rather incoherently to make Tina understand that I considered her to be the greatest female artist in the USA today.
How was Tina behind the stage? Was she equally vulgar and sexy as on stage? Did I try to take off more clothes than my shirt?
The truth is that Tina was simply the most timid, shy and reclusive female soul singer I met that summer. I noticed that she became a little sad or annoyed when I asked her if she used a wig – another of my many blunders that summer … And it was not easy to even try to interview her because she was so quiet.
The Ikettes consisted of Esther Burton who sang lead – and she was perhaps not as remarkable beautiful as the other two. She was born on the 4th of February 1945 in the Midlands, Texas. Her background was gospel and R&B.
Joy Lennear, the group's 21-year-old, long haired (a wig?) beauty queen was born in 1946 in Providence, Rhode Island. She had a gospel background and had previously sung with the group The Superbs. Her recording debut was One Bad Habit on the Dore record label.
Ethna Wood(s) was born August 23, 1949 in Akron, Ohio, and had previously worked as a beautician. She had sung gospel and her professional start was in the group Soul Sensations.
This was the eighth version of the Ikettes since the start. They had been engaged by Ike just four or five weeks ago.
Ike was obviously a magician when it came to directing and putting on a good stage show in no time. The singing was of course OK, but how had they been able to synchronize all these complicated dance steps? How had they learned all these dance crazes? Why was Ike not recruited to choreograph Grease on Broadway? Or used as a role model for the musical Fame?
Why was not a musical made about his life? Why was a TV episode (in the series Ally McBeal), about how Tina Turner, as a judge in a contest, determined who could be a Ikette. I guess Ike always had the last word in that process.
The Ikettes were certainly the most visually appealing group in the same genre as the Raelettes, Bland Dolls, Otisettes, Sweet Inspirations, etc., and their incredibly energetic stage show and uninhibited sexuality overshadowed that they have never been particularly prominent singers. It was not a natural nursery for a solo career, but an exception was P. P. ("First Cut Is The Deepest") Arnold, who left during a tour in England last year and performed with The Nice in England. Vanessa Fields and Jackie Smith were two of the first Ikettes and they knew Tina as Annie Mae before she was Tina. They were later back-up singers for Dr. John and Humble Pie.
Postscript
Forty-eight years have passed, but I have often wondered why I thought Ike & Tina Turner were so good. Tina was her generation's foremost female stage performer, but today she is a shadow of her former greatness, and it has been a long time since I heard her singing "Please Please Please." When one delves into Tina's past you will find Ike there.
I think that without Ike, there would never have been a Tina. He created her as an artist – layer after layer, until she finally stood there like the white audience's ultimate wet dream. She was the uninhibited black woman – A native directly from the wilderness. These sentiments have been exploited among white intellectuals for many years. (The Swedish Academy handles the Nobel awards. Its member Artur Lundkvist has written books like "Negro Coast"(1933) and "Negro Country" (1949), for example).
Most of the major black artists in blues, R&B, soul and gospel are the same both on and off the stage. They are simply themselves all the time. Lightnin' Hopkins and B.B. King live ordinary lives off stage and tell musical stories about their own experiences or what friends have told them. It also applies to Roy Brown, Ruth Brown or Joe Tex. Tina is an exception to that rule. On stage, vulgar and outgoing, but behind the scene incredibly timid, reclusive and shy. Just like an actress with Ike Turner as a dictatorial director.
They were on top right then. There were no weak points in their stage appearance. Tina's voice was strong all around. She could sing anything without signs of fatigue or hoarseness. The stage show was perfect. They were simply America's best live act in all categories. The biggest problem was probably the lack of their own song material.
Whenever appropriate I asked other artists about James Brown and Ike & Tina Turner. Most of them described Ike as difficult. Eddie Silvers, who worked at One-derful! in Chicago stated frankly that Ike was a bad person.
I did not realize then what a huge role he played in black music after World War II. Today he personalizes the myth of the pimp and Ike is a negative role model. Tina's description of him as a woman-abuser still overshadows his unique qualities as an artist.
I wanted to see Ike and Tina every night but it was many miles by bus from Hollywood to the center of Los Angeles. When the show finished, busses had stopped going and I had to hitchhike. The first night George Grant drove up with an old, used car and offered a ride which I gratefully accepted. He was a kind man, but his agency was probably not doing too well. But the other two evenings I had to hitchhike back. No one present then can accuse me of homophobia if I state that the first driver was apparently out at night only to pick up hitchhikers. The last night I ended up in the same car as a Hells Angels type with visible drug use. The serial killer was an unknown phenomenon then, but these two types would have set alarm bells ringing today.
The second evening, the club owner announced that James Brown had called. He was in Los Angeles and wanted to come and see the show tomorrow. The chance to see Tina and James do "Please Please Please" together kept me sleepless much of the night. To me this was comparable of seeing Elmore James in a southern juke joint with Guitar Slim in the audience sitting in on a couple of numbers. But James Brown never came, unfortunately. I had to wait a week to see his show in San Francisco. James Brown writes in his autobiography, The Godfather of Soul (1986) how he first met Ike and Tina in California. James does not often praise his colleagues, but he remarked that Tina knew what she should do on stage. Tina had taken over from the Famous Flames, and done everything that James did, and finally jumped down from the piano in a split. The show ended with both singing Please Please Please standing on their knees. It had already happened… and later James concludes "It is strange that no one else can make anything of this song (Please Please Please). Neither the Five Royales, Ike and Tina or Barbara Lewis ".
But I still think that Ike & Tina have made the very best recording of this song. Tina's extraordinary monologue at the end of the song makes this a statement of her unhappy marriage to Ike while James Brown, with the biggest ego in the business, falls on his knees begging himself to stay longer on stage. That's my impression when I compared the two performances in San Francisco later.
I saw The Ike & Tina Turner Revue five times. The shows were not identical. Some songs were replaced but the structure was the same. They were just as good every time. This was pure routine for them – they did it 365 days of the year …
Ike Turner was a great band leader, and when it comes to setting up and directing a R&B and Soul Show I think no one was better in the 1960s. Aretha Franklin was obviously a better singer than Tina, but as a stage performer Tina was far superior. A decade of tough tours seemed to have gone unheeded. The great Betty Harris had a similar history of tours and recordings as Tina but seemed worn out and older compared with the blossoming Tina Turner.
The married couple Turner did not socialize much offstage. Tina often sat alone by herself in the dressing room during breaks while Ike moved around in the club. I rushed to her after visiting Motown's West Coast office. The Temptations manager had talked very appreciative of the duo. Then she sat engaged in a serious conversation with a male friend, or perhaps relative. Their commitment was extended one week, and then they went to San Francisco.
I do think that many artists that summer really did their best. Perhaps I was the first journalist interviewing them and I came from Europe. It was a big opportunity. Perhaps the most important so far apart from the recording contract, of course.
Friday, August 2
As usual I was very tired after all the experiences of the day before. Today a meeting was scheduled with Gloria Jones (1305 S. Sycamore Ave). She was already in the lobby of the Liberty building (6920 W. Sunset Blvd). She turned out to be the nicest of all the very charming, talented and beautiful female soul singers I met that summer. I took pictures of her outside the entrance, and then we went up to Dallas Smith's office.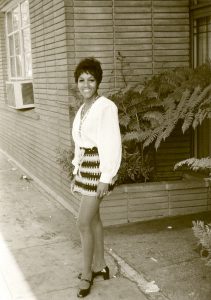 Gloria was born in Cincinnati, Ohio, where her father was a preacher. Her great-great grandfather came from Ireland, and she also had drops of Indian blood. Ten years ago the family moved to Los Angeles. Between 1960 and 1965, she sang lead in the gospel group the Cogics (Church of God in Christ – the church her family belonged to). Billy Preston, then marketed as The Wildest Organ In Town, was the group's organist but also sang at times. Member Blinky Williams was launched as a new rising star at Motown in 1968 (Her "I wouldn't Change The Man" was heard on the radio then).
The group also had a fourth member, Andrae Crouch, who was to become one of the biggest names in modern gospel. (Gloria mentioned only these three, but Andrae's twin sister Sandra (or Sondra) Crouch and Edna Wright are usually also counted as members.)
The Vee Jay LP The Blood – It Will Never Lose It's Power, produced by Richard Simpson in 1964, was re-released as Presenting The Cogics on the associated company Exodus. The group dissolved in 1965, and later Hal Davis, from Motown's West Coast office, discovered Gloria. She did studio work and although she never thought about singing soul or R&B she got a contract with Capitol and recorded "Heartbeat (part 1-2)" for one of their subsidiary labels, Uptown.
The record climbed to the 55th place on the national charts. In a review of the Heartbeat album (1966) a reviewer wrote: "It is hard to believe that the girl who sings is only 18 years old." Gloria was elected most promising new female singer in Cashbox 1965. Capitol never followed up the success, though. They released an LP but not a 45.
Gloria studied piano for two years and concentrated on acting. In 1967, she played the role of Bianca in The Rock And Roll Othello which was based on Shakespeare's play and renamed Catch My Soul. The cast had Jerry Lee Lewis in the title role and singing group The Blossoms as well as regular actors. Jack Good, the man behind the Shindig TV show, directed the play and Gloria had visited his TV show as well. They had toured and appeared in Dallas (November 1967). Gloria said quite modestly that she had given life to Bianca, Cassio's black mistress, and after seeing her play a scene, I could only agree. She really had a lot of energy – "except when it's too hot outside" she assured.
She continued to do studio work behind several other major artists such as O. C. Smith and Ike & Tina Turner. Those who bought the Rolling Stones LP, which was released in the autumn 1968 (Beggar's Banquet) can hear Gloria in the background. In 1967 she was contracted to Minit and in 1968 she recorded a slow soul version of Barbara George's hit: "I Know" / "What You Want Baby I Want You." The sequel, which Dallas now played the demo of was called "When He Touches Me" – an excellent slow burning soul song with "Look What You Started" on the back. Gloria, who became quite emotional, left the room while we listened.
But Dallas Smith was clearly upset when I told him that Rodge Martin had made a nice version of the song on the Bragg label already a couple of years ago, and that Polydor (No. 56725) released the single in England. Even Percy Sledge had made a LP version. In the patriarchal versions the song is called "When She Touches Me."
This was not anticipated and the song publisher had asserted that Gloria was the first to record the song. Gloria and Dallas were working on an LP, which was never released, and one of the songs was "Dirty Old Man." Now, Gloria was hoping to have a role in the television series Peyton Place, and she had auditioned for roles in two films.
After a while Gloria's husband showed up with the couple's small child in his arms. Gloria had bigger plans than to be a housewife, and I could see that she had succeeded to have her husband take care of (some of) the homework.
Right now she took a summer course in American History at UCLA and was hoping to get her B.A. soon. She was different from the other female soul singers I had met so far. Her perspective was larger and not limited to the ghetto or to the places where the tour bus brought her. She was also interested in astrology but I still did not know what sign I was born in.
This very charming bundle of energy was discovered by Marc Bolan (T. Rex) a few years later. They married (or lived as married) and Gloria drove the car that unfortunate evening when they crashed and he died. I never saw her perform live – she had no gigs at the time. But she showed me pictures of herself from her father's church recently, where she had guested at a recent Sunday. It looked good.
Dallas Smith rang up Jimmy Holiday and introduced me to his wife. But she said he could not be disturbed. He had gone through a major heart surgery recently and was still very tired. Then I took the bus back to Los Angeles.
That evening, I wanted to see Jimmy McCracklin perform at the California Club Soul (1759 W. Santa Barbara/Western). I had first heard him doing "The Walk" on an English compilation EP with Chess recordings several years ago. Looking at the map, it looked like a good half-hour walk there. But one and a half hours later, I arrived after walking through tunnels and running across major highways. This town was certainly not built for pedestrians. One cm on the map was twice as long a distance as in other cities.
The last stretch, inside a built-up area, I was suddenly stopped by an impeccably dressed young boy, probably no more than fifteen years old but looking like a twelve year old child. He had a suit and vest and asked if I had any acid (LSD) to sell. I had arrived in Watts.
A 150-head crowd had turned out at this rather large club. I was not able to get inside for free. Apart from McCracklin the other artists tonight were the Bean Brothers and Betty Bebbs. The resident house band began an instrumental set including Dyke and the Blazers Funky Walk.
The Bean Brothers then opened. Three of the members took turns singing lead, while the group's tallest member had the role of the comedian. It was a very good group, but unfortunately I never had time to interview them.
On stage the four "brothers" did a medley with "Get Ready" / "Soul Man" / "I Wanna Testify" and a song I think was called "It's Gotta Be Love Everywhere."
In There Was A Time (James Brown) they were given opportunities to demonstrate dances such as "The Mashed Potatoes," "The Jerk," "The Boogaloo," "The Soul Stretch" and "The James Brown."
They performed a little skit about who had the most soul and ended with "I Got The Feelin'" (James Brown) and "I Wish It Would Rain" (Temptations)
The next performer on stage was Betty Bebbs, a slightly overweight woman, who sang:
"Baby I Love You," "Here I Am Baby," "Steal Away" (Jimmy Hughes VJ recording).
She did a blues called, I think: "Right Now It's Late," "Since You've Been Gone" and "Knock On Wood."
Betty was a fine soul singer, but perhaps too introverted and lacking "star quality" (The ingredient that Tina Turner had so much of). The atmosphere at the club was not very good. The young and good looking M.C. and announcer used his position on stage to make contact and flirt with the women in the audience. Their men became increasingly upset and angry. In the last set of the night, a man in the audience ran towards the stage to beat him up. But was held back by his friends….
Star time!
The emcee got his act together and announced:
"Ladies and gentlemen! We have the great honour to introduce the man who is known from coast to coast, from back door to back door and from prison to prison… JIMMY McCRACKLIN !!"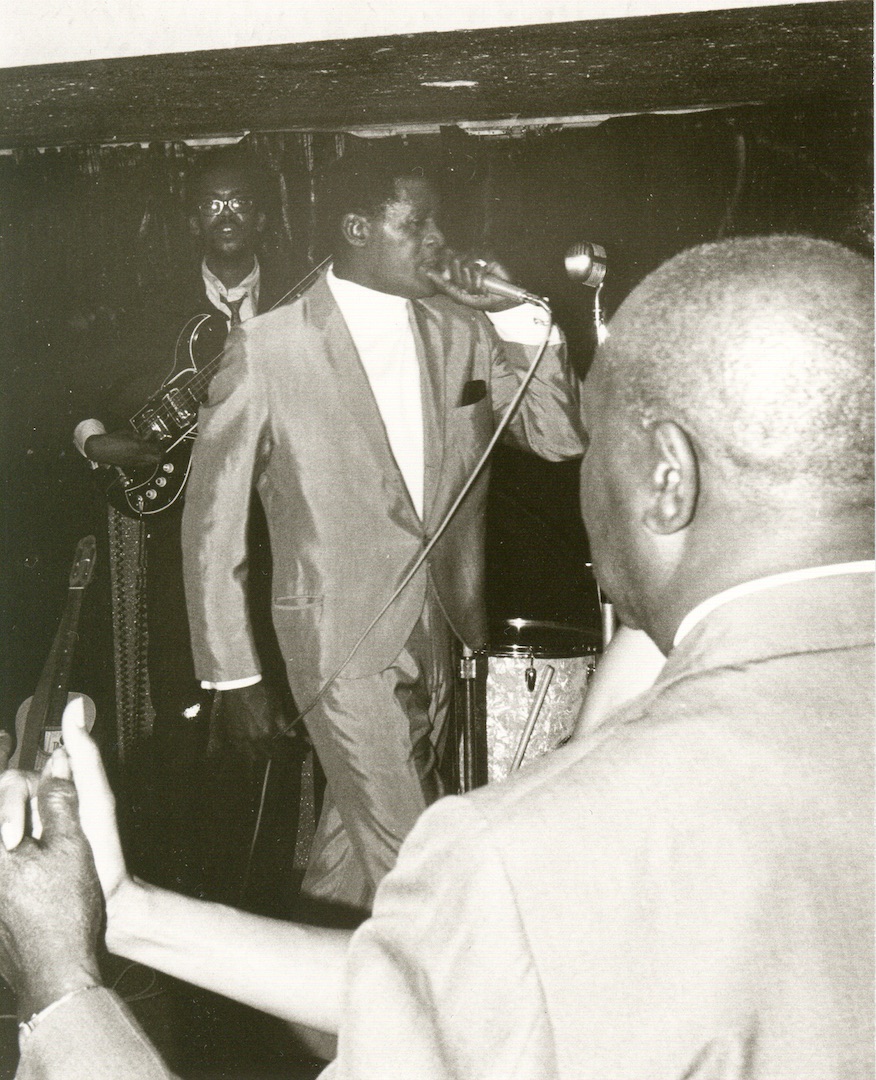 I doubt that the MC had invented this ingenious presentation. It was probably signed by McCracklin himself, who however was rather taciturn on stage. It indicates that McCracklin had a slightly different audience than many other soul artists.
On stage, he did: "Steppin' Up In Class," "Think,""Arkansas," "I'm Sorry To You" (Jimmy said it was "number two across the country"), "Just Got To Know from 1961″ – but Jimmy said it was from 1963.
Tramp McCracklin invited Lowell Fulson to the stage. He had obviously visited the club and said hello to his old pal but then disappeared. Jimmy had composed "Tramp," and he used the opportunity to say that Lowell had fled when Jimmy was going to show him how to sing this song!
Then Jimmy did impersonations:
A slurring and unsteady Jimmy Reed who sang "Baby You Don't Have To Go."
A blind Ray Charles who sang "The Other Night As I Lay Sleeping."
Jimmy finished with James Brown, who threw out cuff links into the audience and repeated "Ain't I Clean" while he, not unlike Liberace, boasted about his new clothes.
During the break, I wanted to talk to the artists. I went to their dressing rooms, but on the way I ran into an unpleasant guy who worked in the kitchen and wanted to drive me away. Finally I managed to walk past him and knocked on the door of a fairly large room.
There sat Jimmy and Betty Bebbs, who was Jimmy's protégé. He was not that easy to interview, and had many times been criticized of not telling the truth, like for example Sonny Boy Williamson. In Jimmy's case it's mostly been about forgetting his early career and moving his birthdate forward and appear younger than he is. This is what Jimmy said then (I have kept the incorrect chronology etc.):
Jimmy McCracklin was born in St. Louis in 1931 and moved to Minneapolis, Indianapolis when he was nine or ten years old. At the beginning of his musical career he settled in Chicago, but had now moved to San Francisco. He began singing spirituals at home with his mother and sometimes in the church choir (but not singing solo). In his youth he met Memphis Slim who inspired him a lot and when he was drafted he met Lowell Fulson.
But he did not start singing professionally until 1956-57. In the early 1950s he worked as a construction worker ("I dug a hole in the ground") and sang in the evenings. He began writing songs – always based on his own experience or by observing other people and see what they did.
Around 1961 he wrote "Tramp" for Lowell Fulson. Joe Tex made a revised version ("Papa Was Too") but Jimmy got composer's credits for that too. His first recordings were made for Gedinson's (Bob Geddins companies – or Guineson as McCracklin also said).
Crown and later Custom Records had released recordings from Modern. He came to Chess and made "The Walk," which sold two million copies. From Chess he went to Mercury and then to Artone (which was his own label). Now he was on Minit. In addition to The Walk, he had received three gold records, "I Just Got To Know" on Artone, and "Think" and "My Answer" on Minit.
He made long tours being away from his family for 37 to 60 days. He had toured all over the US including Honolulu, Hawaii and had even visited Jamaica and Canada, but not Europe. Jimmy wrote all of his own songs.
He had a lot to write about as he came from a very poor and large family. He had three brothers and twelve sisters, of whom five died at birth. He wanted the lyrics to mean something whether he wrote from his own experiences or of others. He described his songs as "Down To Earth."
He hated songs where people just screamed and moaned to the rhythm. Apparently, he was referring to James Brown, but he was quick to say that James had made some amazing and soulful records before, and was a really good singer. But right now, James was stuck in the same bag as the kids loved it.
The imitations were based on his own observations when he toured with Ray Charles and Jimmy Reed. In 1962 he performed with James Brown for 30 days, especially in the Virginia region, but possible also at the Apollo.
His favourites were B.B. King, Lowell Fulson, Memphis Slim, Jimmy Reed and Ray Charles. But unfortunately, the new R&B discotheque sound (that's what McCracklin said) had put a lot of artists in the gutter. The only survivors besides himself of his own generation were BB King, Bobby Bland, Lowell Fulson plus a few more.
Jimmy had terrible tour experiences. In Atlanta, he was severely beaten by a gang of drunken white people. "The police saved me then," and he pointed to a large scar by his right eye. He also complained of a headache this evening, and I connected it with this beating. In Tennessee a white guy spat on him when Jimmy was sitting in his tour bus, but Jimmy forced him off the road. Jimmy said nothing about his career as a boxer. But it was understood that you could not challenge Jimmy without repercussions.
He had published 22 LPs (including various artists albums?) and about 50 singles during his career. He also produced "They Call You Lover But You Ain't Nothing But A Tramp" with former Raelette Margie Hendrix. Next week Minit would release McCracklin's next single "Love Love Love" / "Married Life," according to Tom Riney.
Jimmy produced and wrote material for Betty Bebbs (sometimes spelled Bibbs). She was born in Cleveland in 1942 but later moved to Chicago. Her father was a priest and she learned to sing in his church. Her first record First Come First Served was released by Modern. (I think McCracklin said he produced this and that he produced and wrote material for Betty on another couple of singles). She complained of hoarseness and that she had not been able to do her best this evening.
Musically, it had been a successful evening but the bad mood created by the emcee lingered during the long walk home through the deserted motorway landscape. Readers can find the real Jimmy McCracklin Story, on two Route 66 LPs (kix 12 and kix 29) and a Crown Prince LP (ig-405). Jimmy is a very talented artist who in 1968 celebrated his 23rd anniversary (sic) as a recording artist.
Saturday, August 3
I felt thoroughly tired after yesterday's long walk and did not have enough strength to go out that night. It was also difficult to make contact with the performers on the weekends when the clubs were full of people. In the hotel corridor, quite close to my room on the second floor there was a pay phone on the wall where I used to make or receive calls. In films from 1940s and 1950s you can often see this kind of phone, where I now spent a lot of time.
Lowell Fulson was in town and I called Modern-Kent records to get hold of him. But he was in the studio and recording and was not to be disturbed. He called the hotel later and left a message and his private phone number. But we never met.
Jimmy Holiday was one of my absolute soul favourites with a fairly long career. Over the years I had picked up his gems on various small labels like How Can I Forget (Everest Records), also recorded by Ben E. King, but now he was securely anchored at the Minit label. Of the lesser known male soul artists, it was actually he and McKinley Mitchell I most wanted to meet and see in the United States.
He was born July 24, 1932 (the official date tends to indicate 1936) in Waterloo, Iowa. He sang a little in the church choir during his childhood and was a boxer for awhile. Ten years ago he had started playing saxophone with his own band – The Jimmy Holiday Sextet. They sounded like the Cannonball Adderley Sextet. Sometimes he used to sing, but he had a bad memory and often forgot the lyrics. But he was always able to fill those memory gaps with lines from his imagination.
So he began composing. He could not write or read music but his wife, who was a music teacher, taught him. Jimmy wanted his songs to mean something, and he admired the Beatles a lot. They shared Ray Charles last two singles. The Beatles had the A-sides, while Jimmy had written the B-sides:
"Yesterday" / "Never Had Enough Of Nothing Yet"
"Eleanor Rigby" / "Understanding"
But 1968 had been very unfortunate. When cleaning a gun, it misfired and he lost a finger, and that put an end to his piano-playing. Later, he had heart problems and only one month before, he had open heart surgery (with a heart-lung machine). Now he was on the mend. But he could not see any journalists and I could only talk to him for a few minutes before his wife stepped in and said that he must rest. He had stopped making personal appearances a long time ago.
I was very fond of Jimmy's Minit recordings. It was unusual for a male soul artist to openly express melancholy, poor self-esteem and confidence. His album The Turning Point contains some real gems in this field. Jimmy's specialty was soul ballads about unrequited love. His melodramatic performances of conflicting emotions were very convincing.
There had been many soul songs about the Vietnam War, but Jimmy was the only representative of the black right-wing that I can think of. "Help Hurry My Brothers Home," condemns protests against the war as Jimmy felt they would only prolong it and weaken the USA. Hopefully this disc sold poorly….
Sunday, August 4
I continued to correct and rewrite my interviews, and in the evening I went to Club Mardi Gras (2424 Wilshire). It was only a 20-25 minute walk from the hotel. I guess if this walk had taken place twenty years earlier, and I had continued walking on Central Avenue, I had passed some of the legendary clubs on Central Avenue, like:
Club Alabam, The Plantation Club, Lincoln Theatre, Barrelhouse Club, The Brown Bomber, Lovejoys and Bird In The Basket.
And ten years before the Californian Club, Club Morocco, 5-4 Ballroom, Oasis Club, Zenda Ballroom had been there or nearby.
I arrived at seven o'clock, and when I came through the door the house band pumped out the closing riffs from Larry Williams' "Slow Down" or another of Larry Williams hits. It sounded just like the excellent live recording with the Stormsville Shakers that he had done in England.
But it was his last number tonight!
This was bad luck. I had never understood that the show started already at six o'clock in the evening. I only saw Larry receive the applause on stage and then shook his hand and exchanged a few pleasantries before Larry was on his way elsewhere. He seemed to always be on the go.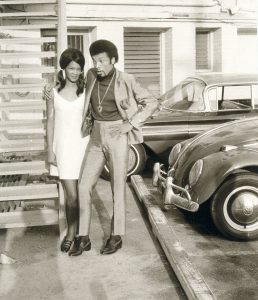 I wanted to ask about his Chess recording "My Baby's Got Soul," his personal favourite recording. Larry showed that he could sing soul on this fine and interesting recording, from the transition period between R&B and soul. It was recorded in Los Angeles in 1959 with Plas Johnson on flute. (He later did the sax solo in the Pink Panther films.) Larry was many years ahead of his time and not just a Little Richard impersonator.
The Mardi Gras had an extensive non-stop program with many interesting performers this evening. Which made interviews difficult.
House bands tonight were the Watts 103rd St. Rhythm Band, alternating with the "Bet-Tones," the regular house band. Brenton Wood was there as well Bennie Conn and Roy Brown. In between there was a ventriloquist with a puppet show called "Rich and Willie." The doll made a decent vocal version of Sunny. Miss Watts was crowned in a black beauty contest. It was a process that took time.
But even here, the atmosphere was not friendly. In the South and in Chicago, I had always felt welcome everywhere, but now towards the end of the summer, there was hostility. A young man sitting opposite me at the same long table seemed quite OK, but still kept on putting out his cigarettes in my beer glass … and I could do nothing but pretend I did not see it. It was not the right place to start a discussion. When I tried to talk to a couple of the beauty queens they just turned the other way.
The Watts 103rd St. Rhythm Band did a fine set of original songs and current covers. It was a good band, but too funky for me to be top-rated. I talked to James Gadson, the group's drummer (1657 So. Longwood). When he sang he changed place with the guitarist who sat down at the drums, but there were more instrumentals than song numbers tonight. He advised me to visit their current record label Warner Brothers at 4000 Warner Drive, or meet their producer Fred Smith at 7400 Fountain Ave. Previously, the group had been on Keyman Records and had a hit which he called "Honey" (but it was titled "Spreadin' Honey").
Bennie Conn was a good soul singer with a local hit "I'm So Happy To Be Back Home," which was often heard on the radio in Los Angeles. He sang this song and a couple of soul covers accompanied by the Bet-Tones. I wanted to interview him and he said OK. But Brenton Wood started singing so we had to settle for exchanging addresses at the bar. (Bennie Conn, 8706 So. Normandie, #5, Los Angeles)
Brenton Wood may not have left a large footprint in music history, but he had actually had four big hits on the Double Shot label during the last twelve months. Strange, because each new hit seemed like an exception confirming that he was a one-hit-wonder. His performance was very professional. He had a brilliant falsetto technique. But he was seen as a gimmick singer and not as a serious doo wop or soul singer anymore. He had sung with groups like the Doo Tones, Quotations, Kent & The Candidates, and with Shirley of Shirley & Lee fame. Shirley & Alfred (=Brenton) had recorded Kid Games recently.
His performance: "My Girl," "Some Got It Some Don't," and his hits – "Gimme a Little Sign" and "The Oogum Boogum Song."
Then he left the club. He was much better than expected.
Roy Brown appeared towards the end of the evening. He had recently had a minor hit with "Separation Blues" that I first heard on the radio in Houston. I knew his name from before and had heard some of his old recordings ("Hard Luck Blues"). There were only time to shake hands and exchange addresses, but he never answered the letter. He lived at 3863 So. Hobart LA. He had moved from there when my letter arrived.
He made a perfectly OK version of "Separation Blues." But he never really got the space to display the outstanding stage artist and singer he was. I could not perpetuate the evening on film. I had made the mistake of buying a roll with 24 images instead of 36. I remember Roy wearing a long black coat. I don't think he even removed it. He went on stage with it, and then spent a short time at the bar and left.
Monday, August 5
Gloria Jones had arranged a meeting at 1:30 pm at the Motown's West Coast office, located at 6290 Sunset at the corner of Vine. But I got stuck in a traffic jam and had misunderstood the address so I was half an hour late. The office was in the center of Hollywood just a few yards from the Capitol Tower. The manager was Shelley Berger, a white man maybe ten years older than me.
Motown was still a company with a strong local Detroit roots. But behind the scenes powerful forces had been set in motion to move the entire company to the West Coast. Already they did some recordings here through their daughter-companies (Gordy, Tamla, Soul, VIP etc.)
Shelley told me about the Motown business. They had about 40 acts contracted, and spent a lot of time choosing clothes, rehearsing stage shows, take pictures, etc. They tried to build up and teach an artist so they had a career to fall back on when records stopped selling.
He compared their own efforts with the success Stax had in recent years. He thought Motown was too early with their own package shows. They had first sent out their artists with Dick Clark's Caravan of Stars; mammoth tours with up eighteen acts of different artists. Now the focus was on quality instead, said Shelley. (Motown artists were often criticized for not being able to reproduce the sound of records on stage).
He also said that record labels Atlantic-Atco got the best of the earliest Motown tours and then meant that those companies had released a few compilation LPs from the early concerts.
They had lost a key employee when Mickey Stevenson took his wife, Kim Weston and founded Venture Records. A new artist they had high hopes for was Blinky (from the group Cogics). She lived in Los Angeles as did Barbara Randolph (their only white singer). The Contours had a new lead. Shelley gave me a big chunk of publicity pictures to take with me.
He also confessed that he was very impressed by Ike & Tina Turner. I could understand that he wanted to engage the pair to the Motown label. He also recommended that I should contact Pat Alexander, a young girl on the public relations department in Detroit, when I got there.
As we talked, a couple of young black songwriting guys arrived. Shelley showed them around the premises and gave them access to a piano to play on. Songwriters were scarce and these boys seemed timid and shy, but maybe became a great songwriting team in the future. Gloria was on her way to Venture Records for a studio job as a backup singer.
I was too tired to follow and unfortunately missed Gloria's studio work, but now it was time for another evening with Ike & Tina Turner. That was important.
Tuesday, August 6
During my walks in Hollywood, I had visited Specialty Records (8300 Santa Monica Blvd). Their office was located in a fairly new, unattractive concrete building. Only Janet Regier, Art Rupes secretary was there, but Art responded promptly to a letter I sent from Detroit. (On the same page in the address book I had written Bob Scherl Prod. A & R, 1418 N. Highland Ave, LA. He was perhaps affiliated to Specialty?) I continued to make calls to various record companies. There were lots of them in Los Angeles.
Ray Charles Enterprises, 2107 W. Washington Blvd, was also the headquarters for the record company Tangerine that Ray Charles owned. I wrote down the name Joe Adams – I think it was him I spoke briefly with. He was not just Ray Charles' manager but also a disk jockey and he had a prominent role in Carmen Jones, a film directed by Otto Preminger with an all black cast. He had also recited poems on a 78 on Mercury. (I also wrote down the names Lu Washington, Ike & Tina Turner and Louis Jordan – other performers on the Tangerine label).
Vault 2525 W. 9th – Their most interesting artists were probably The Chambers Brothers. They came to Stockholm the following year.
I never managed to get hold of someone in charge at Modern Records (5810 So. Normandie Ave). The distance to them was discouraging when I had a map in front of me, and the heat was oppressive.
I went to an air-conditioned cinema quite close to the hotel and saw a Kurosawa samurai movie (Sanjuro), instead. The cinema was worn down and had many tired patrons looking for rest and sleep in the afternoon.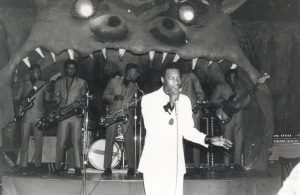 Later I went to Hollywood and the Haunted House (6315 Hollywood Blvd). Harvey Scales was there with his orchestra, the Seven Sounds. He was born in Memphis in 1941 but moved to Milwaukee at age nine. During four years he sang gospel music before joining the R&B group the Esquires (1958-61). In 1967 this group had hits with "Get On Up" and "And Get Away." But from the beginning, they were just one of many Frankie Lymon & The Teenagers – clones. They did not record while Harvey was with them. The group's personnel were Gilbert Moorer, Alvis Moorer, Sam Davison and Harvey, who later was succeeded by a new lead singer Mills Evans, whose voice was in the bass-baritone register. In 1961 Harvey started his own backing group – the Seven Sounds. He had retained the same musicians all the time: Harvey wrote down the names of his band members and I stick to what he wrote, although he was perhaps slightly dyslexic:
Al Vance (bass), Rudy Jacobs (guitar) Billy Stonewall (drums), Monnie Smith (trumpet), Melvin Taylor (tenor sax), Ben Perty (baritone sax) and Rollo Armstead who did military service at the time and probably played the tenor sax.
Harvey and his seven-piece band backed up and toured with visiting artists in the Milwaukee region like William Bell, Carla Thomas, Wilson Pickett and Pigmeat Markham. On record, the band is very tough, and driving and sounds great but on this night the guitarist in particular made mistakes. I was not that impressed, although Harvey repeatedly emphasized how good they were and asked if I didn't agree. It was a shame that they did not quite measure up this evening.
In 1967 they recorded their first record ("Get Down" / "Love-itis") on Magic Touch, a Milwaukee company. It sold well and Stax picked up the distribution. The follow up was "Broadway Freeze" / "I Can't Cry No More," which was a hit summer 1968. Steve Cropper had said that he was going to produce Harvey Scales and the Seven Sounds. Harvey said their next would be "Love Is A Gas" which he wrote himself and Steve Cropper produced. He also worked on his first album, hoping to leave the dance genre behind. Harvey's own favourites was Otis Redding ( "Otis was a friend") and Wilson Pickett and Sam & Dave. He had also temporarily joined bands that backed the Motown artists. But that never felt good …
The Haunted House was not a typical soul club. They were usually very simple places without embellishment or design, but this one had been decorated in a haunted house-style. The audience seemed used to rock and psychedelia. Harvey did a good and energetic performance with kneeling and singing without a microphone as he drove through the group's own hits and a bunch of soul classics
"Soul Man,""Dock Of The Bay" (Harvey told the audience that Otis Redding helped them get their first recording), "I Got The Feeling" (with James Brown dance), "Eleanor Rigby," "Midnight Mover," "I'm In Love,"
The band did not sound good on the last two Wilson Pickett numbers, and the guitarist did mistakes on "I'm In Love."
Wednesday, August 7
I ordered the ticket to San Francisco and gathered my last strength for tonight's show with Ike & Tina Turner at the California Club West. James Brown had announced his arrival, but he would arrive late at night. I got off the bus on Sunset Strip and first went by PJ's (8151 Santa Monica) where Blossoms were due, but they were delayed. This had been Trini Lopez' headquarter before. Instead, I went to the Ashgrove, which was a famous folk-music club at 8162 Melrose. I had avoided this kind of place so far, and not even been to the Preservation Hall in New Orleans. I was looking for authentic places for black people, and not museums for whites. Magic Sam was booked at the Ashgrove for two weeks. I was shown to the dressing room that lay alongside, and before the public entrance. Magic Sam had one leg in plaster cast and was resting before the evening's performance. Present was also his uncle and manager Shakey Jake. The only song I know with Sam was on the English Sue LP We Sing The Blues. Sam knew immediately that it was the Fats Domino song "Every Night About This Time." I think this was his first tour to the west coast.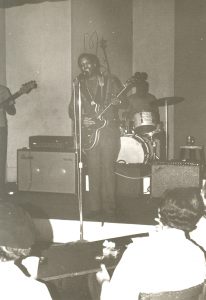 Magic Sam was born on February 14, 1937 in Mississippi and moved to Chicago in 1950. He sang spirituals and gospel with the family as second tenor but did not really like it much. He wanted to play guitar and at seven or eight years of age he made his first attempt. His father played guitar and sang the blues at large barbecues arranged outdoor that lasted for five days or longer. The organizers made a lot of money selling food and moonshine. No police officers dared venture out into the woods in the middle of the night to a place only lit by torches. There a lot of blues was played and it inspired Sam. At age fourteen, Magic Sam got his first guitar. But his mother died and he was raised by an aunt in Chicago. Sam lived on the south side, and at age seventeen he moved over to the west side. He did nothing but play the guitar and sing. His friends thought he was strange that he never went out and enjoyed himself.
He sat at home and practiced and listened to records. Sometimes, at lunch hour in a café, he managed to attract the other guests attention and play a few songs. He also entered talent shows, and sat in with various bands as soon as someone let him.
In 1957 when Sam woke up, he had heard a song in a dream and he immediately began to rehearse it. He could not read music. Sam took the song to Chess, but Willie Dixon was also affiliated to the Cobra label and took it there instead. The next day they recorded "All Your Love." (I also wrote "A Dollar Bill Love." Was this an alternate title or a different song?)
A few weeks earlier he had walked into a shower of bullets outside a club in Chicago. He had been hit by two bullets. One had had touched the hip and caused a flesh wound while the other went straight into the lower leg bone. It had been plastered after the bullet had been removed. "It hurt so much that I just wanted to cry," said Sam.
In the room were his two accompanying musicians. A white girl with dirt blond hair, a wan face and flower-power clothes looked through the door and said hello to Sam. She said she was tired of the American thieving society and wanted to move to Africa soon.
It was time for the evening's first set. The interview had to stop while Sam got ready.
I then exchanged a few words with Shakey Jake. He toured Europe with the Folk Blues Festival in 1962, but worked as a manager now. He did not play with Sam, but wanted to put on a show of his own when he was not making a living as a gambler. Shakey Jake got his nickname from his time as a dice player but his handwriting was also quite shaky.
He gave me the address of Sam's record label and I believed that Magic Sam recorded for "Bob Easties" on "Dead more Records" in Chicago. While Shakey meant Bob Koester and Delmark Records …
I was torn between staying or going and check out James Brown and Ike & Tina. Sam solved the conflict by resolutely taking me under my arm past the ticket booth into the room which was just over half full. (Admission cost $2.)
His performance was impressive and powerful. The two numbers I could identify were Out Of Bad Luck and I Feel So Good which was another version of John Lee Hooker's "Boogie Chillum." I had not yet heard the LP Sam recorded the year before in Chicago with Per "Stockholm Slim" Notini on the piano. (Stockholm Slim was also offered an engagement as sideman in Howlin' Wolf's backing group.)
After the final chord we parted. In the hall I had met Ken Courtney from Playa del Rey in California. He called himself a blues expert, perhaps self-appointed, but he was actually the only white music "expert" I met that summer.
I rushed back to the Ike & Tina Turner Show. Nowadays Ike had arranged that I was let in for free. But James Brown had not appeared, and he never came. The show was still unforgettable as usual. I then hitchhiked back with a Hells-angel-like beatnik in a beat-up wreck. He had recently crashed and waited for the insurance money for a broken leg. Then he would go up to Portland where there was a lot of cheap drugs and where people were relaxed. Unless he got so much money that he could afford to go to Greece. There were also good times.
Thursday, August 8
I rose at 9:30 am to catch the plane that left at 11:35 to San Francisco. It had been a very trying time in Los Angeles. I had not had time to do but a small fraction of all I wanted to. I was thoroughly tired and had sore feet after all the walking and waiting for buses. My interviews in Los Angeles contained more "maybe" and "probably" than usual because I was simply too tired to grasp what was being said or repeat the question. Ike & Tina and Magic Sam followed me to San Francisco. They were on West Coast tours.
Radio listening was neglected. I didn't have time to spend many hours in the hotel room. But some new songs were heard and my favourites are marked with (*):
Bennie Conn – "
I'm So Happy To Be Back Home" (*),
Junior Parker – "
Like A Fish,"
Jesse James – "
Fast Women,"
Ike & Tina Turner – "
Understanding" (*),
Ed Townsend – "
For Your Love" (*),
James & Bobby Purify – "
Help Yourself,"
Roy Brown – "
Double H Blues,"
Larry & Johnny Guitar Watson – "
Nobody,"
Roy Brown – "
Separation Blues,"
William Bell & Judy Clay – "
Private Number,"
O'Jays – "
Look Over Your Shoulder,"
Albert Washington – "
Bring It Up" (*),
Skyliners – "
Since I Don't Have You" (*),
Sweet Inspirations – "
Unchained Melody" (*),
Jay Lewis – "
Moonie Moonie."
Al Wilson – "The Snake" (Soul City Records) was also played frequently. It was a fine Oscar Brown Jr. inspired number. I got publicity materials and an answer from Al Wilson and his manager Marc Gordon. Al had another soul hit with Searching For The Dolphins at the same time. (Soul City Records, 8923 Sunset. and Marc Gordon worked at 8350 Santa Monica Blvd, Suite 108. I think Willie Hutch came to Soul City Records later. There was also a club or studio called Soul City at 6920 W. Sunset.
Postscript
In 2003 the gospel star Andrae Crouch came to Sweden. He had been in the COJICs super gospel group with Billy Preston and Gloria Jones. I contacted him after a performance at the Filadelphia Church at Rörstrandsgatan and showed him my photos.
Andrae was tired after a stroke that same year, but after a while he exclaimed, "Gloria !!! – But I met her a few weeks ago! She was in Los Angeles at her father's funeral. Last year her mother died. Gloria lives in South Africa now."
A few years ago I read in a book written by an English spiritualist medium that Gloria belonged to her clients and was in contact with her late husband Marc Bolan. Gloria was a good singer, but there were quite a few gospel trained singers that sounded like her. She's now called the queen of Northern Soul (The type of old soul music still highly popular as dance music in the north of England). But a softer voice like for example that of Doris Troy, Betty Everett or Shirley (of the Shirelles) might have given her more hits.
Ike & Tina Turner performed across the United States and had been in Europe. Behind Ike & Tina's current show was the experience of thousands of gigs in endless one-nighter tours and lots of recordings.
Ike managed to turn an evening of entertainment and relaxation for an adult audience to an unforgettable artistic experience at the highest level – a level that an audience in Sweden could only dream of.
I also believe that Ike very consciously was working on getting a larger white audience. The entire English rock elite had seen Ike & Tina Turner when the Rolling Stones had booked them as an opening act. He must have noticed that many whites (Europeans) lit on all cylinders when they saw Tina.
Ike embodies one of the male archetypes in the African-American community: the pimp. He chose to launch Tina for the white audience, as if she was working in the sex industry. Ike, who had never been known for his good taste, created a vulgar stage show around Tina and the Ikettes. But Tina was able to soften this image with humour and self irony.
Ike probably got many new insights during the English tours in 1967. Perhaps he was invited by Brian Jones and Keith Richards to long nocturnal conversations. Maybe Ike understood that these boys, who seemed to have an unlimited supply of money, would have given Elmore James one Cadillac each for a guitar lesson. Perhaps Ike previously had thought that Elmore was a hopeless drunkard. They met when Ike was working as a talent scout for the Bihari brothers. Then Elmore could not even remember the lyrics when he recorded his fabulous Canton Mississippi Breakdown.
Tina, however, pregnant or not, was a real workhorse who never betrayed him and always did as he said. In her he had found a gold nugget. She taught Mick Jagger how to move on stage and made friends with the entire English pop elite.
Milos Forman, in his first American film (Taking Off – 1971), showed white, middle-Americans in search of their runaway children in hippie America. Meanwhile their parents tried hashish smoking, wife swapping and of course black soul when Ike and Tina Turner sang "Goodbye So Long." Ike & Tina were also with the Rolling Stones at the Altamont Speedway (1969) and in the documentary film Gimme Shelter. But I no longer recognized her. Tina has said that Ike hit her so much on the nose that she got sinus problems and excess cartilage formation. When this was corrected she also got a new nose. She looked like a Thai barmaid and no longer like a native American on the warpath.
Shelley Berger at Motown West never said that his main job was as manager of The Temptations. He later had a fairly prominent role in the two-part TV-movie about The Temptations shown on cable television. (He financed the film.) They were the most popular male group then but went through a difficult period. Their amazing lead singer David Ruffin was about to be fired because of bad behaviour and abuse. Maybe Shelley didn't want to talk about it.
Venture Records was soon bankrupt. I guess they expanded too quickly.
The LP with Jimmy and Vella did not sell. It became a cut out/overstock album selling for fifty cents.
Larry Williams committed one of the more mysterious suicides in the 1970s when he managed to shoot himself in the head five or six times … Today the suicide theory has been abandoned. Session guitarist Chuck Norris said that Larry had a cocaine habit that cost him $4000 per day … It was an abrupt and tragic end for the philosophical Larry, who said: "Rock & Roll has no beginning and no end for it is the very pulse of life itself."
Later I understood that Roy Brown was a true pioneer and the first popular R&B artist to record in a singing style taken straight out of the church and gospel. He influenced a whole new generation of singers. When Jackie Wilson's Lonely Teardrops hit the charts in 1958, people congratulated Roy. They could not hear any difference between Roy and Jackie.
James Brown has said that Roy was his biggest inspiration in his teens. B.B. King, Bobby Bland and even Fats Domino tried to sing like Roy when they started their careers.
There were many record labels in Los Angeles, I had no time to visit or call the following:
Capitol (1750 N. Vine) was still located in its round tower.
Double Shot (6515 Sunset Blvd)
Duo Disc (8831 Sunset Blvd)
Everest (No. 1313 Vine St., Hollywood)
Original Sound (7120 Sunset Blvd, Hollywood).
Sureshot (8255 Sunset Blvd)
Paramount Recording Studio (6245 Santa Monica)
I never met Dyke and the Blazers who made the original "Funky Broadway" (1967). That song was still on everyone's repertoire. Rendez-vous (with entertainer Googie Rene). And someone recommended to see Viola Wills (an artist with roots back to the 40-s). She performed at La Rue between 9:00 pm and 2:00 am.