July 4 – 10, 1968
Thursday, July 4
I arrived in Atlanta on Thursday, the fourth of July. In Atlanta, the unofficial capital of the southern states of the USA, the National Day was celebrated. When the bus from the airport turned into the city center, the big parade was in full swing. John Wayne was the main attraction, and the part of the parade where he was had just passed the jubilant spectators.
I registered at the Falcon Hotel on 180 Luckie Street. It was just a few minutes walk from Peachtree, Atlanta's main boulevard. I lived in the center, but in very rundown blocks. When I returned ten years later, the hotel and its surroundings were completely demolished and turned into skyscrapers and parking lots.
The strategy from the Vietnam war – nationwide asphalting – had been successful at home.
A few minutes later I had left the hotel and was on my way to radio station WAOK on 113 Edgewood Road. They later moved to no 1 on the same street. I met Gary Edwards who advised me about clubs I should visit. There was VFW on 82 Piedmont and Pink Pussycat at 1237 Simpson. There was a big gospel gala at the city Auditorium on Sunday. But tonight, The Magnolia Ballroom at Sunset/Magnolia NW sounded most interesting (I might have confused it with the Pink Pussycat).
Eddie Billups and Laura Lee were advertised here. The club was located outside the city center, in an area where shopping centers and supermarkets were part of the townscape.
I started on a long walk and on the way I walked by the Birdcage and turned into Auburn Avenue for a while. This was Atlanta's main black entertainment street and I stopped at no. 187 ½ where the Royal Peacock was located. But inside the glass image cabinet outside there were no pictures of coming attractions. Only the brief and sad message that the legendary R&B club was closed during the summer for renovation.
Moving on and halfway to my goal I was verbally attacked by a young man sitting on a staircase across the street shouting at me that he wanted to "knock my eyes out." He stood up, but he didn't come any closer. It was an empty threat.
The Magnolia (or the Pink Pussycat) was a big and rather luxurious club with modern furnishings in a newly built building which held up to 400-500 patrons. It was a glass and concrete place and many could sit at comfortable tables.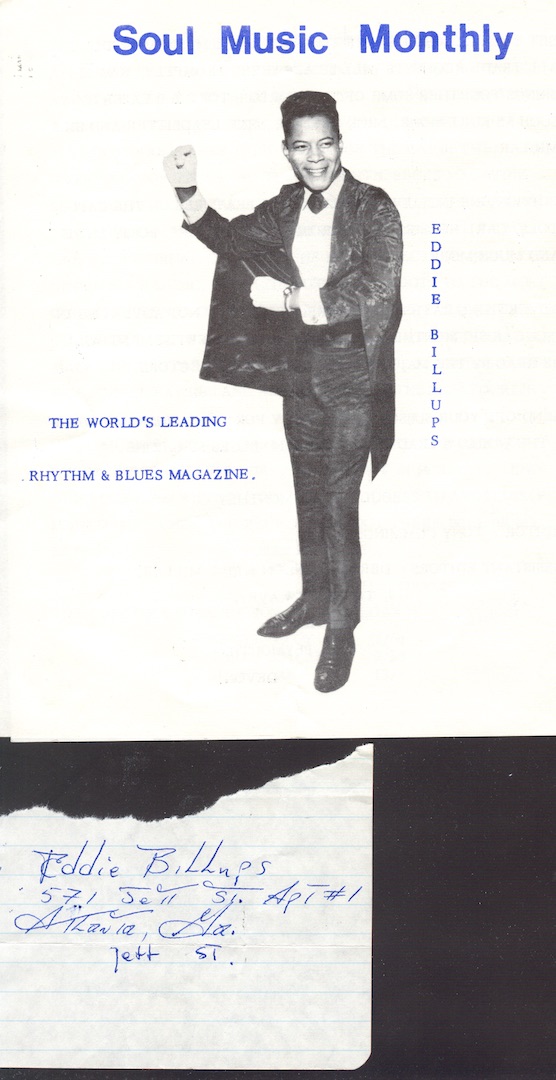 Eddie Billups had been a poster boy in a Shout Magazine leaflet to subscribers about a year earlier. He was dressed in an elegant cape on the photo. He confirmed that he had met a couple of Englishmen last year who had taken pictures of him.
I had not heard any of Eddie's recordings then. But the records he had made before we met were fine – for example "No Love Have I" and "I Won't Be Around (Josie)" and "My Faith In You" (Maxx) – while later stuff had not been that interesting. (His 1950s recording of "Hard Headed Woman" is a crying song, that Atlanta's Tommy Brown specialized in.)
Eddie told me that he was born in Brooklyn in 1938. (Now, he lived at 571 Jett Street apt. 1, in Atlanta.) He had been a soloist in Mount Pleasant Baptist Church Choir between 1945 and 1955. Then he started singing R&B. In 1955 he also joined the army and stayed there for six years. He played trumpet and organ in a band and was stationed in both Japan and Germany and met and sang with Lloyd Price, Elvis Presley and Bob Hope.
He left the army in 1961 and got a recording contract with Fleetwood Records in New York. He recorded Let's Dance and that sold well. He was produced by Bob Goldstein who also worked with Little Anthony and the Imperials. Then followed Maxx Records where he recorded "My Faith In You Will Never Die" (1962) and "New York Kangaroo" (1962). In 1963 he was contracted by Sure Fine Records and recorded "No Love Have I" and "My Girl" (1964) – which is not the same girl that the Temptations sang about. Eddie sang lead with the Larks on The Jerk, which was released on the Money label, a Los Angeles company owned by John Dolphin. The other two members were Billy Moore and James Bryant. The recording session took place in New York.
In 1965 he came to Jubilee and did "I Won't Be Around" and "Ask My Heart" (1966). In 1967 he was with Wynn Records and recorded "Soldiers Prayer" (1968).
He toured with Gladys Knight & The Pips when both were on Maxx Records. He did one week with James Brown playing the organ.
The contact with Gladys and Maxx Records came through Eddie's wife's uncle who knew the promoter Teddy Powell.
He entered the University of Maryland in 1966 and started to study medicine. Now he was a student at the Emory University in Atlanta and didn't really know if he was going to focus on medicine or on music. He was hoping to get his own TV show. If that didn't work out, invest in medicine instead. I think that it became medicine eventually. His show that night was not that terrific. There were many artists around just as good. Still, I saw his name in the cast of the TV series I'll Fly Away. I think his character there was called "Jonah."
On stage tonight he did among others: "Yesterday" (Beatles), "Knock On Wood" (Eddie Floyd), "Bewildered" (James Brown's arrangement), "In The Midnight Hour" (Wilson Pickett).
Eddie was a quite nice and cultivated acquaintance. But Laura Lee never showed up. She was in fact one of the most talented female soul singers then – living in the shadows of Aretha Franklin. Laura was the main attraction tonight and Eddie had not really been able to fill the void left by her.
Then came a pretty good Otis Redding imitator whose name unfortunately is missing from my archives. In the audience I still remember the young man sporting an enormously high red conk. This was obviously a town where people still remembered and cherished the outrageous hairstyles of fellow Georgians Billy Wright, Little Richard and James Brown.
Friday, July 5
Next day I went back to WAOK. I met Zenas Sears. He had not been there the day before. His name was high up on the list of important contacts that had been supplied by the brothers George and Ernie Leaner in Chicago. Behind his unusual first name hid a very nice white gentleman in his fifties. In fact he was both kind and unassuming – attributes seldom used to describe a DJ.
Like Jim Stewart, founder of Stax Records in Memphis, he was more like a university teacher, or a cultivated banker, than a trendsetting disc jockey.
Still he had – long before Alan Freed started playing R&B and renamed it Rock and Roll – played this music for an exclusive black crowd, which eventually included more and more white listeners.
Zenas was also politically engaged and worked against populistic racists like George Wallace and Lester Maddox.
Lester was the brightest political star at the moment in Georgia. He had reached international notoriety a few years earlier when he chased away black customers from his own diner with an axe in his hand.
Alabama governor George Wallace had worked against Martin Luther King Jr with all his might. (But he regretted it later and asked the people he persecuted for forgiveness.)
Zenas then told me briefly about his life and about the Atlanta R&B scene, but it was only ten years later that I got the full story.
He had been stationed in India during World War II. His mission there was to manage a radio station, mostly for black troops. I guess they were involved in the skirmishes so entertaining described in the movie Objective, Burma! with Errol Flynn. Zenas soon found out that his black listeners preferred Louis Jordan and Dinah Washington to Bing Crosby.
When he returned to Atlanta and his old radio station, he started to play R&B records in the morning. The boss arrived there a couple of hours later and never found out. But when the owner showed up a year later Zenas was immediately fired.
He landed at WGST in 1948 and started The Blues Caravan which was broadcast in the evenings and became the most influential show in the southern states.
He did live recordings and broadcastings from Atlanta's clubs and theaters, where Billy Wright was the king and Little Richard started getting heard. Billy later told me that Zenas had arranged Richard's contract with RCA. Zenas also became the manager for Chuck Willis and recorded him for Okeh Records in the WGST studio. Even Ray Charles recorded "I Got A Woman" there in 1954.
In 1954 the opportunity to buy his own radio station arrived. He called it WAOK. But there were no mistaking that his most proud memories was his collaboration with Dr Martin Luther King Jr. (1929-68). That's what Zenas rather talked about.
Zenas had gotten to know his father Martin Luther King Sr., one of the leading baptist pastors in Atlanta Georgia. In the beginning it was a pure professional collaboration when he arranged live broadcasts from his church; mostly on Sundays. Zenas also played a lot of gospel on the radio. He had met Martin Luther Jr. already as a teenager, without having a clue about his future greatness.
There was nothing particularly distinctive about him. He was indeed just an ordinary, fairly mediocre boy. I was really surprised when he led the bus boycott in Montgomery, Alabama. He had become a completely different person. It must have been a divine intervention. Actually the only person I've known that I could say that about. We had a lot of live broadcasts from the marches and demonstrations.
Along with his partner, Zenas also owned a radio station in Montgomery, Alabama. It was the only local station to report what happened during the civil rights struggle. About 92% of all local radio listeners tuned in to the station during the march in Selma.
Besides, WAOK was the only station to report about the Coca Cola boycott by the black segment of the population. It was due to unfair wages to black workers at Coca Cola plants.
Our commitment to Dr. King made us lose many advertisers such as Coca Cola, but they came back later and then they spent three times more to take back lost customers.
He also became an outcast and called nigger lover by his neighbours and much of the white population.
Zenas said proudly that WAOK was the first radio station in America that described the living conditions and problems of the black population in half-minute-long editorials that expressed the station's opinions on race. They also had short radio spots about Black history.
The responsible person at present at the station had been Dr King's press secretary for three years. They also started local news broadcasts since the ghetto population had no interest or knowledge about what took place outside the city.
They encouraged all to register to vote; often in the form of contests with prices. The station owned a bus to pick up people who lacked money or initiative to go to the employment agency.
There were thirty radio stations in Atlanta with surroundings and WAOK was the biggest with a share of circa 55% of all listeners. Circa 55% of the population is black but many listen only to gospel and spirituals played by religious stations. Only 5 % of the advertisers are black.
Atlanta became Dr. Martin Luther King Jr.'s hometown and a natural center for the civil rights movement and the black student movement. It was also the hometown of Chuck Willis and Gladys Knight, Zenas said. Then Atlanta had been a small town but now it was growing by leap and bounds.
Zenas felt that Aretha Franklin had more feeling than James Brown who was more of a showman. In confidence he said that Aretha's father was a heavy drinker and that Aretha became pregnant as early as fourteen years old.
On Friday night I went to the Elks Club. It was located in the same 300 block on Auburn Avenue as the American Legion. Auburn Avenue was the main entertainment street of the black ghetto. There were a lot of people there, looking for a good time.
Elks was a tough club. At the entrance all guests were searched for guns or knives all the way down to the shoe shanks. This was the only club that summer doing this. But perhaps rightly so as Atlanta at this time had the highest murder rate in the USA.
The main attraction tonight was Lloyd Thunder who sang and played guitar with his own band. He had a bluesy, very powerful soul style all his own. He could be compared to Junior Wells as they sang in a similar way. But Lloyd was better. In fact, I think he was the best of all unknown soul artists I saw that summer. It is strange that I have never seen his name since then or a record with him.
He did among others: "You're Looking Good" (Wilson Pickett), "Slip Away" (Clarence Carter). And a long version of Otis Redding's "The Happy Song (Dum Dum)" that was brilliant.
It was a high pressure night. I was invited to dance by several local beauties. After a while I was invited to the table of Mr & Mrs Carr. Soon Tommy Carr came back with the only other white guy in tow. He was my age but had no interest in music. He was there for the girls. Our conversation quickly died.
Saturday, July 6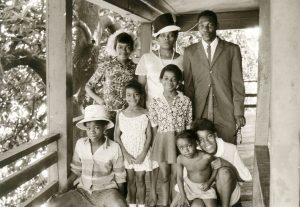 I had been invited to the Carr family. They lived at 160 Northside Drive and had ten or twelve children. All the boys were in Vietnam. Left at home were six girls in the ages from five to sixteen years old. Christana (16), Ida (13), Florence, Pamela (10), Tomasene (8) and Tequila (5). They lived on the first floor of a two-story building in a very run down but charming wooden building. At the ground floor another woman lived with her children. In the beginning this might have been a home for white workers or even an upper class family belonging to the cotton nobility.
In the middle of Carr's flat was a corridor and three to four rooms and kitchen were located at both sides. If a ball had been dropped to the floor it would have rolled with lightning speed to either side. So obliquely and twisted was this building and the floor.
Outside was an exterior porch.
Tommy had two day jobs as a truck driver. In his spare time he repaired TV sets and radios that people had thrown away.
Tommy's wife had lost a couple of front teeth – perhaps because of frequent pregnancies. She seemed tough, while Tommy made a milder impression.
He had been drinking pretty heavily the night before and was hungover today, so he rested.
They offered me food and the girls demonstrated some of the latest dance crazes like The James Brown, The Camelwalk, The Boogaloo and The Horse.
I don't think they'd had any white visitors in their home before. The girls were all excited about my blond and soft hair – and every once in a while sneaked up behind me, where I sat in the sofa, to feel for themselves. "Just like silk," they whispered.
The absent and distant uniformed boys' photographs were lined up in the book case.
This night I went to the American Legion. Sir Charles appeared there with his four-piece band. The place was full.
Charles was a very good singer who had grown up with gospel, and now specialized in fiery screaming. The show continued until three o'clock at night. I later bought a couple of fine 45s with him. These unknown Atlanta singers were very good.
Unfortunately it was too crowded to get a chance for interviews. But since then I have always had my eyes open for soul singers from Georgia. It is a trademark of the highest quality. From here comes James Brown, Otis Redding, Little Richard and Johnny Jones (Swanee Quintet), plus the fantastic Lee Moses, who recorded the fabulous "Bad Girl" (Musicor). He and Little Richard sang on Billy Wright's funeral. While Ray Charles grew up in northern Florida, he was born in Albany Georgia.
Sunday, July 7
At WAOK they recommended that I visit churches like Salem Baptist Church, Apostolic and Free For All Baptist Church at 1461 North Avenue NW plus of course Ebenezer Church on Auburn Avenue where Martin Luther King Sr. was pastor. But today Evelyn and Tommy Carr and I had decided to go to the big gospel gala. Before it I was invited to lunch. On the way to their house I walked past deserted lots near central Atlanta which only waited for the bulldozers and shovels.
From a modest small one-store white/grey wooden building I could hear wonderful gospel singing only accompanied by hand clapping and tambourine. Nothing distinguished the building as a church. I didn't dare to go in and disturb the proceedings. There were probably only room for twenty-five people inside.
They had prepared a feast in the Carr residence. It was chicken, fish, vegetables and they proudly showed me several full freezers that Tommy had repaired.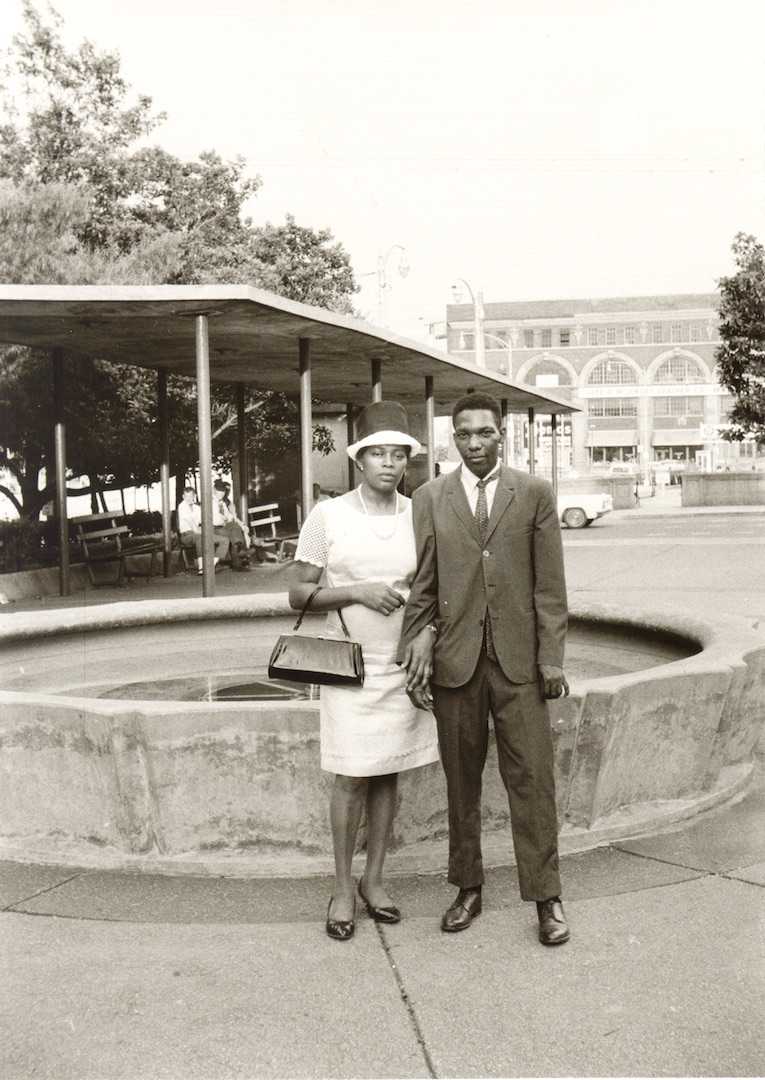 The gospel show at the auditorium opened at three o'clock in the afternoon and we arrived a few minutes before. It was pretty full and we only got seats far from the stage.
The Soul Searchers from Atlanta opened (A fine seven men group with strong singing).
A white man in his thirties was hit by euphoria and started running around and around. The hall had plenty of room at the sides and in the middle and could probably be used for indoor track athletics. It also gave the nurses good access to examine those who had fainted or had seizures that looked epileptic.
Next were the (five) Blind Boys of Alabama. They did not enter the stage in such a striking manner as in Sweden some fifteen years ago, when the seeing guitarist walk in first and in a line after him the blind men walked grabbing the coattails or shoulders of the one in front of them. (Like a limping Brownie McGhee, with the guitar, led the blind Sonny Terry blowing the harmonica.) Clarence Fountain, lead singer with the Blind Boys of Alabama, had left the group temporarily to try a solo career. He performed by himself when appearing in Harlem, New York in August.
The Blind Boys of Alabama did a good job that day. But it was surprising that they, thirty years later, were the world's leading group alongside the Dixie Hummingbirds. There were in fact better groups in Atlanta this afternoon.
The duo next was presented as Mr & Mrs Pugh from Miami Florida. Perhaps better known as the Consolers. They sang a low-key but very suggestive form of gospel music. It sounded very authentic and down to earth. I was surprised that it was so appreciated, especially among the older members of the audience, as I myself prefer the hard quartet gospel of the 1950s. The white clad nurses had to take care of several patients who were hit by the Holy Spirit and lay floundering. Mr & Mrs Pugh sounded very rural, a bit like the country and western pioneers Carter Family or the Staple Singers.
Rev. William Haynes & The Augusta Jubilee Singers
Unfortunately Reverend Haynes got hold of the solo microphone when the Augusta Jubilee Singers had gotten up steam and the audience were with them. He calmed the people down with his preaching and singing. These interruptions disturbed me and an otherwise excellent group. What else but excellence can you expect from a group from Augusta, James Brown's hometown?
The Nightingales from Chicago however, didn't stop when they had the audience with them. The group was no longer led by the legendary Julius Cheeks who had left the group in the early 1960s. They accelerated from the start and people danced or ran around the hall or just sat in the benches shaking and screaming. Fantastic!
Cleophus Robinson did a sophisticated appearance with his son. He was elegantly dressed in a full length long cloak and was accompanied by a peaceful piano playing. Gospel crooning maybe, but many listened closely and answered back with "Tell the truth!" and "Amen!"
Shirley Caesar, with white clothes, stood in front of seven to eight background singers and was accompanied by piano and drums. A couple of years earlier she had left the Caravans and was now appearing as an evangelist with her own group. When she preached during the performance it was fully integrated. This was probably the high point of the day. She was a wonderful singer; very skillful, melodic and intense and she didn't have to only scream to get the massage through. That is appreciated after a couple of hours of very hard gospel. She also danced around and most gracefully too. The only weak spot was her drummer who played too loud and was disturbing. It was enough for me with a guitar or piano. Hand clapping can swing better than drums.
In the foyer records were on sale with the visiting artists both before and after the show. I picked up a copy of the magazine Gospel News Journal and later became a subscriber.
Afterwards the Carrs and I walked around in the center among government buildings. Unfortunately many locals feel that you're interested in modern buildings while you just want to dig deeper into the bluesier slums.
I was back at the hotel at nine o'clock pm. It was an early night. In the middle of the night I was awakened by a fire only 100 meters away. The fire station was only another block away. There were a lot of fires in Atlanta. Every night the fire trucks pulled out with full sirens about one to two times. The city center was to be renovated. There were probably lots of buildings to be torn down that were set on fire to speed up the process. Night sleep was often disturbed.
When I lived close to a fire station in Stockholm sirens were heard only one to two times per week and not several times a day like in Atlanta.
Monday, July 8
I had heard that James Brown was in town and went to WAOK to investigate. But it was false. Eddie Braddock was there. He was a Chess promotion man.
Nothing much happened in Atlanta on a Monday night. I was going to see LaVern Baker at a fashionable night club in the center of town. It might have been The Kittens Corner, a white club at 8th and Peachtree. But I never wrote anything about this night in my diary. LaVern had been there during the week I was in Atlanta and would be relieved by the Shirelles a couple of days later for a week long engagement.
At the entrance door all guests not wearing a suit and tie had to rent a sort of imitation costume plus tie. Dressed in this I took a table close to the stage. Maybe the rights to serve liquor depended on the guests' clothes? Soon LaVern appeared in a vulgar white wig. But where were the accompanying musicians?
I had been sipping Georgia Peach Wine while writing letters home at the hotel. The liquor stores often had attractive prices on this type of drink. This brand had become a favourite of mine. Despite slightly diminished cognitive functions I at last realized that LaVern had changed career. She had become a stand-up comedian.
I was sitting here with a group of middle-aged businessmen and traveling salesmen in real or phoney costumes and was forced to listen to tasteless jokes.
The entrance fee was at least double compared to the dollar that The Elks or The American Legion had charged. I became more and more dissatisfied the longer the show went on. I had not found other black comedians who were that funny either, except Dick Gregory (Black Dick for President), Redd Foxx and Pigmeat Markham. LaVern Baker was entertaining a prejudiced white audience at a place where black power, afro hair and Black Panthers were shunned. I became more and more upset.
I knocked on her dressing room afterwards. Perhaps with the intention to interview her. But I was so frustrated that I instead told her how disappointed I was. I had heard a few of her hits like "Jim Dandy" and "Bumble Bee" – the latter was called "El Moscardon" on a Spanish made EP. But I didn't really understand that she was number two in the female R&B hierarchy of the 1950s after Ruth Brown.
I have to take my share of the responsibility that LaVern later moved to the Philippines, where she worked for the US Army. It cannot be pleasant to hear that you have disappointed your audience as much as I told her. Or maybe I scared her back into the record business. She recorded an album on Brunswick shortly afterwards.
I went straight back to Auburn Avenue and ended up in the basement below the Elks club with a bunch of musicians that I had seen at the Elks and the American Legion. I needed to calm my nerves after the ordeal with LaVern Baker. We talked and drank until the wee wee hours. I especially remember an old saxophonist with a face as wrinkled as Duke Ellington. He had been active in Atlanta's R&B scene during the 1940s and 1950s. But most of what was said was quickly forgotten as this gang almost succeeded to drink me under the table.
Going home I got lost a couple of times. I always had a map, but now I held it upside down…I was happily unaware that the number of active and potential killers were higher here around the Auburn Avenue than elsewhere in USA. Arriving very late, I had to tell the nice cleaning lady who awoke me after a couple of hours to come later. She always brought had her young son to work.
I heard a lot of gospel songs on the radio in Atlanta and some New Orleans hits too:
"I Could Never Love Another"
– Temptations
"Who Want Me Now" –
Tokay Lewis?
"America Is My Home"
– James Brown
"Working On A Groovy Thing"
– Patti Drew
"Nite Owl"
– Howard Tate
"I'll Never Do You Wrong"
– Joe Tex
"We Shall Overcome" –
Hudson? Chorale "
Jesus, We'll Fix It"
– Traveling Tones
"Come See About Me"
– Gray's Gospel Singers
"Been A Great Change"
– James Cleveland
"Comfort Me"
– Shirley Caesar
"I Feel The Spirit" –
Meditation Singers
"Don't Be afraid, Walk On" –
Shirley Caesar
"Let It Happen" –
James Cleveland
"If You Would Be Down" –
Dynamics
"The Love Of God"
– The Soul Stirrers
"You Better Check on Your Way Of Lovin"
– the (Dixie Humming-)Birds
"Precious Lord"
– Aretha Franklin
"The Day Is Passed And Gone"
– Aretha Franklin
"I Don't Know What This World is Coming To"
– Sly & The Family Stone
"I've Got To Get Myself Together"
– Big Denise
"Funky Walk & Horse"
– Fantastic Johnny C
"Air Force Shuffle"
"Thank You John" –
Willie Tee
"Lovers Holiday" –
Peggy Scott & Jo Jo Benson
"Stop"
– Betty Lavette
"I'm Without A Girl"
– the Mighty Marvelows
"I Thank You" –
Diana
"You Got Everything I Need"
– Freddie Scott
"Got To Have You"
– Fantastic Four
"You Know I Love You"
– Fabulations?
"Coo Coo Over You"
-The Hueys
"Hypnotised"
– Linda Jones
"I Who Have Nothing"
– Little Milton
"God Is Standing By"
– the Soul Stirrers
Tuesday, July 9
The nightlife in Atlanta was most active during the weekends. I had nothing planned this night but to go to the Carr's and thank them for the hospitality. They had been very friendly despite our different backgrounds.
They were seated in front of the TV watching a Country and Western show. Just as on Saturday night when I left. James Brown had appeared on another channel just before I arrived, they told me. The dominance of James Brown was now almost unbelievable. He was heard everywhere. On the radio he called for moderation, to keep the summer cold and go back to school. All stations played two to three of his records every hour. He released new records more often than anybody else. In the clubs there was an unwritten rule that every tenth song had to be by James Brown.
Wednesday, July 10
The flight to Miami was booked at 7:30 pm. While waiting I went to the movies. I had seen long queues outside a theater nearby while walking to and from the hotel. The audiences leaving the cinema seemed quite pleased. They showed Rosemary's Baby, not yet shown in Sweden.
Then the planes to Miami were quite often hijacked and ended up in Cuba. (There were no lines to Cuba because of the embargo.) Later they were flown back leaving the people who wanted to stay. This trip through Florida was without problems, despite a tropical thunderstorm with lots of lightning flashing by on both sides of the plane.
Meanwhile I reflected about my stay in Atlanta. It was a nice town with lots of friendly and hospitable people. The longer you were in the south, the better it became. There was a well-defined entertainment district with talent from all over Georgia. But I had not met anyone from the record business. I can only speculate why I didn't look up Phil Walden. (Was his office still in Macon?) A few years before he had booked lots of soul stars on the rise. An old leaflet had pictures of Prince Conley, Al "TNT" Braggs and Billy Young and many others, then unknown to me.
Phil's career went straight up. He became an important man in politics and in the circle around president Carter. But no one at WAOK or elsewhere had directed me to him. So I guess that his interest in aspiring soul stars had faded. There were no local record companies of importance, except maybe Peachtree Records at 431 Glen Iris Drive NE, where Johnny Jones and The King Casuals recorded.
I never went there. All these fine Georgia singers probably had difficulty securing a recording contract locally. If I was working as a talent scout in the south I would certainly look in Atlanta.
Unfortunately I never got a chance to see Clarence Carter; one of the best new soul artists. He was then appearing in a country club circa 25 miles from town between 9.30 pm and 1.30 at night. It was too far to go and no buses back at night. The name of the club was Lithoma or Lithornia. Or was the club located in Lathemtown, north of Atlanta? Or was it located by Lake Lanier northeast of Atlanta? I guess I will never find out.