July 24 – 30, 1968
Wednesday, July 24
A gentle sleepiness in the subtropical heat hung over the large Texas city. The minibus from the airport had reached the town center. I could see by the surroundings and the people that we are on the right track. A man lies stretched out on the sidewalk and semi sleeping it off when we stop. Most of the other passengers have already disembarked outside the more prosperous hotel establishments. Lee Hotel at 1114 Polk Street is my new home for $14 per week. I see the familiar cloud of dust when I throw the bag on the bed. The toilet has a door on the opposite side and when I curiously press the handle down I find myself in a different hotel room. On the bed is a rather battered white woman around 35 years old wearing a tight salmon-coloured dress. She has dirt blond hair and a rather sulky expression. I'm speechless. Is this woman worn and torn after working double shifts at the House of the Rising Sun in New Orleans? After a while she breaks the silence: "Can you buy me some food? I'm hungry," she says in a broad southern dialect. I just shake my head and close the door. The porter had forgotten to mention that I shared the bathroom with another guest.
In the evening I strolled down to the city center. At Market Square (809 Congress) was the club Mother Blues where The Ink Spots were appearing (one of about three different groups using that name in the United States, said Evelyn Johnson later) – and Al "TNT" Braggs was due there in three weeks said a handwritten poster. While I was standing there a white man and a black woman around 25-30 years of age came by. They quarrelled and one could understand that they had been together for a while. This was very unusual in the Southern states.
I bought food and a ½-gallon bottle of port wine at a discount price. Perhaps with an ulterior motive if my roommate would knock on the door. I concluded the correction of my New Orleans notes.
Thursday, July 25
As soon as I woke up, I went to 2809 Erastus Street where the Duke-Peacock-Backbeat-Songbird Records was housed in a neat brick building. It looked like a well-built Swedish townhouse in one of Stockholm's better suburbs. I think the Bronze Peacock nightclub had been there before.
In a room sat Evelyn Johnson, Don Robey's right hand. Leaner Brothers in Chicago had recommended that I contact her. She had worked with Robey since the late 1940s and took also care of the Buffalo Booking Agency. They booked not only all of their own artists, but also many others like B. B. King in the South. Evelyn, who was also Bobby Bland's manager, was very light-skinned, and her hair was light blond. She informed me that Don Robey was away at a conference for southern independent record labels. Not many worked at Duke-Peacock. I saw only a couple apart from Evelyn, and all were black.
As we talked, Buddy Ace came by. He seemed to be in his early thirties and was quiet and a bit shy. He looked and moved like an athlete (A mix of Carl Lewis and Muhammad Ali). Buddy Ace was launched as the replacement for the tragically deceased Russian roulette player Johnny Ace (1929-54). A bit strange as Buddy was really a different kind of singer; he sang soul-blues – and not only ballads – and he did it very well. He came by to collect air tickets and schedule for the next tour. I think it was on the west coast.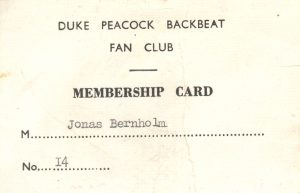 I was probably the only Swedish member of the Duke-Peacock-Backbeat fan club, and thus pretty well informed about their new artists. I had also promised to report in the fan club magazine "Soul To Inspect." Duke-Peacock always launched many new artists but in the end they were dependent on the record sales of their older secure names Bobby Bland, Junior Parker, Joe Hinton, and O.V. Wright. Only rarely did they find new successful artists and had hits with them. Between the hits, Peacock's massive gospel catalogue carried them through. It was probably the largest in the United States and very important for the company, confirmed Evelyn.
Like many other independent labels such as Chess and Atlantic, they sent their artists to outside producers in Memphis or Muscle Shoals. Duke-Peacock didn't have and perhaps never had a distinctive sound like Tamla Motown, Stax, Hi or Allen Toussaint's Sansu records. Despite the fantastic gospel catalogue they were not able or willing to use it as a breeding ground for soul singers.
Texas didn't have the multitude of talented soul singers like for example Georgia. The gospel training in Georgia was probably better and there were probably more Gospel groups for youngsters to join. The Soul Stirrers from Texas seem to be an exception here.
Johnny Copeland and Young Jessie were Texans like Joe Tex and Al "TNT" Braggs, but these two soul singers were great performers first and singers next.
In the 1940s and 1950s, King and its subsidiaries Federal and DeLuxe had extensive catalogues in both R&B and Country and Western. But the aging and half blind Syd Nathan was now totally dependent on one artist – James Brown. Don Robey was in a similar situation with Bobby Bland and O.V. Wright.
Evelyn was merciless toward some of the new artists they had launched. She said about Barbara Favorite, whose "Two Way Radio" had been slightly noticed in England: "She's a big child who does not understand anything about how to behave, or build an artistic career." This explains why she only had one release on Backbeat. But Evelyn felt that the Lampsisters were good and promising.
Joe Hinton was in Boston and received treatment for a skin disease, she said. But it turned out to be much worse. Claude Jeter (formerly of Swan Silvertones) said at a gospel concert in a Harlem church on 116th Street a few weeks later that Joe, who earlier sang with the Spirit Of Memphis Quartet, was dead. It was obviously a serious form of skin cancer. Little Carl Carlton's "Competition Ain't Nothing" (Duke 588) was a big hit that summer. "He don't look older than twelve, but he is actually sixteen years old," said Evelyn. It was recorded in Detroit.
Evelyn showed me the recording studio, which was empty. "Not many recordings are made here today," she said. "Both O.V. Wright and Bobby Bland record in Memphis, and sell very well on LP."
Ten years later, Evelyn added that she never understood why O.V., who looked like a Pentecostal preacher after the years with Gospel group Sunset Travelers (of Memphis), had broken down his health with hard drugs.
Evelyn was annoyed that Little Milton had built his entire career on imitating Bobby Bland, and not only on record. If Bobby sang a song and lifted one arm then Milton did a cover record and while on stage he lifted his arm at the same moment. But she calmed down when she heard that Bobby came in at sixth place before James Brown (No. 7) in Blues & Soul's annual poll of the best soul singers.
The staff of a record company can be either of two extremes. At Stax Records in Memphis everybody seemed without exception to be music lovers who were not adverse to work on days off and listen to recordings at home. Evelyn Johnson seemed to be a motherly person who could handle artists and bohemians well. She created order out of chaos, but didn't take much part in the creative process.
She asked me to say hello to Tony Cummings, editor of soul and R&B magazine Shout, and a friend who had been there the year before.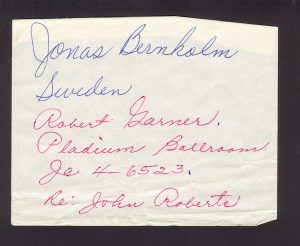 Then she called Bob Garner. He was working at the Palladium Ballroom, at 3145 Southmore, tonight. It was Don Robey's club, and the leading R&B and Soul Club in Houston. She told Bob about my arrival, and she also promised me free discs.
Other clubs she recommended were:
Cinder Club: (Dixie Drive 3200)
(Cafe) Casino Royale (Almeda 5500)
(I think Ray Barnett owned one or both of them.) She also recommended that I check the club sides in the Houston Post. They used to be detailed and precise.
Disc Jockey Skipper Lee gave me more addresses later.
I later understood that the black people in Houston had two different entertainment districts to choose from.
Dowling Street had blues clubs and juke-joints. Lightnin' Hopkins appeared here, and Peacock Records began here.
In the other district were the major soul clubs. It was about a 45-minute walk from my hotel, in the other direction. The big night clubs were like roadhouses with large parking lots. They attracted a motorized black and white soul audience. The wealthiest blacks in the South lived in Houston. Still, those big clubs were not that well attended during this summer.
I called Marshall Sehorn in New Orleans. He wanted me to make contact with the Crazy Cajun – Huey Meaux – an old pal of his "He has been in prison for a while, but he's OK," said Marshall.
There was rain in the air when I walked to the Palladium Ballroom. Bob Garner let me in for free. This was Houston's biggest soul-club, with a fairly high stage at one end and a bar to the left. It had a big dance floor in front of the stage and tables at the sides and in the back of the room. Here some of the greatest soul artists and soul packages appeared during one-nighter tours in the South. The Paradise Club in Memphis was maybe two thirds in size.
Admission fees were charged because Houston was a "brown baggin'" town. Alcohol was not sold, only beer. If you were not happy with that you brought your own unopened bottle in a brown bag.
James Brown says in his autobiography that this club held 2500 people. (The Apollo Theater had "only" 1800 seats.)
At this time James Brown's minimum fee was approximately $7500 per night. But he usually got a lot more. Even if the James Brown Revue mostly was booked in outdoor stadiums and auditoriums he could accept an odd gig on an off day if he took the income at the door (2500 people at $3 = $7500), while Don Robey took all the money on beer sales. (These are my own speculations. Don Robey did not tell me how he ran his ballroom-club.)
Before the John Roberts show Bob Garner, his manager, introduced me from the stage and I stood up and bowed. Bob then said that John Roberts was one of the ten most popular soul artists in Europe! (I let this exaggeration pass without protest because Bob also called me a well-known and leading music reporter, and gave me free beer.)
Still, John Roberts was probably the second hottest local rising star at the moment, after his success with "Sockin' 1-2-3-4." The first must have been Archie Bell & the Drells.
But $7500 was not received at the door tonight. There were only around 150-200 people in the large hall.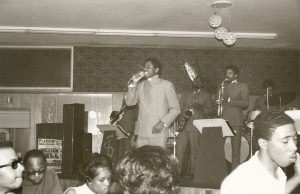 John was born in Houston in 1941. His mother was a gospel singer, and his father also sang solo in church. But John did not. He had started playing the trumpet at age six and when he was in church with his parents, he played solo. Two and a half years ago, when he was contracted to Duke, he took up singing seriously.
He was a bandleader in high school and wrote all the arrangements and songs for the school band and for his own six-piece band. But he'd rather play French horn than trumpet nowadays. "There is less competition on that instrument." He got his high school diploma in 1959 and at the University (1959-63), he studied classical music and French horn. He was a music teacher for a while, but the pay was so bad that he started a new band. He played the trumpet and sometimes sang a little "for fun." He was discovered in 1965 by Bob Garner, one of Don Robey's talent scouts, and got a contract with Duke Records.
His first record "Cold Hearted Woman" / "The Hurricane" did well locally. But his next, "Sockin' 1-2-3-4″ / "Sophisticated Funk," was a real smash and a Top 30 success, said John. (It stayed four weeks on the Billboard Hot 100 with the highest position of no. 71 in December 1967.) Thereafter two records followed: "To Be My Girl" / "Something Reminds Me Of You," and "I'll Forget You" / "Be My Baby." All were released on Duke. He toured in Texas and neighbouring states and the band had been in Cleveland, Ohio and played on a disc-jockey meeting in Miami. I think he toured with Bobby Bland for a while too. John could be reached at the address 3145 Southmore (= the Palladium Ballroom).
John was a much more versatile artist than his 45s and especially "Sockin' 1-2-3-4″ suggested. He felt most comfortable with slow songs and his vocal favourites were Marvin Gaye, Lou Rawls and Sammy Davis. He hoped to break into the bigger nightclubs where the money was.
His band was called the Hurricanes and their repertoire this evening and on Saturday two days later consisted of the following songs:
"Walk On By,"
"Dock Of The Bay,"
"Nitty Gritty"
(Horace Silver),
"Since You've Been Gone"
(Aretha Franklin),
"Tell Mama"
(Etta James),
"Masquerade Is Over"
(standard),
"I Can't Stay Away"
(Impressions),
"Lover's Holiday,"
"If I Had A Hammer,"
"Work Song,"
"My Girl,"
"If I Could Build My World Around You"
(M. Gaye & T. Terrell),
"Hangin 'On,"
"God Bless Our Love"
(The Ballads),
"Grazing In The Grass"
(Hugh Masekela),
"To Be My Girl"
(Follow up to "Sockin' 1-2-3-4"),
"I'll Forget You"
(His latest single),
"Something Reminds Me Of You"
(where he made space for a solo guitarist),
"Kind Of Good."
"Sockin' 1-2-3-4" was the highlight of the show, and he was helped by a female dancer to illustrate the song.
John was a versatile musician with a rather sweet and soulful trumpet tone. The Hurricanes were competent and sounded pretty good. They played instrumentals but otherwise John sang and often had a trumpet solo in the middle. He was a laid-back singer, and no screamer. The songs were often slow and they played mostly dance music for an audience that wanted to dance close together. Needed were more uptempo songs, more intensity and a more extroverted artist to really ignite the crowd. It was otherwise a pleasant evening where I had talked music and entertainment with two local beauties who also drove me back to the hotel.
Friday, July 26
Bob Garner had invited me to his office and I was on my way to 3325 Dixie Drive and the Bob Garner Enterprises. He was a bit distracted and not very talkative. I think his mind was occupied with his young and very attractive secretary who moved around him like a cuddly kitten. (She reminded me of Eartha Kitt….) I received a couple of records with John Roberts and some old pictures of James Brown. He had appeared at the Palladium lots of times and at Robey's older clubs too.
Bob phoned to Duke and talked to Evelyn and ordered the missing two 45s with John Roberts. Then he drove me to KCOH (5011 Almeda). This station had a studio that passing-by motorists could look straight into and communicate with the DJs by headlights and horns. The owner and program director was Swedish-descendant Donald Sundeen, but it was Skipper Lee I wanted to meet.
KCOH was a "sundown station" that started at sunrise and closed at 8:30 pm when the sun was down. At night there were very few listeners, because people watched TV. They had most listeners between six and nine in the morning and between four and seven at night when people drove home from work. It was cheaper to advertise at other times. The station only played soul music and was No. 3 out of 32 radio stations in Houston.
They had six DJs employed. The playlist contained 60 songs, of which five were instrumentals and between five and ten were new entries every week. They had a Top 44 chart plus one Pick of the Week which the music director usually chose. The DJs and the music director picked the new entries. But the program director had the last word.
They received 300 new singles in the mail every week. They played circa sixteen records every hour and had circa 18-20 minutes of commercials plus seven minutes of news and weather. They did not have any editorials where the station was expressing their own opinion. Twenty five percent of Houston's population was coloured and were the station's core audience, but many white students listened too. That group grew rapidly.
The station's most popular DJ was Skipper Lee (Frazier) and he was also the manager of Archie Bell & the Drells that recently had topped the charts. He had met them at local talent shows three or four years ago. They could not get any other type of gigs, and always appeared in the same dark, very worn costumes. Eventually they had to use overcoats to cover holes in their pants. Then Skipper had to talk for hours and use all his powers of persuasion to persuade a local club owner to hire the group for $5 per person. He finally said no, arguing that it was too expensive. But not long after "Tighten Up" hit, the club owner paid $200 to every group member and grossed $1400 per day and earned himself $1800 for two days. Today, the group cost $2000 per night and did the same show as always.
Skipper said that he had written the spoken intro – "Hey everybody, I'm Archie Bell and The Drells from Houston … etc" and then Archie had improvised the rest. But Skipper did not like the song, and gave his composers' rights to Billy Butler and lost a lot of money. Archie was in the military right now and had to stay there for ten months unless President Johnson intervened. The Drells continued to perform but without Archie. They were announced at the Regal Theater in Chicago but never entered that stage. We in the audience were never told why. But it was a bogus group and a surprised Skipper Lee, who was in Chicago, had stopped them. That false group had been performing all over USA.
"The Tighten Up" was a dance and now they followed up with another dance – "The Yankee." It would be launched in the song "Jammin' In Houston," where the group also improvised part of the lyrics. Skipper thought it suited the group's personality.
Archie was a competent hunter and he used to take an occasional newly shot squirrel to Skipper Lee Frazier's home at 4406 Reed Road in Houston. Skipper also recommended two churches that used to have good Gospel on Sundays: St. John Baptist Church at 2222 Grave with service and worship from 10:30 to 11:30, and the Missionary Baptist Church at 2708 Webster between 12:00 and 1:00 pm.
I also talked with the station's newsman, and watched when the pretty receptionist recorded her lines for a commercial. KCOH, as well as many other stations, made ads for local businesses in their own studio. With five fine soul LPs under my arm, that KCOH was not gonna play themselves, I left the station.
In the evening I went to the Cinder Club on Dixie Drive 3200. I had seen the name Upsetters on a poster and was excited to see Little Richard's old backing group. The Upsetters had been announced in New Orleans also and I thought they were out on tour. But it was the Americans of 68, a mediocre bunch, who in this fraudulent manner had renamed themselves. They backed a pale number of dancers and singers. A very drunk young black man, who I think was called Ricky Williams jumped around with a tambourine. He claimed that during the daytime he was an assistant to a heart surgeon. He must have been talking about legendary Houston surgeon Michael DeBakey, who of course would never let Ricky into his operation theater.
Earl Rader, advertised as "Mr. Blue Eyed Soul," did not do any better than the dancing duo Tiger a Go Go, with a white girl and a black guy. She had a Swedish mother and they were married.
This was perhaps a controversial show that challenged racial boundaries, and it drew a lot of people. The audience was half white, but musically, it was one of the worst I'd seen in the USA. Who had recommended me to go there? Was it the nice girls I had met the night before?
Saturday, July 27
I walked to 613 Preston and radio station KYOK, but the door was closed and I went instead to a grocery store and bought food. Then I rested before tonight's show with William Bell at the Palladium Ballroom.
Bob Garner let me in for free this evening too. Don Robey was back and Bob moved a little uneasily around the room. He was reduced from manager to doorman. Don sat by the cash counter wearing a cap with a green translucent celluloid screen. It was important to have an eagle-eye when dealing with money. One must not be blinded by the ceiling lights, whether you were a professional poker dealer – a man with a golden arm – or handed tonight's payments.
I did not know of Don Robey's reputation as one of the toughest record company executives in the United States. He was a phenomenon in the South. Even though he was coloured, but fair-skinned, he had managed to make his way in an all-white world and build up his own record label. At a time when racial discrimination was the same as in South Africa.
Little Richard was beaten up good by Don, who perhaps felt that Richard was too loud, vulgar and a transvestite. He always carried a gun, but he treated me in a very friendly and sympathetic way. He created a bond between us. He smiled friendly to me, and nodded encouragingly to the bar-girl who poured me another free beer, whenever my glass was empty.
Robey had started as a club owner and his Peacock clubs, Golden and Bronze, then gave name to Peacock Records. While Duke initially had been a Memphis label that he bought. (The Atlanta club, the Royal Peacock, was not included in Robey's empire.)
Ira Tucker of the Dixie Hummingbirds, who had a 20-year collaboration with Robey and Peacock Records, have testified that this was based on mutual respect and worked just fine. If Robey had not been honest, the Birds would have left soon. Ira was very sensitive if anyone tried to cheat him.
Robey was a man of strong principles, and Duke-Peacock Records were handled impeccably. His organization had a friendly, familial and solid atmosphere. The brick house stood strong and Evelyn Johnson was extremely professional. Sometimes Robey even carved his name in the 78-disc stampers – as a quality guarantee. Perhaps Robey preferred to work with gospel artists? They behaved better and were more family oriented. But the blind, alcoholic Archie Brownlee must have caused problems when he created some of the best gospel recordings of all time along with the Five Blind Boys of Mississippi.
While many record company executives used a lot of time and effort to persuade the gospel music artists to start singing pop and soul it seemed that Robey was satisfied with a gospel catalogue and status quo.
Robey was also known as his alter ego Deadric Malone who seemed to have composed almost all the songs. Robey bought the rights for a pittance and then added his own name. He was certainly a complex personality. But his long relationship with Bobby Bland, and to all gospel groups indicate that he certainly did a lot of things right.
The star tonight was William Bell. He was one of the Stax family's most prominent members, and a friendly cultured man and a true mother-in-law's dream. He traveled with an extraordinarily beautiful and cultured young woman. This couple would have been an adornment on the cover of one of the Johnson-press magazines (Ebony, Jet Magazine), where they showed off their very tasteful home.
He was born in Memphis July 16, 1939 and grew up on Saxton Street, just two blocks away from the current Stax studio, but moved (when he was 12? years old) to the north of Memphis. He sang gospel music in the Central Baptist Church Choir, but only rarely solo. William was also a student in the Booker T. Washington High School, which became a meeting place for aspiring artists in Memphis.
He was a good student and dreamed of becoming a doctor. But he started to sing R&B and was soon a persevering participant at the Palace Theater's talent shows on Beale Street where Al Jackson Sr's band used to play behind the competitors. This was around 1953 when William was still in high school. The winner received $10 and the second prize was $5 and William walked away with first prize many times.
He became in demand in Memphis and worked for two years at The Plantation Inn on weekends. Then he came to the Flamingo on Beale Street, where he was backed by Phineas Newborn's big band (around 1955). Phineas taught William the basics of stage presence and presentation. And "how to be a star," said William.
He started a vocal group while at high school called the Del-Rios. They won the second prize, a recording session, at a talent show and recorded "Alone On A Rainy Night" / "Lizzie" for the local company Meteor (1956). William Bell wrote both songs and was accompanied by Rufus Thomas group the Bearcats.
William never mentioned the company name unaware that the record company's products a few years later would gain cult status. A copy of that record is probably today worth more than the payment he received this night at the Palladium. The record passed unnoticed, and the group disbanded after a while, but William had a taste for more, and began to sing solo.
When he was not working he frequented clubs on Beale Street such as Handy's, Flamingo, Hippodrome, Elks Club, Curry's, etc. This was a street that really swung in the early and mid-1950s. Here one could hear the three most popular Memphis orchestras – Bill Harvey's, Al Jackson Sr's and Phineas Newborn. Confidence grew after winning all the local talent shows and he continued to the Mid South Talent Contest, where contestants came from four nearby states. There, he won first prize (1958) and $50. This was his first big break. He concentrated on sophisticated ballads and his favourite song was Danny Boy. He got more and more regular work in the larger clubs in Memphis. He got to know other local artists such as Carla Thomas, who, however, went to another school. Booker T. (without the MGs), Rufus Thomas who was established as a DJ, a M.C. and a dancer but not as a singer and others he remembered from that time in Memphis were jazz artists Hank Crawford, David Newman and Willie Mitchell and Bill Harvey, the band leader who arranged for B.B. King.
William used to listen to B. B. who was a DJ at the same station (WDIA) that Rufus Thomas later came to. B.B. used to advertise a vitamin tonic and on weekends he got fifteen minutes to sing and play himself.
In 1959 William moved to New York where he studied music and drama, and worked with a vocal coach. He played a little guitar and piano for household use. He decided to focus on the music and show business and put medicine on the shelf. After about a year in New York, he moved back to Memphis (1960) and got to know other future major players, in the circle around Stax Records, such as Steve Cropper.
In 1961 he wrote "You Don't Miss Your Water." Actually, he reworked a traditional song. He recorded it at Stax and called it his first record. It sold well enough in the Southern states to enter the Billboard Hot 100 in 1962. Today, it counts as a soul classic. "Everybody Loves A Winner" and "A Tribute To A King" were his other Hot 100 entries then.
William mentioned some of his more memorable recordings like
"Any Other Way," "I Told You So," "Just As I Thought," "What Can I Do To Forget," "Monkeying Around, "Who Will It Be Tomorrow," "Crying All By Myself," "Marchin' Off To War."
"Everyday Will Be Like A Holiday" was not intended to be a Christmas record but was now regularly broadcast on this holiday. His "A Tribute To A King," which came out after Otis Redding's death, was originally a B-side. William described himself as a ballad singer but with "Never Like This Before," he also started to sing faster songs, such as his big hit "Eloise Hang On In There."
Bookings poured in after "You Don't Miss Your Water" and William toured until April 1963 when he was drafted. He was stationed in Hawaii, where he formed a five-piece band.
Officers were his main audience. They wanted to hear numbers from the musical South Pacific, but William still managed to sneak in an occasional soul song. He also continued his drama studies. His time in the military was not wasted.
In April 1965 he was discharged. Meanwhile Stax had continued to release records. They had enough recordings in the can for an album. But the audience had forgotten him and he had to start over again. Meanwhile, Otis Redding had taken over Williams's position as the number one male artist at Stax. After a while his hits like "Never Like This Before" and Eloise charted higher in England than in the US.
In Memphis, Steve Cropper had said that Judy Clay, a new artist with a gospel background, had been paired with William Bell. His latest release was a duet with Judy Clay called "Private Number" / "Love-Eye-Tis" and it entered the Hot 100 on August 31, 1968 and stayed there for six weeks.
John Roberts and his Hurricanes warmed up the crowd of circa 400 people, and then gave room for William who was a very good entertainer and singer.
His two sets contained fine versions of songs like:
"Knock On Wood" (Eddie Floyd), "Yesterday," "Memphis Soul Stew" (King Curtis).
He sang three ballads which I guess had been in his repertoire since many years:
"For Your Precious Love" (Jerry Butler & The Impressions), "Try Me" (James Brown), "These Arms Of Mine" (Otis Redding).
William's interpretations certainly did the originals justice. Then came:
"Soul Man," "Everyday Will Be Like A Holiday," "Tribute To A King," "Every Man Ought To Have A Woman," "Ain't Got No Girl," "You Don't Miss Your Water," "Never Like This Before," "Everybody Loves A Winner," "Eloise Hang On In There."
He was not the kind of singer that brought his audience into ecstasy, but everybody went home in a happy mood. Despite his fairly big hits during 1967-68 he toured alone and picked up local accompanying bands on the road. His regular backing group was Johnny Jones & The King Casuals. William produced "Purple Haze" with them. Jimi Hendrix had been a member of that group, earlier. (Hendrix's name was not mentioned by William.) William still played guitar for household use.
Popularity can have drawbacks, and he remembered a gig in Daytona Beach when a large woman, certainly weighing over 110 kg, pushed her way to the stage and began to embrace him and lift him up in the air. But William, who weighed only about 60 kg, continued to sing. "There was nothing else to do," he remarked.
When he listened to music he wanted to relax and preferred to listen to relaxed singers like Frank Sinatra and Sammy Davis Jr. Among soul colleagues his favourites were Otis Redding, Sam Cooke, Arthur Conley and Joe Simon. William seemed to have been born in a upper middle class situation. He was well behaved, well-mannered, and made a purposeful impression.
He later started his own record company in Atlanta named Peachtree Records. There he produced and recorded artists like Mitty Collier, Johnny Jones and the King Casuals and Emory and the Dynamics. In 1969 he enrolled at the American Academy of Dramatic Art in New York. He wanted to be an actor just like Carla Thomas, who underwent a similar training.
My interview with William had a comical after play. A few months later "William Bell" toured England. What he said in interviews had nothing in common with the William I had met. This impersonator had not studied William Bell's background. He was supposed to just look and sing like William. I had to reveal that the English soul-press had been tricked by a fraudster. My interview was published instead.
In England groups were then announced as "The Fantastic Supremes" or "The Great Temptations." But they had nothing in common except skin colour. Pictures on album covers were rare. Instead female (white) models were used and soul magazines were often text only. It was not easy to recognize even a popular soul artist. (I had seen one phony Drifters group in England in 1967. They were good though.)
The nightlife in Houston was similar to Memphis with early closing and a brown bag policy. The Palladium closed already at 1:00 am. It was far too early, I thought. I got a ride to the Casino Royale (Almeda 5500) with a bunch of night owls, who also wanted to continue partying. I felt in a good mood after all the free beer, so I rushed in, but this club was also closing. Suddenly I found myself in the office where two men sat and counted cash. I was not at all welcomed there …
Sunday, July 28
After much needed sleep, I corrected my notes. Sunday dinner was a big can of pork and beans and a loaf of bread. It was affordable despite my rapidly decreasing travel funds. Still it was edible, unlike the small carton of eggs I had bought, hoping to find a cooking plate at the hotel. They had to be eaten raw …
The evening was reserved for the Al "TNT" Braggs show. It was advertised at the Delta Club (4302 Reed Rd) between the hours of 9:00 pm and 1:00 am. But the Delta Club had burned, and the show had moved to Cinder Club, which was nearby. Thankfully, I was there in good time and could read the handwritten note outside the Delta Club.
Those who are inclined to see conspiracies might find a connection between this fire and Jack Ruby's strip club in Dallas. It was in such poor condition that it was raining in. Ruby shot Kennedy assassin Oswald. Was the fire an insurance fraud or a settlement in the criminal underworld? The guys who counted the cash at the Casino Royale yesterday didn't seem like bank clerks to me. Anyway, the rumour was that the fire at the Delta Club was arson.
I managed to get in free at the Cinder Club and was ushered into Al "TNT" Braggs dressing room. There he sat and flirted a little with Mary Jackson, one of the female singers. He had a do-rag on his head to keep his hair in the right volume and shape.
The African-American barbers then created hairstyles of rare beauty. Mahalia Jackson worked in her own salon, even after she had become a well-known gospel artist. Maybe hair sculpture was as important as singing to her?
I've always had a weakness for artists who used colourful nicknames. Al "TNT" Braggs lived at 2800 Route St, Dallas, Texas, and he was booked and managed by Show Co. Inc. c/o Jack Calmes and Angus Wayne III.
Al was a young man deserving his nickname just as much as Mr. Dynamite – James Brown. He was actually one of the most dynamic black entertainers I have ever had the honour to see.
In 1955, he met Jackie Wilson, who taught him the basics of artistic presentation and his training was perfected with a dance lesson by James Brown. I don't think they felt that Al was a poor achiever.
He was a nice acquaintance; certainly not ostentatious but almost humble. I had already bought "Earthquake," the only single released with him in England (at the Vocalion label). In the soul magazine Home of the Blues, Robert Sye, whose name I have not seen later, wrote a short presentation of TNT. I had also seen Al's face on the flyer issued by Phil Walden's soul artist agency in Macon.
Al Braggs was born in Dallas, Texas on May 23rd in 1938 and brought up in a pure gospel environment. His father was a preacher and his mother used to sing spirituals home. When he was old enough to open his mouth, he would sing behind his mother's solo singing. She taught him the basics of singing gospel. Then he sang solo in Salem Baptist Church Choir and around 1950 he formed his first group, The Spiritual Stirrers. "Gospel was the only music I heard so it was natural for me to form a gospel group," said Al. But in 1952, he became interested in R&B, and started a group called the Five Notes. He was inspired by other vocal groups and they tried to sing like the Orioles, The Flamingos and The Moonglows. They sang locally while still in school and were discovered in 1955 by Dallas DJ Chuck Donaway, who took them to Chess Records. They recorded "Park Your Love" / "Show Me The Way" as the Five Notes. It sold decently and they became sought after outside Texas and went on a five-month marathon tour that took them all the way north to Milwaukee and Wisconsin before returning home in 1957. Then they changed their name to the Five Stars and recorded "Polly Molly" / "Forever and a Day" for the Dallas Jan label. Al sang lead. (These songs were (also) released under the name the Five Masks.)
They sold decently, and they were engaged in the film Rock Baby, Rock It (1957) along with other stars such as Johnny Carroll, Roscoe Gordon and the Red Tops. Roscoe performed his big hit from Flip Records – "The Chicken" – with a live hen on his piano – and the Five Stars sang the song "Free Bar" – Al said. (The film features the Five Stars singing "Juanita, Your Love Is All I Need" and "Polly Molly.")
The film was shot in Dallas and now has a cult following as other films with great music but a reputation of being "the worst movie ever made."
Then they changed their name (back) to The Five Masks. But now the members had grown older, some had married and they wanted money for their efforts and was not content to be idols for their school mates.
The group broke up. Its guitarist Carl Valentine and Al started their own four-piece band instead – the Carl Valentine Band – where Al played the organ. (Al played several other instruments like piano, guitar, bass, drums and harmonica.) They were together for a year and often worked six days a week and eight hours per night. Then Al formed his own four-piece band where he sang solo.
Al had become popular in Dallas. His specialty was artist imitations and all the great R&B artists on tour used to come to the club where he appeared after their own shows. Little Willie John, Sam Cooke, Bobby Bland and others were all were flattered to see themselves imitated on stage.
Don Robey discovered him in Dallas around 1960, and he got a contract with Peacock Records. This was followed by a steady stream of singles (about one or two per year), which sold OK. His more famous songs were "Cigarettes and Coffee," "Earthquake" and "That's All Part Of Lovin' You" and the 45 released afterwards called "I Like What You Do To Me."
Bobby Bland and Junior Parker were Duke-Peacock's best-selling artists and toured together as the Blues Consolidated. But Buffalo Booking Agency understood that it was unnecessary to pair two such popular artists. They could earn more on their own and Buffalo decided to separate the dynamic duo. Joe Hinton became opening act for Junior Parker and Al Braggs opened for Bobby Bland. This was in 1961, and Al was with Bobby until he left in December 1965. Al started on his own in January 1966 and soon discovered that he made more money than when he worked with Bobby. After six months he could afford a horn section and then gradually expanded his band with more instruments, singers and Go-go girls.
In July 1968 the Al "TNT" Braggs Revue became Al "TNT" Braggs (vocals). (He no longer played the organ on stage as there was no room to transport it.) His younger brother Floyd Braggs (22 years old and born in 1946) also sang and sometimes Al & Floyd worked together as a Sam & Dave inspired duo. Band leader was then 25-year-old guitarist James Braggs (born 1943). Two singers were included in the squad – Rhetta Kelly and Mary Jackson. Behind them was an eight-man soul band consisting of guitar, bass, drums and a horn section with three saxes and two trumpets. The two Go-go girls Gladys and Tina also played prominent roles.
Al wrote his own songs and had also composed for Bobby Bland ("Call On Me," "Save Your Love For Me," and "I'm Gonna Cry"). He had written two songs for Sam Cooke: "London Bridge Is Fallin' Down" and another that he had forgotten the title of, but which was recorded shortly before Sam was murdered. Al got $800 and the money made it possible for him to buy a home.
He was married and had two children, Danny and Terry and his wife also wrote songs (Perhaps he meant that sometimes, for tax reasons, he put his wife's name on songs.) Al designed the costumes for the show and made the band's arrangements and his last two records, including That's All Part Of Loving You, which became his biggest hit to date, had been arranged by him. His favourite arranger and inspiration was Joe Scott, the man behind all the classic hits of Bobby Bland.
(Later, I bought many of Al's 45s on Peacock. Several were good – but Al was primarily a live performer.) Al thought that he had a rather dull life. Is was all work and no play.
His own favourites was Otis Redding, Bobby Bland, Wilson Pickett, the Four Tops, Temptations, and he also admired Tom Jones. Right now, he appeared mostly in the southern states, but his popularity had begun to spread, and he would go to California soon.
Showtime!
James Braggs Orchestra began the evening with a couple of soul instrumentals before Mary Jackson, who was a very handsome young woman, entered the stage with a Supremes medley and Dr. Feelgood and Hookie Dookie.
Floyd Braggs was next, and he did pretty good, but not remarkable, versions of
"I Ain't Particular?" (It must have been Marvin Gaye's Ain't That Peculiar), "La La Means I Love You" (Delfonics), "Funky Street" (Wilson P.), "Midnight Mover" (Wilson Pickett),
Rhetta Kelly sang:
"I Take What I Want," "Piece Of My Heart," "Misty."
She was a better singer than Mary but not as pretty.
Now the orchestra made itself and the audience ready and pumped out one soul riff after another. One of the Bragg brothers announced Al "TNT" using a similar introduction that James Brown did in 1962 at his Apollo album. Then the lights were dimmed.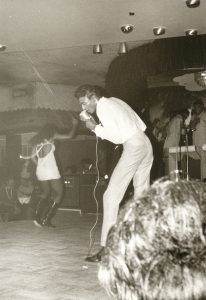 Al had said that the beginning was always the same: The stage was dark and suddenly you see a cigarette glow and when the headlights are lit again, Al is standing at center stage with a burning cigarette in his mouth. Slowly, he turns the cigarette out with one foot and then starts dancing around the microphone.
Perhaps as tributes to his dance teachers Jackie Wilson and James Brown, he bent down backwards like Jackie Wilson "Doin' the Limbo" (It was probably called something else when Jackie did it in the 1950s.) Then he did the splits and glided across the stage on one leg and did the "Mashed Potatoes" like James Brown.
Tonight Al performed:
"Don't Fight It," "Funky Broadway," "Amen,""Earthquake," "That's All Part Of Lovin 'You," "Happy Song."
At a furious pace he danced and started singing his own and others' songs. He did not stand still for a second. His skinny body flew like a dry skin over the stage. James Brown's dance steps were demonstrated with verve as is the "Baby Workout" of Jackie Wilson. All at a breathless pace without the band or he missed a beat. This was the highest possible level of a soul performance!
But in the middle of the show, and after these six songs Al suddenly disappears. He must have fallen down from the stage and disappeared when the lights were put out for a moment. What had happened? The Go-go girls took over. They worked just as hard as Al. Their mini-skirts were wet with perspiration. Was this the end of the show? It was great while it lasted, but a bit short … But within a minute, Al was back. He had just changed clothes! Now he put in an even higher gear and drove possibly even faster in this second set.
First he invited his brother Floyd and together they did a Sam & Dave inspired set with:
"I Can't Help Myself" (4 Tops), "You Don't Know Like I Know" (S&D), "You Got Me Humming" (S&D).
There were several more songs during this evening, but I was now so absorbed by the performance that I stopped taking notes. That's a high compliment. It is rare to see an equally talented performer who has perfect control and the crowd in his hand. I did not want to miss a second of it. It is a very great experience to see an artist who gives everything and more on stage. After a while Al calmed down a little and invited a young singer from the audience. (He sang the other night at the Cinder club. I think his name was "Little Al.") He and TNT sang a duet together. But then it was full speed again and at the end Al was laying on the floor with a microphone in one hand primal-screaming his heart out surrounded by the entire orchestra which had left the orchestra podium.
I was sitting at the edge of the stage, and when I took a step up over the edge to congratulate Al to this amazing performance, I felt that the floor was wet. This was amazing. I had heard that James Brown could lose up to 10 liters during a performance. He sweated through the soles of his shoes, it was said. He was so exhausted that he needed oxygen afterwards.
This had been a 10-liter night. (Al had been helped by Gladys and Tina.) Al's beautiful conk hairdo was hanging down in front of his eyes.
The club was packed, despite the scarce advertising. This had been an unforgettable evening, probably just like when James Brown or Ike and Tina Turner went back and forth on the Chitlin Circuit eight or ten years ago.
They also had singers and dancers and a great band and fancy costumes. The audience knew that these artists always gave everything. Al Braggs, James Brown and Ike Turner were not only artists but also band leaders, organizers, promoters and entrepreneurs. A successful evening was guaranteed and they always got re-engaged or extended engagements. Slowly but surely, they worked their way to the top. A hit was necessary, but if they could not give the audience what they expected they were not asked back.
Al was a Dallas artist performing in Texas and neighbouring states, but had not yet been seen nationally. James and Ike were musical geniuses who made it to the national and international top, while Al continued to work regionally. I had seen many soul shows in recent weeks. But this was the best so far.
My thoughts went to the Scott Brothers in Chicago, who perhaps with a lot of hard work could leave the local scene and get out on tour and become regional greats such as TNT. The only weakness was Al's voice. It was not powerful enough. He easily became hoarse. Despite all gospel music training, he didn't have the vocal strength of a James Brown or Wilson Pickett. But he had everything else and more.
Praise must go to Bobby Bland who dared to have such a colourful artist to open up his shows. He must have been very generous and self confident. (Please read the book Urban Blues, where Charles Keil describes his meeting with Braggs and Bland.)
Al set had taken almost two hours and the other artists had an hour at their disposal. It was a great evening with no dead spots. Nor had Al tried to "charm" his audience with silly phrases like "Let me hear you say yes!"
I managed to stay in a good mood on my walk home despite the fact that a car with a rather aggressive young black man tried to convince me to end the evening in his bed…
I guess Evelyn had called Al and said that I was going to be there. He was prepared to meet me and to give me a show I had never seen before. And he succeeded …
Monday, July 29
I went to the radio station KYOK at 613 Preston Ave and talked with Dick Oppenheimer who was the boss and Rick Roberts, its program director. They played music 24 hours per day and 12 hours of gospel music, including worship services on Sundays. They had 50 records on the chart and 65 records on the playing list (50 plus 10 extra songs and 5 instrumentals) including a "Station Pick." The station's most famous DJs were Wild Child, and Billy Williams.
Circa 200 new records arrived every week in the mail. From those all seven DJs and the program- and music-director selected 8-10 new records. And a DJ could choose his favourites from the playlist and did not have to stick to a predetermined list. The station had editorials where their views on racial issues and social problems and poverty were presented. Houston had the nation's ninth largest and the Confederate's most affluent black population.
They were trying to inform and educate and not to propagate. They calculated that 20% of their listeners were white. Or as Dick Oppenheimer said, "I do not think George Wallace listens." He described the white population as quite liberal, but that very few black businesses advertised on the radio.
Dick, who was white, compared soul with psychedelic music and C & W. They were all different trends and the stations that followed other trends had also attracted a lot of new listeners among those that listened to for example Jimi Hendrix.
His own favourites were artists such as O. C. Smith, Lou Rawls, Bill Cosby, Tom Jones and Tony Bennett. But black entertainers had difficulty getting a job at the best nightclubs, said Dick. One exception was Billy Daniels (65 years old), his own favourite and whom he called the greatest black entertainer at the time. His biggest hit was That Old Black Magic, and he worked at fine nightclubs across the United States.
The atmosphere in these small southern state radio stations was often informal. In principle, one could walk in off the street and start a conversation with a DJ who was in direct broadcasting. The conversation was interrupted only when the DJ announced the next song or wanted to shout something in the middle of the record. I was never stopped by guards and locked doors and the DJs never showed that they felt disturbed.
Sometimes the DJ was visited by a girlfriend in the studio or holding a conversation on the phone with friends. Jingles and station-identification were on big pre-recorded cassettes that were fed in when needed. I found that they often took their important work quite easy.
They had a key role in the music business. Some took it a step further and made their own records or were managers for artists they launched. There were other stations where listeners could call in and talk. Sometimes they were badly treated by the program host when they wanted to talk about homosexuality or when they presented themselves as researchers of the UFO phenomenon. It was a type of program that had not come to Sweden yet.
My notes about what was heard on the radio in Houston were short and sketchy. Here are some songs I had not heard elsewhere. (*) = Favourites:
(*) Bobby Bland – "Highway of Broken Hearted," (*) Jackie Wilson – "No Pity In The Naked City," LaVern Baker – "I Cried a Tear," Johnny Jones & The King Casuals – instrumental, Chi-lites – "My Baby," (*) Roosevelt Grier – "People Make The World," J.J. Jackson – "Too Late."
Tuesday, July 30
My visit in Houston had been successful. People were generally friendly, and there was a relaxed, laid-back atmosphere. There had been very long walks but it was OK. The clubs were also more integrated here than elsewhere, and 10% of the guests were white. It was easy to get there by car and the clubs surrounding area, including the parking lots, seemed secure. But I had not come across any large and lively local scene and a lot of talent just waiting to break through.
I had no more contact with my roommate next door. I only saw her drag herself down once to the hotel's modest lobby and buy a coke in the vending machine. A rather stupid way to quench hunger and thirst, I thought, while drinking port wine myself…
I never had time to visit the United Rec. Dist., 1613 St. Emanuel, or Gold Star Recording Corp., 5628 Brock. I did not know where I got hold of the address of Zebra Records, 3326 Proswimmer (Artist: Henry Hayes)
The greatest experience here was the Al "TNT" Braggs concert. I assumed that there was an Al Braggs in each state. He had released records that sold decently and his stage show was absolutely top class.
The nice Scott Brothers and their orchestra in Chicago worked locally and would continue to do so if they did not make a 110% effort. That's what it took for James Brown or Ike & Tina Turner to break through.
Even James Brown – "The hardest working man in show business" – had for some years been doing the same type of shows, singing other artists' songs, like TNT did right now. It required workaholics like TNT, Ike Turner and James Brown to succeed. No detail was too insignificant.
TNT's Go-go dancers had worked incredibly hard, and made the Go-go-dancing into a fine art, while the Scott Brothers dancers, called the two Ts, were more dazed and almost indolent.
Al TNT's performance was a brilliant example of how high the black entertainment and performing arts could reach. It showed how enormously generous these kinds of artists were. They simply gave everything and managed under simple conditions to give the audience maximum value.
Al had an eight-piece band with three solo singers and two Go-go dancers all dressed in stylish clothes. There was probably not much money left (for himself) after paying all expenses.
This concert finally healed the wounds I got 10 years back when I went to see my great Swedish idol at the time – Owe Törnqvist. He is considered to be the foremost Swedish 1950s rock artist. It was actually the first concert I went to of my own. Owe traveled alone without a backing band and only an acoustic guitar as backing and visited maybe four or five places in one day.
Stickan Andersson ABBA's manager coined the phrase; – "The audience is not stupid – it's more stupid!" He became a multimillionaire. Had he been working in Houston, Don Robey would have beaten him up and sent him back to his teaching job. The audience at the Apollo would have booed Owe out from the stage within seconds. But in Sweden he earned so much that he could retire already at age thirty. It took many years before the Swedish rock and pop artists began to treat their audiences with respect.
It was a mistake not to talk to Don Robey, just like I missed talking to Henry Stone in Miami. I never insisted to do a long interview with Jim Stewart (Stax). Marshall Sehorn and I had had a couple of good conversations in New Orleans but Allen Toussaint was difficult to get any information from. Perhaps it was only when I met Bobby Robinson (Fire/Fury) in Harlem a month later that I realized how important these independent producers were.
I kept in touch with Evelyn Johnson. I tracked Amos Milburn to Houston. She helped me with the contact and even managed to get some nice pictures with him. I let Evelyn Johnson have the last word when she 10 years later (1978) noted that "Al TNT" was very talented but his weak side was that he wanted to do everything himself. She probably meant that he had come further with the full support of the Buffalo Booking Agency.
Al had all the prerequisites for a long career as he, like Bobby Rush or Clifton Chenier, never left his audiences disappointed.
Robert Sye had been right: "Anyone who has ever seen Al 'TNT' Braggs never forgets him!" But maybe Al made the same mistake as Amos Milburn when he included cigarettes not only in his stage show, but also private. (Amos stumbling block private was of course the Bad Bad Whiskey. Al got throat cancer and died in 2003).
Soul artists had a handicap. A normal voice lasted only a few years with the enormous strain subjected it to. Gospel singers were aware of this and many quartets had two lead singers that could switch. Otherwise, the solo singer quickly worn out their voice.
Evelyn Johnson Buffalo Booking Agency was in decline in 1968. They had lost several major artists. B.B. King was booked by Associated Booking in New York as well as Bobby Bland, though Evelyn was still Bobby's manager. She only had Roy "Treat Her Right" Head and the dying Joe Hinton. Maybe she was being ousted by Fats Washington, P. O. Box 26126 Dallas, Texas?
Duke-Peacock was sold a few years later to ABC just before Don Robey's death. It was only Bobby Bland's recordings ABC wanted. According to Evelyn most of Duke's vinyl records ended at the junkyard.