Transcription and Data Visualization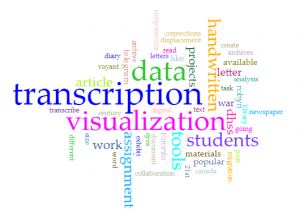 Transcription and data visualization are both popular DHSS projects that your students could engage in together or separately. Many supports outside this Instructor's Guide are also available for these two pieces of work.
With transcription and data visualization, students would transcribe a piece of material and then would use data visualization or data analysis tools to demonstrate discursive patterns in the text.
Summary
Description:
The transcription and visualization of a digitized document
Possible tools/technologies:
Voyant
Wordcloud
Scripto
WordPress
Word
Elements of Process:
Select an item for student(s) to work on
Create, or get students to create, a mechanism for recording their transcription
Transcribe document
Run transcription through a data visualization tool
Analyze meaning of document through visualization
Size of assignment:
Difficulty:
Easy to Moderate. The size and difficulty level of this assignment depends on the format and length of the original source. A handwritten letter, for example, would be more intensive work than a printed newspaper article.
Robyn Le Lacheur did both transcription and data visualization as part of her exhibit "Looking Back: Temporal and spatial connections of Post-War migration and displacement through the eyes of the Toronto Telegram." However, each task could be enough for one assignment if framed differently. Robyn did both transcription and data visualization because part of her task was finding the source and making it presentable on a website.
Robyn's focus for this project was on the images from the Toronto Telegram filed under "refugee," and she became interested in how the images were actually used in the newspaper. She chose one photograph she was particularly drawn to, did a library search to find the article that used that photograph, found the article on microfilm, saved it in a digital format, and "cleaned" it for "noise." After this work, she then transcribed the article, deciding if she should keep the same line breaks or just type it with standard margins in Word, finally she then put the text through a word cloud generator. She played with different tools for this work, including Voyant an easy and very user friendly data analysis tool, finally settling on WordCloud because she liked how she could customize which words could be featured. The result of Robyn's work is that now Ron Poulton's 1964 article "Their War Goes On: Opulence Hides Gray Refugees" is now available online and situated in a larger exhibit and discussion about post-war migration and displacement through the eyes of the Toronto Telegram.
As mentioned, both transcription and data visualization are popular DHSS activities. Transcription is a popular DHSS method for history because of the value in transcribing handwritten documents. Data visualization is a popular DHSS method in literature or political science because of the ways in which the tools help identify discursive patterns that may not be as visible by traditional reading.
When framing transcription and data visualization with 21st-century competencies like critical thinking, communication, collaboration, and creativity and innovation, as found by the Ontario government's international review of 21st-century competencies, each task can be transformed to have your students think about the role they are playing in developing space for greater access to materials and the responsibilities one holds when they are creating, organizing, and/or presenting materials to the public (similar ideas are discussed in the Metadata assignment).
To think about the scale of this assignment for your students, are you going to direct your students to an already organized and digitized corpus like The Globe and Mail archive and have them transcribe a piece of text? Will they have to find something on their own use microfilm, which will then need to be digitally edited for the web like Robyn did? Will they have to find materials on their own by going to an archive? Will the materials be typed (a newspaper article or broadsheet) or will they be handwritten, and if they are handwritten (like a letter), has enough support been given to students to read and understand it? Note: it's not that young people "don't know how to read handwriting," it's just that handwriting is hard to read. They should be supported in their efforts.
In Dr. Mary Chaktsiris's course "Digital Humanities: Digital Editing and Publishing" for Wilfrid Laurier University, she got her students to "crowdsource" the transcription of 19th-century handwritten letters by projecting the letters in class and going through each letter together. This activity encouraged both collaboration and discussion about the word and context in which the letter was written. It also destigmatized any difficulties students may have had reading the letters on their own.
To support collaborative transcription projects, Library and Archives Canada has provided transcription guidelines for their digitization and transcription projects. These may be good inspiration in your own classroom.
Transcription and Data Visualization suggestions for your students
There are many tools and projects available for transcription and data visualization. Visit our Tools page to explore different tool options but find below a few of our favourite tools and projects: