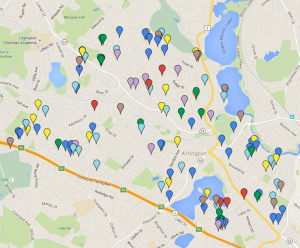 Mapping primary sources may be the easiest way into DHSS for you and your students because many of us are already familiar with using online maps and mapping tools to make sense of space and place.
But because DHSS can help us make meaning in new ways, we have to think not just of how your students might create a digital map, but why. Why will plotting primary sources on a map help us understand a particular idea or concept better than if the sources were not on a map? How will students be able to communicate these new layers of meaning?
Summary
Description:
Plotting and annotating digital materials on a map
Possible tools/technologies:
Google Maps
StoryMap
Voyant
Elements of process:
Choose locations and materials
Choose how and with what a location would be indicated
Write a description of location and item
Size of the assignment:
Difficulty:
In her exhibit, "Looking Back: Temporal and spatial connections of Post-War migration and displacement through the eyes of the Toronto Telegram" Robyn Le Lacheur created two maps: "Refugees & Displaced Peoples: Where they came from" and "Local Context: War Guests in Toronto." Robyn took photographs from the Toronto Telegram that had been previously identified by archivists as images representing post-Second World War refugees or migrants. Robyn was interested in where the refugees came from and where they settled, so she created two maps to demonstrate where migrants "came from" and the "local context" of their settlement. She also transcribed the caption and editorial information included with each image so that this information would be now part of the map.
Robyn's maps were part of her Scalar exhibit, but your students could also use Google maps to do this work outside of Scalar. Robyn also digitized her material, which made mapping one piece of a much larger project. However, if your students were using already digitized materials, rather than scanning them like Robyn did, your students' focus should be on contextualizing the primary sources with more secondary analysis. In this way, as with all DHSS assignments, each project can expand or contract based on where the material is coming from and if it needs to be digitized. Adjust expectations for final product accordingly. See below for other mapping assignment suggestions.
Digital Mapping suggestions for your students